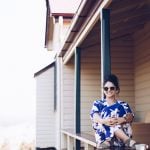 If you like to start your holiday by getting a lay of the land, you're in luck, because Cairns has an array of stunning lookouts. With a Coral Sea front garden and an ancient rainforest out the back, the views from these Cairns lookouts are nothing short of showstopping.
Henry Ross Lookout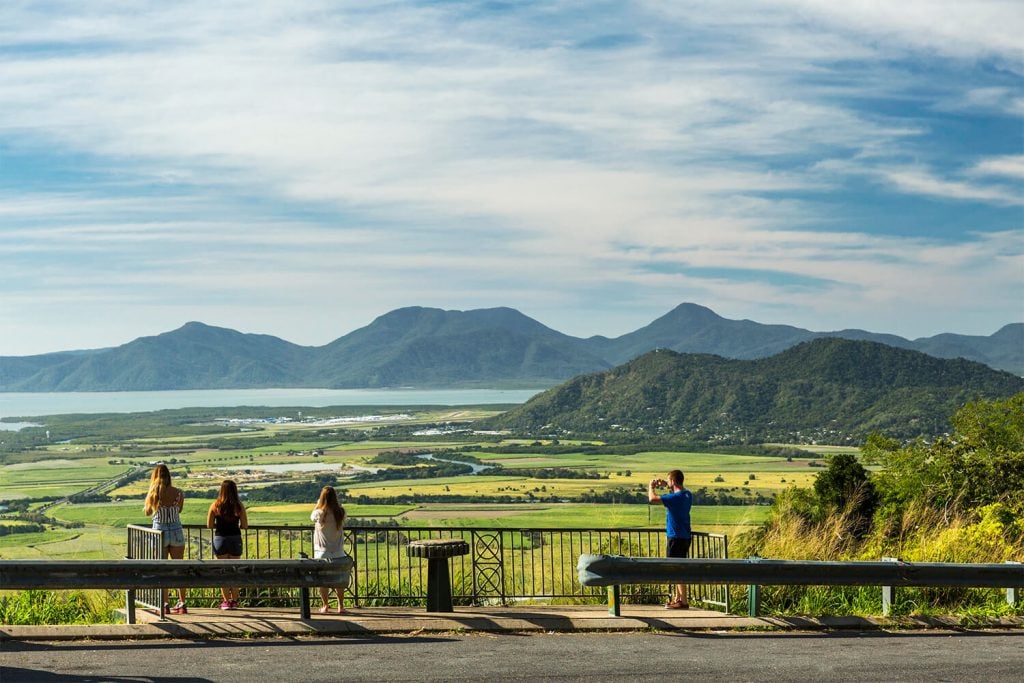 Allocate a few extra minutes to the half an hour drive from Cairns to Kuranda for photo opportunities at Henry Ross Lookout. This lookout, positioned on the highest point of the Kuranda Range, has views over the Cairns skyline all the way out to the Coral Sea and Green Island on a clear day. There's usually a couple of parking spots available, with most visitors stopping for a quick photo opportunity on their way up to the famous rainforest village.
Red Arrow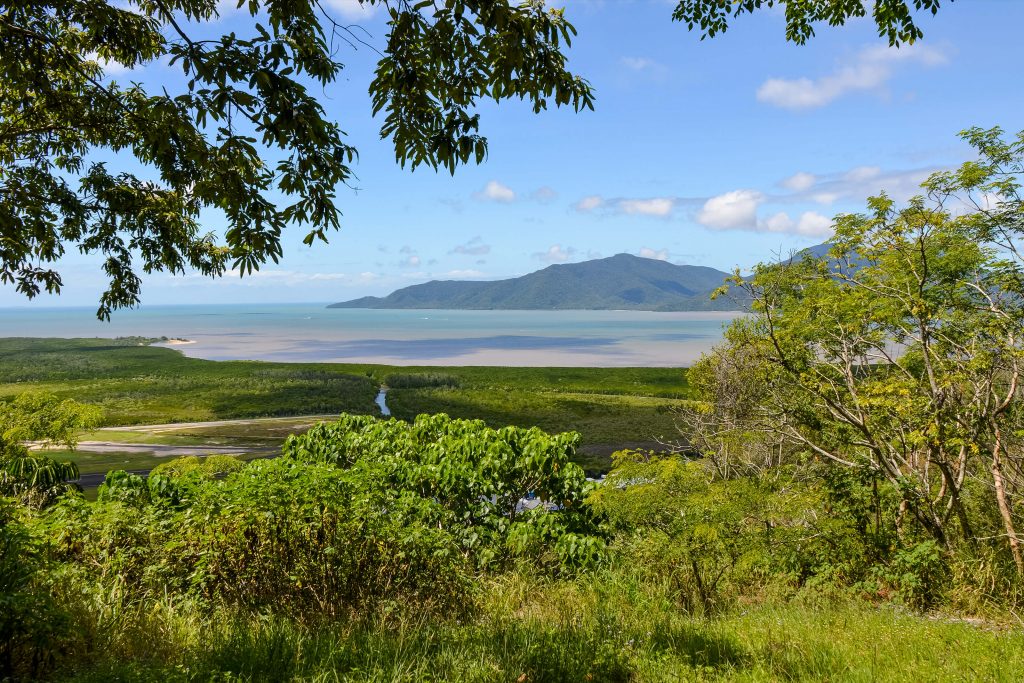 Follow lycra-clad locals to Mount Whitfield's Red Arrow track, which winds its way through lush rainforest on a track that serves as nature's answer to a stairmaster. Even though only 1.5km long, there's 250 steps to tackle in between, making it popular with fitness fanatics chasing a high intensity workout with postcard-worthy views.
The lookout is the reward at the final set of stairs, dishing up prime views of the runway at Cairns Airport. It's not uncommon to find several plane spotters who've lugged their camera gear all this way in the name of an unobstructed photo of aircraft on the tarmac.
Earl Hill
It might only be 3.4km (return), but the Earl Hill loop covers 194m of elevation, rewarding hikers who dedicate an hour to it with views over the ocean. Being a loop, you're guaranteed changing rainforest scenery as you work up a sweat to the summit. Be sure to swipe your camera over to panorama mode to take in views of Trinity Beach and Double Island to the north and the Yarrabah Range in the south.
After you finish the trail, reward your efforts by following the trail all the way to the southern end of Trinity Beach for a beach walk or coffee stop.
Walsh's Pyramid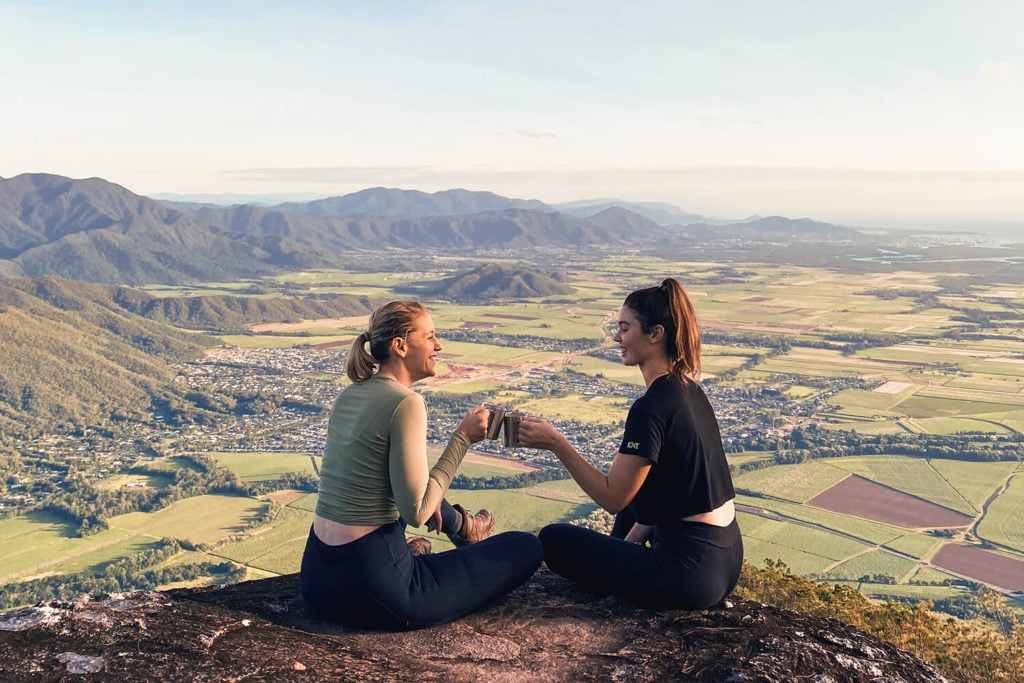 If you like a challenging hike, lace up your boots for Walsh's Pyramid. Not for the faint hearted, this six kilometre, steep and rocky climb is made all the more difficult by the tropical weather conditions, compounded by the fact this trail has very little shade. The trek is more then worth it when you reach the top and are met with 360-degree views of the surrounding ranges and local landscape.
Pro tip: save this walk for winter when the weather is less humid and track is more likely dry.
The Summit, Fitzroy Island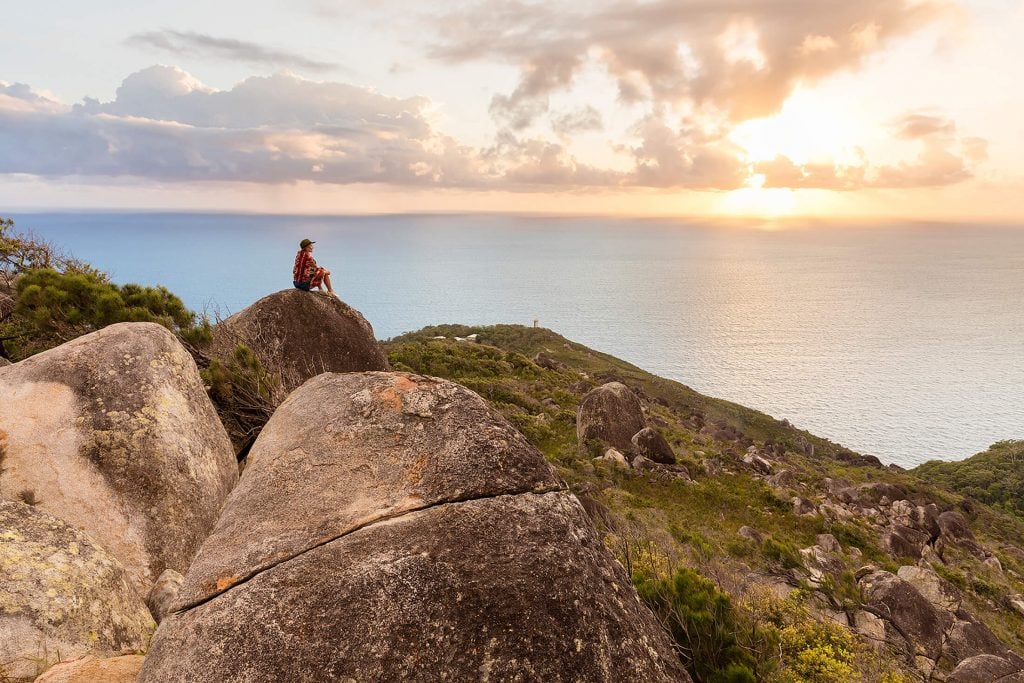 You'll want a bit of height on your side to drink in the fact Fitzroy Island is made up of 95% protected national park and surrounded by Great Barrier Reef World Heritage Area. To see all of its granite outcrops, open woodlands, rainforest, mangroves and coral beaches at once – challenge yourself by putting foot to path on the 3.6-kilometre return boulder-strewn Summit track, which climbs through woodland to the island's summit (269 metres). Getting there is easy – simply choose between The Summit Track or The Lighthouse Track and brace yourself for 360 degree views.
Crystalbrook Rocco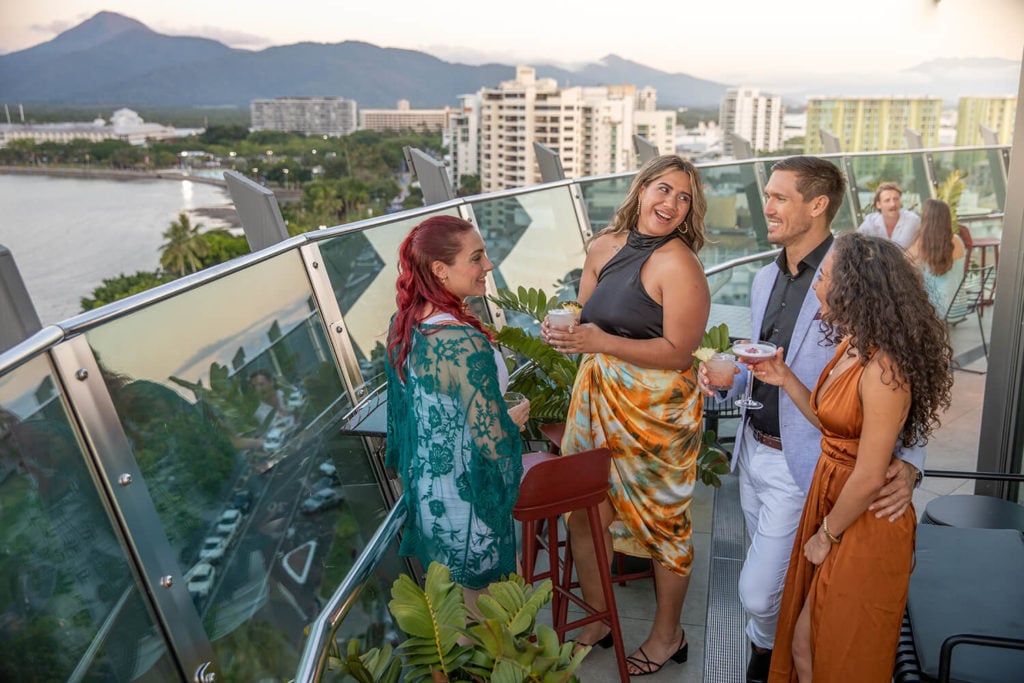 Who ever said you needed to get hot and sweaty to enjoy a view is yet to meet Crystalbrook Riley's roof top bar, Rocco. Simply take the lift to level 12 and step out to some of the best views of Cairns city and Esplanade, cocktail in hand. Keen to make your skyline bar crawl progressive? There are more views like this to be had from these Cairns bars and breweries.
The Edge Lookout, Skyrail Rainforest Cableway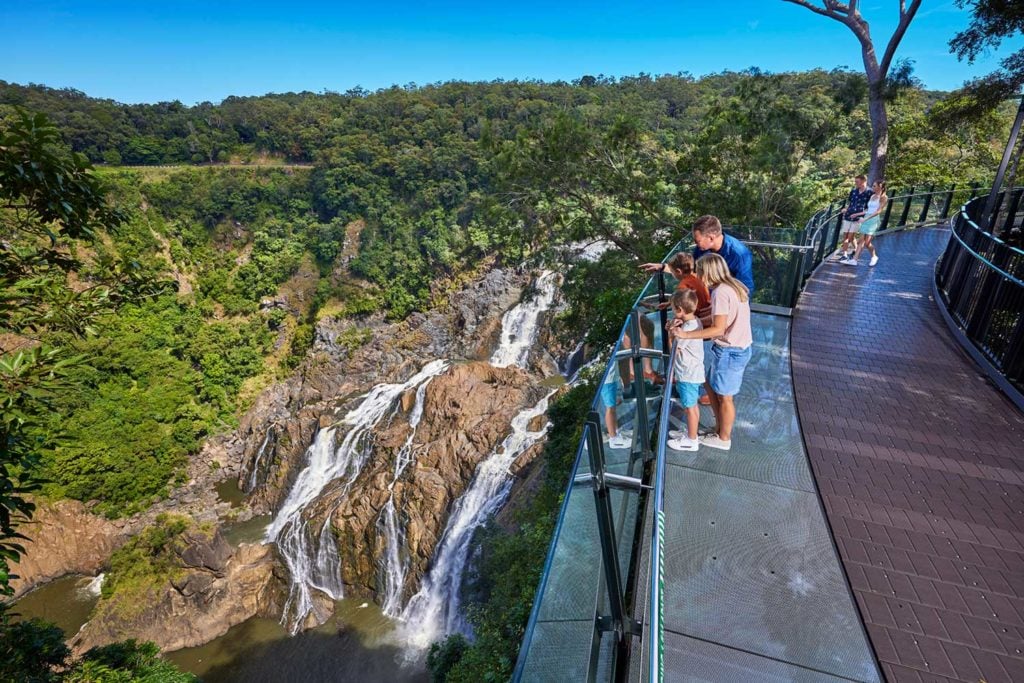 Climb to new heights (525m to be precise) on Skyrail Rainforest Cableway and venture over the rainforest canopy. You'll be spoilt with views over Cairns City, rainforest, Barron Falls and Barron Gorge on the one-and-a-half-hour journey from Smithfield to Kuranda. For next-level views, upgrade from the regular gondola to a diamond view gondola for a full sensory rainforest experience. Stop at Red Peak and Barron Falls Station where you'll find The Edge Lookout including stunning uninterrupted views of Barron Falls.
Campbells & McArthur Lookouts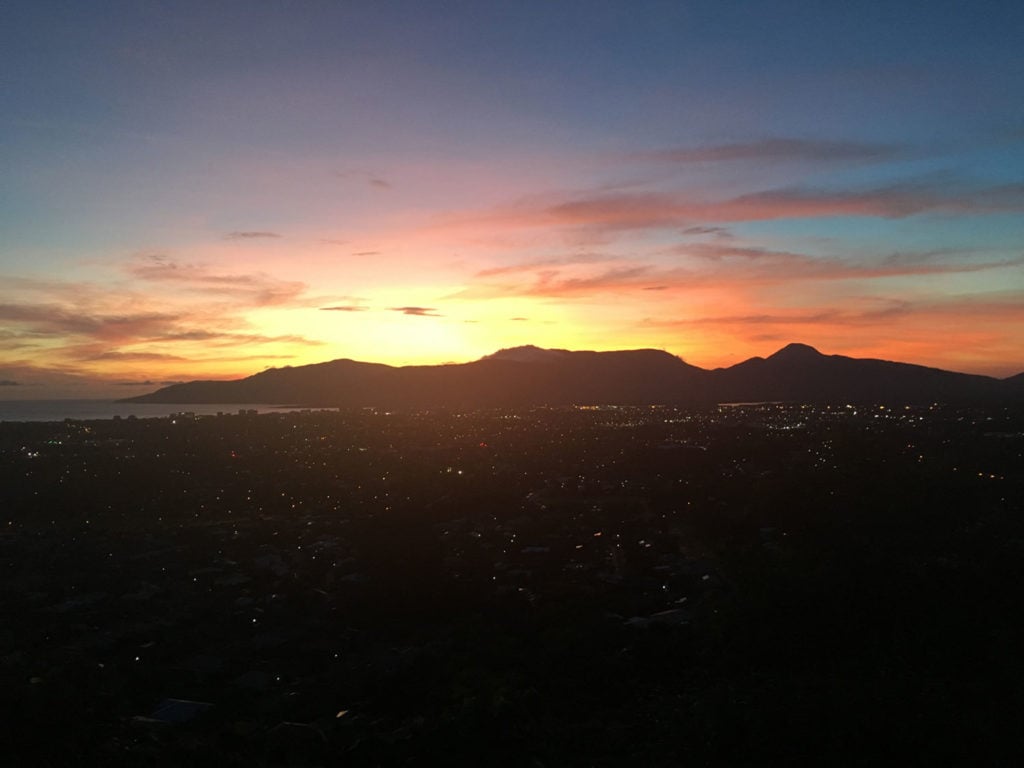 Every good city in the world has a viewpoint that shows off the mastery of the urban planning below. As luck would have it, Cairns has two, Campbells and McArthur lookouts, which have stunning views of Cairns city – stunning by day, but magical at night. The elevation up here gives more sense to Cairns' geography, so you can see just how close the city flows to the coastline. To find these lookouts, drive towards Copperlode Dam and follow the signs.
White Rock Lookout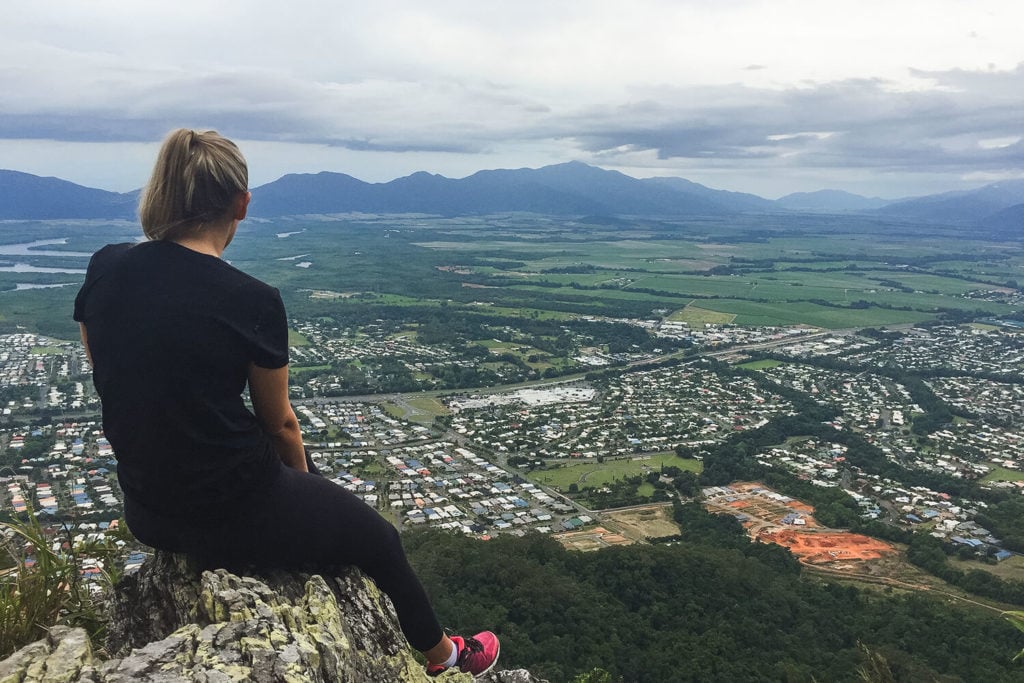 No guesses as to how this landform got its name – there's a rock, it's white, and whoever named the landmark clearly ran out of marketing-puff when it came to awarding its moniker. Find this five-kilometre return walking track, 20 minutes' drive from Cairns CBD – sitting as a rocky speck amongst the dense foliage of the surrounding Dinden National Park. Sitting out on a rocky outcrop affords this lookout uninterrupted 180 degree sweeping views over Cairns as well as the entire Trinity Inlet and over to Walsh's Pyramid and the Gilles Range.
Nudey Beach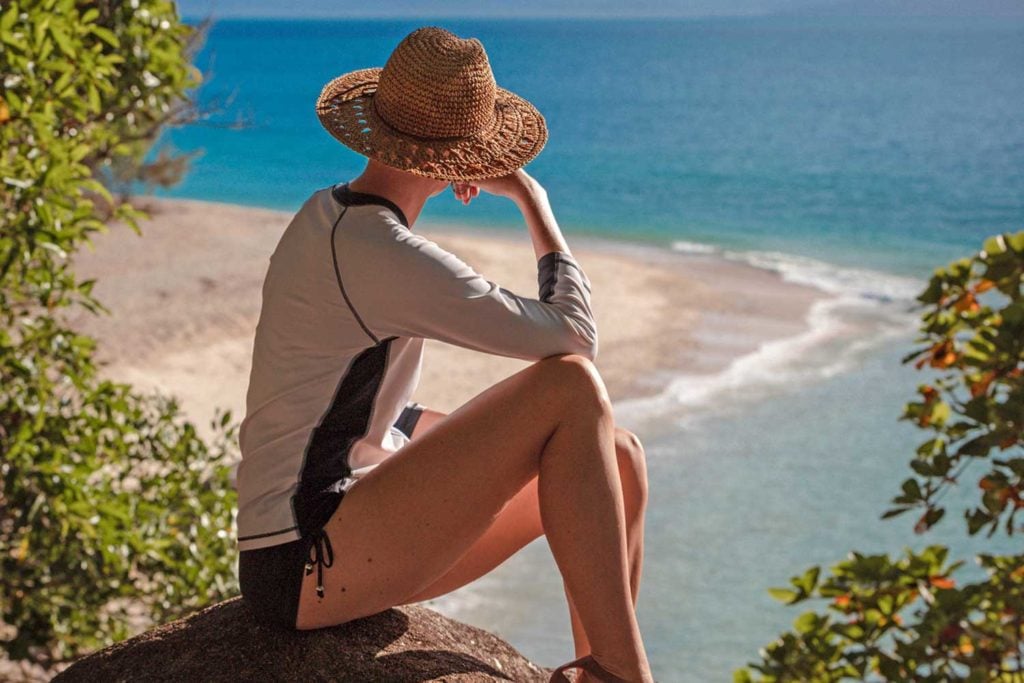 The only thing that's nude on Nudey Beach is mother nature – dished up in her raw, pristine and unfiltered format. Visitors to Fitzroy Island's most famous beach are met by a white coral beach and bright blue water, a combination that make this beach a must-visit. Sure, being at beach-level is one way to soak up its beauty, but if you really want to see this award-winning beach, soak it up with a little elevation from sizeable lookout boulder before you descend to the sand. The boulder is the very spot Fitzroy Island postcards are taken from, making this the very definition of a postcard-worthy view.
Glacier Rock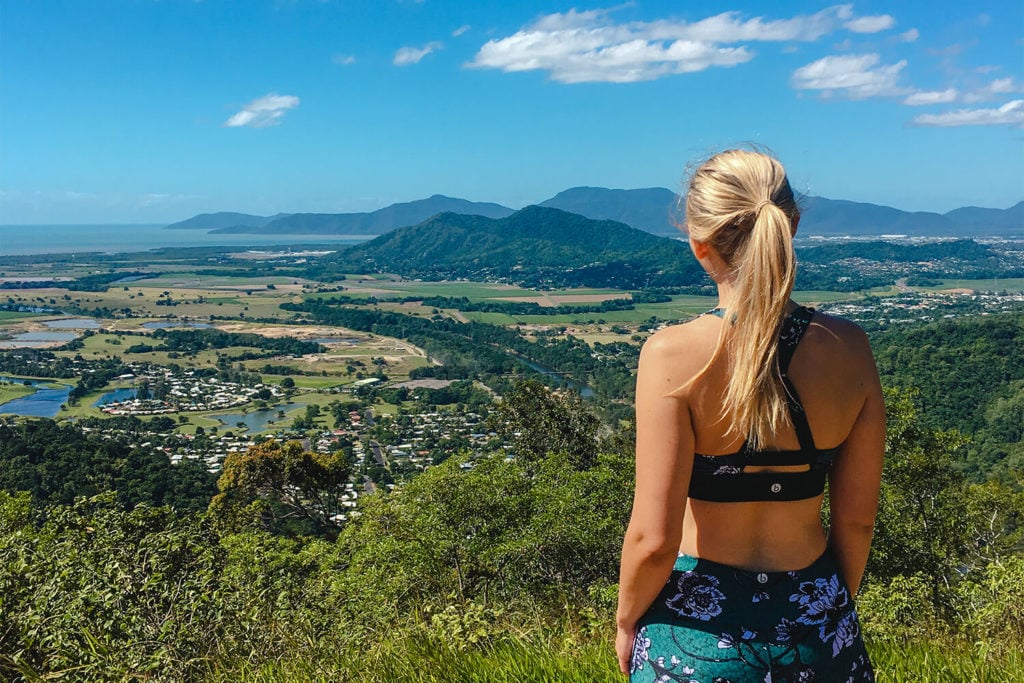 Don't let its name fool you – there's nothing cold about this hike near Cairns. In fact, if you're thinking of tackling it – be sure to leave early to beat the tropical heat. You'll need to set aside about two and a half hours for this seven-kilometre trail, which winds its way to an elevation of 439m where you're rewarded with city views. If the views weren't quite the sweetener you were chasing for your efforts, cool off in Stoney Creek swimming hole (the trailhead) after the hike.
Barron Gorge Power Station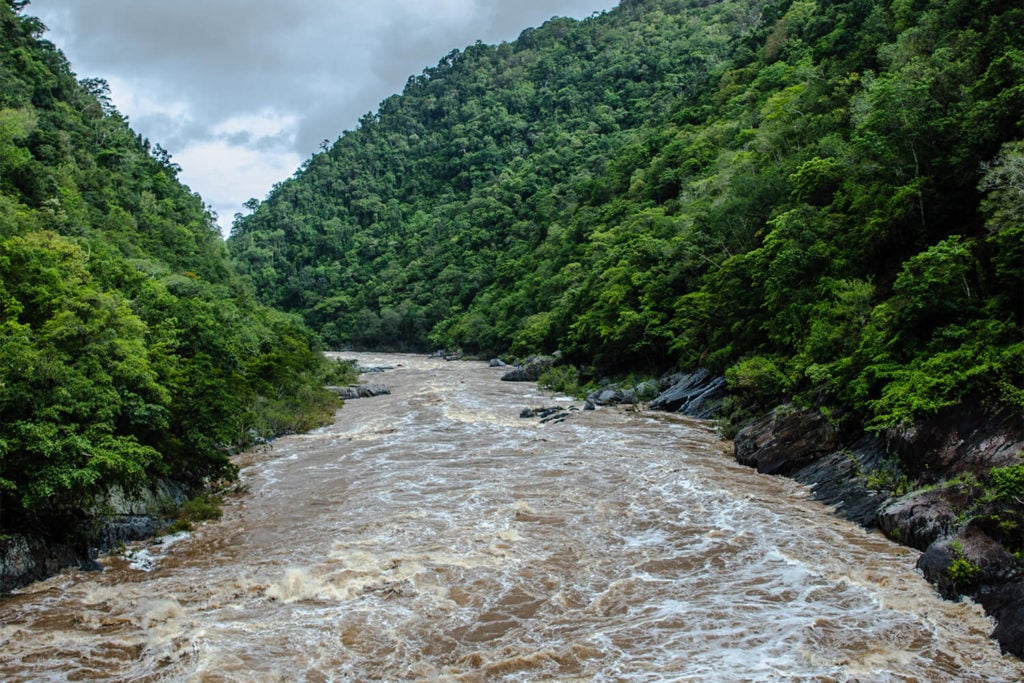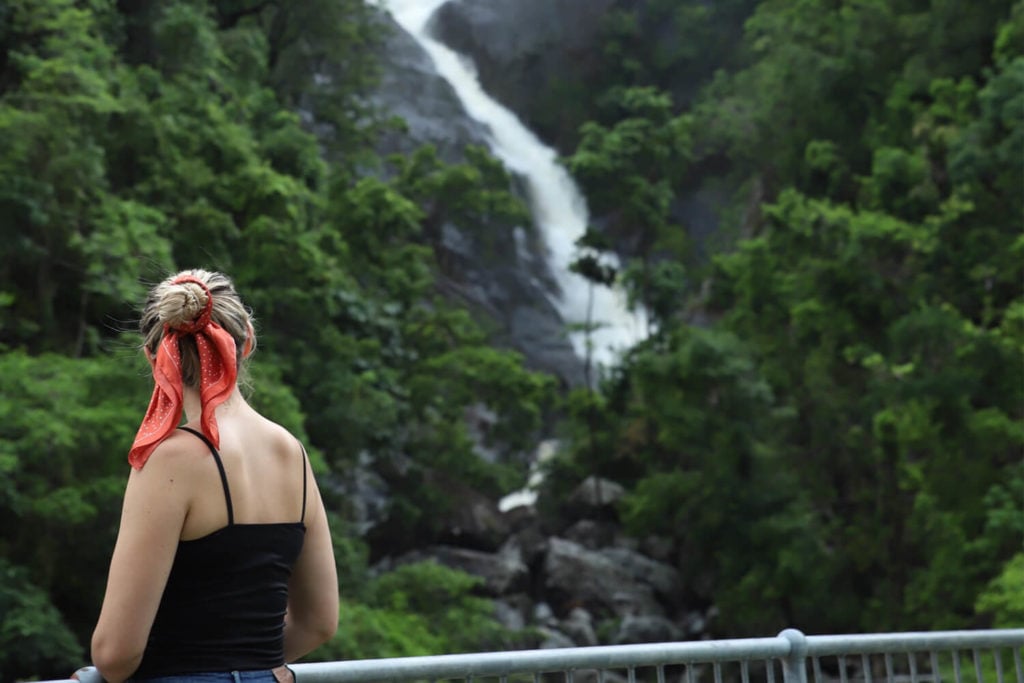 Tropical North Queensland's most thunderous waterfall, Barron Falls, needs very little introduction – each wet season it transforms from a mere trickle to a powerful force, enough to power an entire power station with its water volume. From the lookout at the power station, you'll get vast views down Barron Gorge and of Surprise Creek Falls from the bridge. Aside from mist spray from the drop over the weir, you'll learn about how the Barron generates hydroelectricity.
Fun fact: Barron Gorge Hydro-Power Station was Australia's first underground power station (est. 1935).
Crystal Cascades Lookout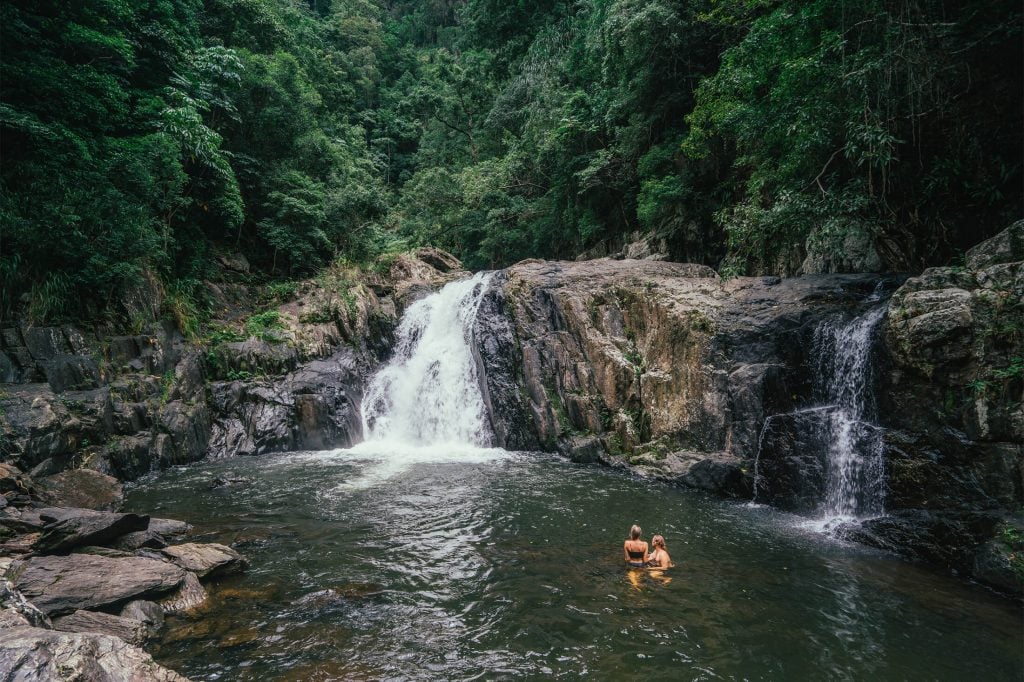 Local favourite and worthy entrant in this of waterfalls to chase near Cairns, the large waterfall at Crystal Cascades are best viewed from the raised lookout over the falls. Pack your swimmers because the Crystal Cascades is a series of water holes and waterfalls, with multiple spots, primed for swimming.
Devil's Pool Lookout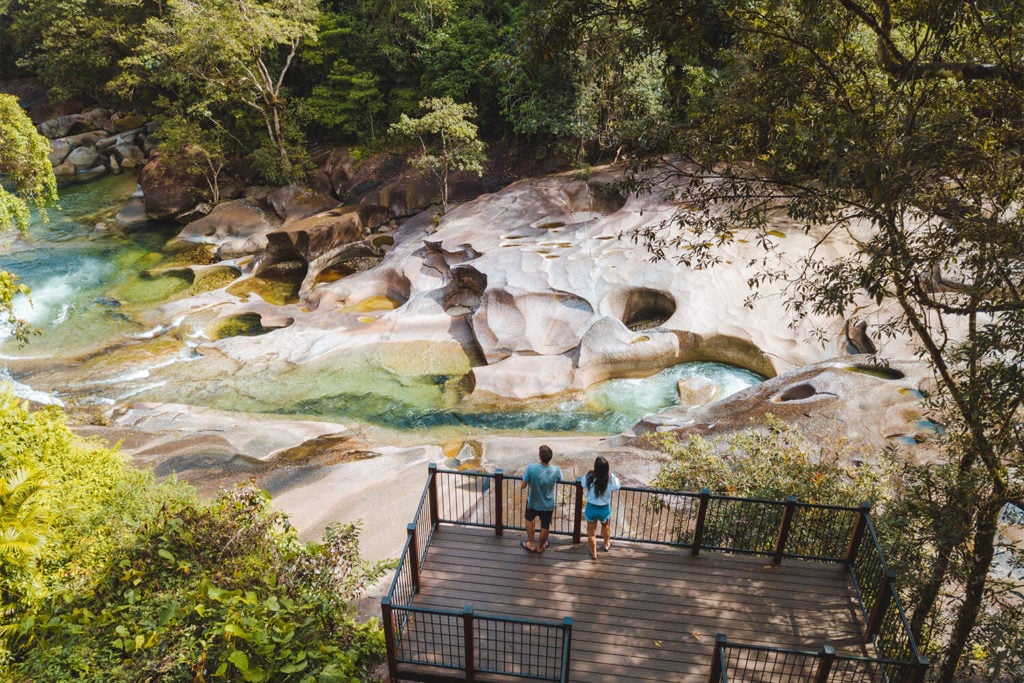 The emerald, green waters and silvery rocks that make up the Babinda Boulders are a sight for screen-weary eyes. Mesmerising and enticing – if you believe the Indigenous legend behind the area, that's the whole appeal. To find out more about the spirit who haunts the fast-flowing rapids, take the elevated boardwalks towards the two lookouts over the Devil's Pools, where interpretive signage shares how the pools earnt their name.
Back towards the picnic area, a safe swimming area beckons with cascading streams with refreshing mountain water.