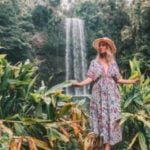 Rocky, wild, and undeniably dramatic, Barron Falls has a regal presence that is suitably fitting to its moniker. Whether you witness it as a scenic trickle in winter or as a mist-filled force in summer, Barron Falls deserves a spot in your tropical travel itinerary. Get ready to chase the ultimate waterfall with this guide to Barron Falls near Cairns.
Where is Barron Falls?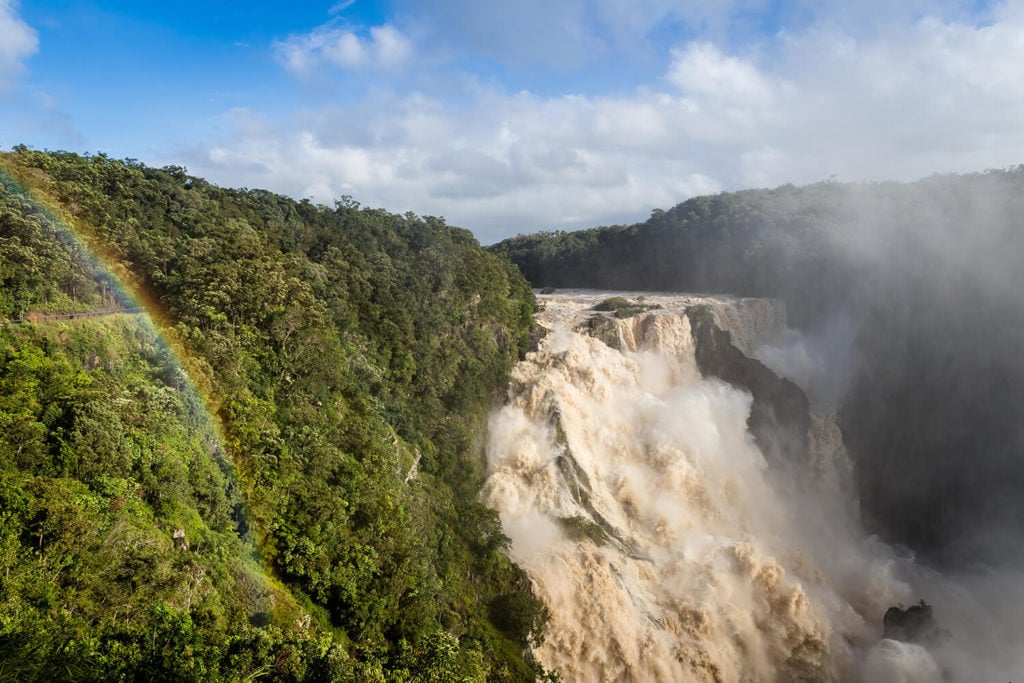 Located in Barron Gorge National Park near the rainforest village of Kuranda, this mammoth waterfall flows down rocky ledges for 250m into the craggy gorge below.
Barron Gorge National Park stretches from the coastal lowlands (Lake Placid) to the elevated regions of the Atherton Tablelands near Kuranda. Both Barron Falls and Barron Gorge National Park are within the Wet Tropics World Heritage Area.
How to get there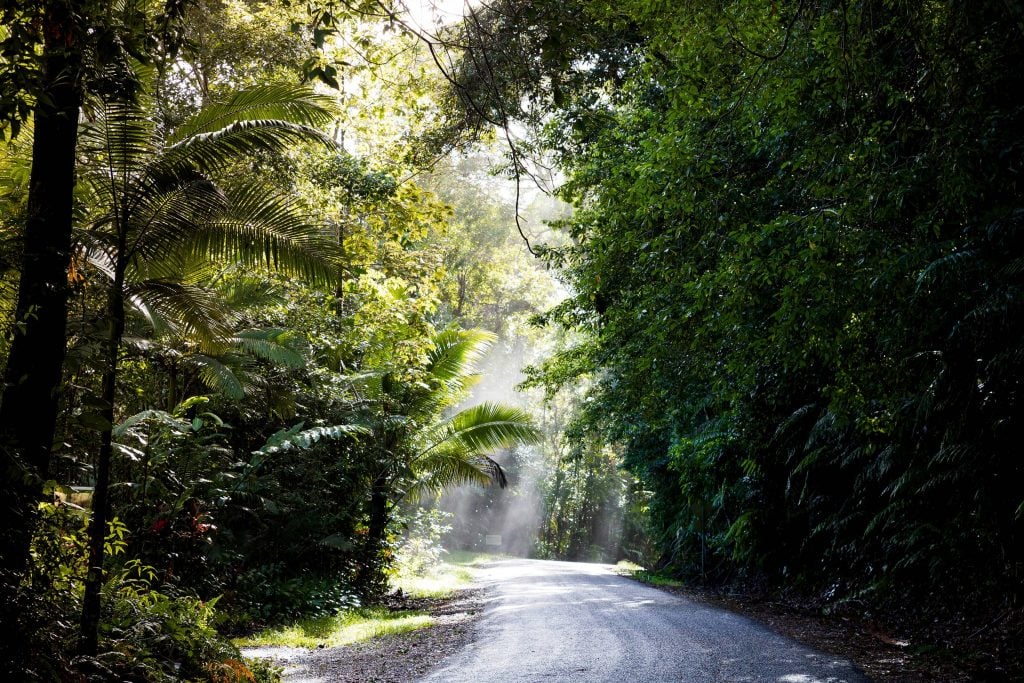 Barron Falls is located around a 40 minute drive north-west from Cairns and can be reached via the Kuranda Range, which begins from the suburb of Smithfield. Turn left off the Kennedy Highway onto Fallon Road towards Kuranda. At the roundabout, take the first left on to Fallon Road then turn right onto Barron Falls Rd. Continue until you reach the car park for the Din Din (Barron Falls) lookout.
If you don't have your own car, there's plenty of guided tours and experiences that guarantee views of this famous falls.
Din Din (Barron Falls) Lookout Track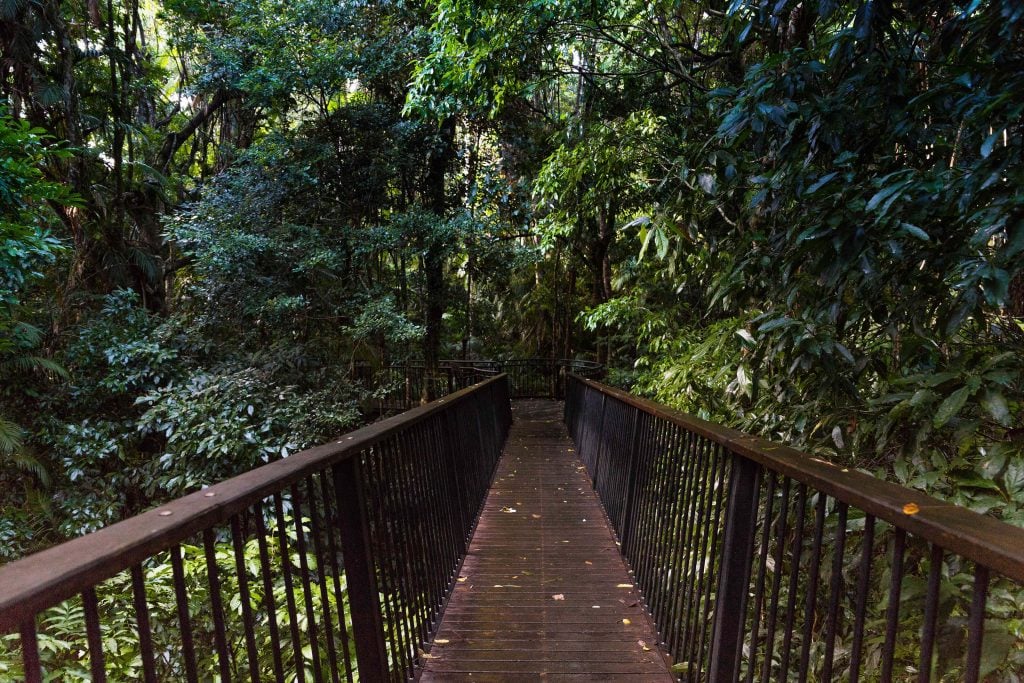 You don't need to jump on a tour to visit Barron Falls. If you have your own set of wheels, make way to the Din Din (Barron Falls) Lookout Track and take the easy 1.2km return track along the boardwalk. The elevated walkway winds through lush rainforest and open eucalypt forest canopy and offers various views of Barron Falls and Barron Gorge.
Although there is no public bus to the lookout track, you can catch a bus from Cairns to Kuranda Village with Cairns North and walk 3.4km (one way) to the start of the track.
Kuranda Scenic Railway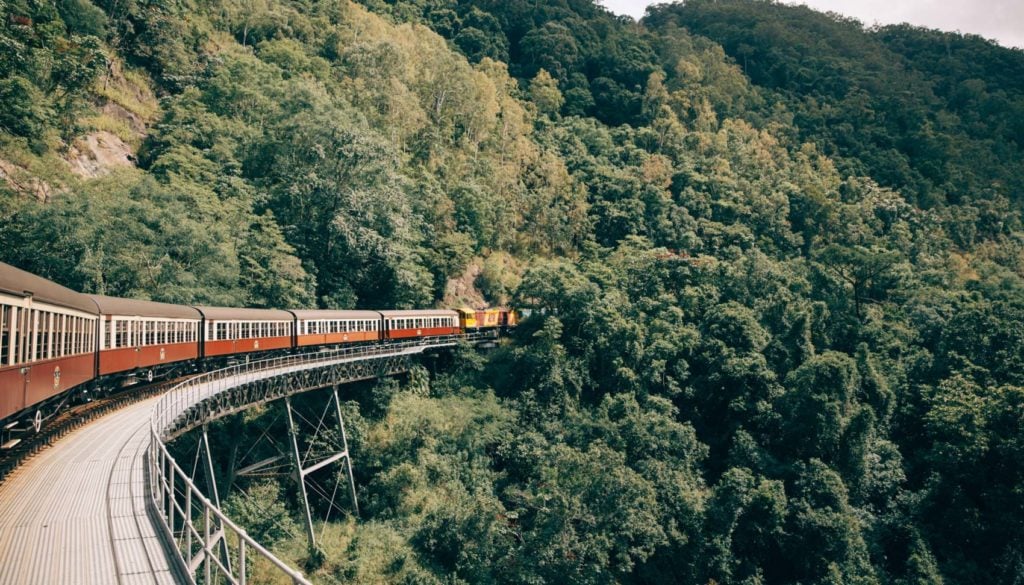 Journey through the rainforest on a train route that was established over 120 years ago on the Kuranda Scenic Railway. Meander through leafy rainforest adjacent to the rocky abyss of Barron Gorge. As well as stopping at Barron Falls station to get a fantastic view of this colossal falls, Kuranda Scenic Railway passes over Stoney Creek Falls, so you're sure to get more bang for your buck when it comes to waterfall wondering.
Skyrail Rainforest Cableway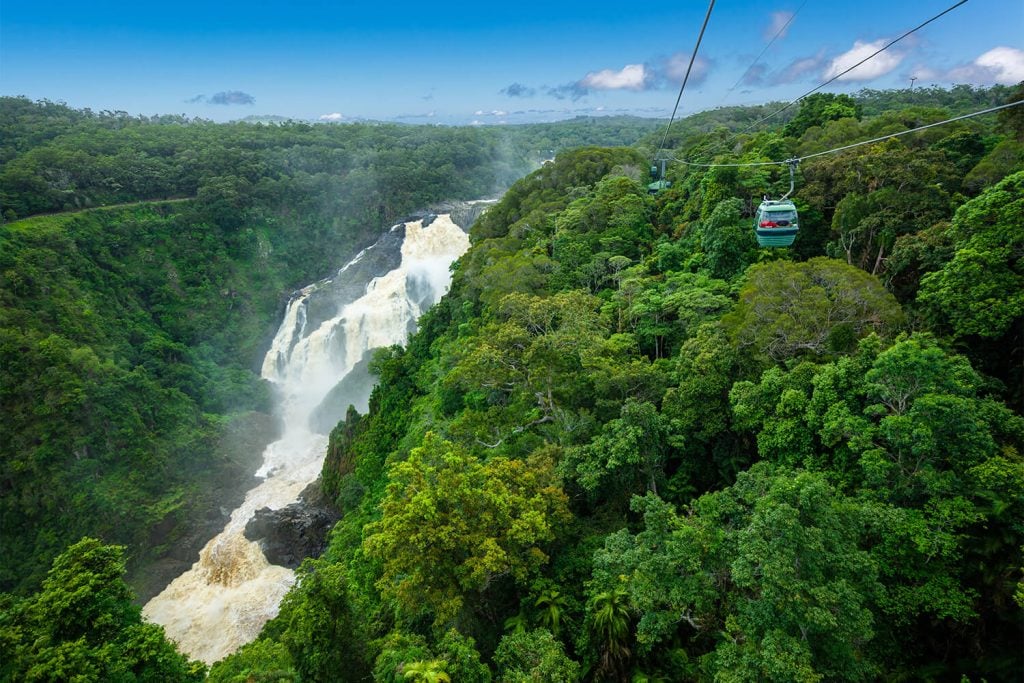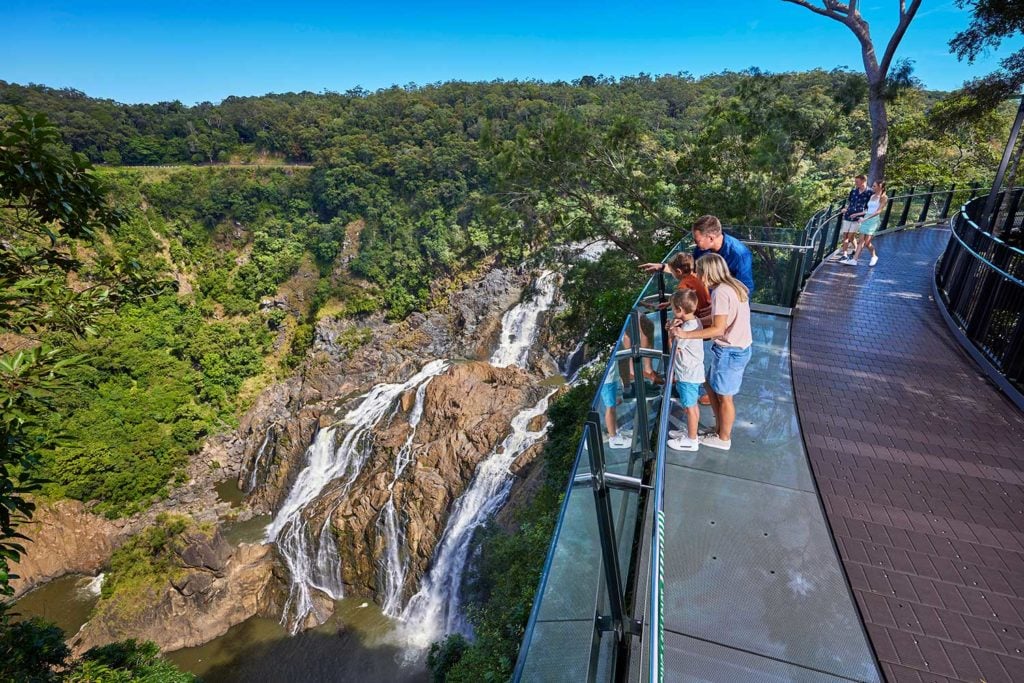 Take your waterfall experience to new heights (literally) on Skyrail Rainforest Cableway and soar over the emerald rainforest canopy. Fly over Barron Falls to for a birds-eye-view of the rainforest or upgrade your journey to the open-air canopy glide for a full sensory experience.
Don't worry if your moment in the air above the falls seemed too fleeting – hop off at Barron Falls station to gaze at the falls from ground level. The Edge Lookout features a glass walkway with uninterrupted views of the falls and if you look down, you can see into the gorge 160 metres below.
Helicopter Flight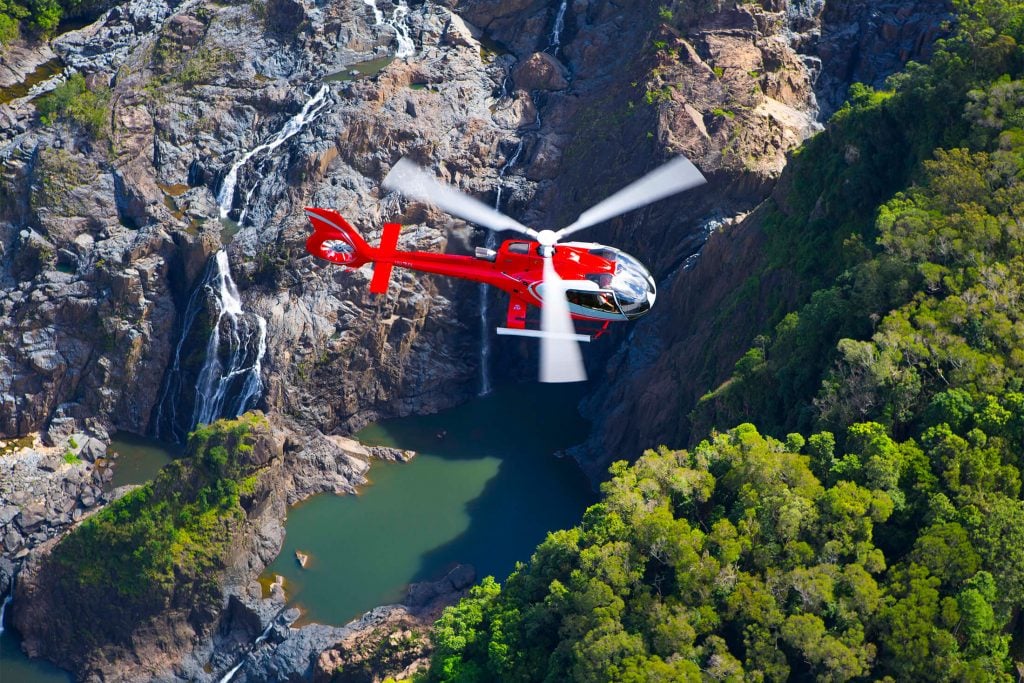 Take to the air in a Nautilus Aviation helicopter for a birds eye view of the vibrant and changing landscapes of Tropical North Queensland. Soar over the rainforest-clad mountains and into the heart of Barron Gorge National Park, descending over Barron Falls to see it dramatically plunge into the river below.
Day Tours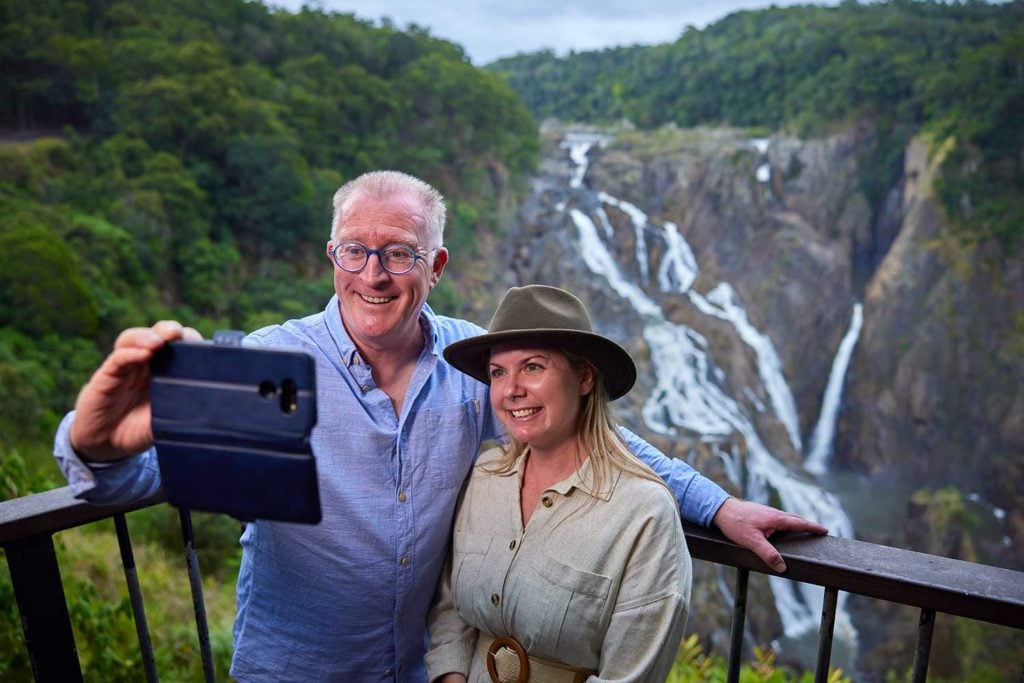 Traditional Custodians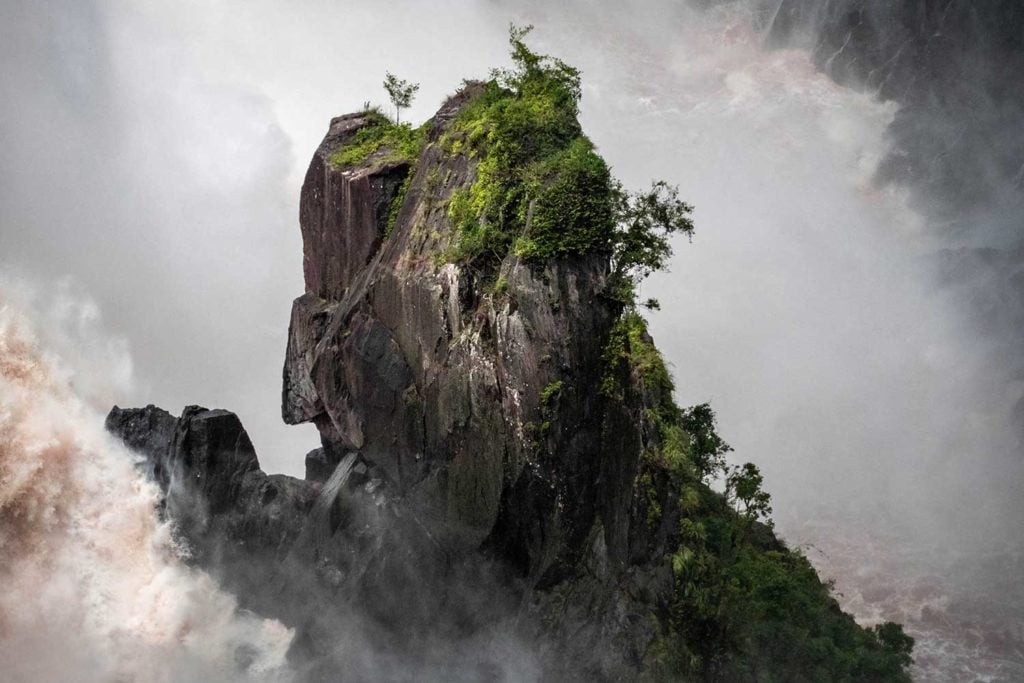 The traditional name for Barron Falls is Din Din. The Djabugandji Bama people are traditional owners of the area Djirri Nyundu Nyrrumba, which includes Barron Falls and Barron Gorge National Park.
The national park was handed back to the Djabugay people in 2004 and was the first national park in Queensland to have native title determination.
Accessibility
The Din Din (Barron Falls) lookout track is wheelchair accessible and the boardwalk, lookouts and toilet are accessible with assistance.
Skyrail Rainforest Cableway is accessible for manual wheelchairs and the accessible boardwalks allow stunning views of Barron Falls from ground level.
Kuranda Scenic Railway accommodates for both large and power wheelchairs and you can enjoy views of the rainforest and the falls from inside the train.
What can I expect?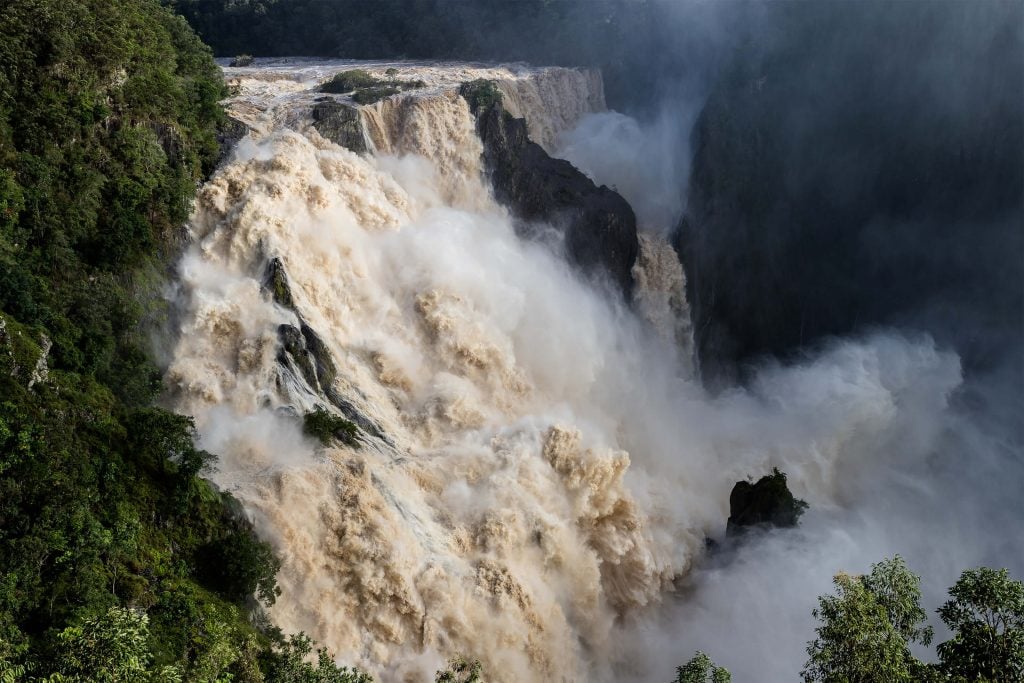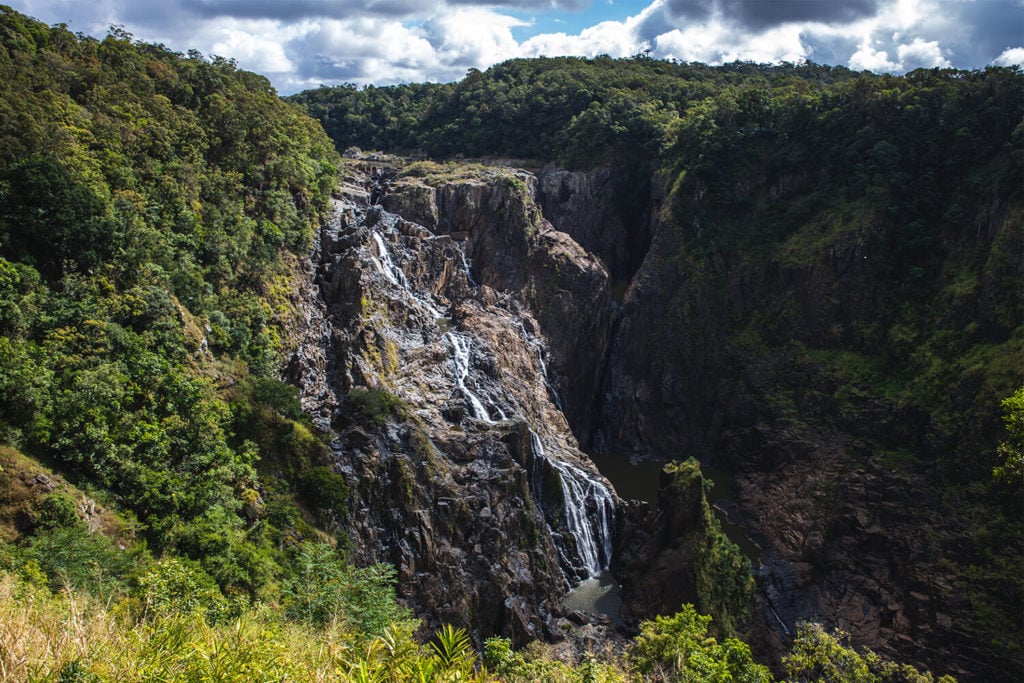 Visiting in summer and autumn
If you visit Barron Falls after a period of heavy downpour in summer or autumn, it is truly a spectacle. This epic falls has a force so big that you can literally feel the mist thundering from its masses as you stand at the viewpoint. During its peak, the daily volumetric flow rate of water over the gorge can reach a whopping 265,000 megalitres. Please note: Barron Falls is not in full flow all summer and autumn – we recommend visiting after heavy rain.
Visiting in spring and winter
During spring and winter, Barron Falls is a dainty trickle set against a vast, rocky drop. Although it is certainly more impressive at its peak flow, it's still worth seeing in the drier months.
FAQs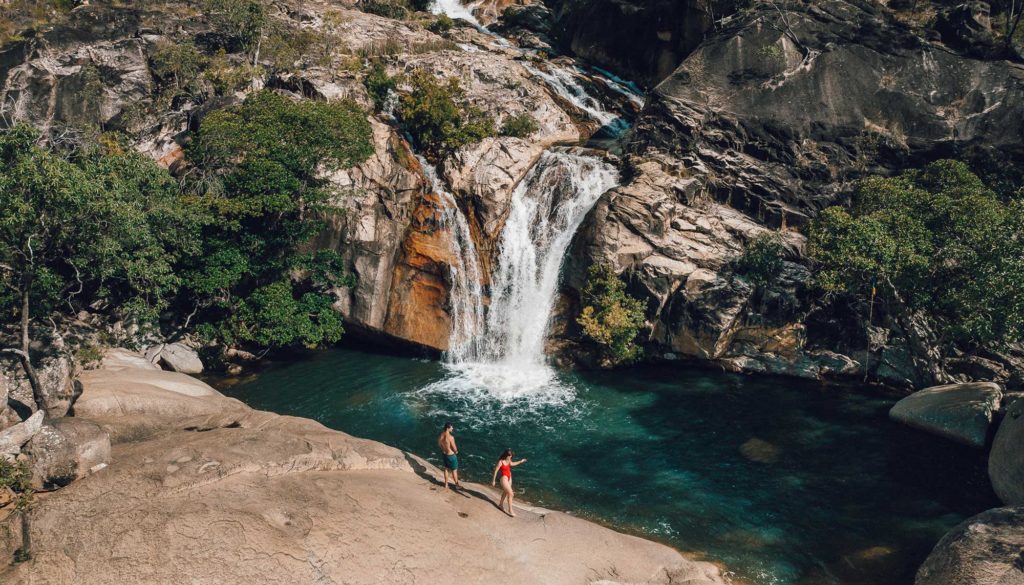 Can I swim in Barron Falls?
You can't swim at Barron Falls, however we recommend heading forty minutes north to Davies Creek Falls or Emerald Creek Falls for a refreshing dip.
When is the best time of year to see Barron Falls?
Barron Falls is stunning year-round, however, during Summer and Autumn and after heavy rainfalls, the falls will be in full flow and will be particularly breathtaking.
When is the Din Din (Barron Falls) Lookout Track open?
The Din Din (Barron Falls) Lookout Track is open 24 hours a day.
Are dogs allowed?
Domestic animals are not permitted at the Din Din (Barron Falls) Lookout Track or in Barron Gorge National Park
Is camping permitted?
Camping is not permitted in Barron Gorge National Park. The nearest camping area is in Speewah Conservation Park on the western border of Barron Gorge National Park.
Are there toilets?
There are toilets in the car park for the Din Din (Barron Falls) Lookout Track.
Live Stream Barron Falls
Skyrail Rainforest Cableway have taken out the guesswork and offer live streaming of Barron Falls year-round. While this is particularly handy to monitor during periods of rain, don't let its regular flow deter you from visiting. As you should already be aware, visiting Barron Falls at any time of year is interesting and educational.
Things to do nearby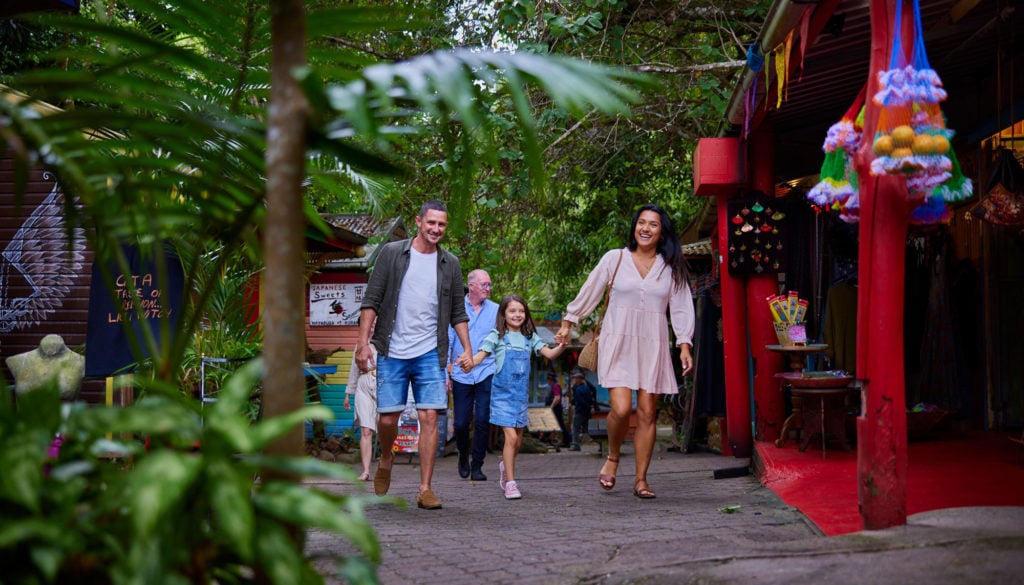 There's plenty to do in Kuranda Village. Shopaholics will love frolicking around the Original Rainforest Markets and Heritage Markets, where you can pick up an abundance of goodies, including jewellery, souvenirs and local produce. Cafe hop your way down the main street to fuel up between browsing the boutiques. Wander through a rainforest aviary with 1500 tropical butterflies at the Australian Butterfly Sanctuary, see a Southern Cassowary at Bird World and hand feed wallabies and cuddle a koala at the Kuranda Koala Gardens.