Waking up in paradise
Camping is about slow sunrises melting the last tendrils of night; the cicadas' symphony heralding sunset; it's the sense of discovery delving off the beaten track and living with nature's slower rhythm. Unzip your fly net for moments less travelled and set your compass for a direct encounter with Tropical North Queensland nature at its most intimate and beguiling.
Whether your idea of camping is a beachfront cabin with a dose of luxe or a remote wilderness experience, the region has endless swoonworthy camping locations. The common theme? Waking up in paradise. If water is what floats your boat, glamp beachfront at Australia's most northerly camping ground at Punsand Bay, or head to palm-fringed Dunk Island. Just arriving by water taxi makes you feel like this is the start of an adventure movie.
Or camp in a cattle station. Try Goshen Station, where the first season of Australian Survivor was filmed, or fall asleep to the lullaby of a cascading waterfall on Woodleigh Station. With campers keen to swim, fish and kayak, the hundreds of kilometres of creek and riverfront sites throughout Cape York make for memories you'll relive again and again.
With plenty of extinct volcanoes in the area, sleeping next to a geological wonder may be more your thing. Camp by the Undara lava tubes, the longest on the planet, near a crater lake at Lake Eacham, or near 1700-million-year-old Cobbold Gorge. Or head to Gulf Savannah country and pitch a tent at Lawn Hill Gorge on the edge of the rugged Boodjamulla (Lawn Hill) National Park or at Karumba at the mouth of the Norman River. Wherever you choose, you'll be a happy camper.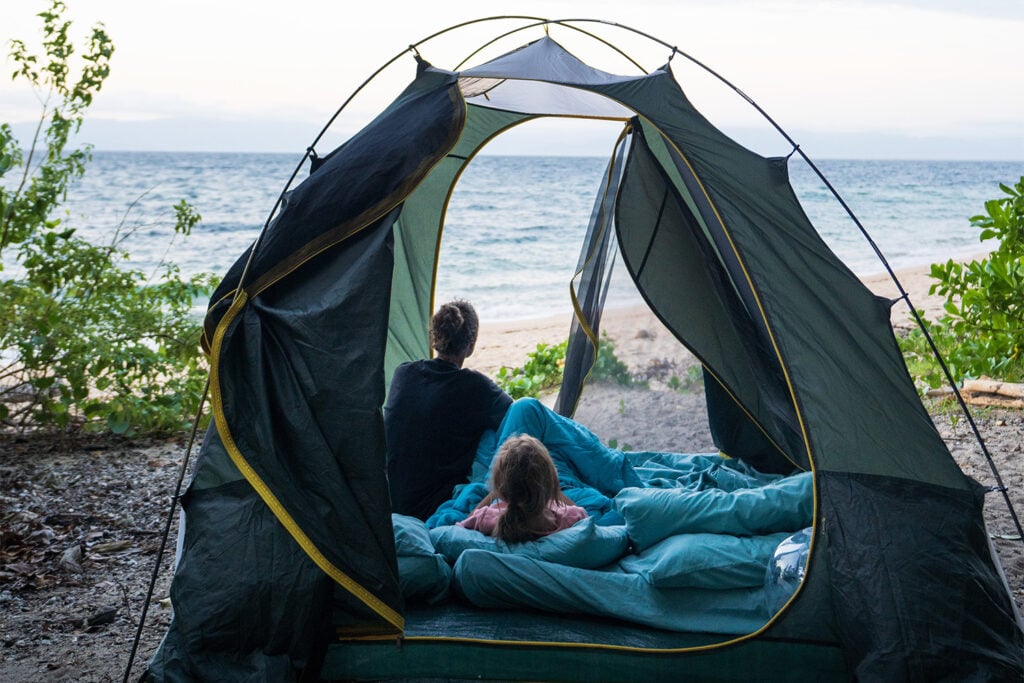 Pitch perfect
Why sleep five-star when you can lie out under a billion?