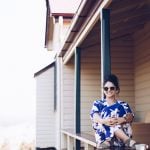 Some adventures are off the beaten track and others, like the Undara Lava Tubes, are underneath it. You'll need to dip below the earth's surface, to explore these famous 190,000-year-old lava tunnels that point to an explosion when 23 cubic kilometres of lava flowed for 160 kilometres, carving a natural playground south-west of Cairns.
It might only be three and a half hours' drive from Cairns, but the Undara Lava Tubes feels worlds away. Consider this a road trip to be savoured, because across 255 kilometres you'll be swapping the reef and rainforest for outback savannah country – as mountains flanked with rainforest give way to termite mounds and sparse vegetation.
Allow ample time to chase waterfalls across the Atherton Tablelands as you make your way from Cairns to your final destination, Undara Volcanic National Park. Aim to arrive by sundown, taking extra care of the native wildlife who like to share the road too.
Where to stay?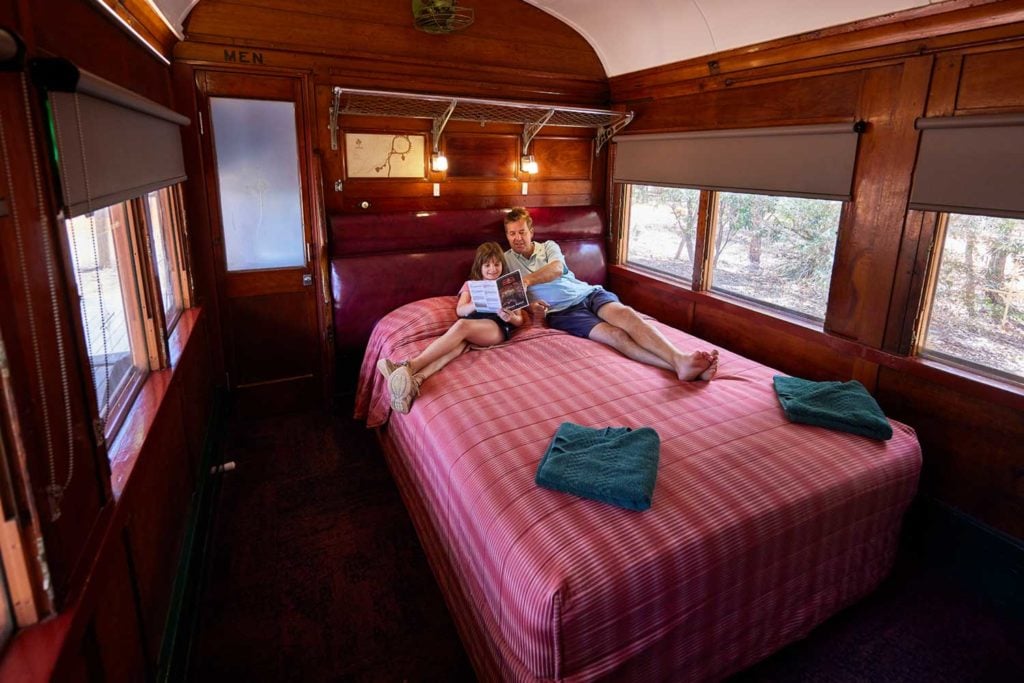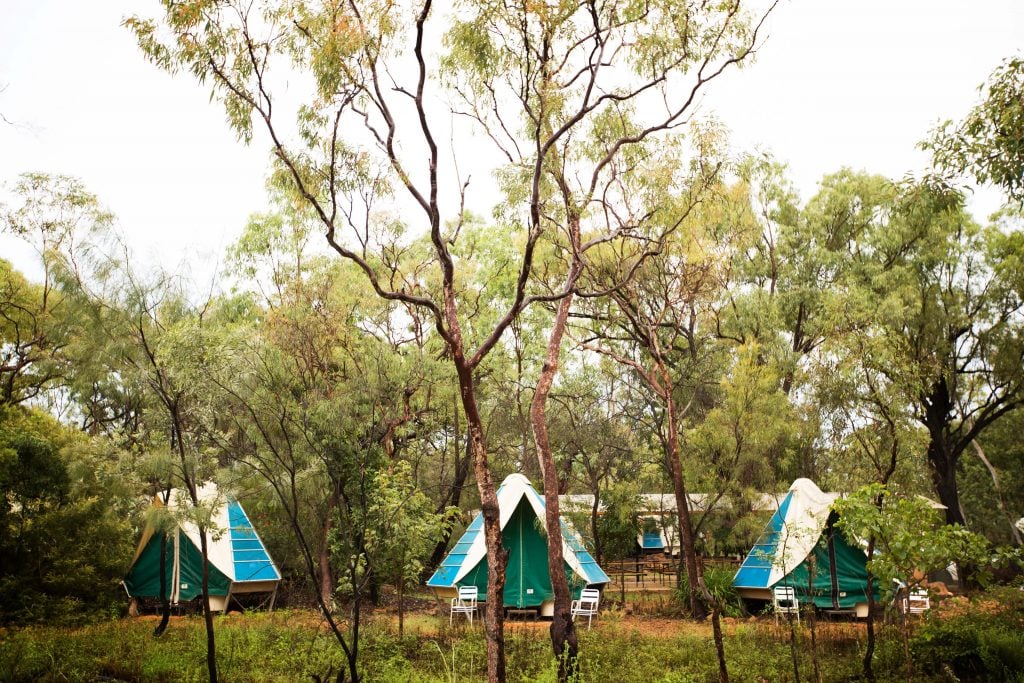 When visiting one of Australia's greatest geological wonders, you'll want to stay close to the action. The Undara Experience is the only accommodation within the national park, offering a range of options from restored turn of the century rail carriages to camping (both BYO and tent city style), caravanning, well-appointed pioneer huts and homestead rooms.
No matter which style you choose, you'll have access to the crowd-pleasing bush breakfast on offer at the Ringers Camp – an Aussie-fry up (think: bacon, eggs, snags cooked over the coals) and a piping hot cup of Billy Tea, all set to the backing vocals of the native birds.
How were the lava tubes formed?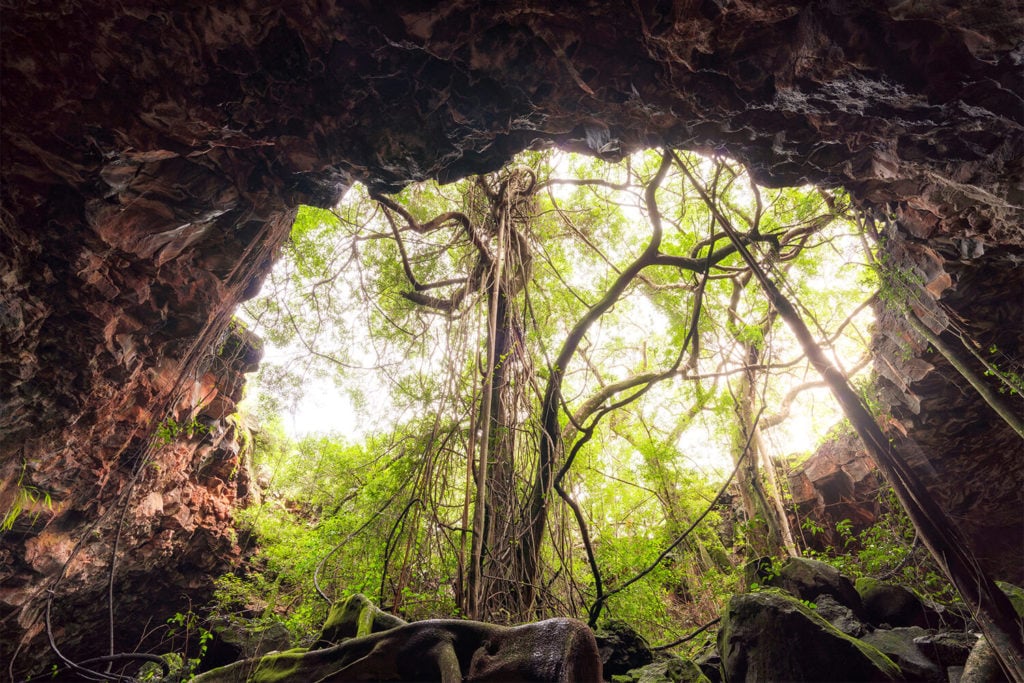 Welcome to the inner workings of a volcano that erupted 190,000 years ago, spilling enough lava to fill Sydney Harbour three times over. The tubes you see today were formed when this enormous volume of molten lava drained, leaving behind a series of hollow tubes, which mother nature has since landscaped with tools of her own – water, wind, and rain – giving the Undara Lava Tubes their spectacular colouration.
In parts of the lava tube system, rainforest has reclaimed this former volcano, with thick vine thickets sheltering the entrances to some of the tubes, giving the landscape incredible Jurassic qualities in photographs.
How to see the lava tubes?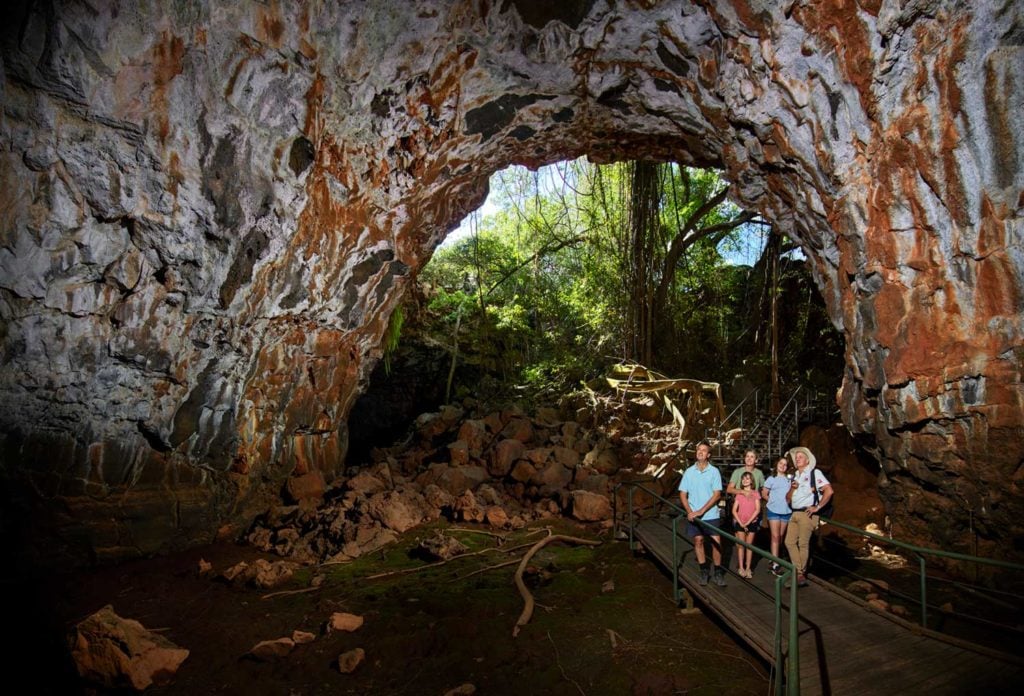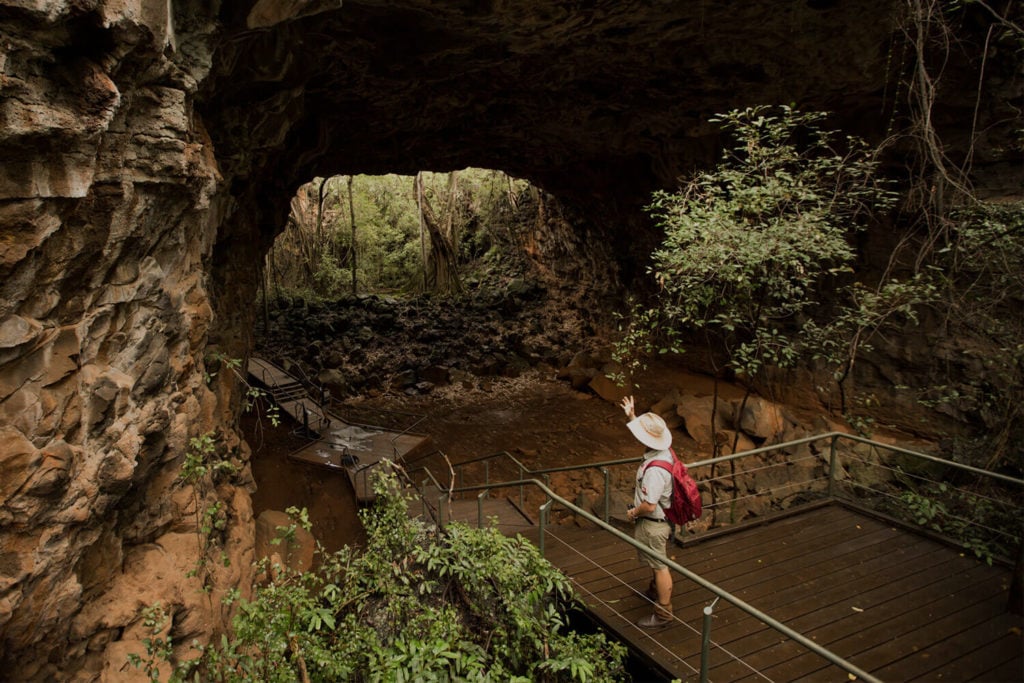 To see the geological wonders, you'll need to join one of the Undara Experience's Savannah Guides for a tour that delves into one of the world's longest cave systems. Considering the name Undara translates to "the long way" in the local Indigenous language, you'd be right to wear comfortable walking shoes, regardless of the format you choose.
For an introduction to Undara's Lava Tubes and a two-hour tour time, join the Archway Explorer, which covers some of the highlights of the system via boardwalks and stairs. This tour is the preferred-pick for tiny-travellers, those with accessible needs and / or travellers with a basic fitness level.
To explore more of the lava tube system, the Wind Tunnel Explorer guarantees adventure, taking you to three sections of the tubes across two hours. A moderate fitness level is required for this tour, with its uneven surfaces, some rock scrambling and lack of infrastructure to get you there. Either tour you choose, don't expect to be submerged into total darkness. There are gaping holes in the tube system, which light up these cavernous caves.
What else is there to do?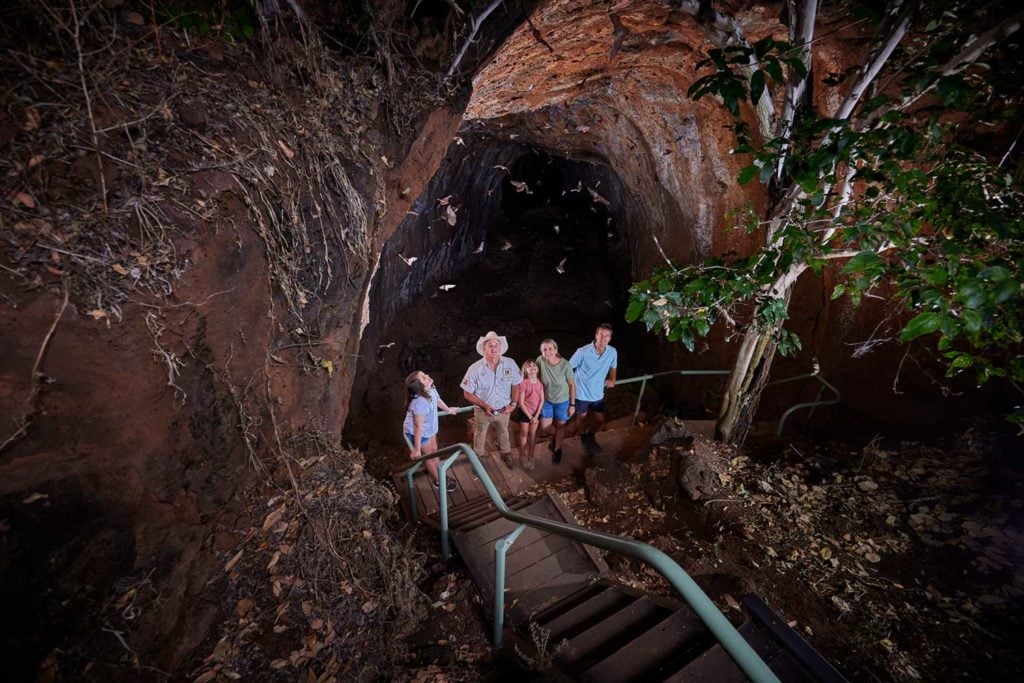 For a documentary of David Attenborough proportions, join the Undara Experience for their nightly Wildlife at Sunset tour. As dusk descends on the national park, you'll visit the entrance of Barker's Tube to watch thousands of microbats leave to feed for the night.
The volume of bats alone is impressive, but that's only part of the experience. The real spectacle is their nightly dance with death – as these brave bats have to get past pythons and tree snakes who dangle like Medusa's hair over the tube's opening, to catch the microbats on their nightly mission.
Where to eat?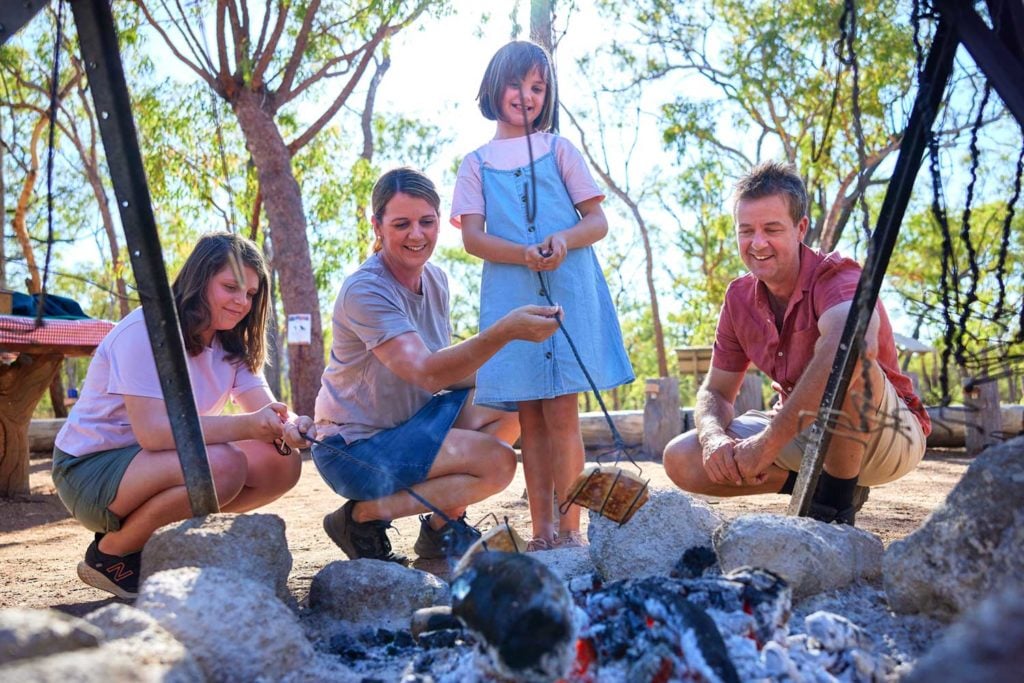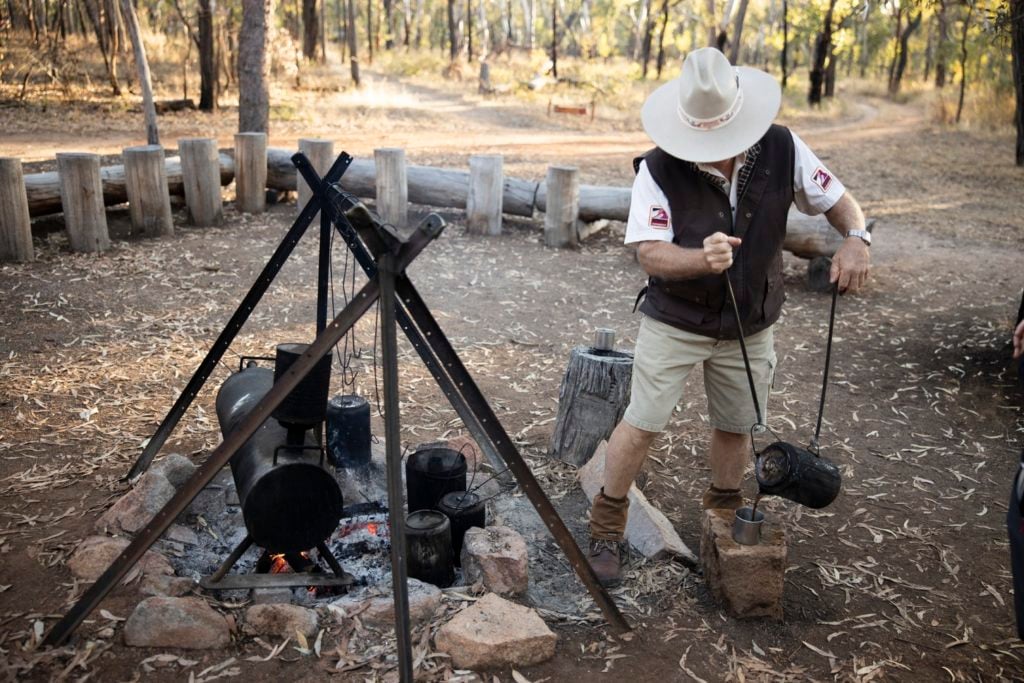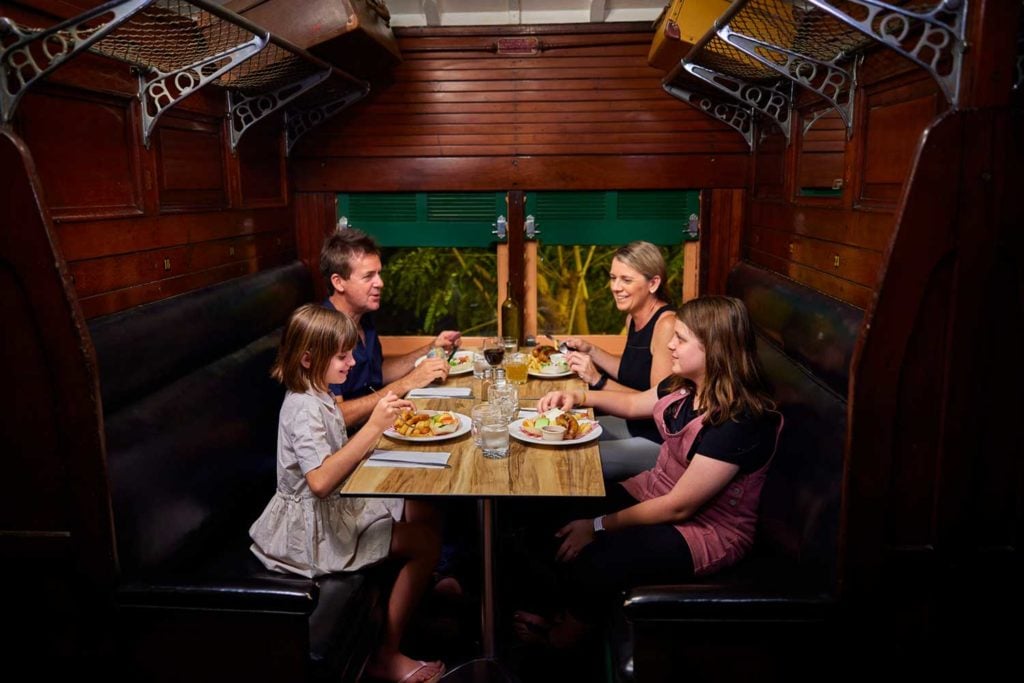 In a nod to the Undara Experience's outback location, the hospitality synonymous with the region, can be found in full swing here. Meet other travellers for the Bush Breakfast, which is served over the coals and washed down with freshly brewed billy tea each morning.
Both lunch and dinner are available at the Fettler's Iron Pot Bistro, which takes pride of place in a former railway carriage. The menu at Fettler's is as retro as the furnishings, serving up the likes of corned beef, Georgetown sausages and homemade desserts, including their crowd-pleasing chocolate volcano. In between main meal times, Saloon Car Bar, slings coffees, beers, wines and tea and cake to hungry (and thirsty) travellers.
What other walks are around?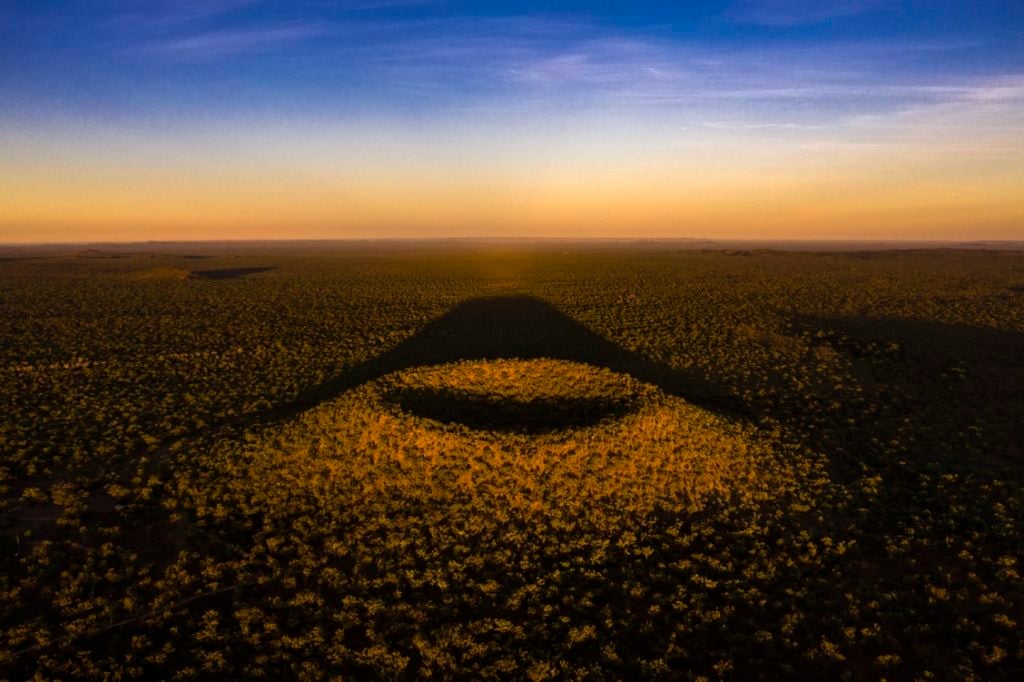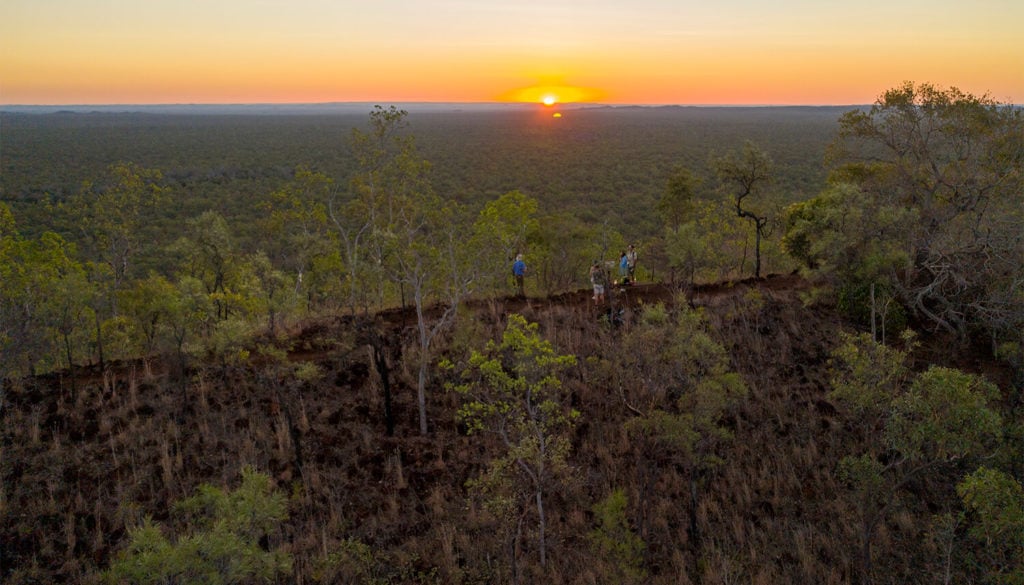 The underground lava tubes are only a fraction of this national park. Armed with a trail map, you can take your pick of the bushwalks through the park, which range from easy (2.5km) to more challenging hikes (12km). To really get a lay of the land, take the Kalkani Crater Walk which follows the line of the volcano and circuits the crater rim. The views are mesmerising – to take in the lava plains and other volcanic vents that point to a time when this was an active eruption zone, set aside an hour and a half for this 2.5 kilometre return walk. Did you know the park was once home to 164 volcanoes
Chasing more views where this came from? If you're an experienced hiker and like long format walks, set aside six hours to take the 12 kilometre return hike to Rosella Plains Lookout via Atkinsons Lookout. This trail offers views of the McBride's Volcanic Province, along with a variety of landscapes from lowlands, steep inclines that scale jump ups, and plenty of native vegetation in between.
Mark your diary for these events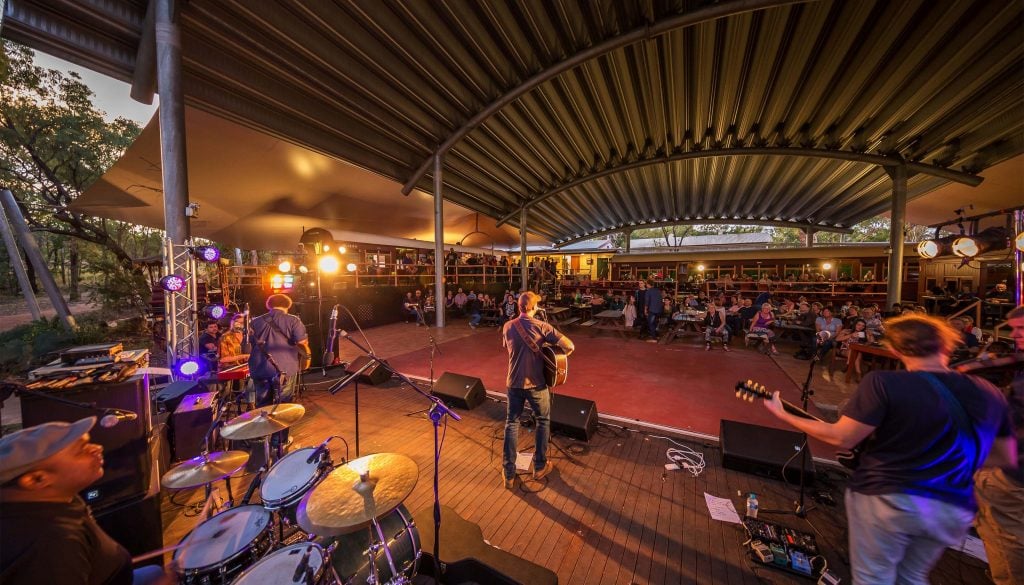 A rock music festival set to the backdrop of this ancient landscape? You'd have to see it to believe it. Save the date on or around ANZAC Day, for the annual Undara Outback Rock and Blues Music event, which takes over the national park for three days of country music.
Later in the year, the Rockabilly Rods and Rides Festival makes use of the natural, outdoor amphitheatre with live music and entertainment.
What are the locals like?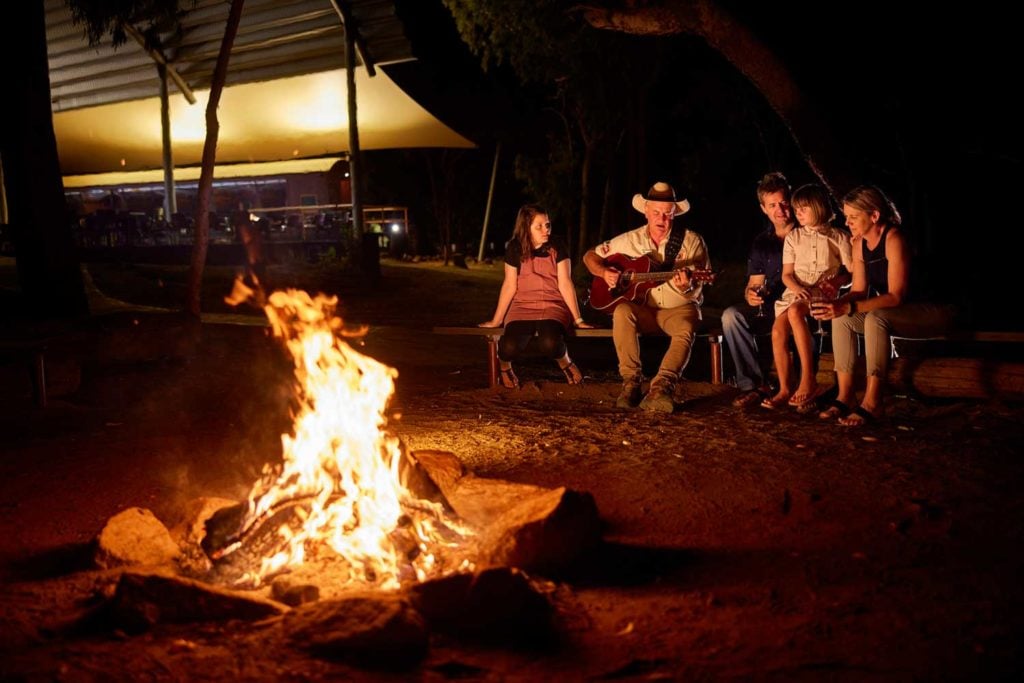 You can expect to meet a few friendly Undara locals during your stay here. The likes of rock wallabies, emus, birds, and eastern grey kangaroos are spotted here daily. Meet and greets are also easily facilitated with other two-legged guests – in the spirit of outback hospitality, the Undara Experience run a nightly communal campfire, which is free for all Undara guests from 7.30pm.
You only need read a few reviews of other travellers' time here to see it's the combination of geology, flora and fauna, and the friendly guests you meet a long the way, that cements the Undara Experience as a must-see attraction in Tropical North Queensland.