Not all Big Things are cringe-worthy kitsch. The Big Wet makes our list thanks to its influence on Big Waterfalls while dust storm-creating Big Trucks are a part of everyday life in the outback.  We're also rather partial to seriously Big Trees in these parts.
Australia has a long tradition of Big Things. You know the sort I mean, those kitchsy creations dreamed up by marketers short on budget but big on concrete. Many were conjured up as a quirky way to identify a region's backbone. Such as Wagin's Big Ram in sheep farming country or Bowen's Big Mango. Far from the confines of southern city sophistication, Tropical North Queensland does Big Things in a big way too.
Some like the Big Peanut with its adorable grin and top hat are endearingly cute. Others are more eccentric and come with heartfelt intentions like the arty Big Lizard.
Big crocodile
Big peanut
We're not quite sure of the significance of the top hat and bow tie adorning the Big Peanut. Burdened with a dull colour palate dominated by beige, these formal accessories add a touch of sophistication to an otherwise little regarded nut. Find the Big Peanut on the Kennedy Highway, Tolga.
Big cassowary
Australia's second largest flightless bird (after the emu) is on the brink of extinction. Let's hope that this concrete tribute is not all that remains for the next generation of the rainforest's most important propagator. Find the Big Cassowary at the Cassowary Shopping Centre, Wongaling Beach.
Big frog on a banana
The Cassowary Coast is home to 80% of Australia's banana industry, so there's nothing more fitting than a big frog on a banana to announce your arrival. You can find this colourful fellow on the side of the Bruce Highway in Daradgee just north of Innisfail.
Big Captain Cook
Big trucks
The big wet
Big curtain fig tree
The Curtain Fig Tree is another monster unique to TNQ. It's almost a reverse tree in that it grows from the top down rather than from the earth upwards. The Big Curtain Fig is actually a strangler fig species. It attaches itself to a healthy host tree, eventually killing it by sending extensive aerial roots downwards to form a significant curtain. This is nature in all her kick-butt glory. Find the Curtain Fig Tree just outside Yungaburra on the Atherton Tablelands.
More big trees
Ancient buttressed roots of rainforest trees in Mossman Gorge are a favourite with photographers and tree huggers alike. But they also provide habitat for countless forest critters. Though I'm not sure I'd recommend cosying up for too long like this couple, these ancient moss-covered monoliths are awe-inspiring. Find them within Wet Tropics Rainforest.
Big lizard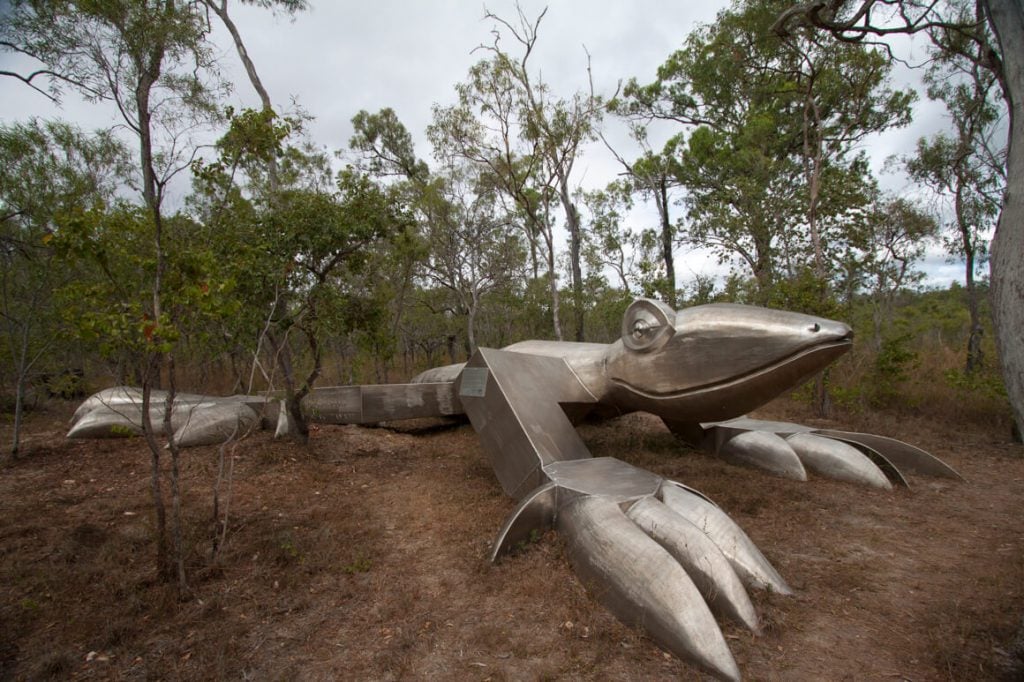 The Big Lizard is a striking stainless steel artwork by Japanese sculptor and conservationist Mitsuaki Tanabe. The piece was created to draw attention to the decline of wild rice eco systems in Australia's wetlands through environmental destruction. It's a remarkable piece that seems oddly conspicuous, given its wild surroundings. View the Big Lizard at Mareeba Wetlands on the Atherton Tablelands.
Big mountains
Big barramundi
Is it a barramundi? Or some other species? We're not certain, but whatever it is we like it! Like a fish out of water this fella finds himself well inland and almost 1,000 metres above sea level, representing a big challenge for fresh water anglers. Anglers chase barra while others enjoy the tranquillity of rolling hills of the Atherton Tablelands. Find the Big Fish on the Millaa Millaa-Malanda Rd.
Big termite mounds
It's difficult to fathom that a creature barely visible to the human eye could create monoliths that dominate the landscape. The enemy of carpenters and woodworking craftsmen, termites create homes larger than the large 4WD's that are standard transport in their habitat. Look for termite mounds in all shapes and sizes by heading inland into Savannah country.