Where
Undara to The Lynd Junction
Want to discover the real Australia? Head into Queensland's Gulf Country during the dry season to find a landscape shaped by ancient volcanoes and the powerful forces of nature. Scratch beneath its surface and you might unearth gold or gemstones. Or simply take a jaunt and enjoy the stunning gorges, incredible wildlife, fascinating history and zany characters that are part and parcel of this region.
Get Directions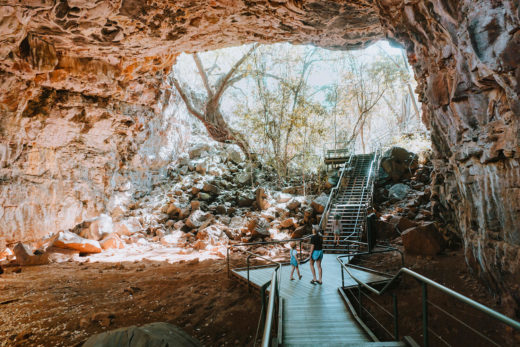 When the Undara Volcano erupted some 190,000 years ago, rivers of molten lava oozed across plains and river valleys, reaching up to 160km away. To put this in perspective, no other volcano on earth has recorded a longer lava flow in recent geological times. Today, visitors can explore this fascinating netherworld. Some of the world's longest lava tubes resemble tunnels while the roofs of other sections have collapsed, allowing pockets of rainforest flora and fauna to thrive. The kilometre-long Bayliss Cave is one of the world's most biologically diverse caves, with 52 animal species, including four types of micro-bat.
After touring the caves with an Undara Experience guide, check in to your accommodation at the same site. Options include air-conditioned huts, swag tents and railway carriages. After dinner, cave guides entertain visitors around the campfire with singalongs, recitals, talks and walks.
DAY TWO
Undara to Georgetown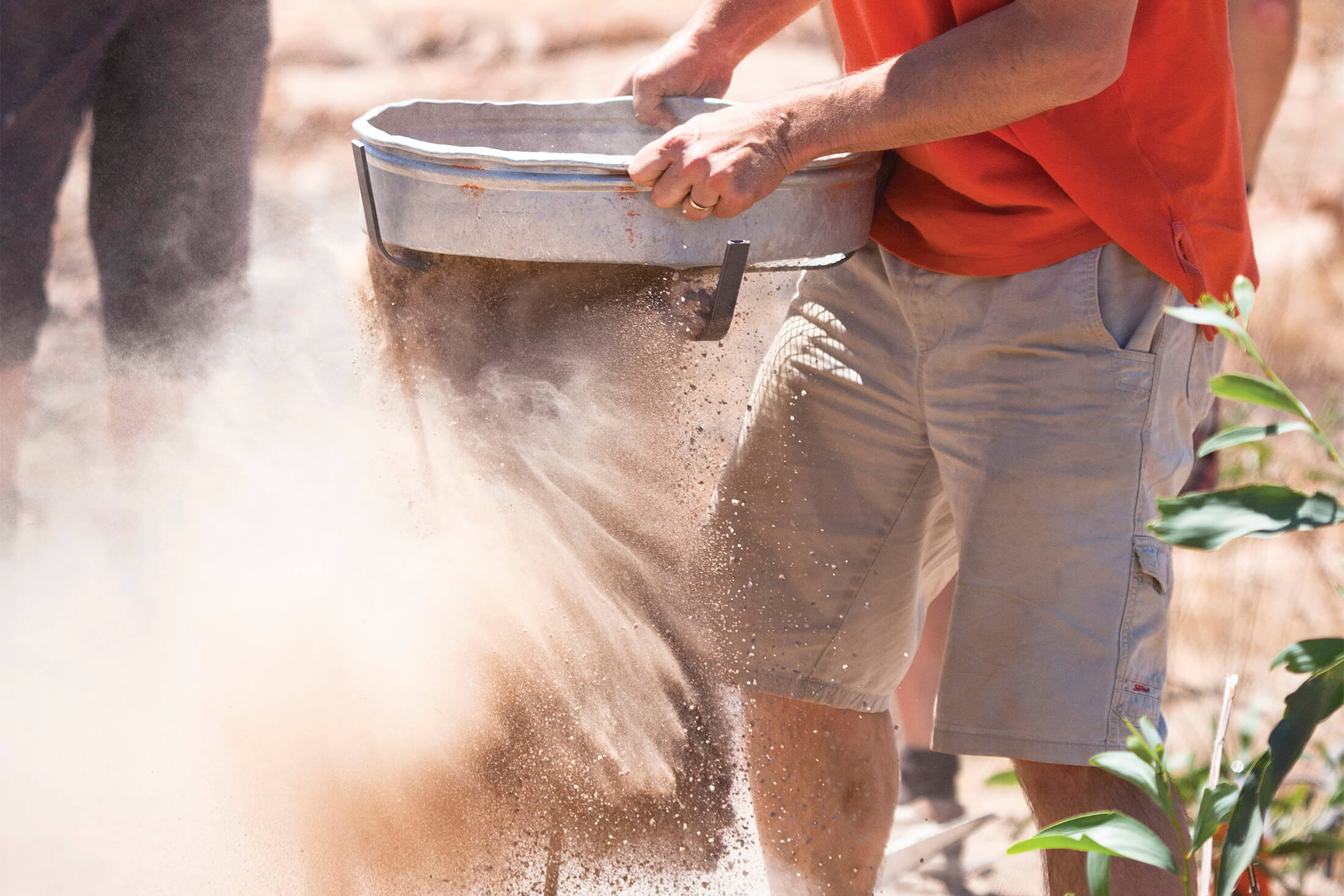 As you set out in a westerly direction towards Georgetown, don't get too comfortable as Mount Surprise is just half an hour down the road. Prior to your trip, ensure that you purchase a Fossickers Licence and equipment so that you can try your hand at treasure hunting.  Head to O'Brien's Creek, where you can fossick for semi-precious gems such as topaz, smoky quartz and aquamarine. The gem fields are open all year but access roads can be impassable during the wet season – it's best to visit from May to September.
An hour's drive from Mt Surprise, along the Savannah Way, is Georgetown, home to the TerrEstrial – a visitor's centre housing the stunning Ted Elliott Mineral Collection, a private treasury of 4,500 gem and mineral samples.
DAY THREE
Georgetown to Cobbold Gorge
Visitors can detour to Flat Creek Station, a working beef cattle station, to prospect for gold or to spot a Gouldian finch, but you can also head directly south to the former gold-mining town of Forsayth. Forsayth is now known as a terminus for The Savannahlander – a 1960s silver-bullet train that departs Cairns weekly for four-day tours of the region. The Forsayth area was once known as the Poor Man's Goldfield as you didn't need expensive equipment to stumble upon a nugget. Relics from those heady golden days, including a rail engine, can be seen in Caschafor Park, along with wood carvings worked into the trees. The renovated Goldfield's Hotel and Finnigan's Rest is a one-stop shop that combines hotel, accommodation, minimart and postal agency. If you overnight here, the hotel owners run a night-time tour of Forsayth's historic buildings. Want to explore beyond town? Go looking for wonderful weathered sandstone formations in the surrounding hills, outcrops and ranges. When you're ready, drive another hour south-west on the formed gravel road to reach Cobbold Gorge.
Enjoy the serenity of Cobbold Gorge, an outback oasis located on a family-owned cattle property. Cruise beneath the gorge's soaring 30m tall sculpted cliffs and learn about the ancient geological forms and the wonders of the savannah landscape. It's also possible to go stand-up paddleboarding in the gorge or to view it from above with a scenic helicopter flight. The aerial view is spectacular, taking in Kimberley Sue Lake, the 1,200km2 Robin Hood Station, the fault lines in the surrounding sandstone and Robertson Gorge.
Stay in the Cobbold Village campground or upgrade to an air-conditioned cabin. There's a beautiful infinity pool with views over the lake. Early risers will be rewarded with a morning chorus from the 100-plus bird species – flycatchers and finches, parrots and pigeons, and more – that call the Gulf Savannah home.
DAY FIVE
Cobbold Gorge to Einasleigh
Backtrack to Forsayth and head east to the former copper mining town of Einasleigh, on the banks of the Copperfield River. The town was once a bustling place during construction of the railway in 1907-10 but, after the mine closed in the 1920s, it was saved from extinction only by its location on the Chillagoe-Forsayth railway line. Its landscape is unusual – the town is set among mesas (flat-top hills) that rise out of the grasslands. When the Savannahlander train comes through, it stops outside the heritage-listed Einasleigh Hotel so passengers can enjoy a beverage and see the hotel's collection of miniature antique furniture.
The hotel is walking distance to the deep chasms and quiet beaches of Copperfield Gorge, carved by an ancient lava flow. Feel free to take a dip in its cool waters.
Optional Detour – Gilberton Outback Retreat
Gilberton Outback Retreat is a 1.5hr journey from Cobbold over rugged terrain, but the trip is worth it. First, if you're interested in more gem fields, stop in at Agate Creek, about 20mins from the gorge. The name says it all: this place is famous for producing agate with brilliant colours and patterns. Then you reach the luxury Gilberton Outback Retreat where the accommodation is a ritzy take on the classic tin shed. Think polished timber boards, cow-skin rugs, stand-alone tub and panoramic views over the Gilbert River. See life unfold at the working station by taking a 4WD tour and helping feed the cattle, or go looking for kangaroos and brolgas. Bookings are essential (maximum 2 guests).
DAY SIX
Einasleigh to The Lynd Junction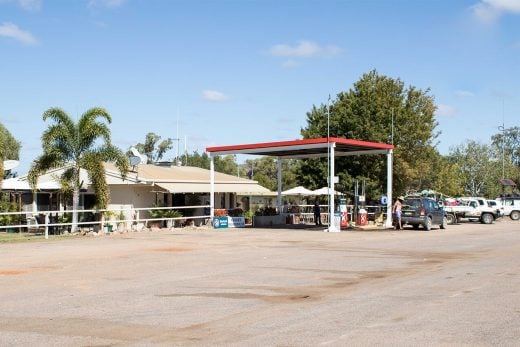 At the junction of the Kennedy and Gregory Developmental Roads, the southern access point to the Gems and Gorges Trail, is The Oasis Roadhouse – famous as having Australia's smallest bar. If you venture inside the outback roadhouse, you'll indeed find the bar isn't much more than a countertop, a cash register and a fridge. However the roadhouse, which also has an outdoor seating area, is a hub for nearby cattle stations and a major truck stop. It provides rooms, campsites and home-cooked meals. It's the perfect no-frills oasis to celebrate the finish of this extraordinary drive.
Make tracks
Gear up for an adventure to the Tropical Outback