Cardwell Spa Pool is a naturally-fed, seasonal creek that shot to stardom on social media in 2016. Ever since, people have been adding it to their holiday itinerary but there are a few things you might not know about this idyllic swimming spot.
The Cardwell Spa Pool is a geological wonder, located in the beautiful coastal town of Cardwell in Tropical North Queensland. Although locals have been cooling off here for years, this magical swimming hole remained relatively unknown until this social media post went viral.
Cardwell loves welcoming visitors from near and far and although there is plenty to do all-year-round, the spa pool is a naturally fed, seasonal creek so water levels do fluctuate throughout the year. While you're visiting, be sure to check out these 12 other things to do when visiting the Cardwell Spa Pool.
Frequently asked questions
Why is the Cardwell Spa Pool blue? 
The science behind the colour can get a little complicated but our team of geological experts suggest that the blue colour is from the chemistry of the rocks and water. Much of the water that flows to the creek comes from underground, where it picks up minerals from the sedimentary rocks, resulting in high levels of dissolved magnesium and calcium in the waters.  Depending on the time of day and available sunlight, the colour can vary from a bright, baby blue to a more milky-blue colour.
How do I get to the Cardwell Spa Pool?
Cardwell is approximately 2.5 hours south of Cairns and 2 hours north of Townsville by car. The Cardwell Forest Drive is a ring road with access points from Kennedy and Cardwell. Here's a handy map to help you get to the Spa Pool and other nearby waterfalls and swimming holes. Keep an eye out for directional signage on the drive.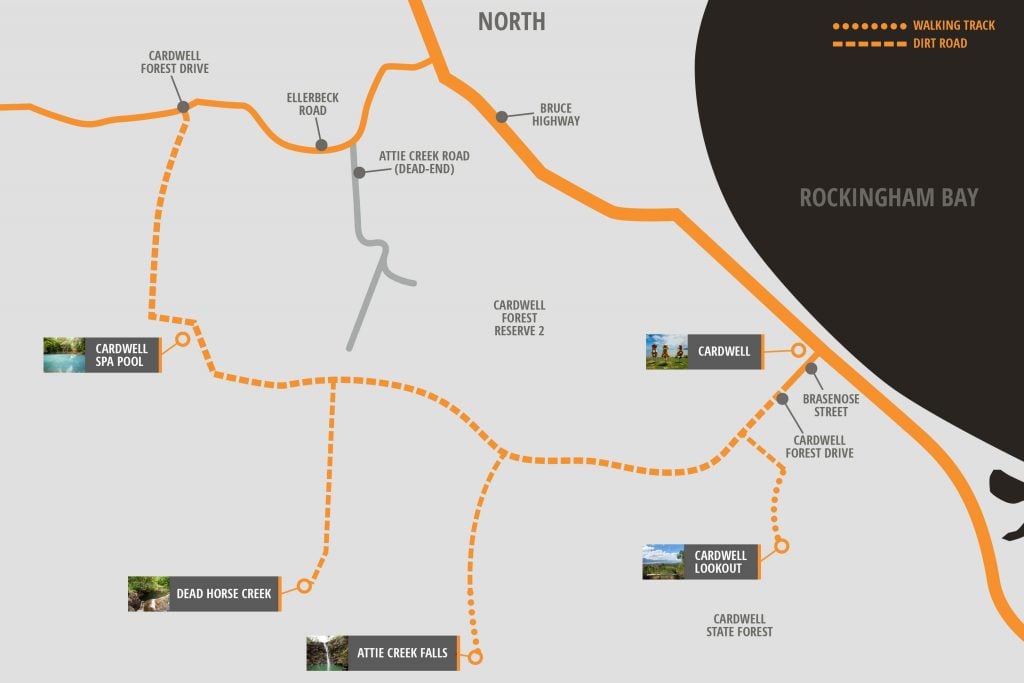 What's the best time of the year to visit the pools? 
May to September is the best time, although wet season rains during the Summer months will usually flush the creek out, returning it to normal levels from around March each year.
Who can I contact to check on water levels before I visit? 
The Cardwell Visitor & Heritage Centre is happy to help with your questions about water levels at the Spa Pool as well as suggestions for other great things to do while you're visiting. Contact them on +61 7 4066 2412 or by email or drop in and see them at the Cardwell Bush Telegraph building at 53 Victoria Street.
Recent content
Photo by @samaraleecosentino
For your chance to be featured, share your Cardwell Spa Pool photos on Instagram and tag @tropicalnorthqueensland or add #exploreTNQ.
As a visitor to this beautiful location, Queensland Parks & Wildlife Services would like you to know:
Currently, the swimming spot does not have any public toilets or bins available so be prepared to take your rubbish away with you, including cigarette butts. Always check the area you were occupying before you leave and if you notice someone else hasn't been so considerate, it'd be great if you could pop their rubbish in your bags too.
There is limited parking at the Spa Pool so be considerate of the surrounding environment when parking outside designated areas.
Slow down when driving through the area. The creek is a popular spot to cool off and people are often swimming on the causeway and in other areas close to the road. Mountain bikers also use Cardwell Forest Drive so be wary of cyclists entering the road from the surrounding rainforest.
Be careful when swimming in waterways in Tropical North Queensland, especially during the wet season. Water levels can rise unexpectedly, rocks become slippery making it easy to fall and hurt yourself and underwater currents can be stronger than you think.
Mosquitos and other Australian insects are present in the area so come prepared with some insect repellent.
Camping and fires are not permitted.