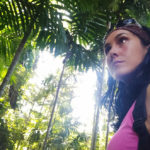 The Cairns Botanic Gardens may just be a stone's throw away from the city, but the lush greenery and meandering rainforest paths will make you feel like you are a thousand miles away. Megan Woolfe explores this leafy haven.
I noticed it just as a little marker on google maps. The Cairns Botanic Gardens wasn't something I'd seen advertised in travel brochures or in tourism lists of things to do. With nothing else planned, I decided to head there to fill in an hour or so on my last morning in Cairns.
As I walked along the footpath into the gardens, the sound of traffic gradually softened and disappeared.
With each step, I felt my whole body relaxing. As I tuned into my senses, I effortlessly slipped into a state of mindfulness. Venturing deeper into this tropical paradise, vibrant rich shades of green surrounded me. I forgot about any schedules or things I had to do. Turning off my phone, I allowed myself the ultimate mind detox.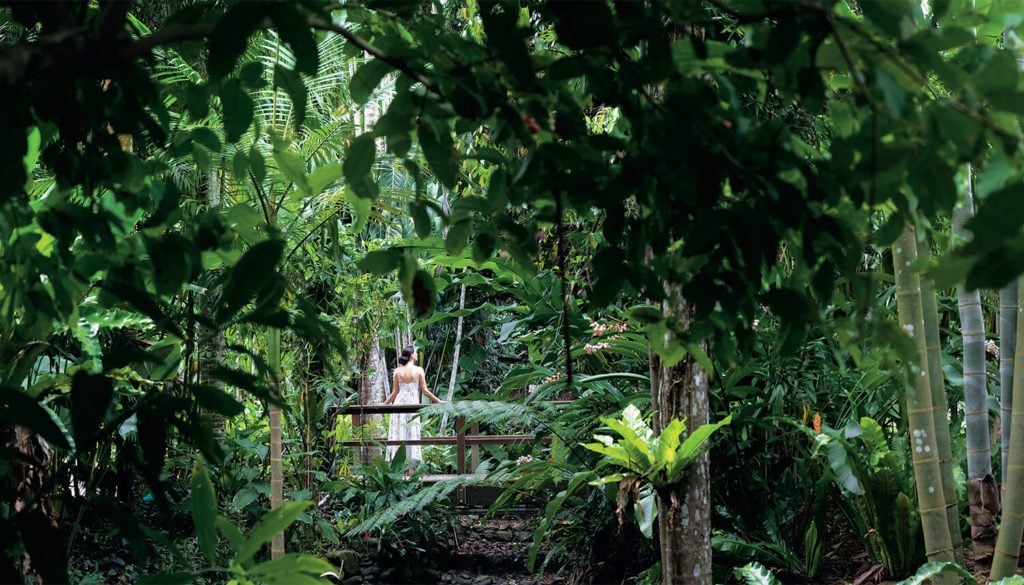 I stopped and stared in wonder at the huge concertina fan-shaped leaves, the folds crisp and perfectly spaced. I marvelled at the twisted tangle of roots that stretched up vertically around a tree trunk, the slow decades-long attack of the strangler fig tree was well underway.
I let my intuition and curiosity take over and ignored the signs with maps. Abandoning any need for decisions was a refreshing change from the usual. I breathed in the clear, naturally perfumed air slowly and deeply.
My eyes followed the line of a vine, covered in thousands of heart shaped leaves, it crept along the ground and then high up, jumping from tree top to tree top. I came across buttress roots that flowed along the ground like tall, thin, woody walls of a maze.
It was like being in a wide-open gallery exhibition, featuring the exquisite and awe-inspiring works of mother nature.
Free Guided Tour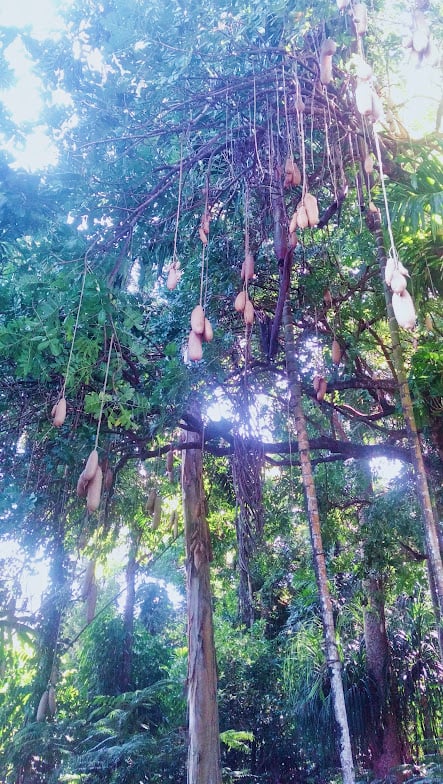 Near a little hut, I noticed a sign: 'Free guided tour, starts 10 am daily.' I couldn't believe my luck and hovered around that area while a group of people gathered. Out came our guide, a friendly and passionate volunteer from the 'Friends of the Garden' group.
She took us on a learning journey through Flecker Gardens, pointing out different plants and explaining their incredible features that have allowed them to survive and adapt together. We discovered the wonders of the epiphytes that collect all their nutrients from organic matter on the trunks that they cling to. Amazingly, the soft, grey flaky bark on the paperbark tea tree actually acts as its own fire-resistant blanket.
Up above our heads, we gazed at oversized sausage-shaped seed pods dangling from string-like branches. A few people giggled and a little girl whispered "Mum, are they real giant sausages?"
Then down low, scattered along the dirt, were a collection of nature's treasures, including bright red shiny bead-like seeds and an oval shaped purple cassowary plum. Our guide explained it was toxic to humans but highly sought after by the big emu-like birds.
Aboriginal Plant Use Garden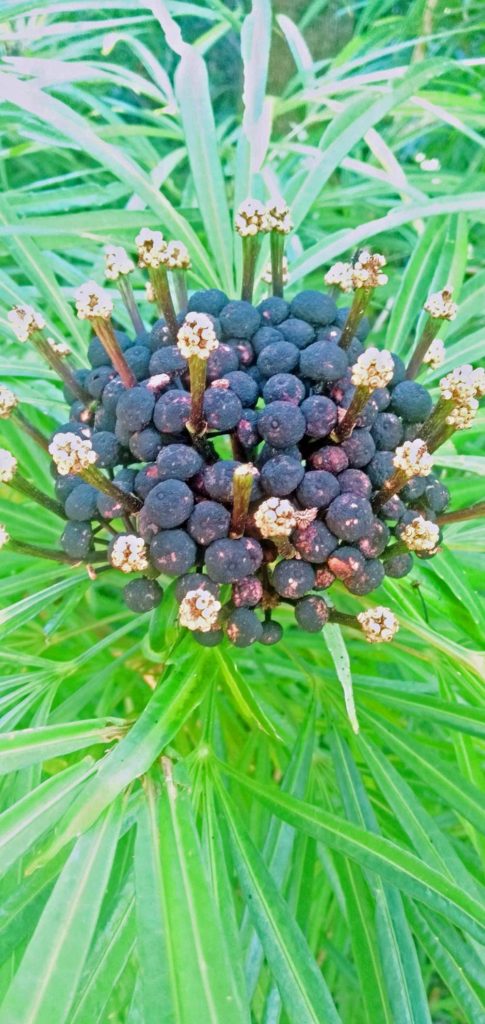 In the Aboriginal plant use garden, berries and nuts were pointed out and passed around, so that we could feel the textures and smell the sweet and pungent scents. We stopped to look at coffee and cacoa plants, then peppercorn trees. Seeing them growing in their raw and natural forms was fascinating and such a contrast to the plastic packaging that we were accustomed to.
Watkins Munro Martin Conservatory
After the tour, I spotted the Watkins Munro Martin Conservatory. Though it was white and plain from the outside, when I opened the door, I was met with a showcase of vibrant coloured orchids and tropical flowers. Leaves of varying shapes with exquisite patterns lined the side of the pathways, taking up any spare space within the humid enclosure. People moved through slowly and quietly. The atmosphere felt sacred, like in a temple. Whispers and soft gasps followed butterflies as they fluttered and landed delicately on flowers. I leaned in (literally) and got up really close to examine the intricate details. It felt like such a treat for the eyes.
Café
Feeling a bit peckish, I found a café nestled within the gardens. The outside seating area was packed with a diverse range of people including families, foreign backpackers, locals in active wear and older couples. They all had one thing in common, they all seemed to be in a relaxed, dream-like state. Being there, you can't help but soak up the garden's wholesome vibes.
Gondwanan Evolution Garden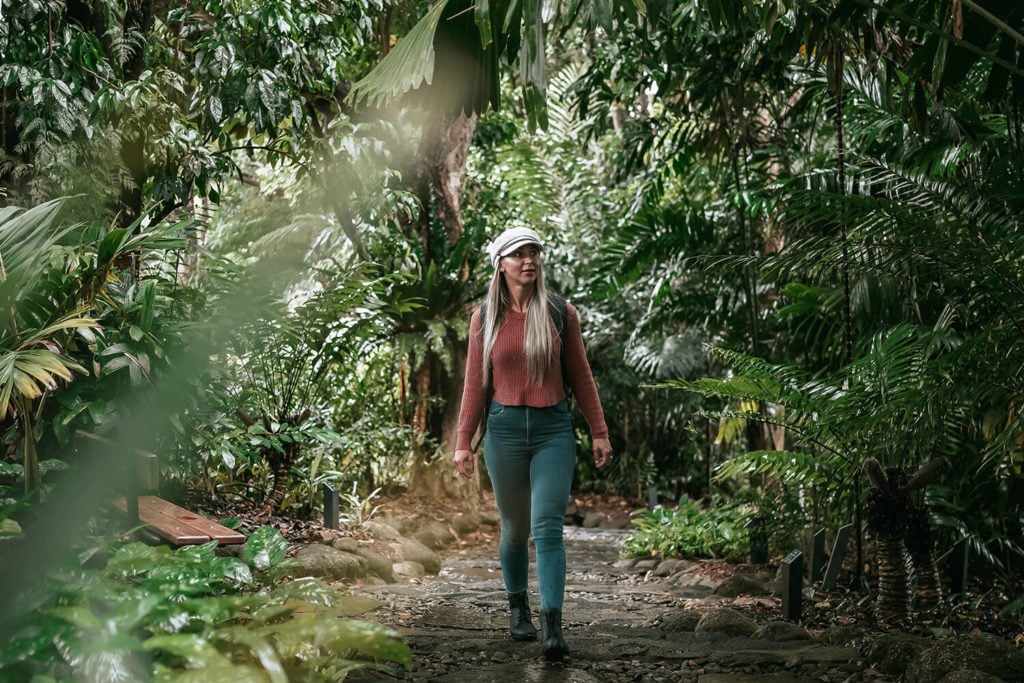 Later, I found myself in the Gondwanan evolution garden, walking the circuit. I was taken back to what it would have been like millions of years ago, when dinosaurs roamed. I could have easily believed that I'd stepped into a time machine, if it wasn't for the occasional walker in the distance.
Centenary Lakes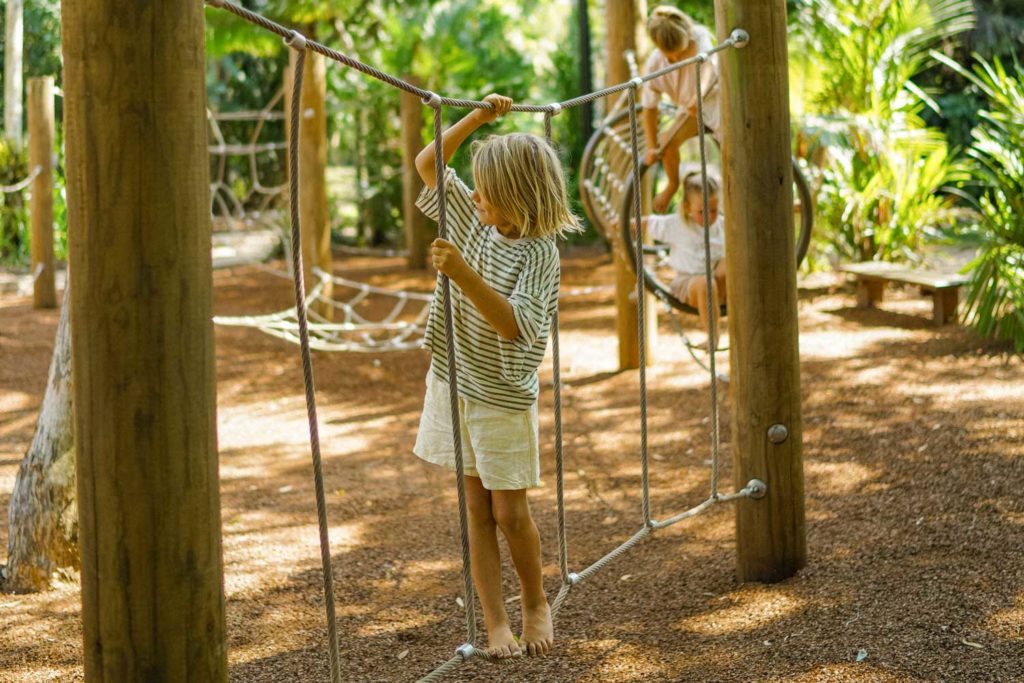 The rainforest board walk lead me to the serene Centenary Lakes. Nearby, a huge Nature Play Space, was buzzing with exuberant, excited kids, exploring and playing together. I couldn't help but smile, seeing their pure joy.
As I headed back to my accommodation, in the late afternoon, I felt grateful that I'd had the whole day to immerse myself in the tropical garden paradise. My soul felt nourished and my body rejuvenated.