Where
Cape Tribulation to Cooktown
Wild and beautiful, The Bloomfield Track is rated as one of Queensland's most scenic short road trips – a bucket-list drive for both local and international 4WD enthusiasts. Flanked by a pristine coastline one side and ancient rainforest on the other, the track starts 40km north of the Daintree River ferry and travels just over 100km to Cooktown. Beauty is not without a price though; even in the dry season the track can be subject to sudden flooding, fallen trees and potholes, so always check conditions before heading off. You can make the Bloomfield Track a loop, too: taking the inland Mulligan Highway back from Cooktown to Cairns.
Get Directions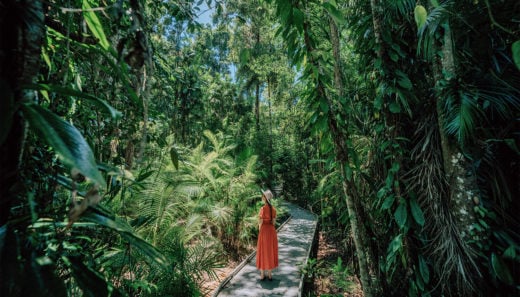 Captain James Cook may have been having a bad time of it when his ship ran aground on reef here, but you'll quickly find the relaxed pace of this friendly frontier town belies its name.
The 165-million-year-old Daintree Rainforest surrounding the Cape is home to a wealth of fauna, from colourful cassowaries to tree kangaroos. The best way to increase the odds of an encounter, as well as learning about the rainforest ecosystem, is to go with a knowledgeable guide, so book in a tour either on foot or by boat along Cooper Creek (where there's a good chance of seeing a sunbathing saltie or two).
If you're pressed for time or have mobility issues, there are also three self-guided short rainforest walks on boardwalks.
This afternoon, head to Cape Trib Farm and take a tour of the vast orchard (bookings required). You'll get to taste close to a dozen different exotic fruits – from the luscious chocolate pudding fruit to a tangy-sweet soursop. Be prepared for the last tasting – a very unusual fruit that will totally confuse your sense of taste.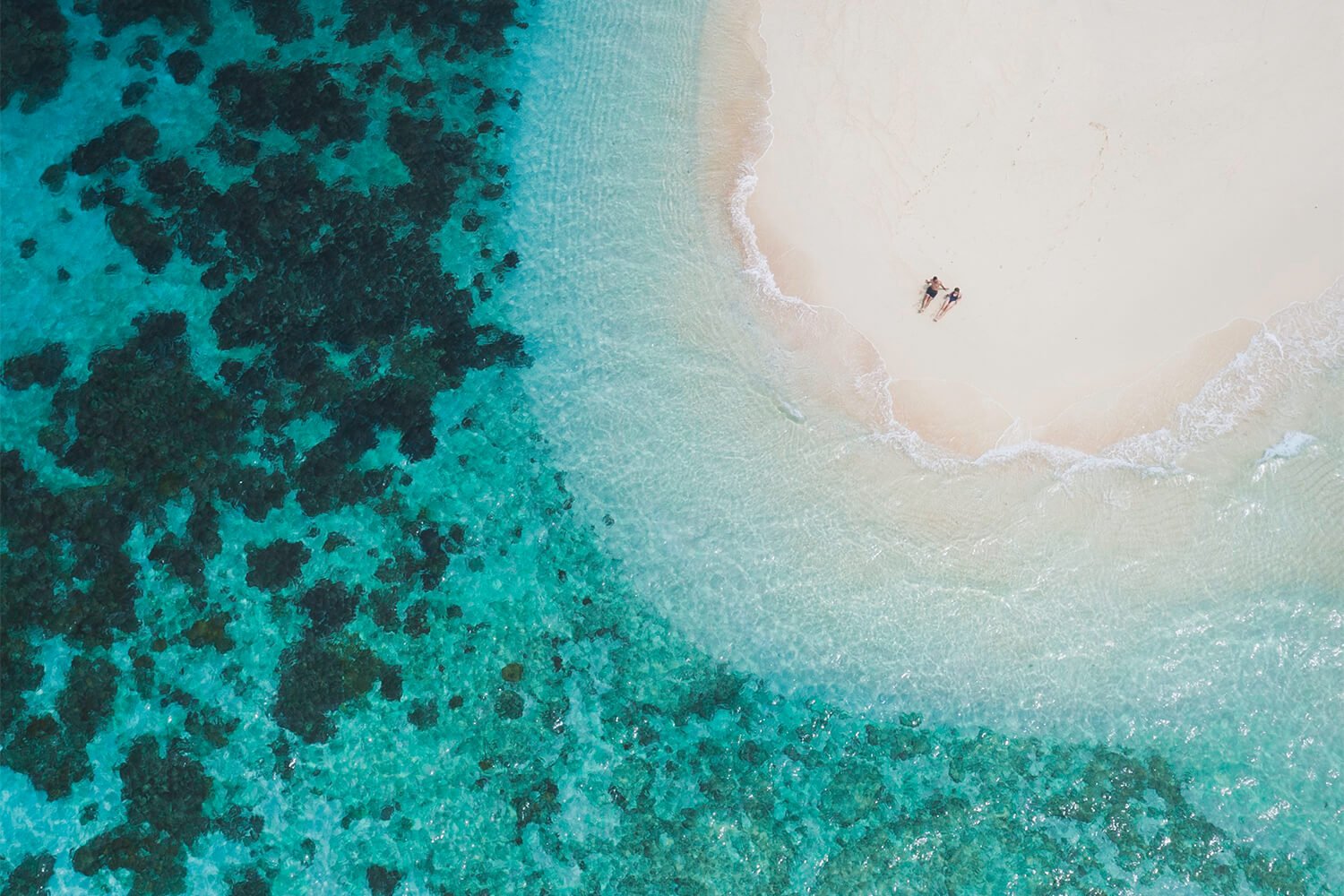 Or take a snorkelling tour out to the pristine Mackay Reef and Undine Reefs with Ocean Safari.
Stay
Cape Trib Beach House Resort is just metres away from Cape Tribulation beach, with a wide choice of accommodation, from backpacker dorms to private ensuite cabins. Cape Trib Camping offers just that … with beachfront powered and unpowered sites, about 800m off the Cape Tribulation Road.
DAY TWO
Cape Tribulation to Lions Den, Helenvale
Farewell the sealed road and prepare for a creek crossing at Emmagen Creek, as well as some very steep sections of track. At around 33km, you'll reach the Bloomfield River and the Aboriginal community of Wujal Wujal. Nearby Wujal Wujal Falls (Bloomfield) is of cultural importance to the local Kulu Yalanji people, who have been Traditional Custodians of this area for tens of thousands of years. Take a tour with one of the Walker family of Wujal Wujal, who can explain the significance of the falls and teach you which plants are used for food, medicine and traditional ceremonial purposes.
After your tour, call into the Bana Yirriji Art & Cultural Centre on the edge of the Bloomfield River, for a changing exhibition of local Indigenous paintings, textiles and jewellery. From Wujal Wujal, the road is sealed and traverses north through Cedar Bay National Park.
Pull up for the night or lunch in Helenvale at the historic Lions Den Hotel, fashioned from timber and iron and full of tin mining history and quirky memorabilia.
Stop for a photo opportunity at nearby Black Mountain (Kalkajaka) National Park, where there's an imposing mountain of black granite boulders balanced on top of each other, and learn about the mysterious myths and legends of the mountain.
STAY
There are powered and unpowered camping and caravan sites, safari tents and cabins at the Lions Den Hotel. Or try a timber bungalow at the shrouded-in-rainforest Mungumby Lodge, about 15km east.
DAY THREE
Lions Den to Cooktown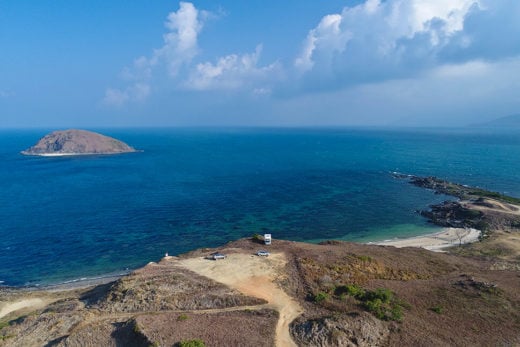 It's a half-hour easy drive onward to Cooktown. Enroute is the Archer Point Conservation Park (Yuku Baja Muliku). This scenic 20 minute drive will take you to breathtaking scenery. Take a walk to the lighthouse for a picturesque view of the rocky outcrops, or enjoy a wander along the palm-lined beach and see soldier crabs scuttling about.
To get a taste of local life, visit the Cooktown Markets, held every Saturday morning from May to November in shady parkland along the edge of the Endeavour River. Browse local artisans' wares and pick up some of Cape York Peninsula's finest local fresh produce. Wander further through the park and stand at the very place that Captain James Cook's HMS Barque Endeavour lay beached while it was repaired in 1770.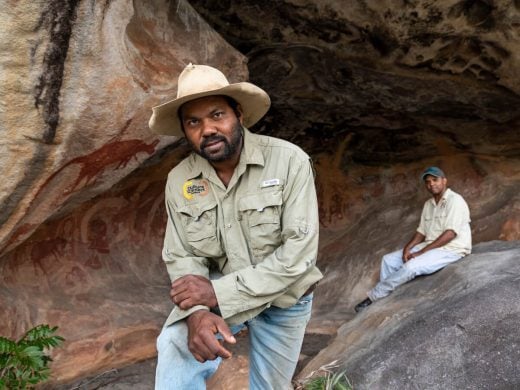 Also not to be missed is an informative tour to ancient rock art sites with Culture Connect.
After a relaxing long lunch (try Nature's Powerhouse in the beautiful Botanic Gardens or the Driftwood Café opposite Lions Park), then pay a visit to the James Cook Museum, where the story of Cook's landing is told from the Aboriginal perspective. It also gives a detailed history of this beautiful, remote and utterly unique part of the country.
There are beaches to explore nearby and bucket-list must-do in Cooktown is to watch the sun go down over the Endeavour River from Grassy Hill or enjoy a sunset river cruise.
Escape to The Cape
Everything you need to know about a trip to the tip of Australia