Craving a slice of sandy paradise? Keep palm and follow this 4 day island and beach hopping itinerary through Palm Cove, Fitzroy Island and Port Douglas.
Cairns – Fitzroy Island
Depart Cairns for Cairns for todays island destination- Fitzroy Island. This island utopia is just a short 45 minute boat ride from the mainland and is packed with activities, so you can choose to do as much (or as little) as you please!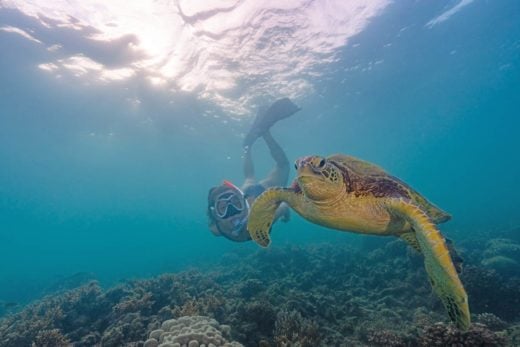 Explore the Great Barrier Reef
Head to the Fitzroy Island Sports Hub (FISH) to get your gear and choose from snorkel gear, SUPs and kayaks. There's even guided snorkel tours and scuba courses for those who really want to make the most of the fringing Great Barrier Reef. If you'd rather stay dry, head onto the glass bottom boat tour to see the reef sans water or join a tour of the Turtle Rehabilitation Centre, which cares for injured and sick marine turtles.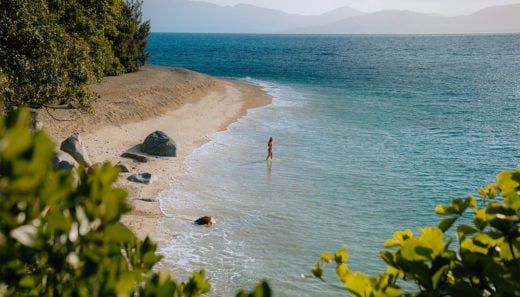 Relax on the beaches
If more beach time is calling, you're in luck! The island is home to two stunning beaches, Welcome Bay, which, as its name suggests, is where the boat first pulls in, and Nudey Beach. Before you start stripping off we will warn you, this spot is 100% not a nudist beach. Nudey Beach can be reached by a 45 minute walk down a winding rainforest track. You'll know when you arrive as your jaw will drop at the view – think aqua oceans contrasting with white coral beach and tumbling boulders – although our description certainly does it no justice.
Sunset at Foxy's Bar
As the last day boat pulls away, the island becomes a serene haven. For sunset, pull up a pew at Foxy's Bar and sip cocktails to the sound of the clinking of coral as the sun sets the sky alight over the sea. Tuck into a hearty dinner, or if you are after something a little more fancy, Zephyr Restaurant offers modern Australian cuisine a la carte style.
Optional Detour –
Sunrise paddle to Double Island
Got an extra day to spend in Palm Cove? Start at first light and join Palm Cove Watersports for a sunrise kayak tour to Double Island and watch the sun breach over the ocean.
Day 3
Great Barrier Reef Drive
Keep palm, there's more
Continue your coastal trip with these ideas and activities.