Where
Cairns to Cape Tribulation (return)
Welcome to the loveliest little drive in Queensland. Short but oh-so-sweet, the Great Barrier Reef Drive covers just 140km in a straight line north from Cairns. Some of Tropical North Queensland's most famous spots are along the route, from World Heritage sites and national parks to luxury resorts. Throw your swimmers and your sneakers in the car and set out to explore the spectacular coastline, secluded beaches, charming holiday towns and ancient rainforest.
Get Directions
DAY ONE
Cairns to Port Douglas
If Cairns is your first taste of the Tropical North Queensland way of life, you're definitely going to like it. Take a trip out to the Great Barrier Reef or just explore the town, packed full of boutique shops, laneway-style small bars, craft breweries and buzzing restaurants.
Palm Cove is only 30km north of Cairns, but it's a world away from everything. A tiny beachside village lined with glamorous resorts and stylish restaurants, Palm Cove is all too easy to fall in love with. If you've got time for a massage, Palm Cove is known as the spa capital of Australia. Go on, treat yourself.
Get back on the highway and head for the (relatively) bright lights of Port Douglas. The barefoot luxury capital of Tropical North Queensland, Port Douglas is known for its high-end resorts, more than 60 great restaurants and stylish shops. Settle in for a sunset cocktail on the marina while you wait for your locally caught prawns to come off the grill.
STAY
Kick off your itinerary in style at one of Port Douglas's signature resorts… try and choose between five-star options such as the Sheraton Grand Mirage, Pullman Port Douglas Sea Temple and Coconut Grove.
Some places are so nice they deserve a whole day. Port Douglas is one of them. If you're in town on a Sunday, start your day at the famous markets in Anzac Park, where stalls sell produce from all over the region. If you want to stick to dry land, Port Douglas is one of the country's best golfing destinations. Spend an afternoon on the greens at one of the three top-notch courses around town.
After a hearty breakfast at a sun-dappled cafe, hop aboard one of the many boats leaving for the Great Barrier Reef. The options are just about endless, from quick trips to the Low Isles to a full-day family-friendly jaunt on a reef platform. A high-speed cruise can reach the Outer Reef in just 40 minutes, giving you a full day of snorkelling or diving at multiple sites to discover the diverse ecosystem of coral and marine life that lies below the surface.
DAY THREE
Port Douglas to Mossman Gorge
About 20 minutes from Port Douglas you'll find Mossman Gorge, the gateway to the ancient Daintree Rainforest. It's the kind of place that makes you feel small. The Daintree has stood here for 135 million years, forming one of the most complex ecosystems on the planet. Walk through brilliant greenery, along elevated walkways and past crystal-clear rock pools (where there's always time for a swim). Look out for the vivid blue and black wings of the Ulysses butterfly, an iconic symbol of the rainforest.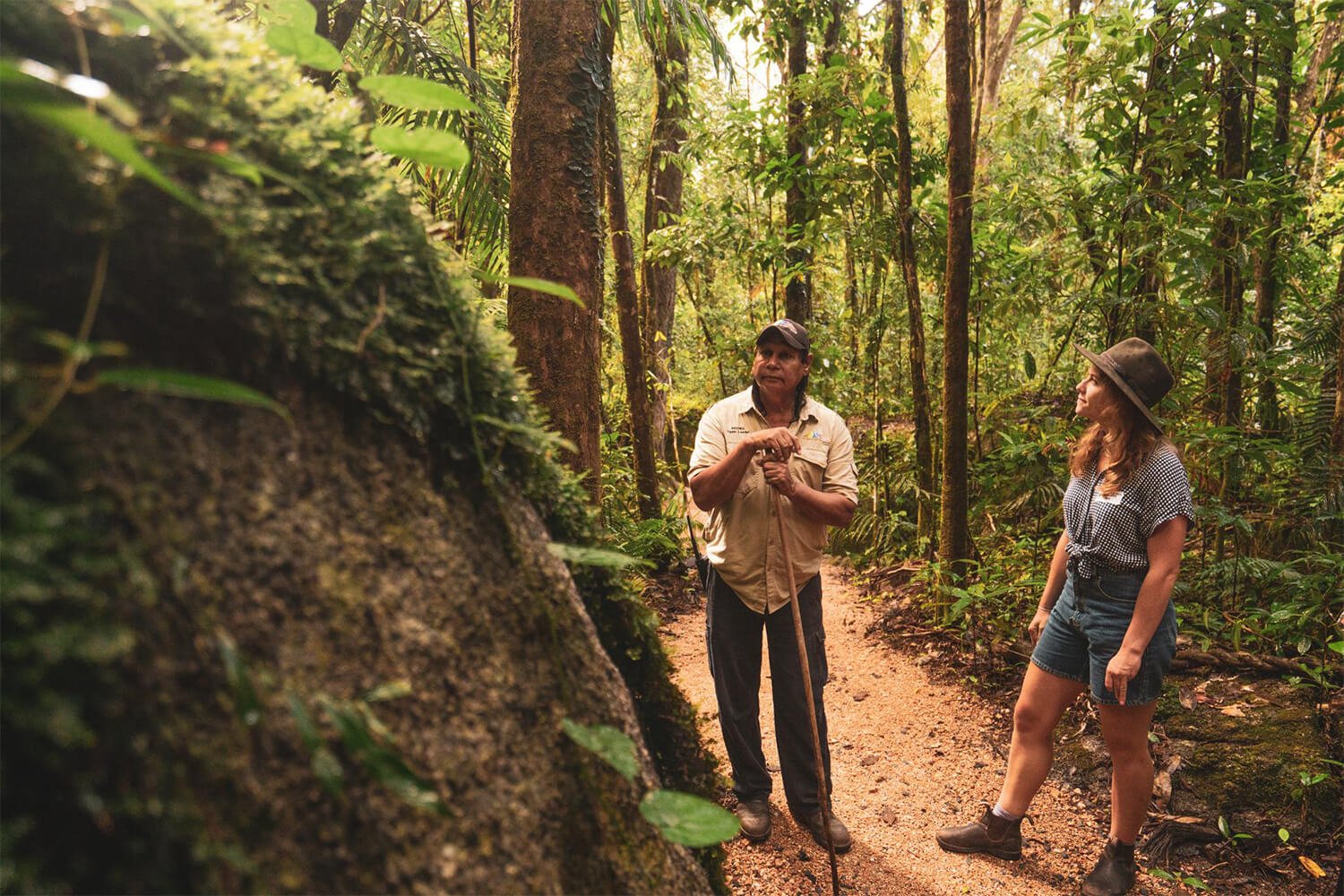 Join a guided Dreamtime walk for an insight into the spiritual significance of this remarkable place. The Kuku Yalanji people have lived here for more than 50,000 years and the local Indigenous people will share some of their ancient secrets with visitors. The walks can be booked at the Mossman Gorge Cultural Centre, which also includes an Indigenous gallery, gift shop and the Mayi Cafe and Restaurant, where bush ingredients star.
STAY
Hidden among the rainforest canopy is the luxurious Silky Oaks Lodge, just a few kilometres from Mossman Gorge. You'll sleep in a wooden treehouse, dine on native ingredients in the open-air restaurant and wake to the sounds of dusky honeyeaters chirping in the trees.
Or consider the Daintree Ecolodge, home to 15 eco-minded rooms, or banyans, surrounded by rainforest, with a restaurant focussing on local produce overlooking their on-site lagoon and a fabulous spa.
DAY FOUR
Mossman Gorge to Cape Tribulation
Back to the coast this morning to continue north. A narrow ribbon of road runs past tiny villages sitting on the Coral Sea while it winds its way towards the Daintree River. Once you cross the river on an old-school car ferry, you'll find yourself in the one of the world's oldest tropical rainforests. You're off the grid up here, so put your mobile phone away and enjoy a soul-reviving digital detox.
Pick up some treats like ice-cream made from fresh tropical fruits at the Daintree Ice Cream Co and organic tea from Daintree Tea on the Cubbagudta Plantation – just leave your money in the honesty box as it's not always open.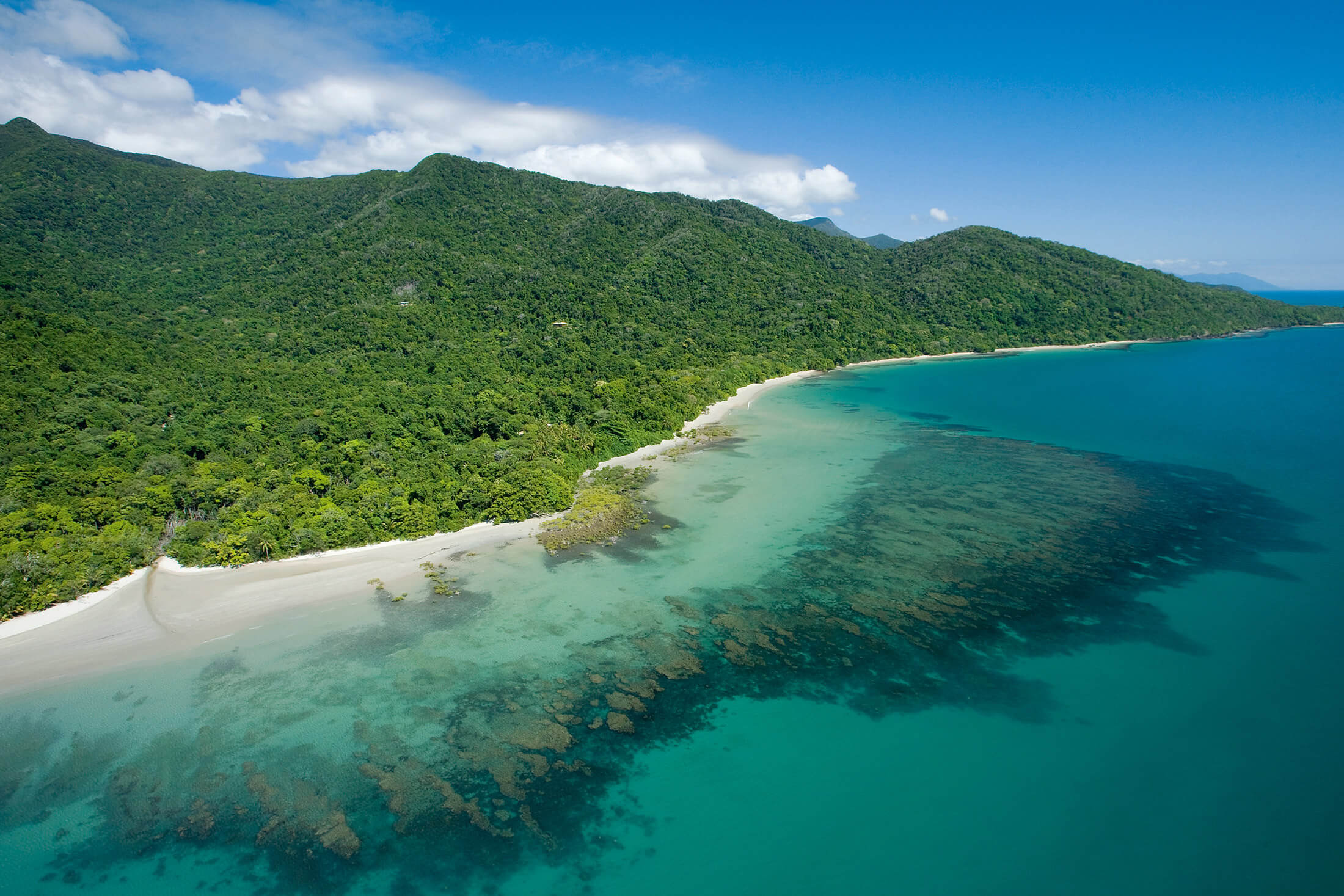 The phrase jaw-dropping can be overused, but there's really no other word for Cape Tribulation. This isolated headland is where the rainforest meets the reef and two World Heritage Areas come together. You're going to love it here.
DAY FIVE
Cape Tribulation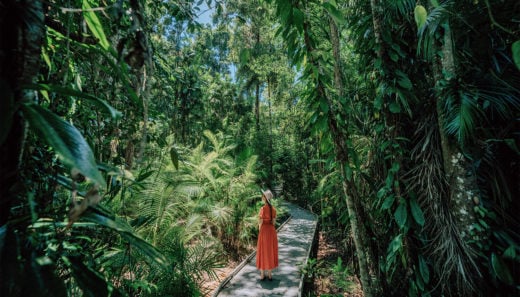 You've got a whole day in this remote paradise – though you'll probably want to stay for a week. Start with an early morning walk on the beaches, followed by a walk through the ancient rainforests. The Daintree is home to several rainforest walks, including the Marrja, Jindalba and Dubuji boardwalks, which are easy ways to explore the Daintree and marvel at the unique flora and fauna of the rainforest.
The Great Barrier Reef is just 25 minutes offshore, so you can zip out for an afternoon snorkel at Mackay and Undine Reefs with Ocean Safari. There's a good chance you'll have the reefs to yourselves – apart from the huge schools of tropical fish, that is.
If you're looking for a challenge, turn inland and head for the summit of Mount Sorrow. The seven-kilometre trail is tough and should only be attempted in good weather. Once you reach the top, you'll be rewarded with sweeping views along the length of the Daintree Coast and out to Snapper Island.
DAY SIX
Cape Tribulation to Cairns
It'll be hard to say goodbye to Cape Tribulation, but it's time to head back to civilisation. But first, enjoy breakfast at Doris's Bar, Cafe and Restaurant at Lync-Haven resort, about 15km north of the ferry.
You'll travel the full 140km of the route back to Cairns in one day today and though it seems quick, there's still time to drop into all the spots you missed on the way up. Maybe go fishing for barramundi at Hook-a-Barra at Wonga Beach, stop for a coffee and muffin at Beechwoods Cafe in Mossman or hunt for a mudcrab with Walkabout Cultural Adventures at Cooya Beach, just north of Port Douglas.
Just before you get into Cairns, pull off the highway at one of the string of quiet beaches for a final swim in the warm waters of the Coral Sea. Holloways is for flop and drop, families love Trinity and Yorkeys Knob is one of the world's top 10 kite-surfing destinations.
Cairns to Port Douglas
Take in the stunning coastline along this pretty stretch of road