A chain of relaxed seaside villages lay just north of Cairns, each boasting their own unique features. Find out more about each of Cairns' beaches and which tickle your fancy.
Cairns, a waterfront city, with grassy lawns, restaurants, bars, sport and recreation areas and a 4800m² lagoon along the Esplanade. The city itself doesn't feature a beach so if you're looking to escape to a typical beach location with sandy shores sprinkled with palm trees and swimming areas you'll need to head north to one of Cairns' Northern Beaches.
Cairns winter temperatures hover around the mid-twenties (Celsius) making it the ideal time to visit the beaches, with stinger nets removed and sunny days ruling the weather chart. Free barbecues are available along most foreshores, encouraging visitors and locals alike to spend more time outside enjoying the tropics.
Swim only at beaches patrolled by a lifeguard and between the flags or in the stinger nets during the summer months.
Palm Cove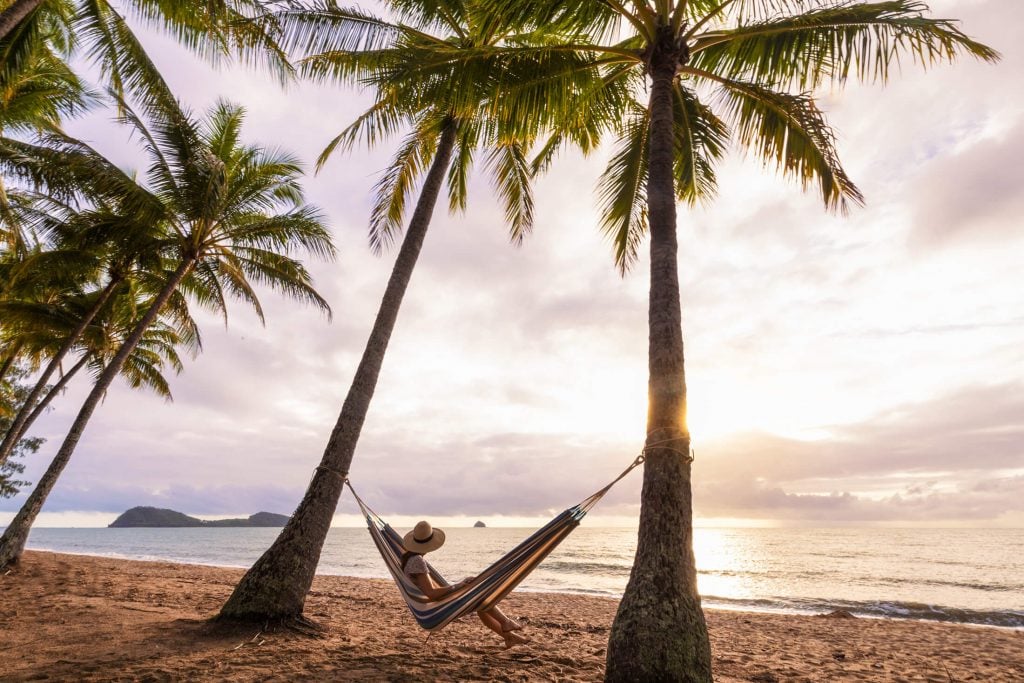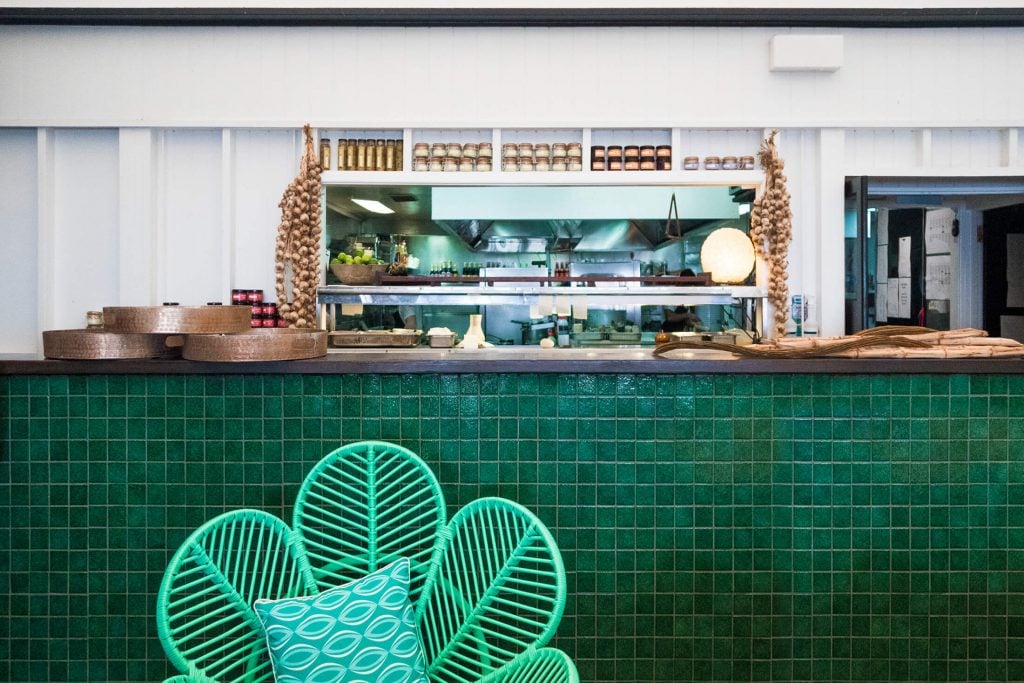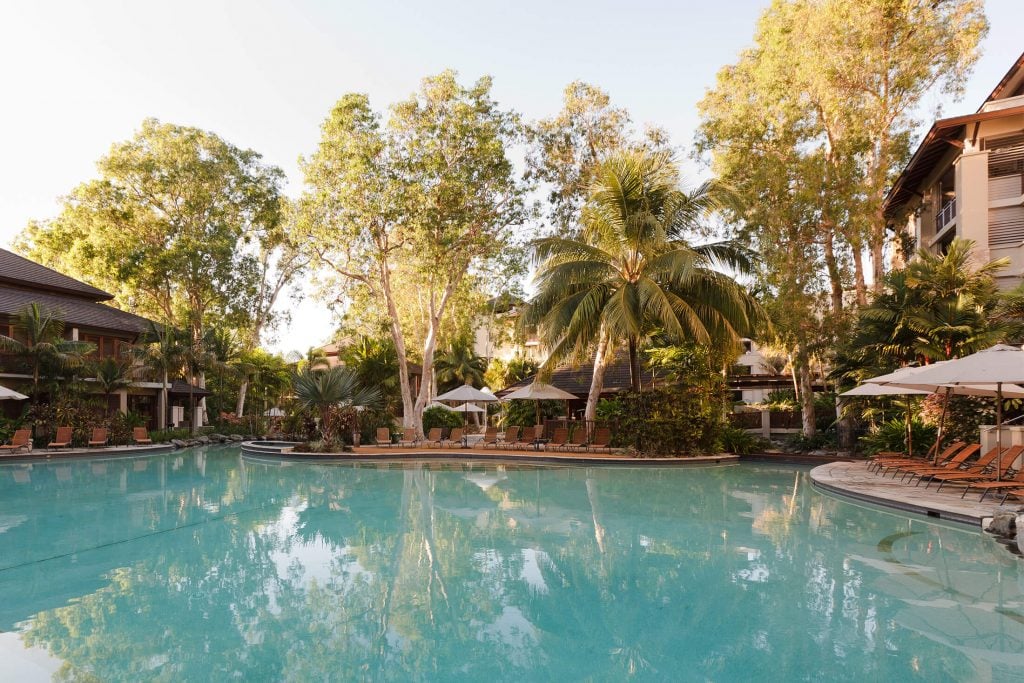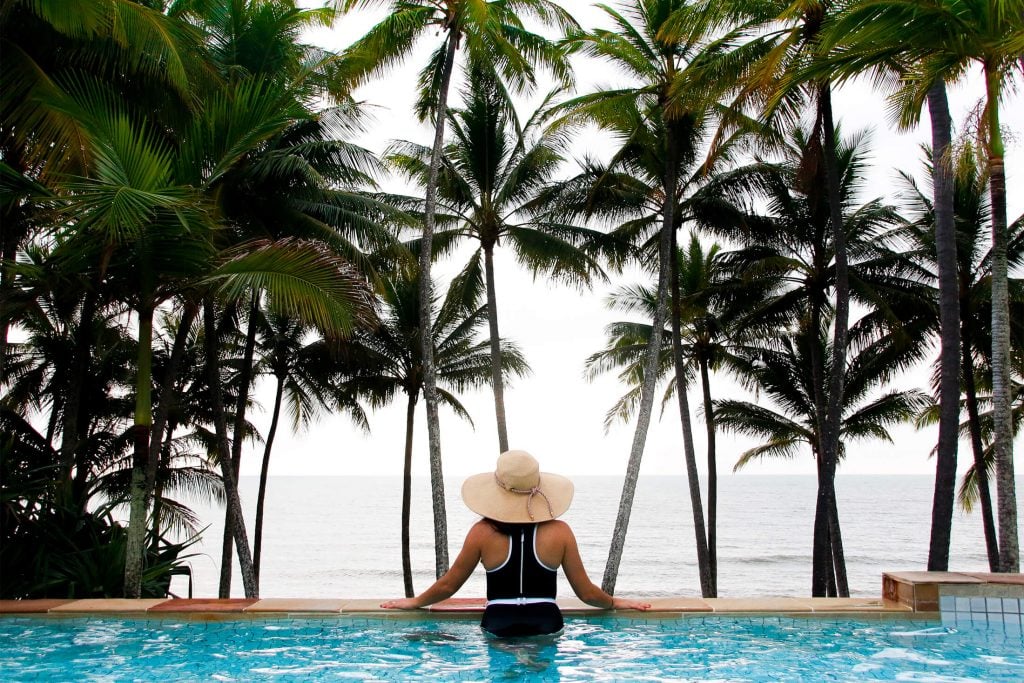 Where to start other than the most iconic of Cairns' beaches, Palm Cove. Famed as much for its palm trees as its 500-year-old melaleuca trees, Palm Cove is the ultimate idyllic seaside village, perfectly located between both Cairns and Port Douglas. Glamorous resorts and day spas share the shores with a mixture of fine dining, cafes and a couple of ice cream parlours thrown in for good measure. Often with morning seas as calm as a placid lake, a sunrise paddle to Double Island will sure to be a trip highlight.
Drop a line from the jetty to test your luck at catching your own dinner – utilising the free barbecues – or bring down fish and chips to enjoy while watching anglers' reel in their catches. Savour a romantic gourmet picnic prepared by Pullman Palm Cove Sea Temple Resort & Spa showcasing locally caught seafood, Atherton Tablelands cheeses, an array of charcuterie, cocktails and your choice of wine.
Ellis Beach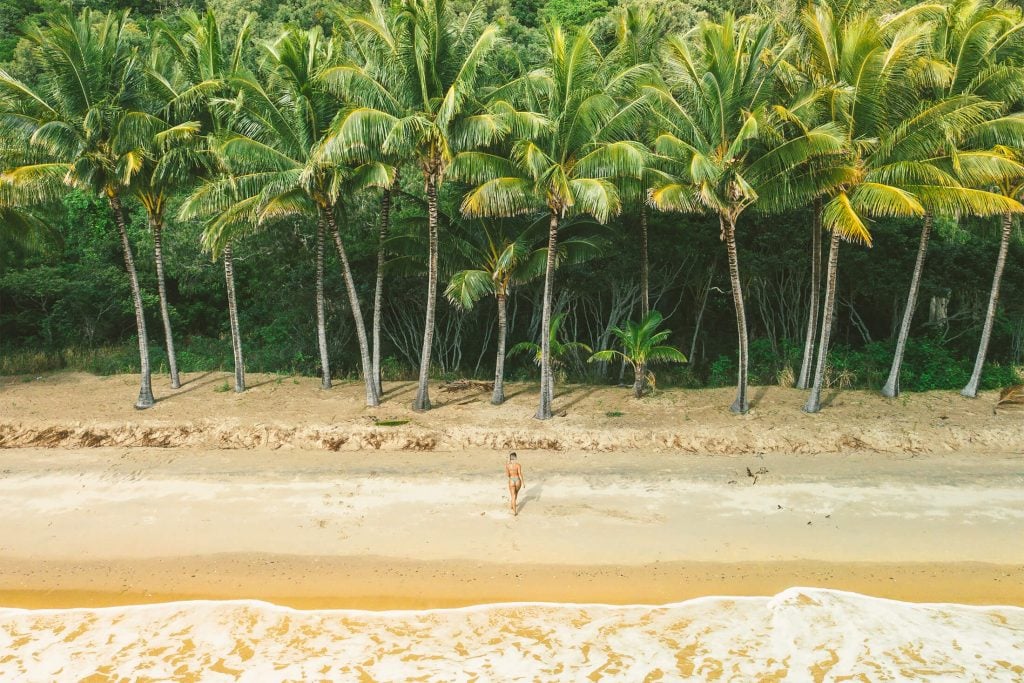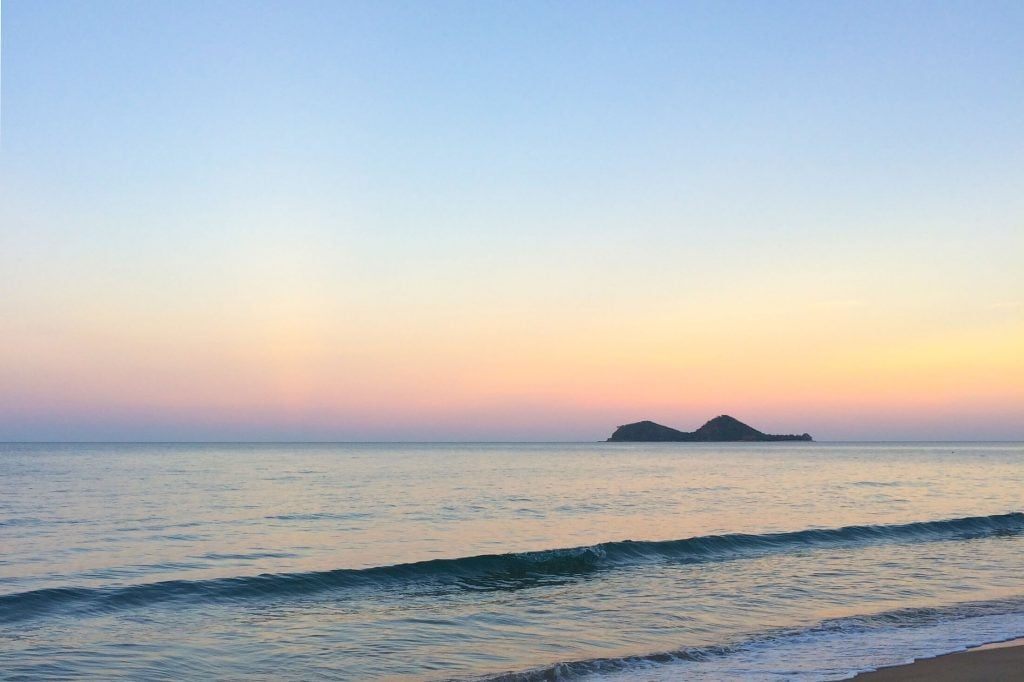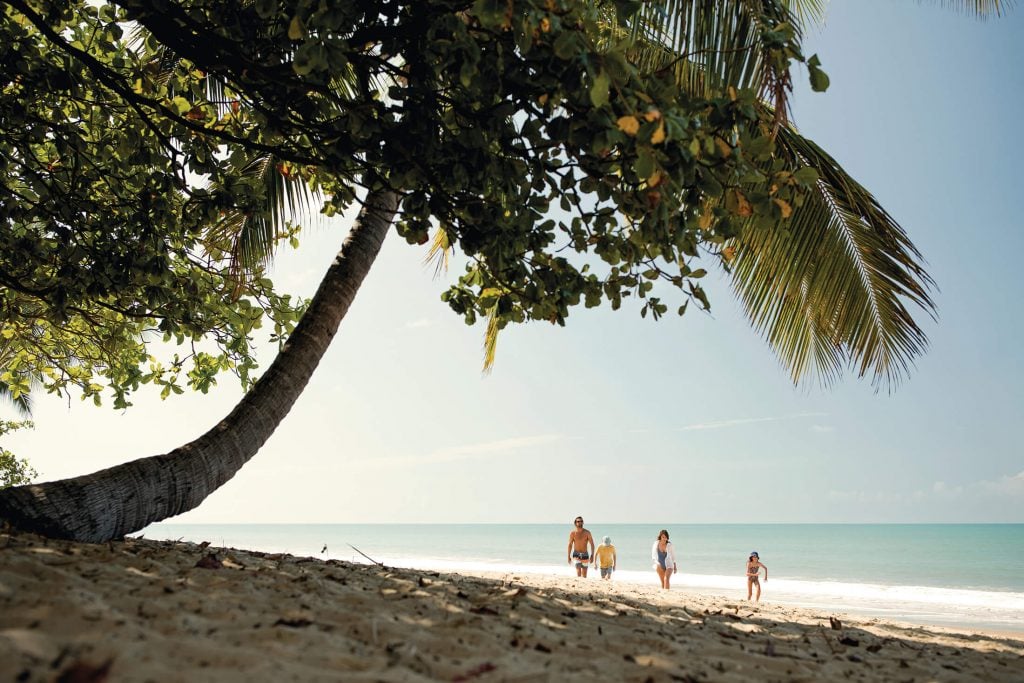 Five minutes north of Palm Cove, you'll round a corner on the Captain Cook Highway (AKA the Great Barrier Reef Drive) and a postcard-perfect scene will greet you. Over the tranquil waters and behind a string of coconut trees looms an impressive rainforest clad mountain. With a total population of 24 people, no buildings interrupt your view for they are few and far between and hidden amongst the trees. The Ellis Beach Bar & Grill boasts tasty food, including $1 oysters on Sundays and mates rates daily between 4-5pm. If the relaxed atmosphere is of Ellis Beach is to your liking, stay at Ellis Beach Oceanfront Bungalows with a range of accommodation options from campsites to cabins.
Machans Beach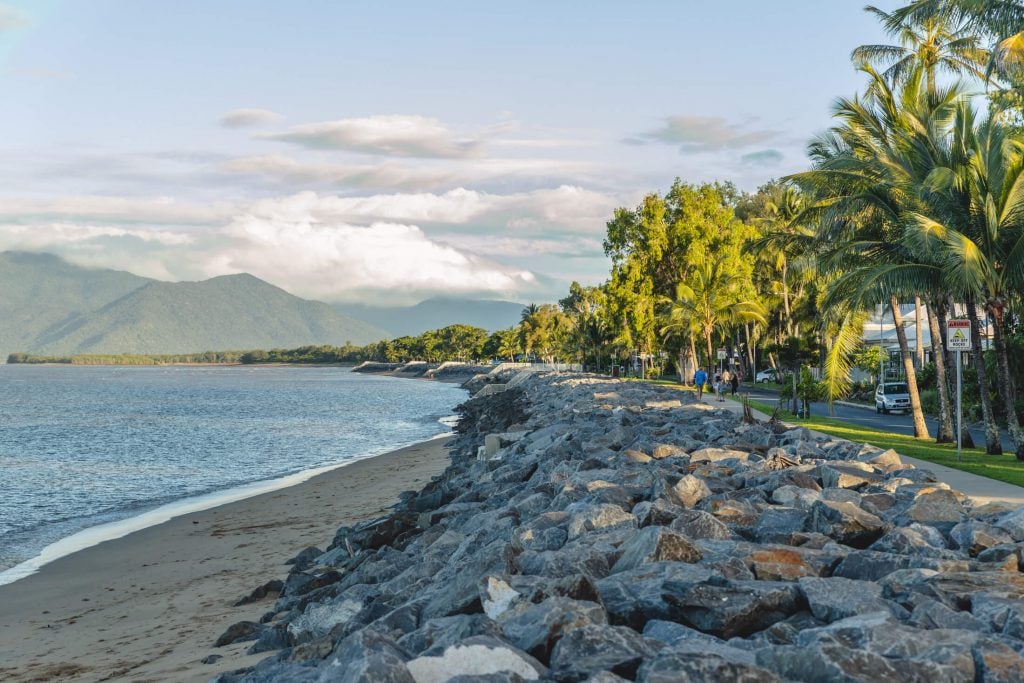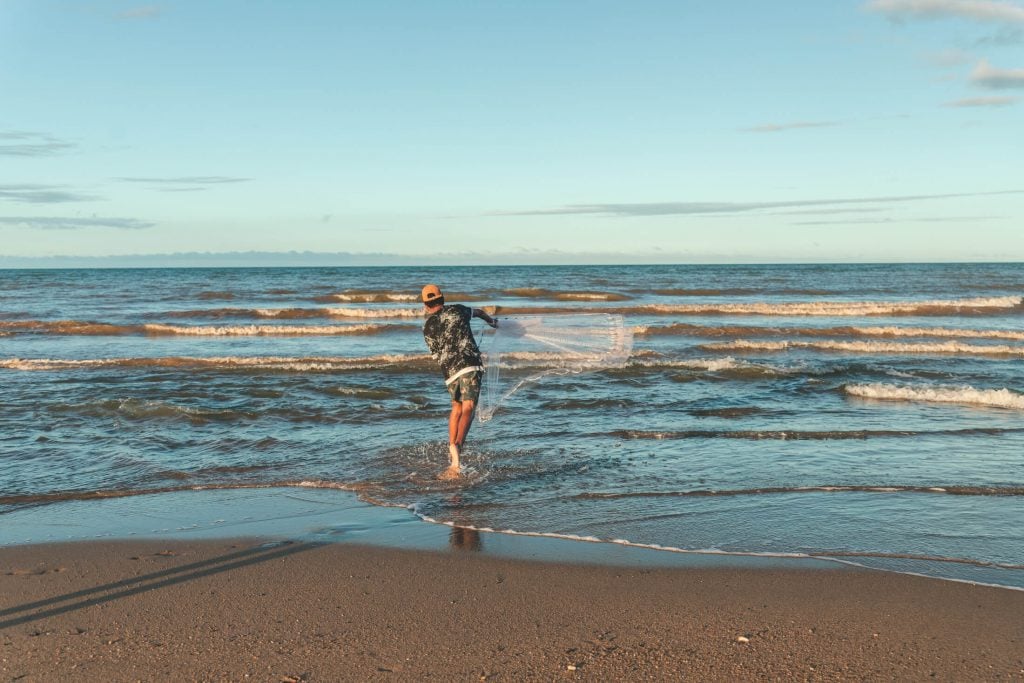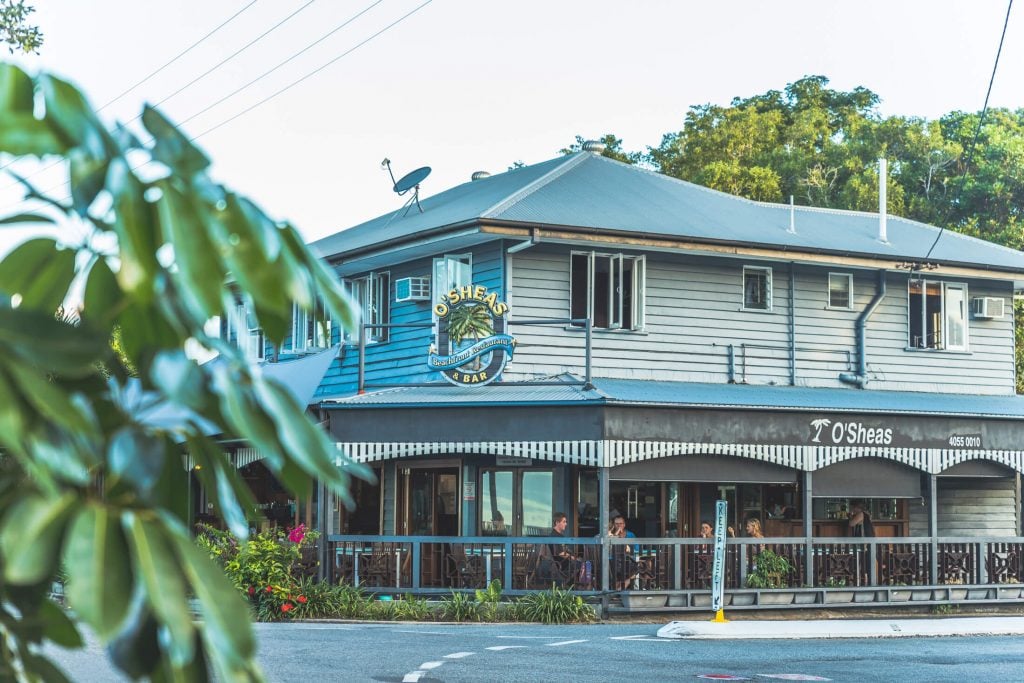 Machans Beach is a local's seaside suburb and the closest beach to Cairns. If you're looking to sunbake on the sand, Machans probably isn't your top choice with the beach lined with a rock wall but it's great for a waterfront walk at any time. While there are no hotels in Machans, there are private rentals if you're after a beachside escape that's close proximity to Cairns CBD. Many locals are partial to wetting a line along the beach or in the nearby creeks and rivers. Stop by O'Sheas with sea views for a drink or bite to eat from 3pm Monday to Thursday and from noon on weekends.
Trinity Beach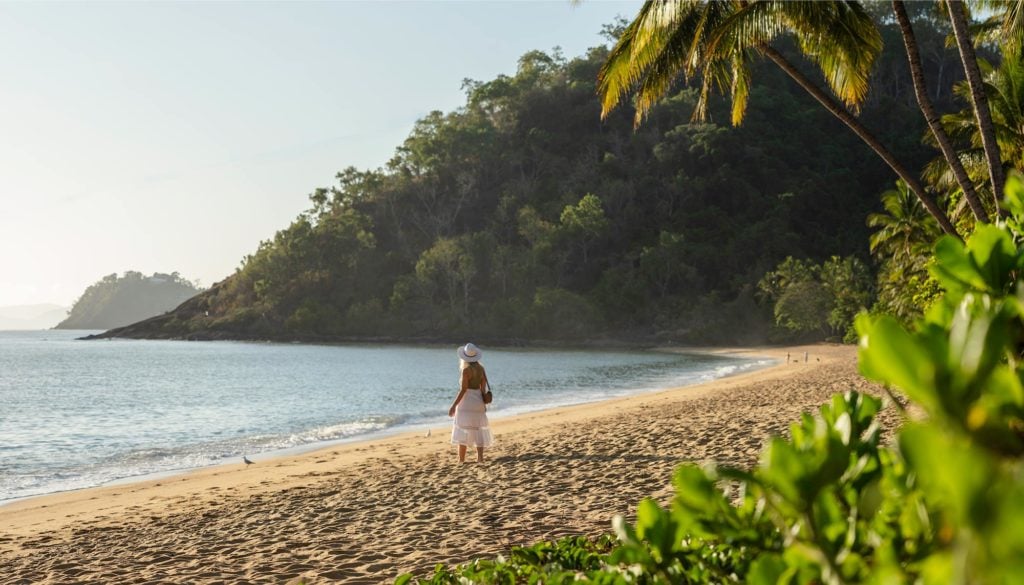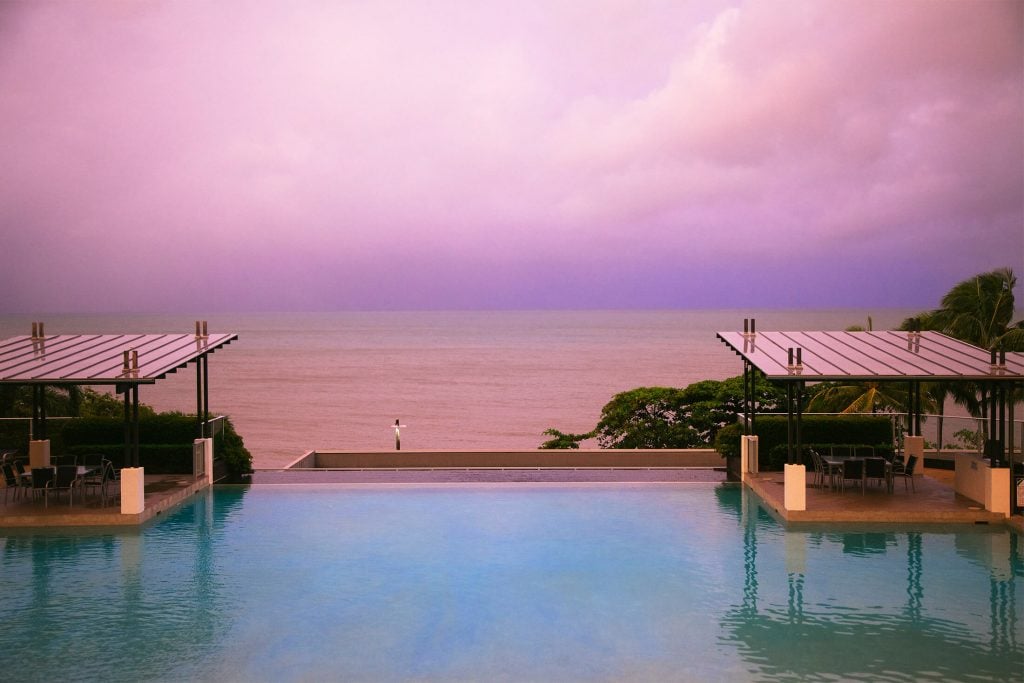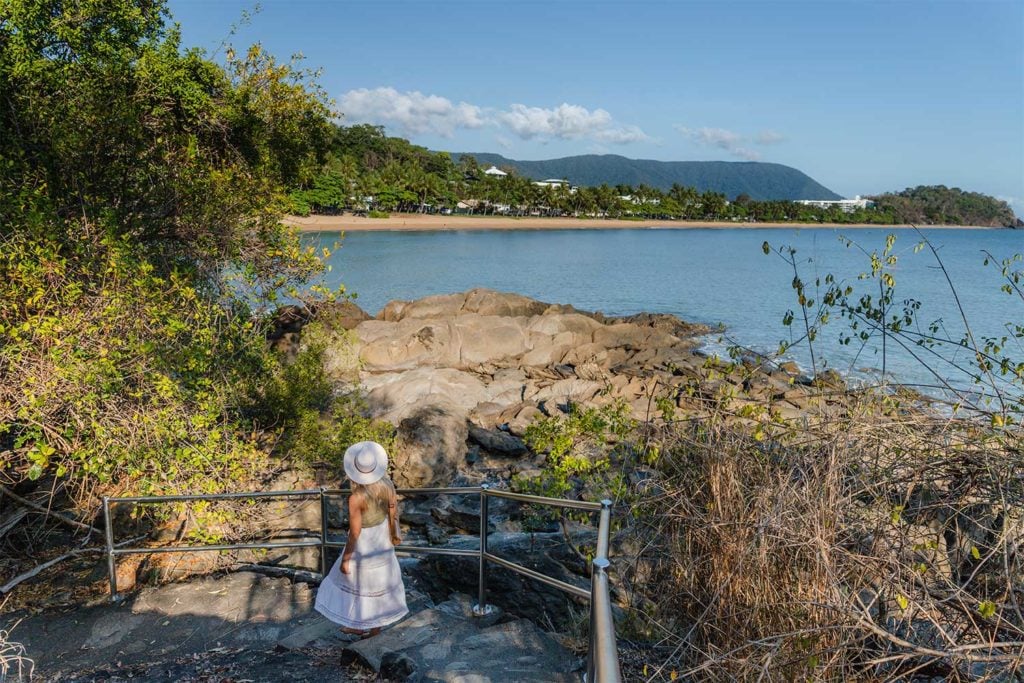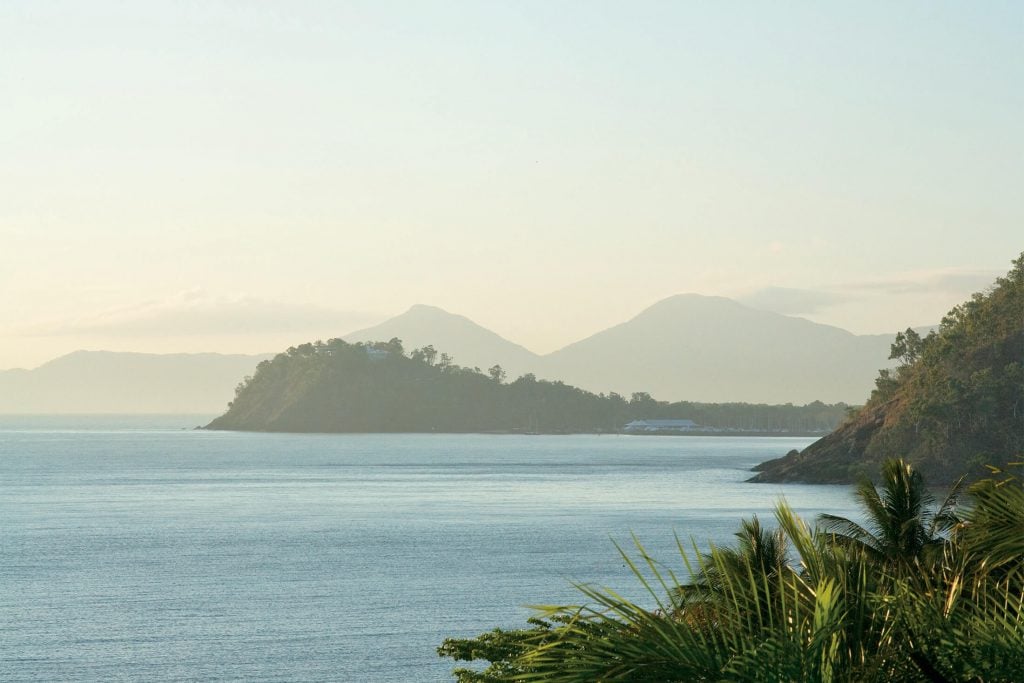 Nestled between two headlands is a favoured local hangout, Trinity Beach. Beach almonds dotted between coconut trees provide shady hangouts to lounge on the sand between swims. Trinity Beach is perfect for active travellers with walking tracks along the waterfront and headlands or the more challenging 1km steep climb to the summit of Earl Hill.
There are many accommodation options at Trinity Beach including the luxury apartments, Vue Luxury Apartments, which open out to uninterrupted 180-degree views over the Coral Sea. Just below is a local favourite, Trinity Beach Tavern, perfect for a good Aussie pub feed or drink overlooking the beach. An institution of the beachside suburb is L'unico, who have been serving traditional Italian food and irresistible cocktails on the waterfront for 25 years.
Holloways Beach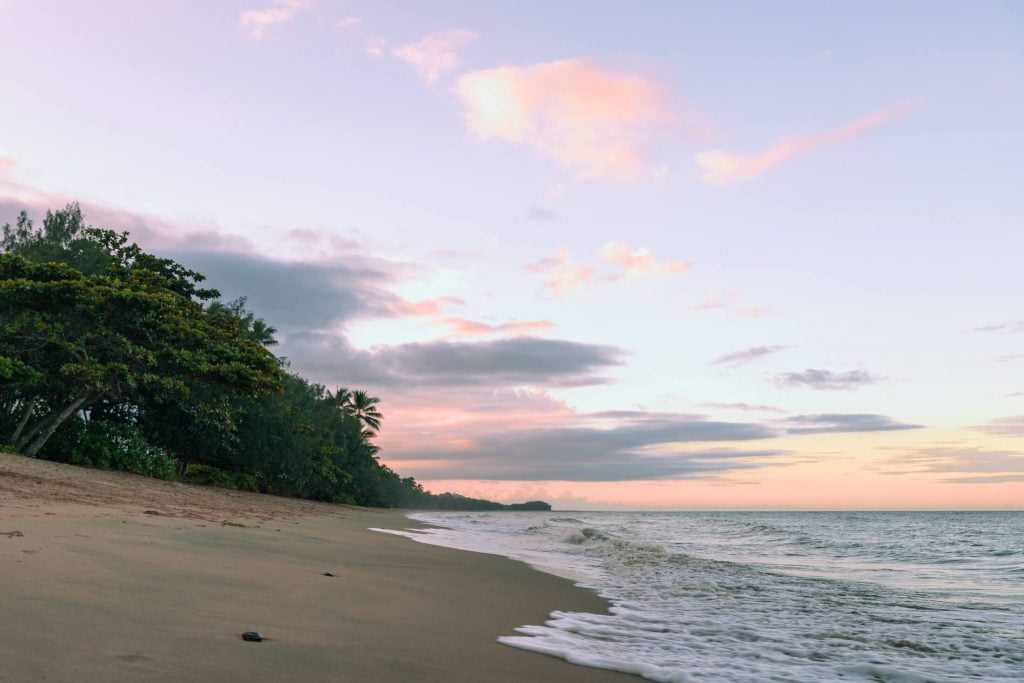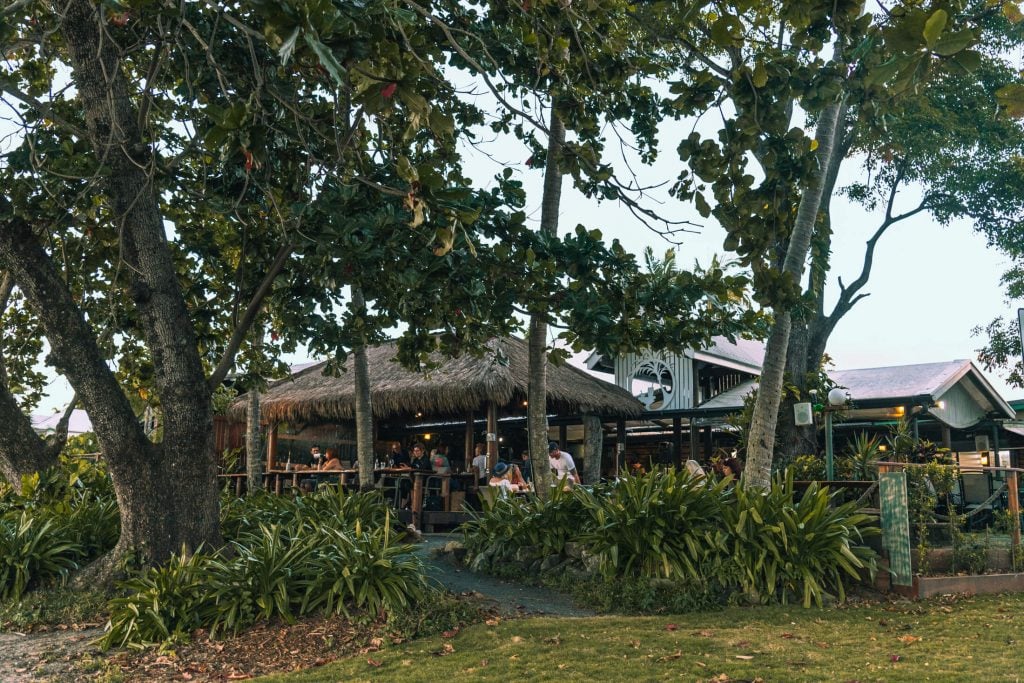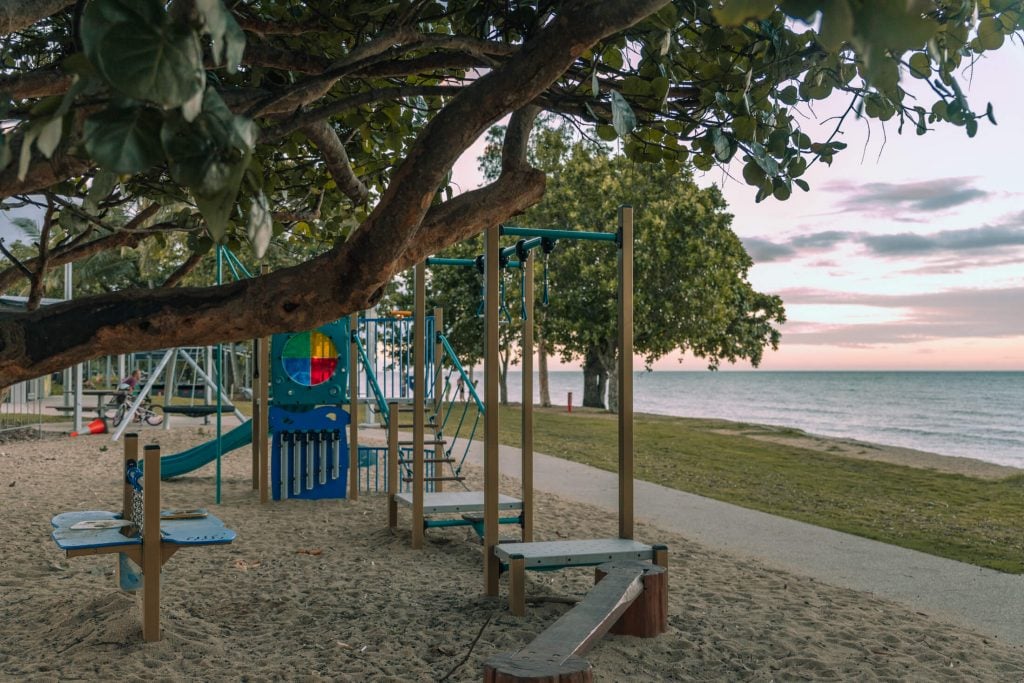 Holloways Beach is the second closest beach to Cairns CBD, only 15mins drive north, and the closest patrolled beach. It's a sleepy seaside village featuring a handful of holiday apartments and a range of cafes and restaurants. If the name was any indication, Strait on the Beach is located directly by the sandy shores and is one of Cairns' only restaurants not interrupted by a road between the beach and dining area. The quirky establishment has been around for many moons and is perfect for a casual drink or bite to eat overlooking the ocean.
Locals craft-makers and food vendors congregate along the foreshore on the second Sunday of every month at the Holloways Beach Markets with many people and their furry pals heading down to check out the goods on sale.
Yorkeys Knob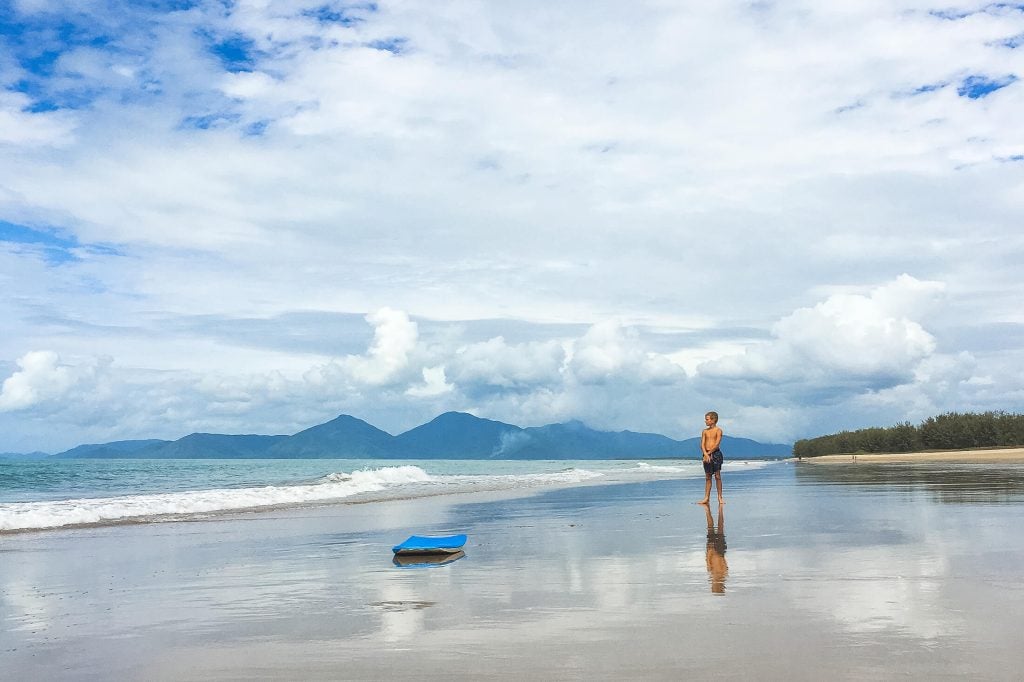 Yorkeys Knob is the hidden treasure you didn't know you were searching for. This beachside community features a number of accommodation options along or in close proximity to the Esplanade. It's a great base for families, only 7mins drive from the major shopping centre at Smithfield, including movie theatres, shopping, dining and supermarkets. Tee off at the 18-hole Half Moon Bay Golf Club, rounding off the day around the corner on the large deck with marina views at Yorkeys Knob Boating Club. May to November provides the ideal conditions for Kite Surfing with lessons available along Yorkeys Knob beach.
Kewarra Beach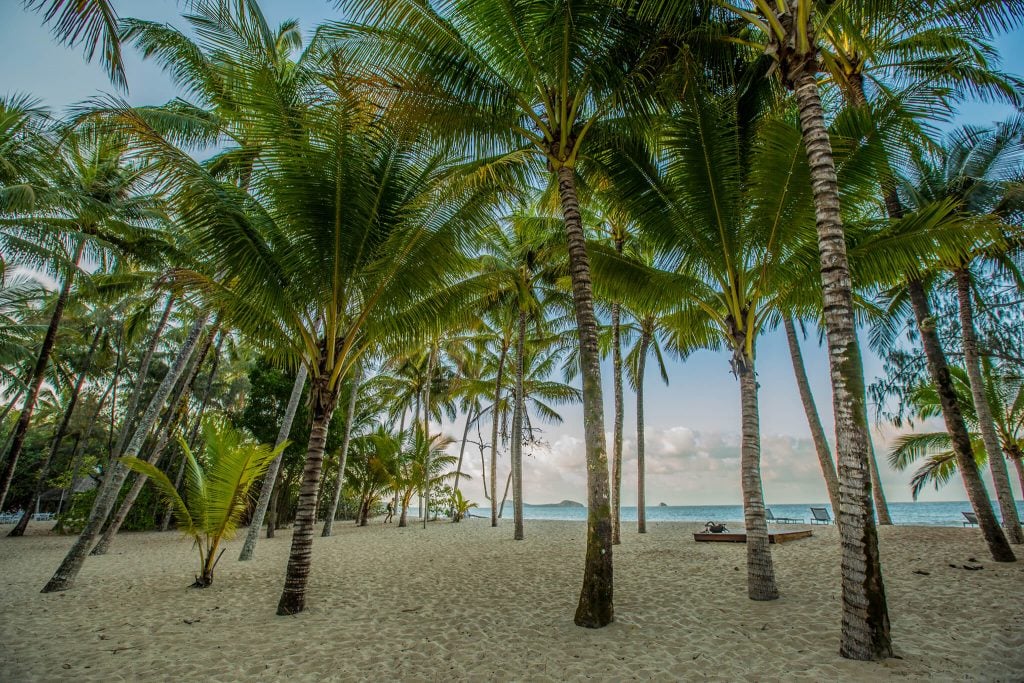 If woodfired pizzas and live music below a string of fairy lights on the beach sounds like your cup of tea, then look no further than Kewarra Beach. The Beach Shack nestled among coconut trees at Kewarra Beach Resort & Spa operates each Friday and Sunday from May to December on the sands of Kewarra Beach. It's an idyllic spot to watch the day fade into night as people wander by on their afternoon strolls throwing sticks for their dogs to retrieve.
Clifton Beach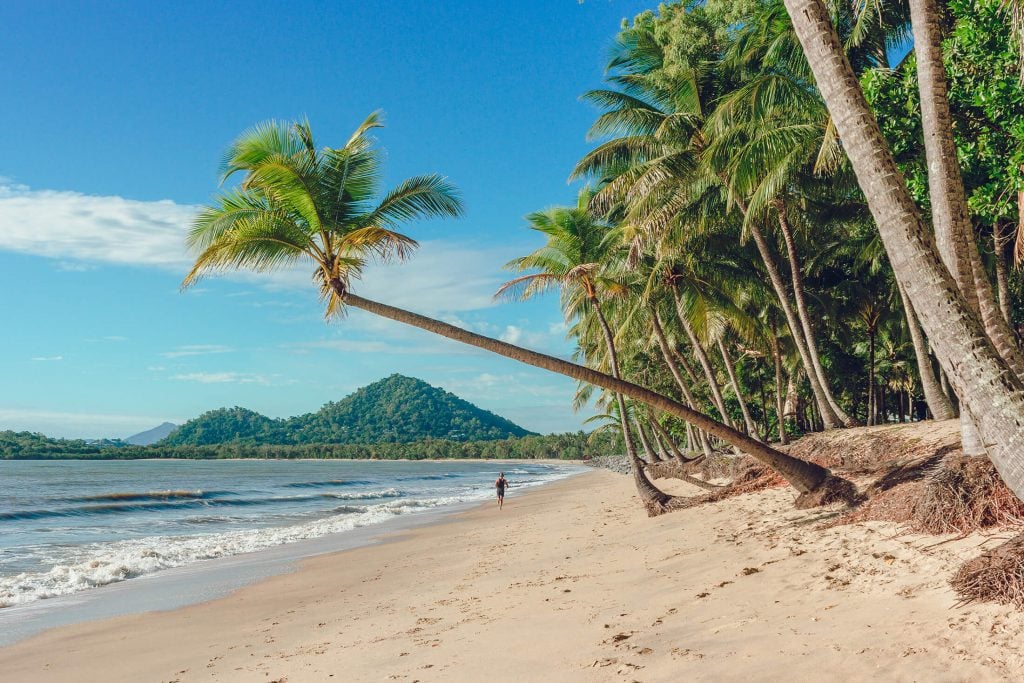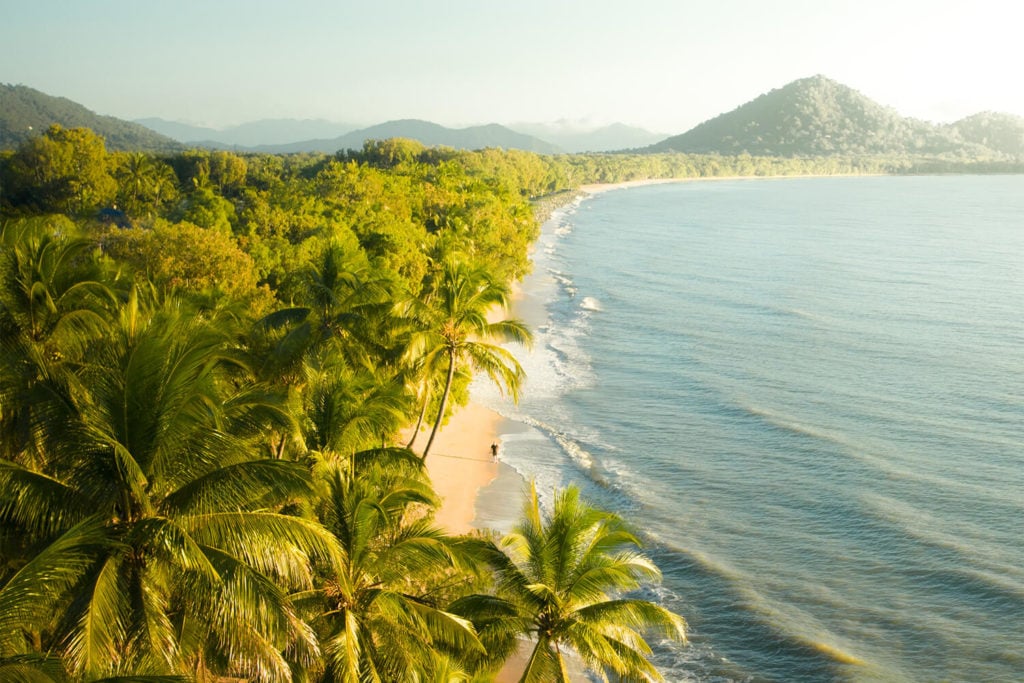 This hideaway is an unspoilt locals beach with only a small number of holiday apartments up for grabs. With a large supermarket just up the road, pick up some supplies and make your way down to one of the free barbecues along the beach, guaranteed to be peaceful waterfront meal. Take to two wheels on a leisurely 3km bike ride along the foreshore between Clifton Beach and Palm Cove. It's the the ideal spot for sunrise invoking those true tropical vibes you were searching for.
Follow the dots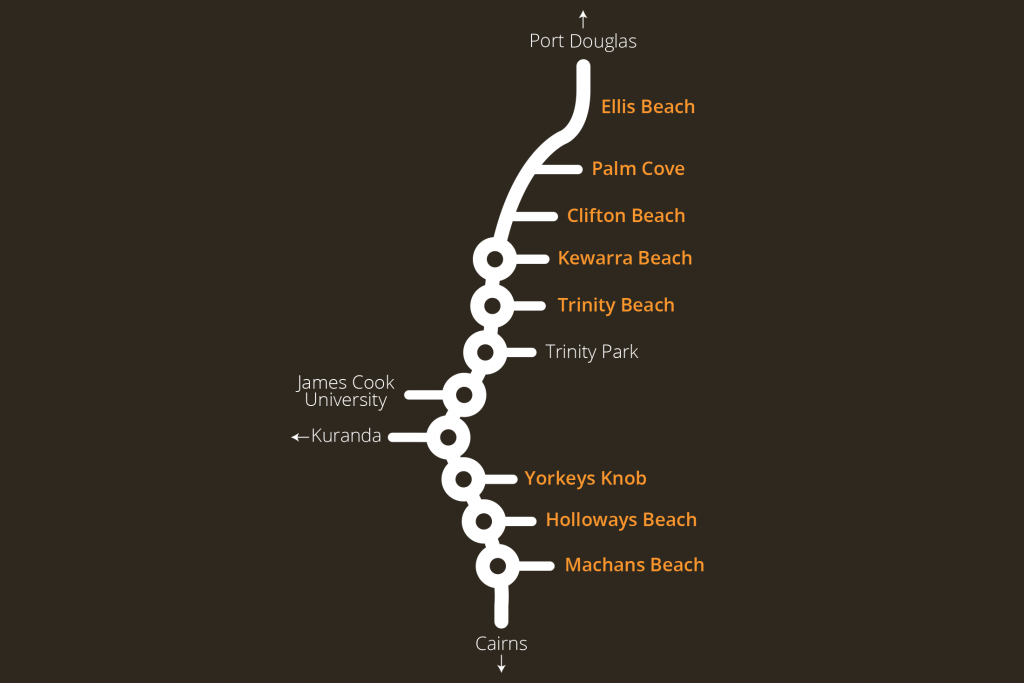 With so many roundabouts on the way to Cairns' Northern Beaches, use this handy guide to getting your bearings and finding the beach you're after.