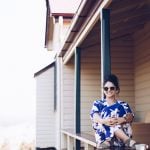 If you haven't met them already, there are three hotel siblings in Cairns you should really know by name – Riley, Bailey and Flynn. 
While they might not all look the same, like most siblings, they share the same values – having been brought up as part of the Crystalbrook Collection. This portfolio of Australian hotel's philosophy is simple – champion sustainable luxury – and prove that the two concepts don't have to be mutually exclusive. 
See why it's the little things that make a big difference with these eight ways Crystalbrook Collection champions sustainable luxury. 
Everything down to the key card entry is different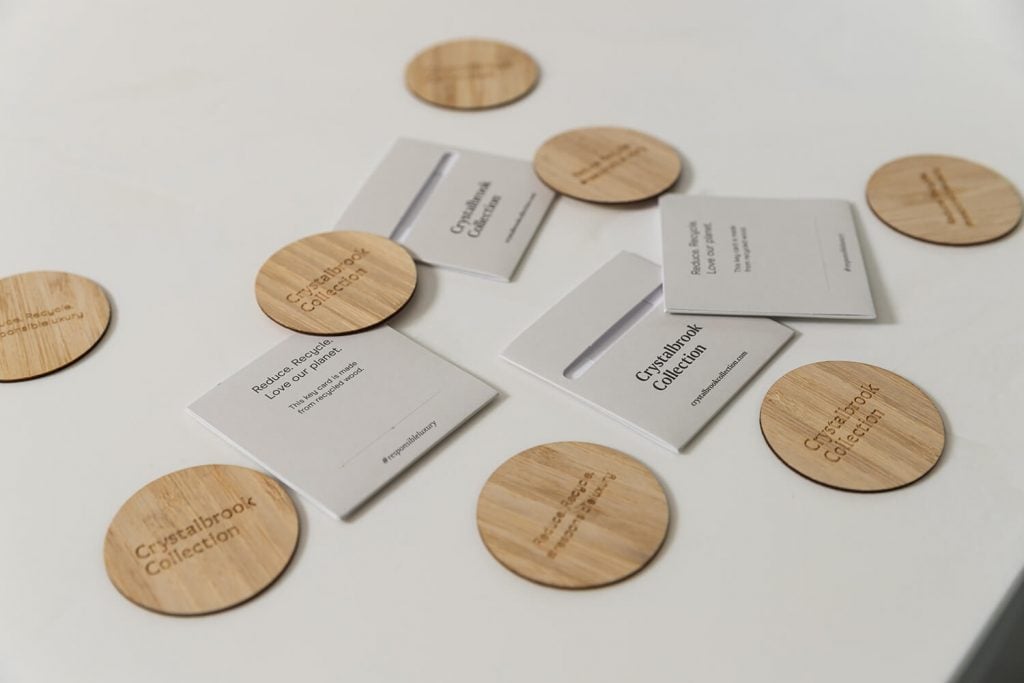 Likely your first encounter with Crystalbrook's environmental policy starts from the minute you check-in (paperless of course), as you're handed a wooden key card access to your room. Unlike the plastic variety used across most hotel groups, when you stay in a Crystalbrook Collection property you'll be supplied with a recycled wooden door token which resembles a wooden poker-chip. Made from 100% recycled wood, these key card access tokens are your first clue that your Cairns holiday experience is starting in the means it intends to carry on.  
Large amenity bottles make waves for big change
In Riley, Bailey and Flynn, the standard mini shampoo and conditioner bottles have been replaced with larger amenity packs pumping their signature scent, Crystalbrook Immersion. By replacing small, single use toiletries with large bottles, one of the hotel's alone (Riley) is able to keep a quarter of a million bottles out of landfill each year. The swap doesn't short-change guests either – you'll have the opportunity to lather yourself from large pump packs containing essential oils and local Indigenous ingredients such as Davidson Plum and Rosella, a fragrant reminder you're in the tropics.  
You're unlikely to see a single use plastic, anywhere
Try as you might to go looking for them, you won't find any single use plastics lurking around these three hotels. Crystalbrook Collection were one of the first hotel groups to swap out straws, disposable bags, takeaway containers and plastic water bottles for plastic–free alternatives. Since launching the hotel group in November 2018, their transition to boxed water has saved more than 458,080 water bottles going straight into landfill. 
In fact, even the coat hangers you find in each of the rooms are made from 100% pressed cardboard rather than the usual kind you find in hotel rooms.  
Produce is used as efficiently as possible
Food miles are one thing, but food waste is another, which is why Crystalbrook Collection designs its menus to reduce as much food waste as possible. Take the use of a pineapple for instance. You might find the juice of the pineapple served at breakfast, the leaves in a cocktail come sundown and your modern-Asian dinner dished up inside a pineapple skin bowl for dinner – that's how committed they are to end–to–end cooking. 
Where food waste does exist, it's swiftly sent off with OzHarvest to be distributed to those in most need. If that's left you hungry for more – you'll be happy to know if you forgo your daily room service (reducing excess cleaning costs), you'll even get a $10 voucher to use at one of the onsite restaurants.  
Even the coffee at Crystalbrook has a conscience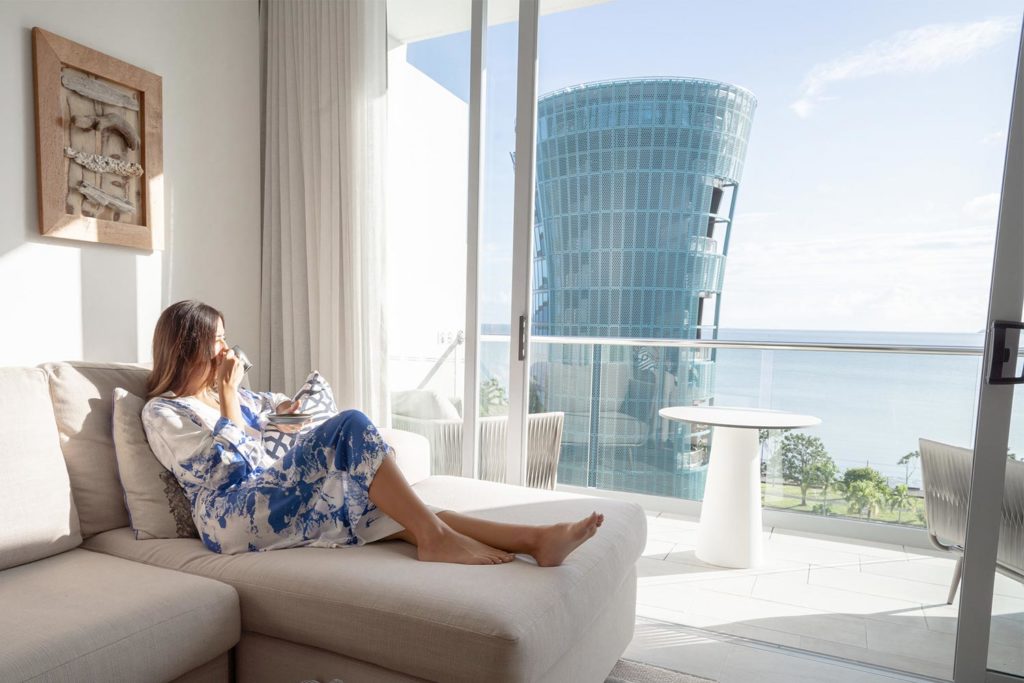 Saying goodbye to the pod-machine coffee system is a hard ask for any five–star traveller, but what if we told you that you could have your coffee and feel good about it too? 
Crystalbrook Collection have partnered with TerraCycle, a charity which recycles coffee pods, separating them into their three constituents (organic, plastic and metal) where the metals are melted into weight, which is then monetised and donated to various charities across the region.  
The hotel's design is also efficient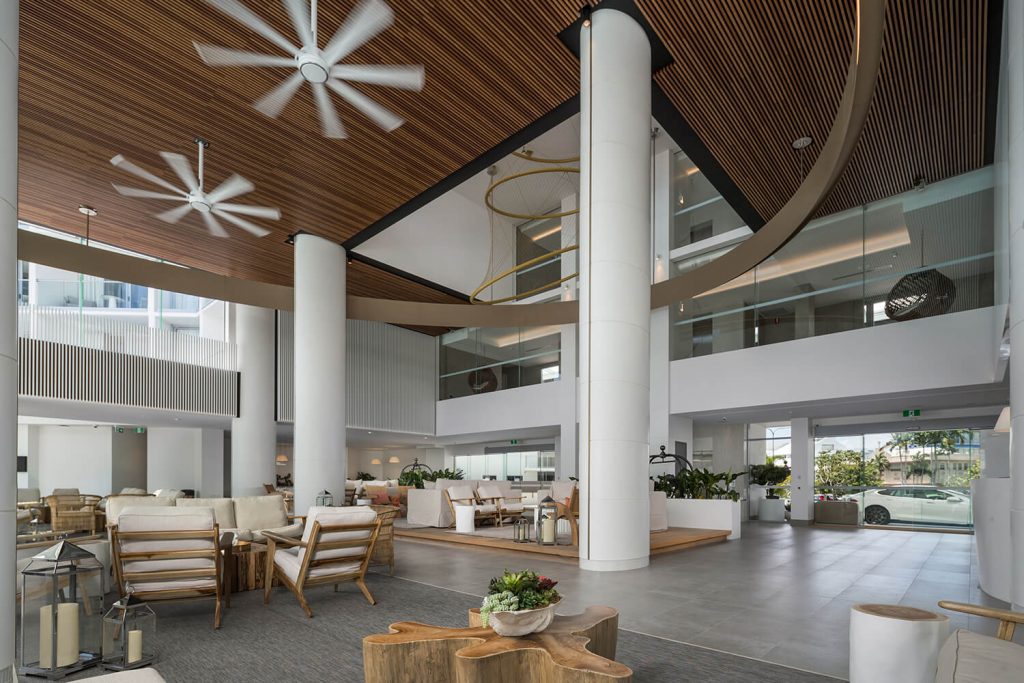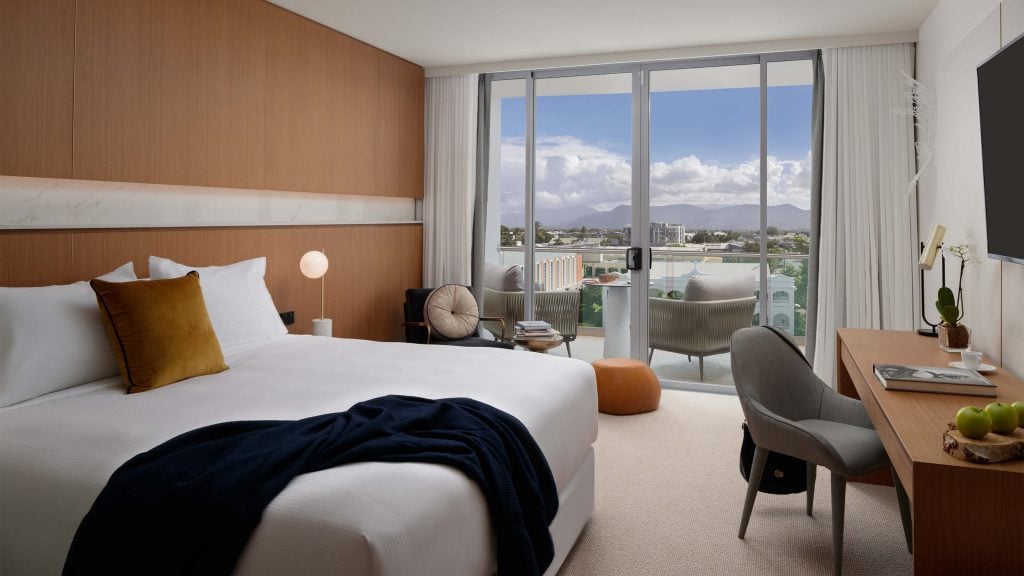 Conscious travel was built into Crystalbrook Collection's construction. It took engineers time to ensure the building reduced excess energy, through its very design and shape. Inside the rooms, you'll find more obvious ways the design and architecture wage a war on hotel–holiday waste. 
Take for instance the internal Building Management System (BMS), which ensures all rooms across the three properties sit at the same temperature – so you're never too hot, never too cold. The Building Management System is smart technology too – so from the moment you check in your air conditioning cranks up so you'll walk into a cool room. Equally it works in reverse too, when the sensors recognise you've left the room, your air conditioning switches off to conserve energy.  
Paperless is a promise
Plenty of businesses claim to be paperless, but Crystalbrook Collection certainly walks its own talk. In rooms, the paper compendium has been replaced with iPads and they've transformed the check-in and check-out process to be entirely paperless itself. That's not to say there isn't a little notepad to jot down your thoughts in your room – these are five-star properties – but instead of bleached–paper, you'll find recycled Forest Stewardship Council paper stock only.  
COVID-19 might have been the driver of change for paperless restaurants – with these Cairns properties now opting away from a paper menu to one accessed via QR Code. Crystalbrook Collection's commitment to going paperless runs so deep, even the housekeeping teams are completely paperless.