As you discover the Great Barrier Reef, uncover the culture of the Traditional Custodians with personal interpretation by local Indigenous rangers on Dreamtime Dive & Snorkel.
Layering a Great Barrier Reef snorkel and dive experience with Indigenous cultural interpretation is such a good idea you wonder why it took so long to happen. The Cairns-based Dreamtime Dive & Snorkel vessel flies three flags – Australian, Aboriginal and Torres Strait – which reflect the heritage mix of its Indigenous ranger staff. It delivers visitors a unique journey of discovery which, in an Australian first, results in a deeper cultural understanding of Queensland's World Heritage-listed aquatic asset.
First and foremost, this is a voyage to the spectacular and extraordinary Great Barrier Reef. The locations visited are deadly (which translates to very good or excellent in cultural idiom) and change with the prevailing weather conditions. Each day begins at Moore Reef, and continues onto either Flynn or Milln Reef. These large patch reefs are impressive by any measure. At a trio of bomboras named Dog Paw, giant clams and multiple Nemo fish welcome divers and snorkelers. The next anchorage is also home to spectacular reef gardens and doubles as the site for a satisfying onboard lunch buffet.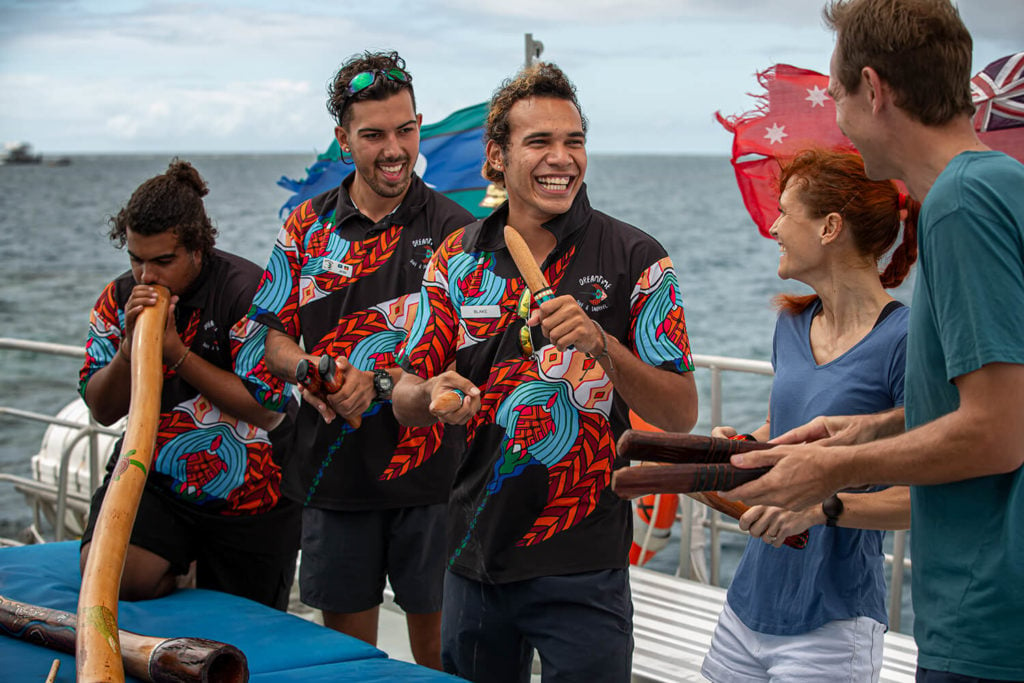 The joy of discovering two pristine outer reef sites during the tour's generous five hour dive and snorkel time is matched by the happy, infectious delivery of the traditional custodians. The staff's natural exuberance and gift of story-telling is a great fit with their roles – they seem as keen to interact with visitors as the visitors do with them. Blake (from Torres Strait), Laz (from Kuku Yalanji) and TK (who identifies as both) take guests through clapsticks and didgeridoo performances, explanations of firesticks and traditional shields, and explore the significance of the marine ecosystem to their ancestors and to themselves.
Senior ranger Laz (traditional name Mirrie) came to the Dreamtime Dive & Snorkel role through a marine TAFE program where he gained coxswain and open water dive certifications. He says he most enjoys meeting new people every day and teaching them about his culture.
"There are many people who don't realise we're here. We have visitors board who have no idea Australia has an Indigenous culture and when they discover we have been living sustainably with the Great Barrier Reef for generations they are blown away."
Laz has an ambition to get his advanced open water and be a dive supervisor. "I want to stay in this industry – I love marine tourism," he smiles.
Top tip: Partake in a Guided Snorkel Tour for insights and information from a qualified Marine Biologist
Where: Tours depart daily from Cairns Reef Fleet Terminal to Moore and Milln or Flynn Reefs
Cost: Adult $189 | Child $99 | Family $484 (2 adults + 2 children)