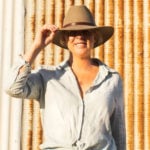 Throughout Tropical North Queensland, Indigenous seasons are celebrated differently than in western culture. Discover summer through the eyes of the Traditional Custodians of Tropical North Queensland.
Subtle changes in weather, plants in flower and the abundance of bush foods signal the transitions from one season to another with this gentle flow of nature fundamental to culture, ceremony and celebration for Tropical North Queensland's traditional custodians.
For Kuku-Yalanji custodian Johnny Murison of Jarramali Rock Art Tours, Jarramali (which means thunder), signals the stormy season from late November to the middle of December followed by Kaba, the rainy season from late December to March, a special time when country is nurtured with life giving rain and the plants, wildlife, rivers and seas are replenished.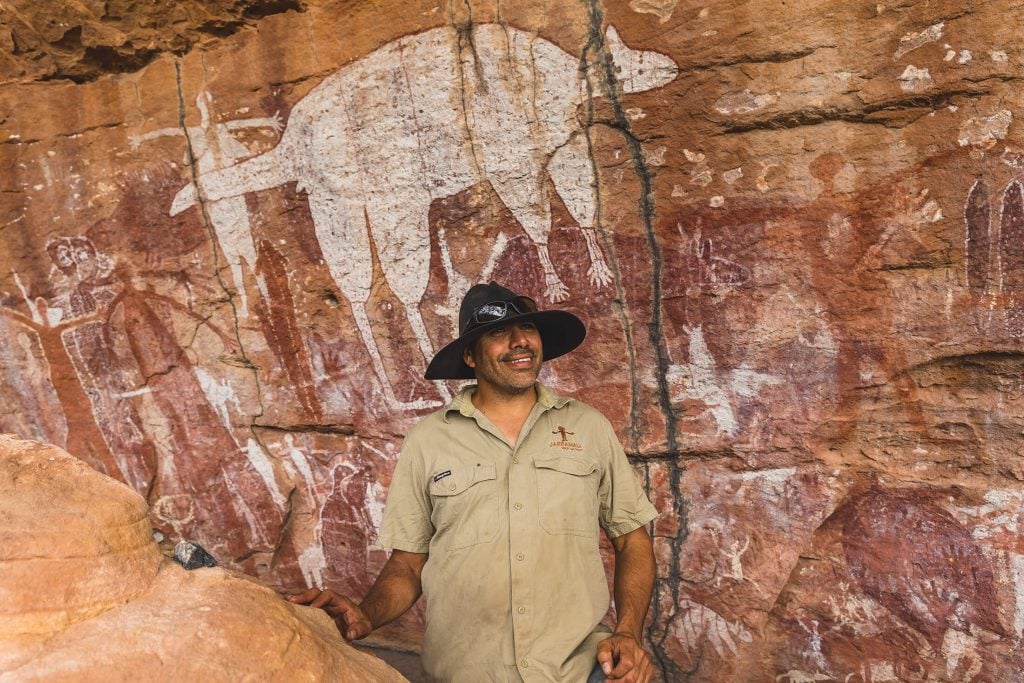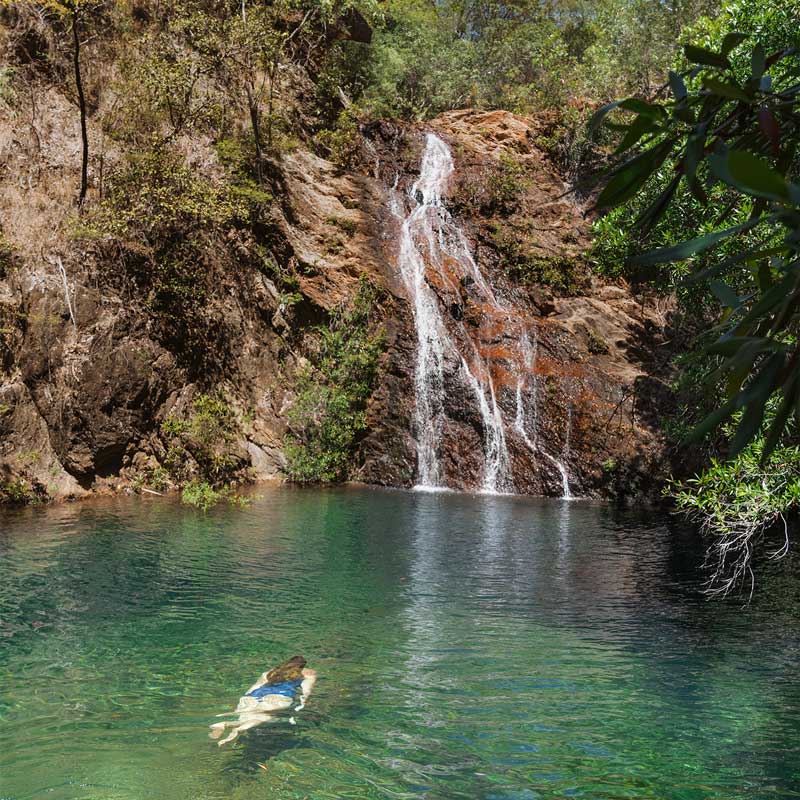 "Kaba is an incredible time to be on country, the rain is heavy but has a sweet smell to it and the land drinks it in after being parched from the dry. Waterfalls sprout everywhere and with plenty of water holes for all the animals to drink from, everyone is happy. It is a time when our country really comes alive." He shares.
While Juan Walker, Kuku-Yalanji traditional custodian and owner and operator of Walkabout Cultural Adventures at Cooya Beach, counts "build up" as a favourite part of Kaba.
During the build up (storm time) and before the wet season sets in, we have some amazing calm days when the ocean looks like a mirror. It's my favourite thing to see. I also like to be in the rainforest when the cicada's start their call, signalling the rain is coming.
On Sea Country, Dustin Maloney, a Master Reef Guide with Dreamtime Dive and Snorkel and identifies with four Great Barrier Reef clan groups; the Kuku-Yalanji, Yirrganydji, Yidinji, and Gunggandji, says Yirrganydji people recognise the seasons as Kurrabana (wet season) spanning from November to May and within that period two minor seasons occur: Jawarranyji (storm time) and Jimburralji (cyclone time).
"The ocean can at times be unpredictable. Marine life can also be more active during this time so we become more cautious around water as crocodiles are on the move, jellyfish are more common and we also leave mating sea turtles and Dugong alone".
Along with mating and nesting, the world largest synchronised coral spawning event occurs on Uire (The Great Barrier Reef) in Tropical North Queensland waters.
"Our people celebrate seasonal change by moving away from the ocean and more towards the rainforest areas. This symbolises using different foods and resources which reduce the pressure on sea country and allows the ocean to sustainably replenish, which is a vital part of our commitment to caring for country" says Dustin.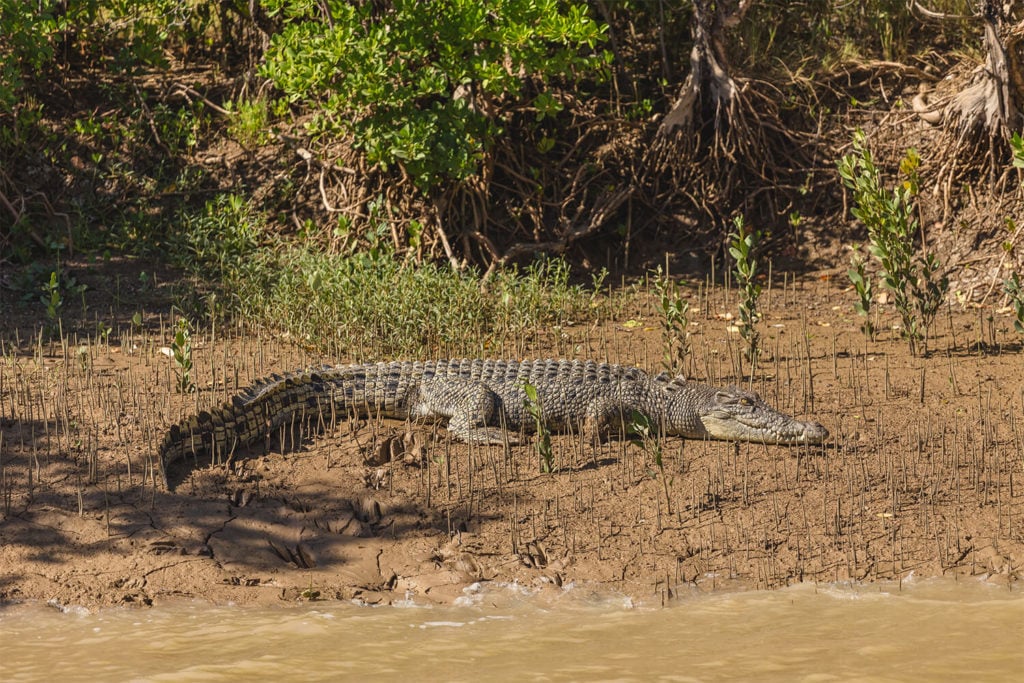 An abundance of bush tucker during the wetter months represents a favourite bounty for Tropical North Queensland's traditional custodians too.
"When the wattle blooms, I know the turtles and goanna will be in abundance and they will be faaaaaat", says Johnny. "Fat" being a colloquialism used in Indigenous languages to indicate when bush tucker is in its prime.
While Juan shares "During the summer our birds and crocodiles begin to nest, the black birds arrive and then the black bean flower comes out and we know that the turkeys and scrub hens have laid their eggs. These are an important traditional food to my people".
Traditional Custodians have an intrinsic connection to country, reading the landscape for the signs the season is changing and with it; the premise of what will come.
When it comes to bush tucker favourites, Johnny counts kudi kudi (barramundi) as his while Juan also looks forward to barramundi season, he points out is a closed season reserved for traditional hunting by Indigenous people only.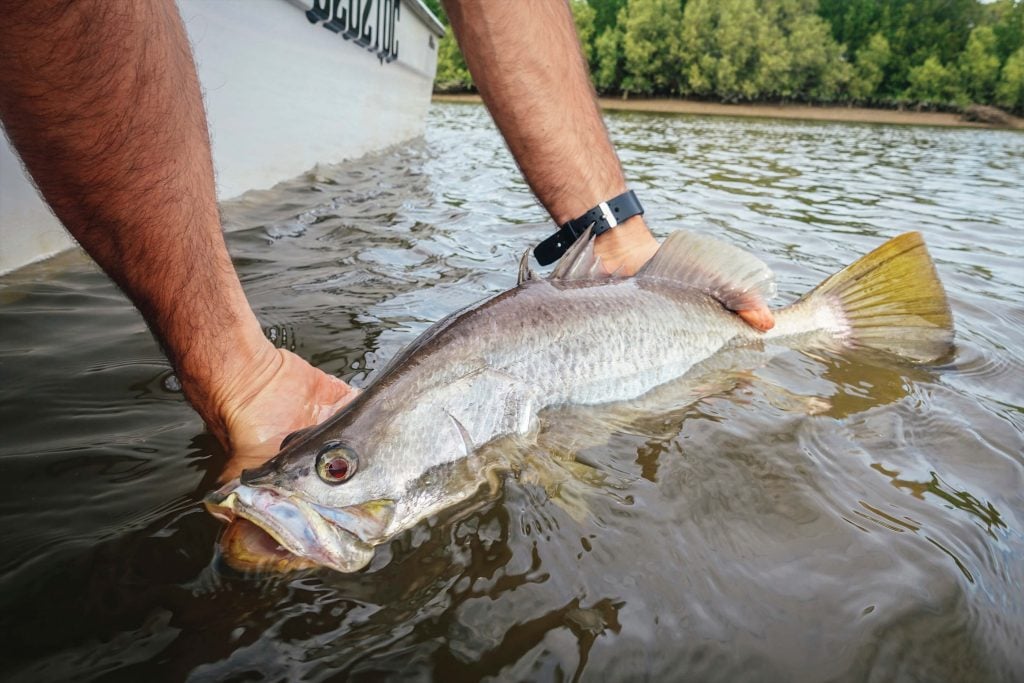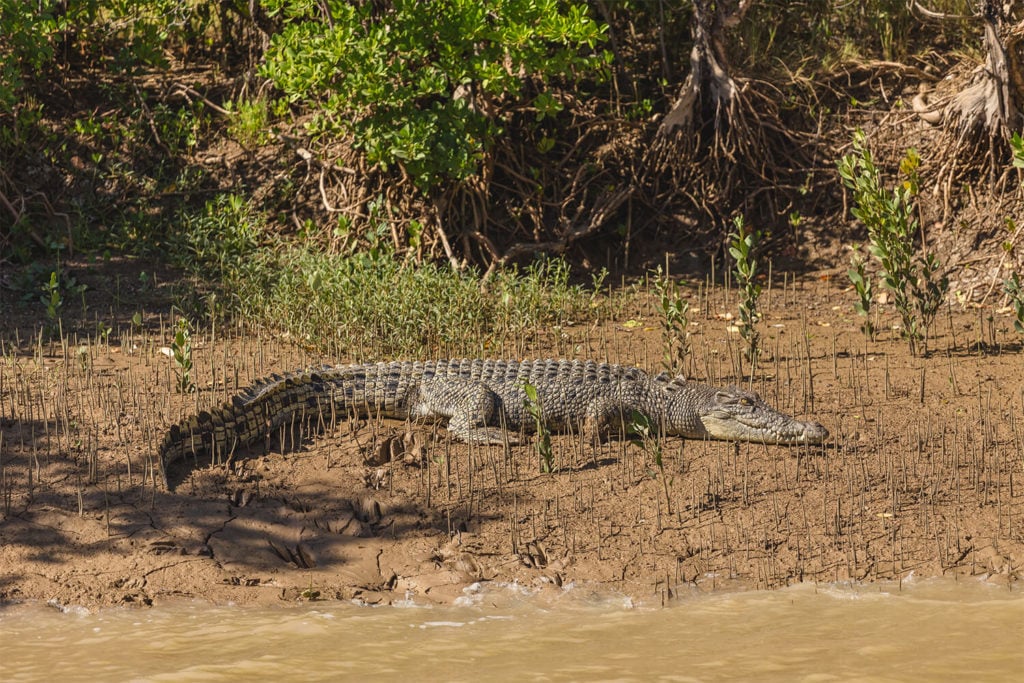 Traditional Kuku-Yalanji customs that celebrate this bounty include the guyu dance.
"I love teaching my kids this dance. It's a dance about a fisherman going hunting and catching barramundi with his spear and then celebrating by taking it home to share with the mob", says Johnny
"As the wet hits it creates a run off which turns into a feeding frenzy for kudi kudi. We do get ourselves bogged quite a bit around the rivers chasing them, but its worth it because kudi ngulkurr budjagu – barramundi are good to eat.
In the rainforest Juan counts wada (white apple) as an important rainforest fruit in season. "Full of water, it's a refreshing source of hydration when walking through the rainforest on a hot day. And native ginger is also delicious and ready to eat towards the end of the wet".
Considered a quieter time for visitors, with less traffic and less people, but Juan shares it is a prime time to see the rainforest. "In the rain, it is so very lush" , he says.
Johnny also speaks of the importance of rain to country.
It brings everything to life, rejuvenating and reviving – and spectacular to see rain powering off the sandstone escarpments in Western Yalanji Country
Walkabout Cultural Tours and Dreamtime Dive and Snorkel continue their tours throughout summer (weather permitting), however accessibility determines Jarramali Rock Art Tours schedule of tours, so phone ahead to check seasonal availability.