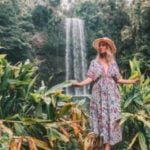 Discover the Indigenous stories, legends and traditions of Wunyami (Green Island) from the Gungganji and Yidinji people as you join them on a guided island tour and learn about their cultural, ceremony and life with Wunyami Tours.
You only need to join Indigenous Guides to explore Green Island to see how it got its traditional name Wunyami – "Place of Spirits". The Gungganji and Yidinji Traditional Owners have a strong connection to this land spanning thousands of years and hundreds of generations, which is embedded deep in its sandy core.
I was lucky enough to be one of the first people to join the Traditional Owners on the new Wunyami Tours to explore this island utopia and to discover it through the eyes of those who are connected to it through every root, leaf, bird and coral garden.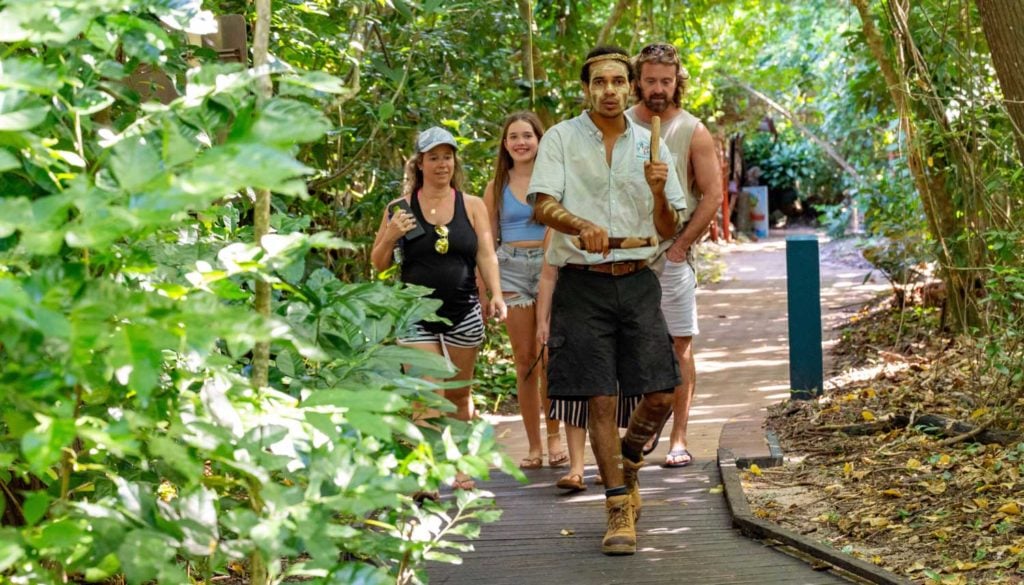 As our Indigenous Guide, Blake, took us down the rainforest paths that were walked on by his ancestors for thousands of years, my eyes were opened to the parts of Green Island that my mind had previously being closed off to. The array of rainforest foliage in every shade of green on the spectrum and how they were utilised by traditional owners, the birds and their spiritual significance, the coral and its symbiotic relationship with its environment.
The tour started by paying homage to the island's namesake "Wunyami" as our Indigenous Guides chanted, played clap sticks and walked towards the tour group to scare off any wayward spirits. Once it was safe to do so, we wandered down the leafy-lined paths of Green Island to begin our discovery to a deeper connection.
How many uses can one tree have? My Western mind immediately conjures two – food and oxygen – but for our guide Blake and his ancestors, a tree can be utilised for so much more. The dugal dugal (Gungganji) tree, for example, can be used for medicinal purposes, wrapping and cooking food, and even used to make rope.
Blake also highlighted how some plants provide multiple food sources for his people, such as the Arrowroot, which is also known as "bush potato". As well as providing a "potato", the starch from the chunky stems can also be used to make bread.
The rainforest also provides a way to cook its natural bounty, as Blake demonstrated to us through starting a fire using traditional methods. As he used a gugal drill and nalan base from the burrigan tree (cottonwood), a coconut husk and a twisting hand motion to start a subtle smoke, I laughed to myself about the fact that I can't even use a lighter.    
As we wandered through the rainforest I could feel as though we were stepping back in time; to a time before European colonisation, where the Gungganji people (Yarrabah) and the Gimuy Yidinji (Cairns) wandered, hunting and gathering. At one point during the tour, Blake asked us to not film as he shared a sacred story with us in his native tongue. He had been given special permission by the elders to share, and although I couldn't understand the words literally, the melody and meaning of the tale was still enough to give me goosebumps. 
Wunyami Tours has opened alongside the Black Seahorse Gift Shop, which offers authentic Indigenous artworks and artefacts, so that guests can take a deeper part of the island with them. The shop's name refers to the black seahorses that were carried by the saltwater women of the Great Barrier Reef as a lucky charm. The name also pays homage to the late Alma Fourmile (nee Patterson Katchewan).
Blake himself called upon the strong spiritual air of the island and asked us to open our mind to more spiritual connections. As he said, "Garru" translating as "see you later", which is commonly said by Gungganji and Yidinji people rather than goodbye, I truly left Wunyami Tours feeling enlightened, as if my own spiritual connection to the island had been enhanced by joining those who have forged such a strong connection to it.
Wunyami Tours operate hourly on Green Island and tickets can be purchased from the Black Seahorse Gift Shop or online at blackseahorse.com.au or with Great Adventures.