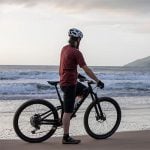 The CREB Track is a challenging and isolated mountain bike and 4WD journey, traversing spectacular World Heritage-listed rainforest weaving from Daintree village to the Aboriginal community of Wujal Wujal and on to Cooktown.
You've shredded Tropical North Queensland's mountain-bike parks, torn down the Kuranda Downhill and Bump Track, explored the Misty Mountains and Cardwell State Forest, and rolled along the white sands of Four Mile Beach.
But you haven't done everything that can be done on two wheels in this part of the world just yet. It's time to crank the adventure dial up and tackle the rugged CREB Track. Some hardy souls set off on self-sufficient multi-day CREB journeys but unless you're seriously experienced, we recommend a custom tour, such as those offered by Dan's Mountain Biking.
6am – Wake up
CREB stands for Cairns Regional Electricity Board and the CREB Track was the old maintenance road for the electricity line that linked Daintree in the south to Cooktown in the north. Nowadays this demanding dirt track is the ultimate test for mountain-bikers who want to experience some of the most isolated, mountainous and rugged parts of Tropical North Queensland. With singing birds gently rousing you from sleep, break out of the sleeping bag, poke your head out of your tent and take it on.
7am – Set off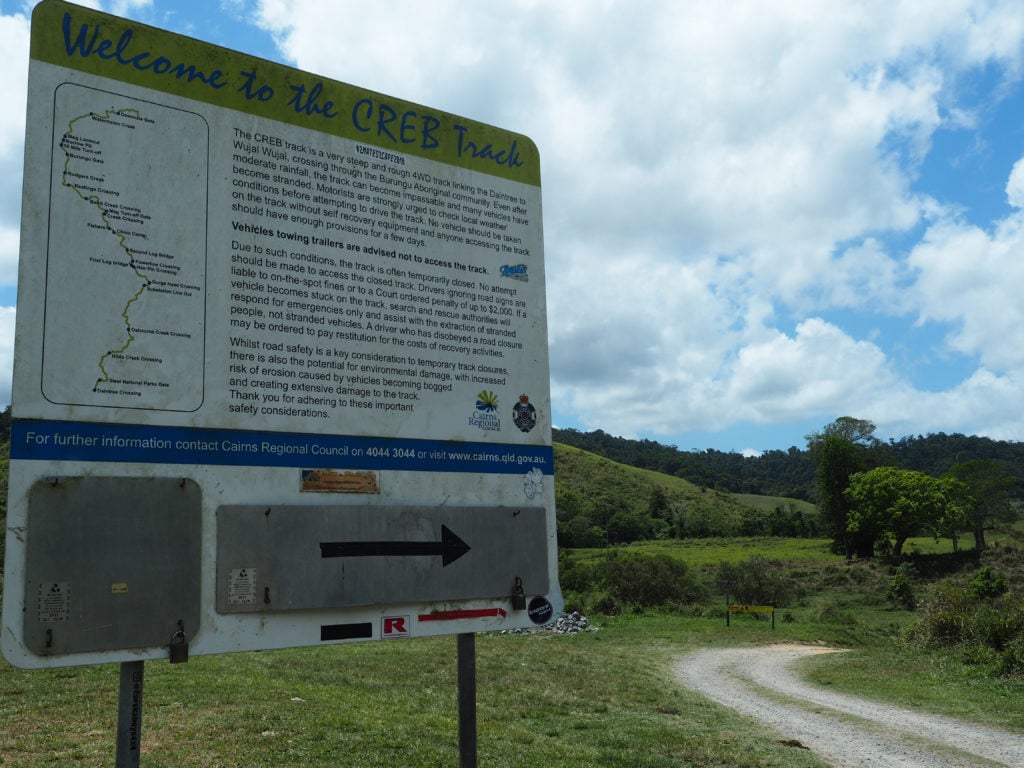 You're in Wujal Wujal and the start of the CREB – it's time to start pedalling. The first 10km or so are relatively untesting, a winding gravel road through drier, scrubbier tablelands country, but there's still the odd steeper hill to get up, and plenty more to come, so take it easy. If you think you might run out of puff, blag a ride in the shuttle vehicle over some of these earlier challenges to save your legs.
8am – Chill out
You've made it to Roaring Meg Falls, one of the CREB Track's prettiest sights. It's time to stop, have a snack, take a swim or just gaze in wonder at crystal waters cascading over smooth rocks. Another reason to do the CREB on a tour: visitors need a permit from the Burungu Aboriginal Corporation before coming to this culturally significant spot. You also need to respect your hosts by not taking any photos or video.
10am – Into the wilderness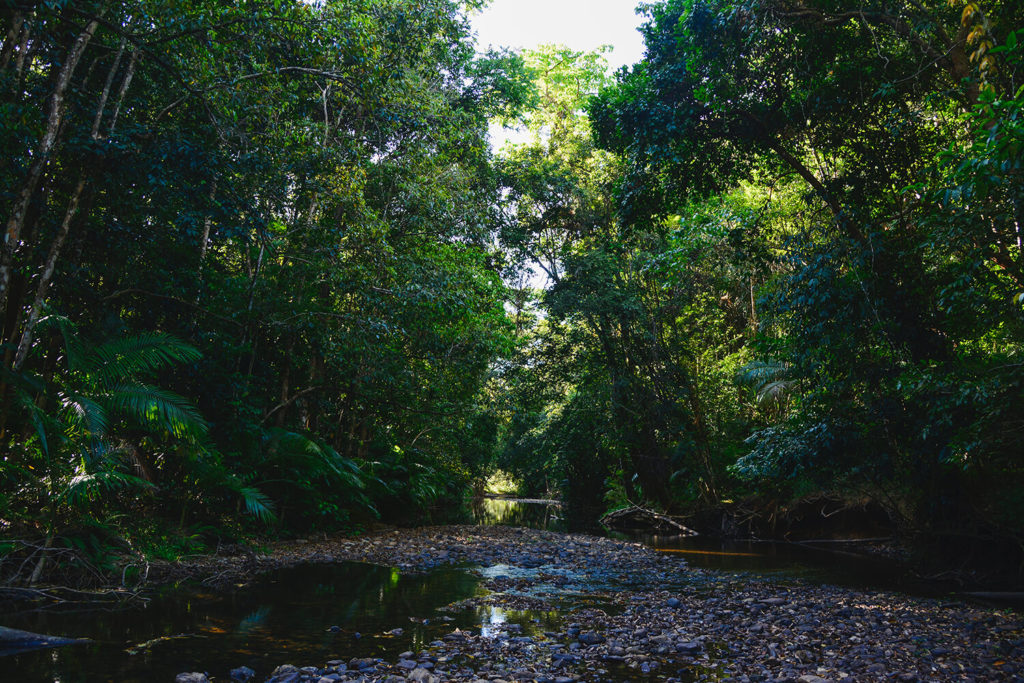 You've rolled away from Roaring Meg Falls, through the old tin-mining zone of China Camp and south into the heart of the McDowall Range. Now the CREB Track is starting to show you its true colours – the rainforest is closing in and it's hard not to notice you're a long way from anywhere. You'll be getting hungry by now, so pick one of the many beautiful river crossings and stop for an early lunch.
11am – Up and up
You've lunched and continued south, the CREB Track climbing higher, the dirt turning to red clay and the views through the canopy showing the sheer scale of the rainforest below you. Now you're about to encounter your biggest tests – first, Little Red, a climb that seems steep and tough until you encounter its big brother, Big Red, an absolute leg-breaking monster you might need to walk up.
11.30am – Roller-coaster ride
You might have only covered half of today's distance but your hardest work has been done. From the top of Big Red travelling south, your ride into Daintree is mostly downhill. It's time to take the ultimate red-dirt roller-coaster ride, starting with the hair-raising, impossibly steep descent off Big Red. With four-wheel-drivers and motorcyclists also using the track, you'll want to keep your eyes peeled for oncoming traffic.
1.30pm – Out of the jungle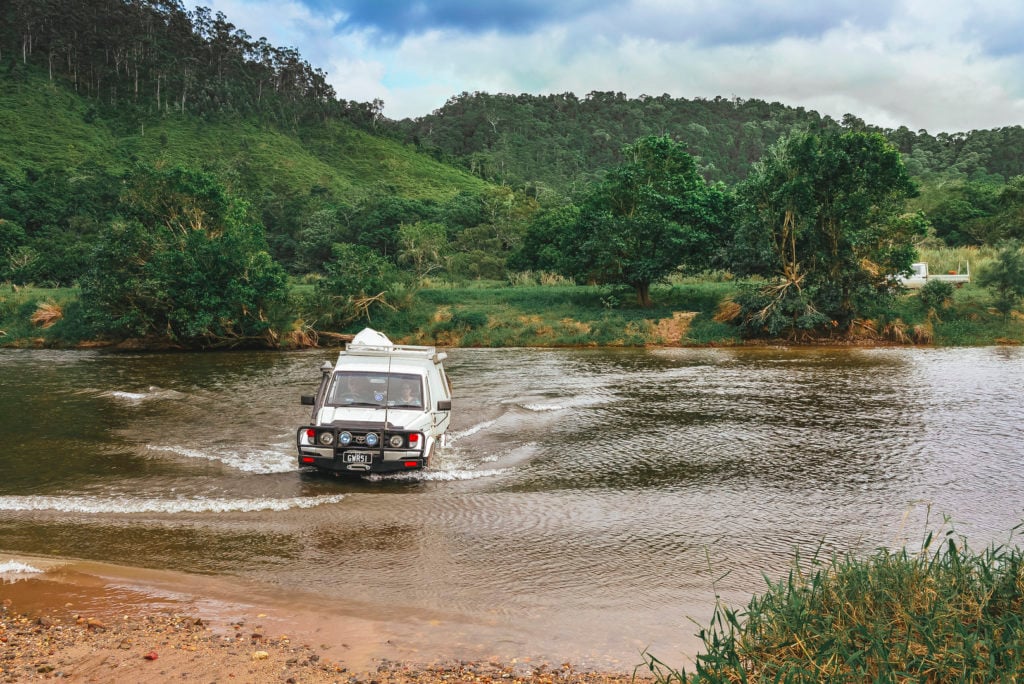 You've bombed out of the rainforest and on towards the Daintree River's broad, shallow crossing. It's time to meet up with your shuttle (they'll get you over the river if it's too high to ride across) and make a pitstop at the charming village of Daintree for a beer at the pub before starting the drive back to civilisation and a well-earned rest.