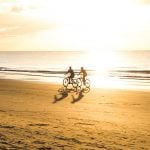 From making first tracks at sunrise along the coast to meeting friendly local wildlife in the ancient rainforest, uncover the secrets of the mountain biking trails of Mission Beach and surrounds.
6:30am – Mission Beach sunrise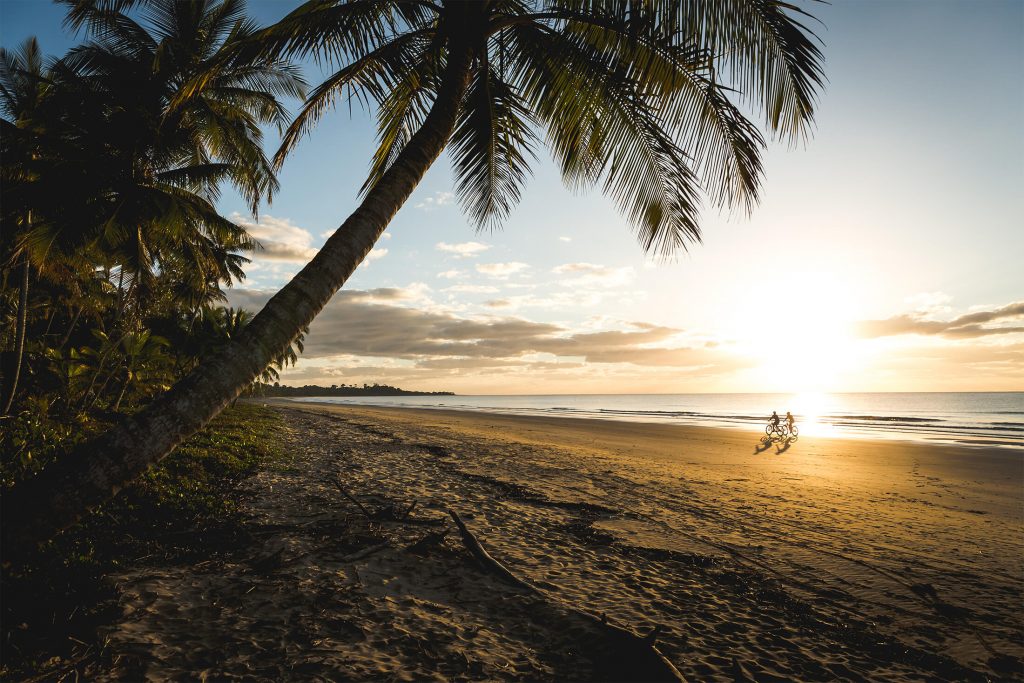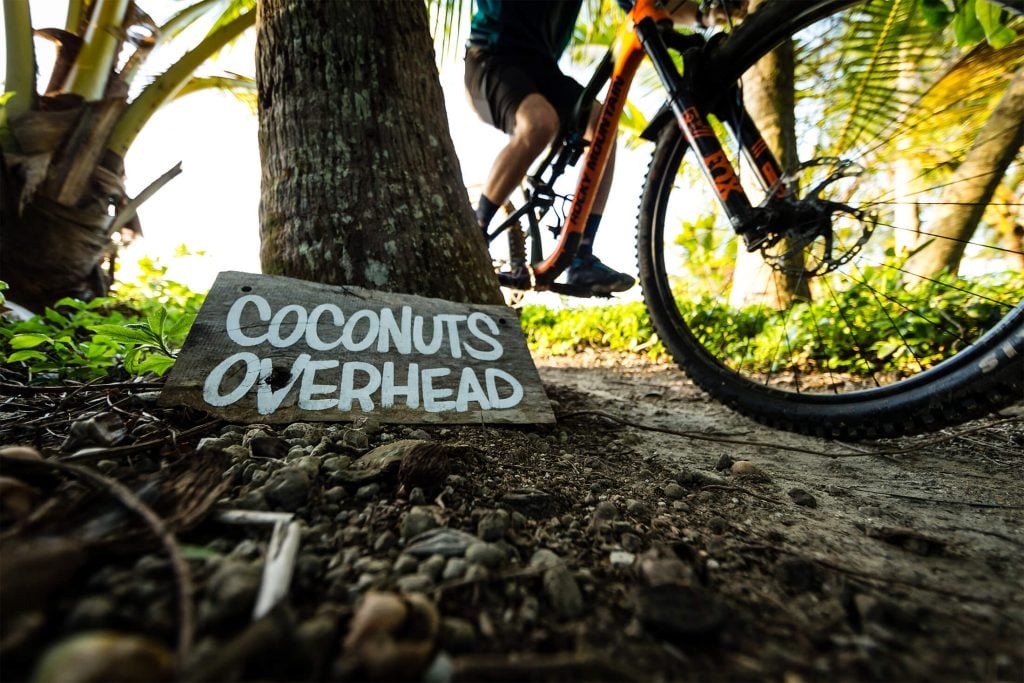 Our darkness-filled arrival from Cairns the previous night coupled with body clocks operating two hours behind meant we were itching to discover Mission Beach's beauty. A quick hop over the back fence led us to a 20km stretch of golden sands, mirrored by unsurpassed views of Dunk Island. Early morning is the perfect time to sink your tyres into the golden sands, when the island and coastline are framed with breathtaking sunrises.
8am – Breakfast at Joey's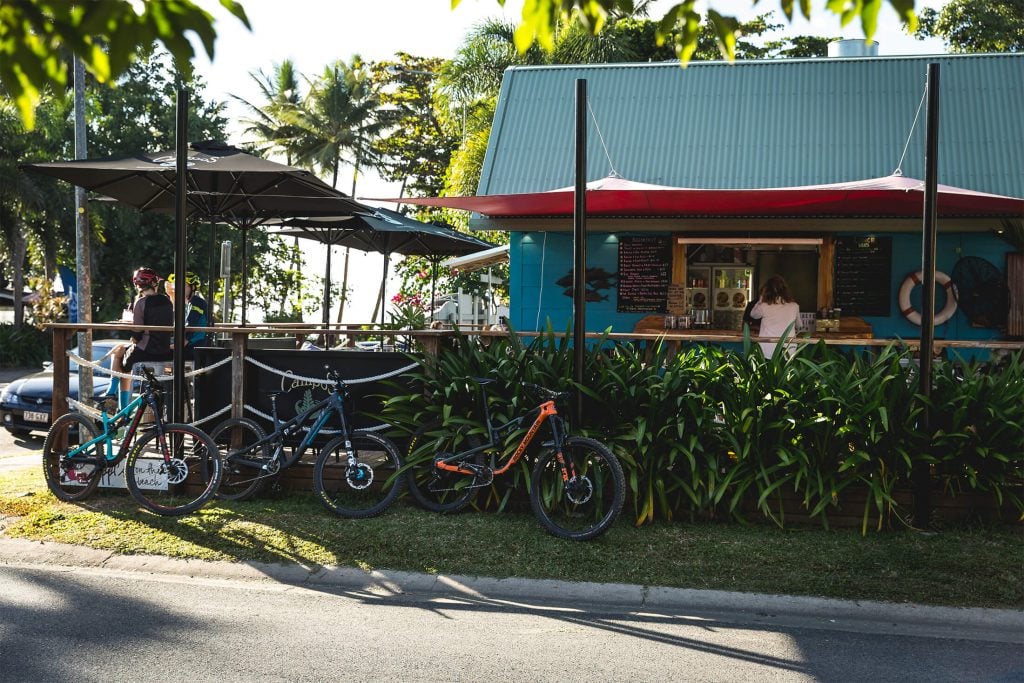 Meandering along the beachside path to the township of Mission Beach lined with fallen coconuts worked up our appetites for sampling the local produce – after all, we'd heard the region was famous for its tropical fruits. Enticed by its laid-back, yet quirky beach themed décor positioned to soak up the rays of golden sunlight hour, Joey's café quickly became our go-to for wholesome brunch and exceptional coffee to fuel the day's riding. Be sure to try the dragonfruit smoothie and vegetarian breakfast – both are more than pretty plates, with flavours truly showcasing the region's reputation for produce.
10am – Musgravea Track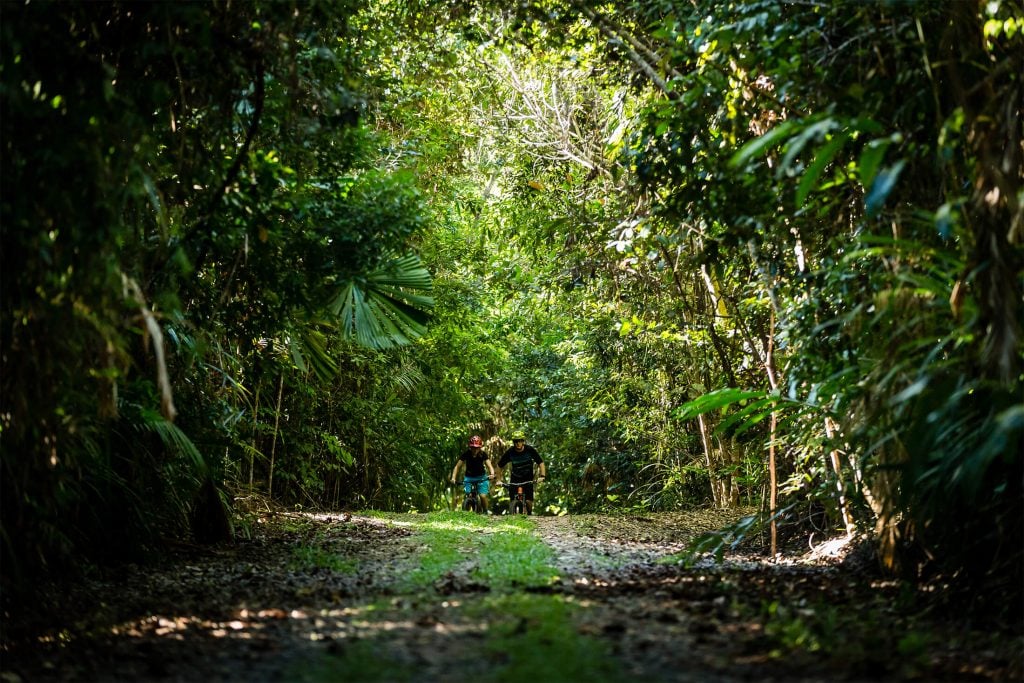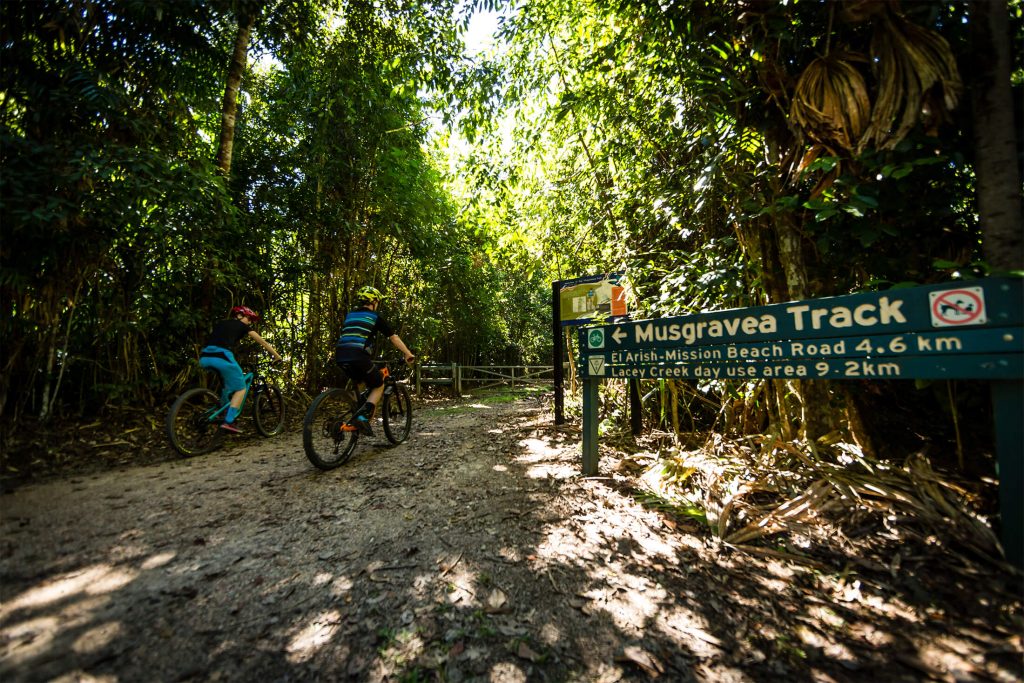 With full bellies and riding gear donned, we were fuelled for our gentle ride along the Musgravea track, a short pedal away from south Mission Beach. The trail itself is a family-friendly local favourite, taking riders through 7.8kms of unsealed road underneath a seemingly never-ending canopy filled with the unique Licuala Palms. We were accompanied by the chirps and rustles from other track users – in other words, the wildlife – be sure to watch for the famous endangered Southern Cassowary too.
12pm – Cool off
It was here that we were met with the Musgravea Track's biggest surprise (yes, even bigger than the constant surprise of bushes rustling every few minutes). Our fearful feathers were rustled after being certain that a large breed of wildlife was about to chase us down, only to be met by a friendly local who informed us of a swimming hole not far from the track's edge. Watching our feet with every step, we ditched our bikes and followed the rustic, otherwise naked-to-the-eye track to the swimming hole. Viola! Crystal clear, calm waters awaited three tired mountain bikers, complete with a rope-swing bridging the gap between both. Nestled amongst beautiful native bush, this swimming hole truly is a must-do.
3pm – Mountain Bike Park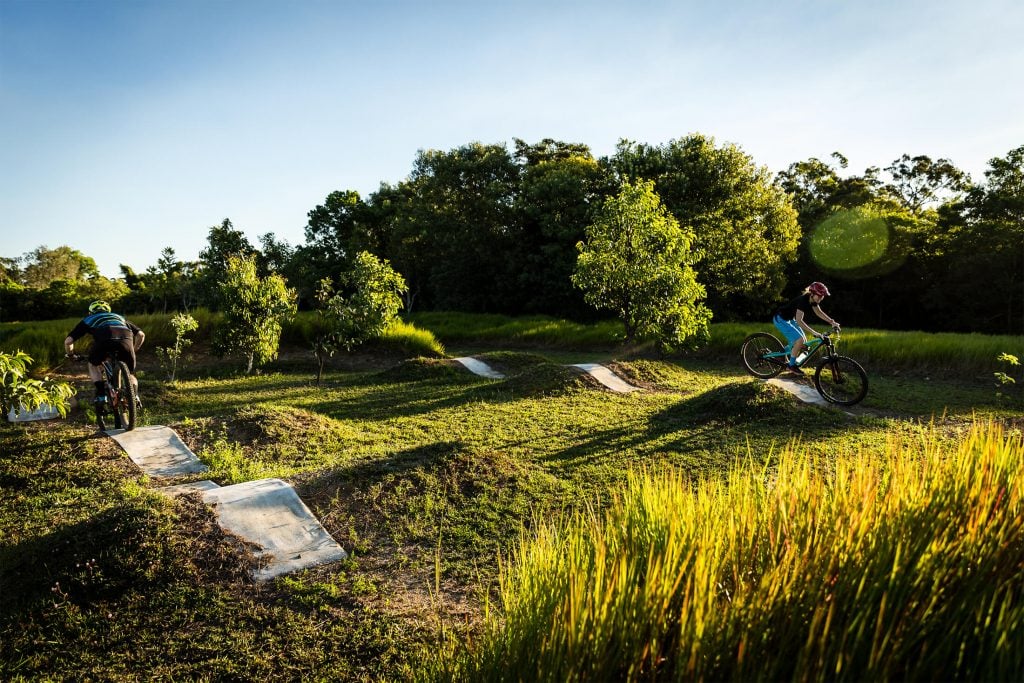 With our batteries recharged from our spontaneous swim, we decided to swing by the Mission Beach Mountain Bike Park on our way home, a mere 15km south of Mission Beach. Set amongst the humble rolling hills surrounding the area, the park itself is an undulating 3km loop catering for a wide variety of technical abilities. It became immediately apparent that we'd timed our ride perfectly, with the late afternoon sun piercing the tall blades of grass encapsulating the trail. We were treated to a grandstand view of the sun setting from the modest hill stationing the elaborate skills park, the coast's now-sleeping coastal mountains ready to provide us with a wake-up call tomorrow.
10am – K-Tree Road
With our bellies full of Joey's coffee and the hot Cassowary Coast sun making sure we were well awake for a morning of riding, it was time to traverse the bottoms of the vast Misty Mountains. Intimidating from the outside, the K-Tree Road within this range is in fact a very welcoming, low graded, family-friendly gravel road style trail linking to South Johnstone Camp and neighbouring Gorrell Track. Here, we were truly immersed with the nature the Cassowary Coast offers, greeted with the soundtrack of wilderness and brushing fauna out of eyes.
1pm – Lunch break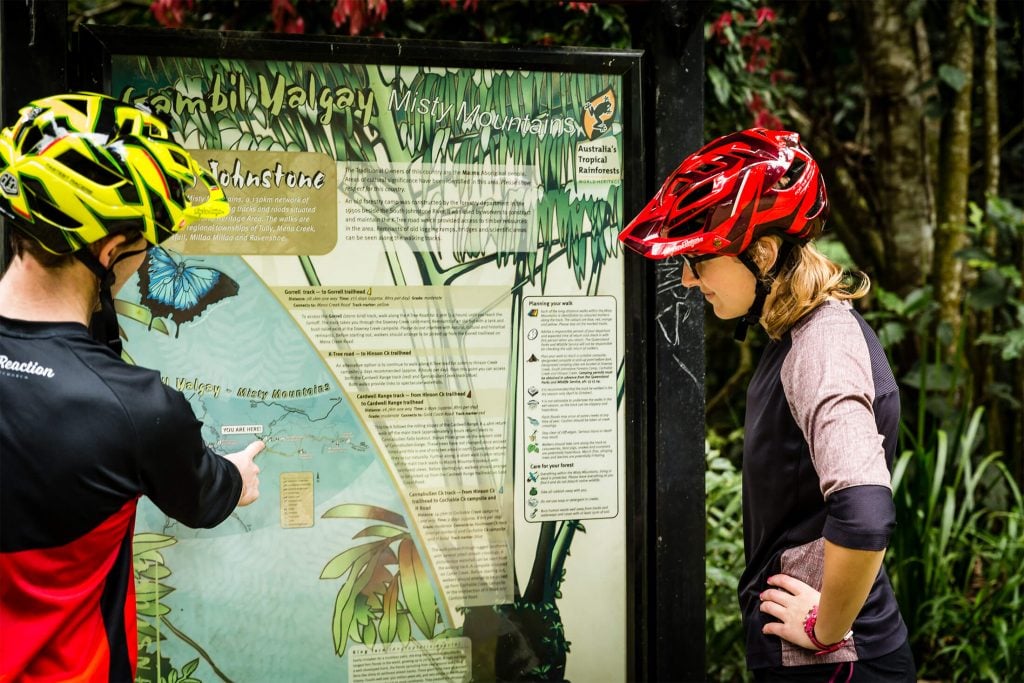 Our rumbling tummies quickly became louder than the rustles of the wildlife surrounding us. Fortunately for us, the 'South Johnstone Camp' signs were approaching fast, signalling the end of our K-Tree Road Trail – and that it was time for a lunch break. This quaint little campsite is the perfect place to tent up with the family, surrounded by a pleasant, stream-filled backdrop setting the stage.
4pm – Mamu Tropical Skywalk
With an hour or so of daylight left, but no legs to ride with, we found ourselves at the Mamu Tropical Skywalk, just a short 10 or so km's from K-Tree road. The 350m long loop features suspended, cantilevered walkways and an observation tower 37m above ground level, providing breathtaking views of the extensive South Johnstone River lying below, with endless rainforest vistas. Be sure to allow more than the recommended hour-long time window to take in all the Skywalk has to offer though.
7pm – Dinner at Peppervine
Goodbyes are always hard, especially when the mountains and coastline encompassing the Cassowary Coast region begin to encompass your heart – and your mountain bike. With the lingering thought of a 5AM travel start the following day, we took the opportunity to fuel up with one (maybe three, actually…) of Peppervine Mission Beach's exquisitely flavoured, not to mention excessively sized, pizzas. Hiding behind Peppervine's relaxed, beautifully appointed outdoor facade lies their elaborate main menu, washed down alongside a beer and the sound of waves just metres away. The perfect way to say 'cheers' to your trip to the Cassowary Coast.