Desperate for an escape from stressful, busy city life? Take a well-deserved break and rejuvenate with a relaxing weekend in Cairns; the gateway to Tropical North Queensland.
A diverse destination easily explored over multiple visits, this two-night itinerary is perfect for those tight on time or looking for a weekend getaway to relax, rejuvenate and recharge.
Day 1
Arrival into Cairns
Hit the snooze button on your busy life and get ready to relax. Knock off early from work on Friday or visit mid-week and get ready to relax on this short-stay itinerary in Cairns.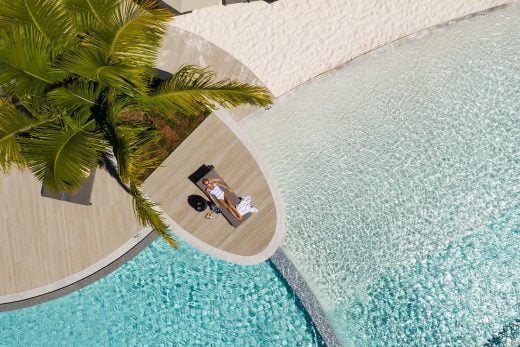 Responsible luxury at Riley
Indulge in luxury with a clean conscious at Cairns' first five-star hotel in over 20 years at Crystalbrook Riley. From the paperless check-in, recycled wooden room key and absence of plastic drinking bottles and straws at the resort's three on-site restaurants, the subtle touch points of sustainability woven through the property is refreshing.
Spend the afternoon lounging in a cabana by the pool, sip on one of their signature cocktails overlooking the ocean at rooftop bar, Rocco, or book in for some me-time at Eléme Spa.
Sunset Cocktails at Rocco
Go up a few stories to Riley's rooftop bar, Crystalbrook Rocco and look out onto sweeping views of the Cairns Esplanade, city and Coral Sea. Grab your tipple of choice and gaze into the sunset as it sweeps over the city.
Dine at Dundees
Dine al fresco on the Cairns Marina at Dundees Waterfront. Tuck into modern Australian fare, such as succulent seafood and steak. Or if you want something really Aussie, try crocodile, emu or kangaroo. We dare you to deny dessert – it's pretty impossible when they bring out every option in front of you instead of giving you a menu.
Heli-picnic at Vlasoff Cay
Take to the sky this morning on a scenic helicopter ride to remember. Soar over the world's largest coral reef before descending onto your own private sand cay for a couple of blissful hours.
Let Nautilus Aviation take you to Vlasoff Cay to graze on a gourmet picnic, lounge on deck chairs, swim in azure blue waters and stroll across the white powder sand.
Champagne breakfast anyone?
Fitzroy Island
After you've returned to the mainland, enjoy a late checkout and freshen up before heading to the Reef Fleet Terminal for a 1:30pm departure to Fitzroy Island. This trip is short; just 45 minutes and you're officially on island time.
Drop your bags at the resort and spend the afternoon exploring the unique and undeniably quintessential tropical parts of this national park island.
Relax at the famous Nudey Beach, meet rescued turtles at the Rehabilitation Centre, sip cocktails at Foxy's Bar or snorkel over colourful coral gardens.
Dine alfresco style at Zephyr Restaurant overlooking Welcome Bay. Retreat to your Ocean View Island Suite for a relaxing night being lulled to sleep by the gentle lapping of the sea on the coral beach.
Babinda Boulders
If you didn't get the chance to see the whole island, take time this morning to walk along the beach, keeping an eye out for turtles as their heads pop out of the water, before returning to Cairns on the ferry at 9:30am.
Pick up a hire car and travel south past the iconic cane fields, to the popular rainforest haven of Babinda Boulders and swim in the emerald green rainforest water. In between natural float therapy sessions, relax on the grassy banks or wander to the Devil's Pools Lookout. 
If you've not had the chance to grab brekkie, make a pit stop at Babinda Bakery
Hemingway's Brewery
Stomach rumbling? Enjoy a casual lunch on return from your adventure at the heritage listed Hemingway's Brewery Cairns Wharf, soaking in the ocean views from the old Cruise Liner Terminal and sampling locally brewed beers and ciders.
Unwind at Vie Spa
End your relaxing weekend in Cairns on a high note, drifting over the clouds with a dreamy spa treatment that is out of this world at Vie Spa at the Pullman Cairns International.
After a calming relaxing massage or revitalising facial, tuck into a refreshment plate including a cup of tea, icy water and scoop of sweet sorbet.
Leave Tropical North Queensland feeling revived, grounded with your belt a notch looser, before returning home and planning your next trip to the tropics.
Dreaming of more time?
Plan your next trip and learn more about incredible Tropical North Queensland