Distance
1,432km (One Way)
Where
Cairns to Cape York
Got a heightened sense of adventure and want to take it all the way to the top (of Australia)? Jump into a 4WD and head off on an unforgettable journey from Cairns to Cape York, via Cooktown. Along the way, you can be challenged with creek crossings and corrugations, experience culture in communities, come across relics of wartime history and be on the look out for unique and elusive Cape York wildlife. It's a journey that will stay with you for a lifetime.
Traditional Owners of the land at Pajinka at The Tip have worked together with
Northern Peninsula Area Regional Council (NPARC)
and will continue to welcome visitors to The Tip. Visitors are required to pay a $10 per person fee at the Jardine River. Guests must respect the area and ensure it remains a place of significance for future generations. Find out more about
how to be a conscious traveller
in Cape York. 
Get Directions
DAY ONE
Cairns to Cooktown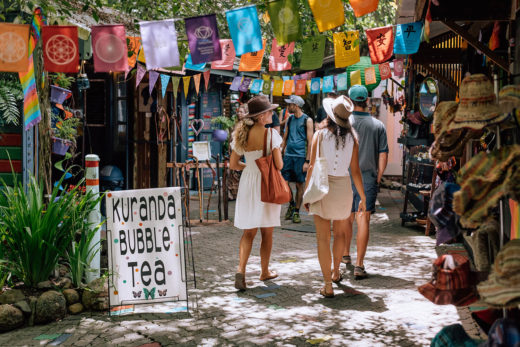 When driving to Cooktown from Cairns, there are two equally alluring options (flip a coin if you can't decide). The first route travels through scenic Kuranda. Check out the famous markets or have a bite at a cool outdoor cafe. If you're interested in knowing more about the local Djabugay people, drop into the Visitor Information Centre that holds Indigenous artefacts and sells local artists' works and books on the region.
Leaving Kuranda, travel onto Mareeba, the largest town on the Atherton Tablelands, boasting sunshine 300 days a year. The region grows 70% of Australia's coffee crop – you can admire coffee and tea antiquities at the Coffee World Experience at Coffee Works or try locally produced coffee at Skybury. The alternate route from Cairns follows the coastal Captain Cook Highway, along the Great Barrier Reef drive.
Detour into the coastal resort town of Port Douglas, or travel on to the stunning rainforest enveloped Mossman Gorge. From Mossman Gorge, you can continue north along the coastal route to the World Heritage Listed Daintree Rainforest and the Bloomfield Track. Alternatively, you can head up the range to Julatten and Mount Molloy before joining the Mulligan Highway to continue onto Cooktown.
Optional Detour – Quinkan Rock Art Sites, Laura
If you're heading up to Cooktown via the Mulligan Highway, take a detour at Lakeland to Laura and the world-renowned Quinkan Rock Art Sites (sealed road, 45 mins one-way). This collection of rock art is listed by UNESCO as one of the top ten rock art sites in the world.
You can explore Split Rock or Giant Horse Gallery on the way yourself, or for an immersive cultural experience, book an overnight tour with Jarramali Rock Art Tours. Here, you'll camp on an incredible sandstone escarpment and visit an exclusive rock art gallery featuring 20,000 year-old paintings.
Spend a day exploring Cooktown's multitude of charms. The heritage buildings, museums and monuments form a fascinating streetscape that reflects the town's rich and colourful history. In 1770, Captain James Cook ran the HMB Endeavour aground on the Great Barrier Reef, forcing him and his crew to spend 48 days in Cooktown. The cannon and anchor from the ship were retrieved from the reef in the 1970s and can now be viewed at the James Cook Museum on Helen Street. Learn about the local Guugu Yimithirr people and how the little old man, descendent of the Wayumburr Clan initiated the first recorded act of reconciliation back in 1770.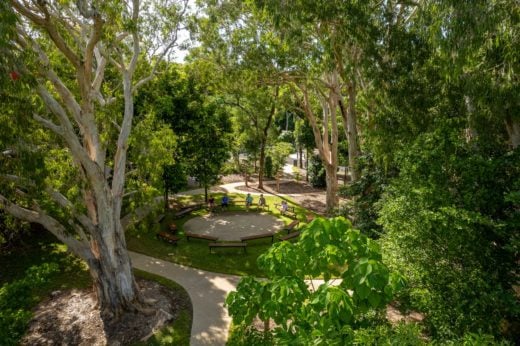 Wander around the Cooktown Botanic Gardens, one of Queensland's oldest regional gardens dating back to 1878.  The gardens showcase five major plant collections including a showcase of rare and threatened plant and species utilised by Indigenous Traditional Owners. Then wander through the Nature's Powerhouse complex, which features the Vera Scarth-Johnson Gallery, home to a collection of regional botanical illustrations, exhibition spaces and a cafe.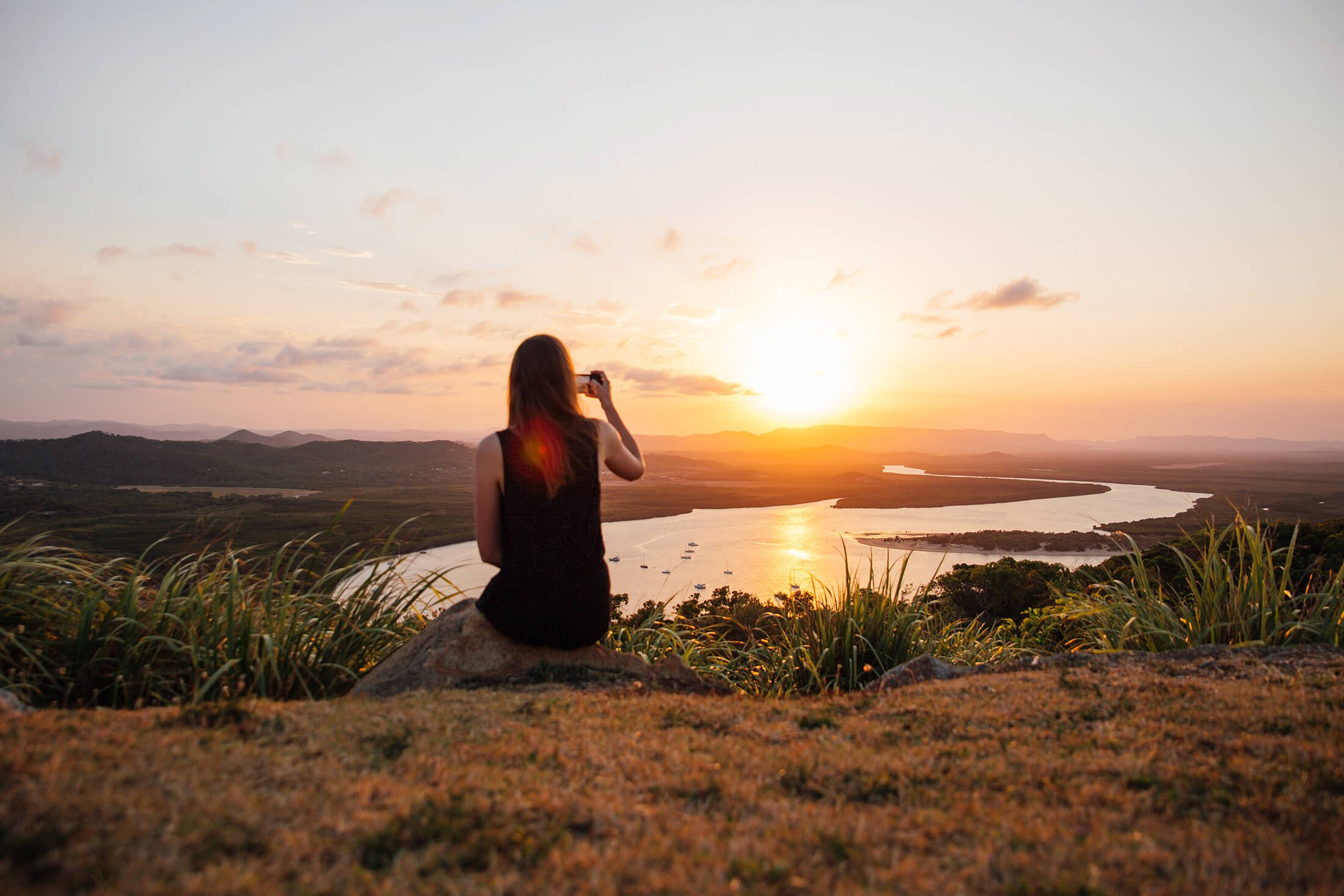 Finish the day by watching a Tropical North Queensland sunset (they're pretty spectacular) from Grassy Hill. You'll be following in the footsteps of esteemed company: Captain James Cook and crew from the Endeavour climbed the hill in 1770 to assess safe passage through the reef.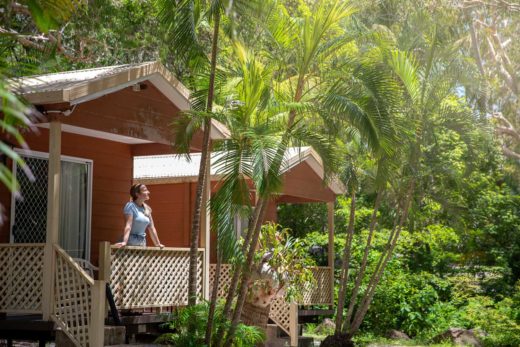 STAY
A range of accommodation in Cooktown is available. Campers and caravanners might like to try one of the four caravan parks in town. For something a little more luxe, motel and resort accommodation is also available.
DAY THREE
Cooktown to Rinyirru (Lakefield) National Park
After leaving Cooktown, head towards Hope Vale, and follow the signs to Rinyirru. Along the way you will pass Isabella Falls, where you can cool off in the inviting water. Rinyirru (Lakefield) National Park has a rich and diverse landscape. In the north grasslands and woodlands, wetlands, coastal estuaries, mangroves and mudflats are prominent. In the south, sandstone hills and escarpments dominate the landscape.
There are a vast array of campsites to choose from within the park, but make sure you book in advance.
Optional Detour – Optional Detour- Elim Beach
Head through the Indigenous township of Hope Vale to Cape Bedford and Elim Beach. Drive along the beach to the coloured sand cliffs and try your hand at sandboarding.
DAY FOUR
Rinyirru (Lakefield) to Coen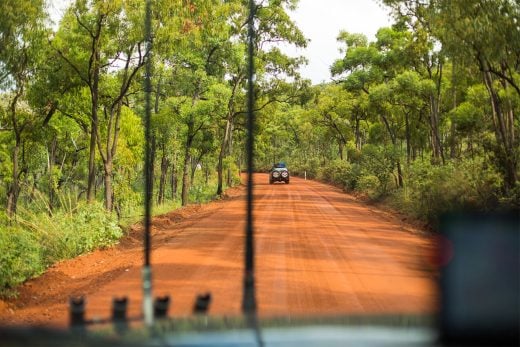 As you travel north today, keep your eye out for massive termite mounds and abundant bird life. After reaching the Peninsula Development Road (PDR), hang a right and head to Coen, a small town situated in the centre of the Cape York region. Stay in town, enjoy a meal and a cold drink at the Exchange Hotel or continue on a few kilometres to reach The Bend, a free bush campsite.
To get rid of the day's dust, jump into the shallow waters of the Coen River.
DAY FIVE
Coen to Bramwell Station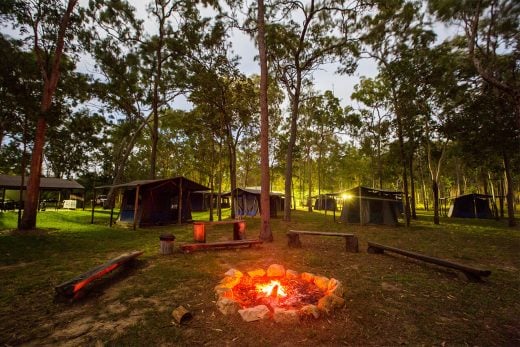 Today is another scenic drive and you will even encounter sections of bitumen! Head North to the Archer River roadhouse for a hearty breakfast. After leaving Archer River, cross the Wenlock River to find Moreton Telegraph Station. Take a stroll and perhaps you will spot an agile wallaby, a palm cockatoo or the magnificent riflebird. Push on to Bramwell Station, a popular tourist spot which includes accommodation, camping ground, bar and live entertainment.
Optional Detour – Western Cape or Eastern Cape
Head to the Western Cape and visit the coastal town of Weipa, rich in natural beauty and cultural heritage. Enjoy stunning beaches, unspoilt wilderness and unrivalled fishing! Or, alternatively, head over to the East Coast of Cape York to Portland Roads, Chilli Beach, Iron Range National Park and Lockhart River. Portland Roads is a great base for birdwatching and fishing, while the Aboriginal community of Lockhart River is famous for its vibrant artwork.
If you're itching for some extra time on the road, why not try both?
DAY SIX
Bramwell Station to The Tip
The Old Telegraph Track forms the western boundary of Heathlands Resources Reserve and Apudthama National Park (Jardine River National Park). While you could take the bypass roads that skirt around water crossings between the Junction and the Jardine, why would you? That's the fun part – even though the Gunshot Creek crossing is considered extremely challenging.
Make a pit-stop at Fruit Bat Falls , Twin Falls or Elliot Falls, all scenic spots for a picnic and refreshing swim. To cross the Jardine, head west and take the vehicular ferry.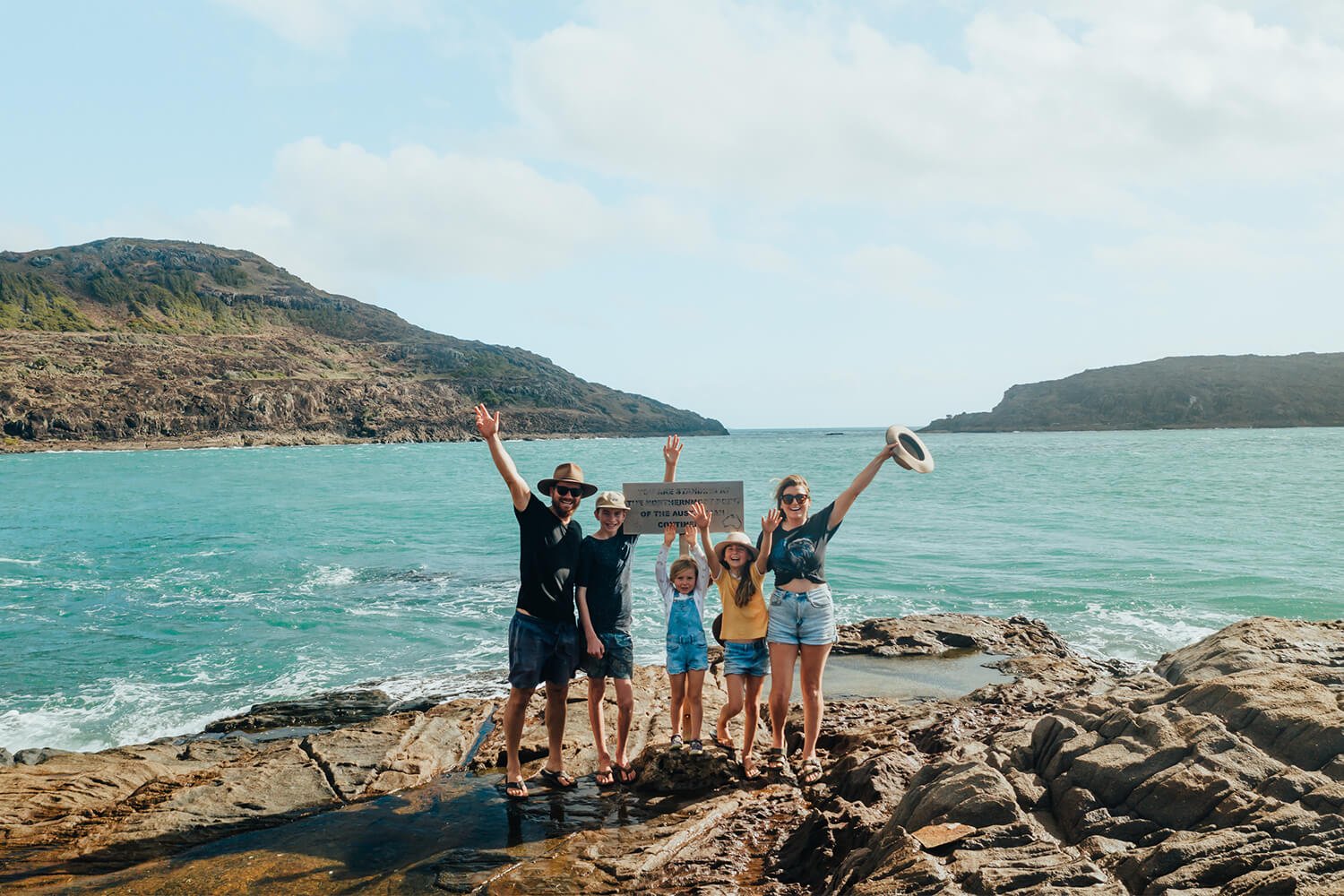 Drop in at Seisia (pronounced "say see ya") near Bamaga to check out what locals reckon is Australia's best fishing jetty, or continue to Punsand Bay. This spot is just 5km west of The Tip. Still, it can take up to 45 minutes to drive this final stretch to mainland Australia's northernmost point. Once you're there, you'll need to take the iconic photo with the "You Are Standing at the Northernmost Point of the Australian Continent" sign. Try and arrive at low tide, as the walk to the sign only takes 10 minutes across the sand (it's about 30 minutes over rocks at high tide).
Stay
There are several options for accommodation at the Tip of Cape York including camping and motel accommodation. Try the beachside Cape York Camping Punsand Bay, offering every level of comfort, from beachfront cabins with ensuites to unpowered bush camping sites.
Optional Detour – Torres Strait Islands
Depart from Seisia via ferry to Thursday Island and Horn Island for a glimpse into another culture and bring the island history to life with a guided tour.
Buckle up
What to expect on your trip to The Tip