Where
Cairns to Yungaburra
Head for the Atherton Tablelands hills for a true taste of Tropical North Queensland. This hinterland that hugs Cairns is packed with all sorts of adventure, whether you're in the game of chasing waterfalls, searching for scenic vistas or wanting to walk amongst a landscape that predates dinosaurs. 
Getting there is easy whether you take the Kuranda Range or Gillies Highway from Cairns, winding your way to the Atherton Tablelands top, sitting 752m above sea level. 
Pack the car, a sense of adventure and an appetite for home-grown cuisine and explore the Atherton Tablelands. 
Get Directions
DAY ONE
Cairns to Mareeba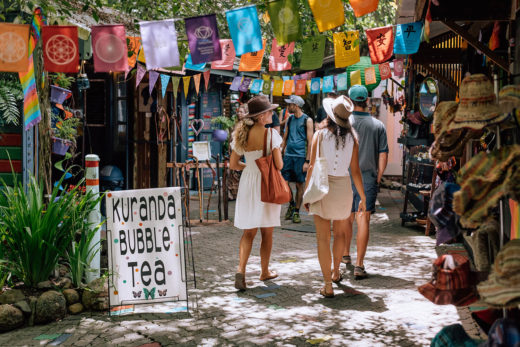 This hinterland's hills are alive with the sound of birdsong, so it pays to wind down your windows as you take the one-hour drive from Cairns to Mareeba via Kuranda.
Break up the journey with a photo stop at Henry Ross Lookout along the way, before pulling into the quirky rainforest village of Kuranda, which plays home to the Kuranda Markets.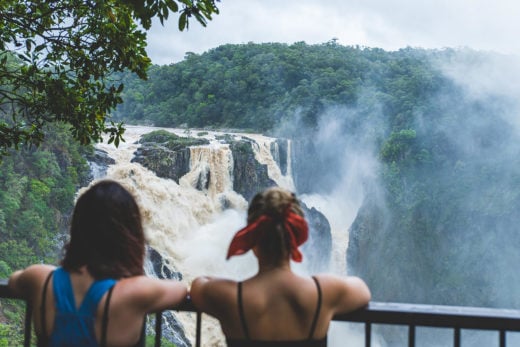 After exploring the most famous markets in the tropics, explore Barron Gorge National Park, taking the 1km walk to Din Din Barron Falls lookout to watch the thunderous waterfall (best seen in summer and autumn) cascade over the gorge wall, powerful enough to envelop waterfall-watchers in its mist.
During the drier months, you can expect a slower trickle and close ups of the gorge's sculpted rock, which has been etched by Mother Nature over time.
From Kuranda, push onto Mareeba to fuel up Tablelands-style, not just with lunch but North Queensland grown, roasted and pressed coffee.
Stop in at either Jaques Coffee Plantation or Skybury Café and Roastery which doubles as a coffee plantation and Australia's largest producer of Red Papayas.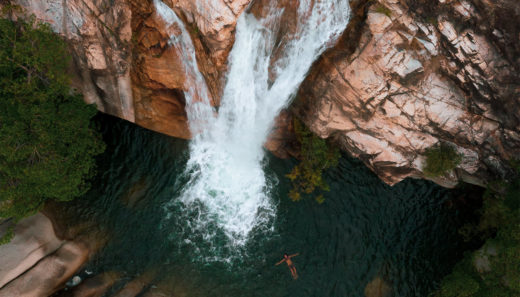 Still got time for more adventure? Go into the wild, exploring Emerald Creek Falls, where winding walking tracks lead you to various freshwater swimming pools.
Just as refreshing as the dip itself are the ice creams you find at the neighbouring Emerald Creek Ice-creamery, with native flavours like Davidson Plum, Lilly Pilly and Mareeba Pineapple on the menu.
STAY
For the closest thing to a sleep-in, base yourself in Mareeba or Atherton as we recommend the sunrise hot air balloon ride in the morning.
Make like a local and enjoy dinner country-style, with a pub meal at the Gateway Hotel Mareeba, Tolga Pub or Mareeba RSL.
Optional Detour – Granite Gorge Nature Park
The landscape might be best known for lush rainforest in these parts, but a trip to Granite Gorge reveals another side – rock landscapes of organically strewn boulders, like something from the savannah tucked away in Mareeba. Pack your swimmers for a dip in the freshwater rock pools and stick around to hand feed the Mareeba Rock Wallabies. Stay the night in either the camping options or cabins to explore more of this wildlife wonderland.
DAY TWO
Exploring Atherton and Mareeba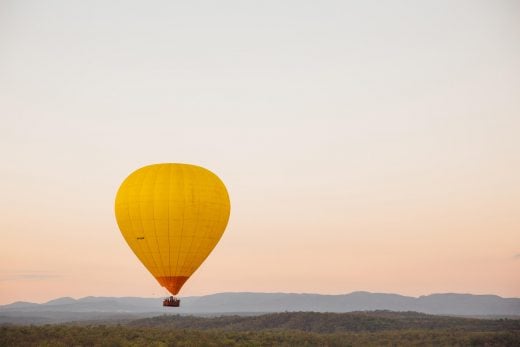 You'll need to get up at sparrow's hour to see the Atherton Tablelands from above, gliding hundreds of metres above it in a hot air balloon.
See why the region has earnt its status as the ballooning capital of the world for its near perfect weather conditions, floating over the patchwork of producers that earn the Atherton Tablelands its 'food bowl' status.
With your feet back on terra firma, drive to Atherton for breakfast served inside an old railway carriage at The Station Café in Atherton.
After breakfast, pay a visit to The Crystal Caves to explore over 300m² of crystal caves and grottos, packed with more than 600 specimens across five crystal chambers – a personal collection turned visitor attraction.
If you're looking for something for the kids to take home as 'show and tell', take up the option to crack open a geode to see 44-million year old crystals hiding inside.
For lunch, create your own picnic spread stocking up on supplies from the Atherton IGA, which takes its location seriously with the likes of deli foods, freshly squeezed orange juice and even a machine that lets you crush your own peanut butter all inside.
With your supplies, make for Tinaroo Falls Dam, where you'll find picnic tables overlooking Lake Tinaroo to enjoy your DIY-local spread.
STAY
If you're up for new accommodation for the night, swap last night's digs for Yungaburra, the old town with a young heart and one of the quaint B&Bs in the area.
From Yungaburra you'll be walking distance from Nick's Restaurant, the iconic Swiss Italian Restaurant which has become an institution on the mountain top with its encyclopaedic-sized menu, nick knacks and distinctly European feel (think cowbells and beer steins).
Optional Detour – Herberton
Got a hankering for history? Add an extra day to your itinerary to explore the Historic Village Herberton. Here you'll find over 50 restored period buildings complete with replica pub, bank, chemist and grocer (to name a few) like a living diorama. For more history where that came from, add in a trip to the Spy Camera Museum (also in Herberton) to see Australia's only dedicated collection of spy cameras. If you're happy to get your tyres dirty, take the unsealed roads to the historic townships of Watsonville and Irvinebank to keep turning back the pages of history.
DAY THREE
Atherton to Yungaburra
Start the day with breakfast close to your holiday HQ. If you checked into one of Yungaburra's quaint B&Bs you might even be lucky enough to have it in bed.
From Yungaburra, follow the brown tourist signs to the edge of the township where you'll find the Curtain Fig Tree, the iconic strangler fig which looks like it stepped off the set of Avatar and onto the Atherton Tablelands.
This is not your average tree – this one grows from the top down, dropping its roots some 15m below to the forest floor forming a curtain over its host tree. See what over 500 years of strangling will do to a host tree when you stand in awe of its famous foliage in Curtain Fig Tree National Park.
Push onto Lake Eacham and Lake Barrine, two of the famous crater lakes of the Tablelands whose inky waters point to a time when the region was an active volcano (don't worry, 10,000 plus years ago).
Lakeside walks connect you with the landscape, while kayaks are available for hire (or BYO) are a great way to explore both at paddle-pace.
Worked up an appetite? Lake Barrine Teahouse serves up award-winning Devonshire tea or for something more substantial, the Yungaburra Hotel and cafes back in Yungaburra will sate your appetite.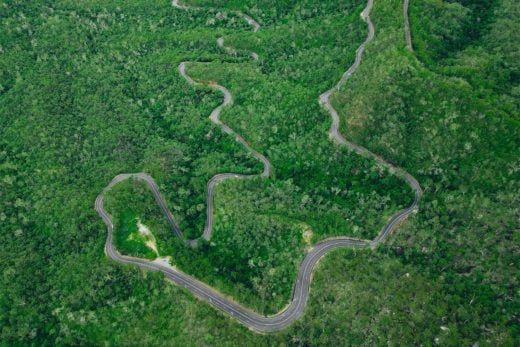 What goes up must come down and the same goes for holidays in the hinterland. Wind your way back down the mountain top towards Cairns, taking what's dubbed the 'windiest road in Australia', The Gillies Highway, connecting Gordonvale with the Tropical North Queensland capital.
Optional Detour – Ravenshoe
Discover Queensland's highest town (920m above sea level), Ravenshoe, by extending your Tablelands stay. This former timber town connects you with some of the best Wet Tropics icons of the region, making it the perfect base to explore the Mt Hypipamee Crater, Dinner Falls, Millaa Millaa Lookout and Hasties Swamp.
If you're prone to motion sickness, swap the Gillies with the Palmerston Highway, winding gently through the rainforest and emerging in Innisfail at the bottom.
Optional Detour – Waterfall Circuit
The Atherton Tablelands is a water-lovers paradise with a veritable splash park of inland freshwater swimming holes for you to explore. Follow the brown signs pointing to the Waterfall Circuit to discover the famous falls. Togs and a towel are a must!
Explore more of the Tablelands
Stay a little longer in the hills to enjoy these adventures.