Where
Cairns to Atherton Tablelands
Tropical North Queensland's summer produces a spectacular side-effect. All that rain trickles into creeks and rivers, some of which spill spectacularly over the jagged landscape into waterholes and rock pools. Happily for visitors, it's easy to soak up the sight of these photogenic waterfalls – and perhaps enjoy a refreshing swim or even a few mist-fuelled rainbows – on a languid day or multi-day trip around the region.
Get Directions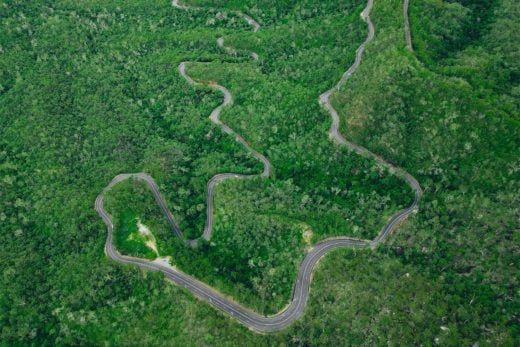 It's time to hit the road, heading up the Gillies Highway from Cairns into the Atherton Tablelands and towards today's destination … a trio of magnificent waterfalls.
First stop is The Teahouse on Lake Barrine, part of the Crater Lakes National Park. The heritage building has lovely views over the lake, which is, in fact, a water-filled crater left behind after a volcanic eruption some 10,000 years ago. Ruminate on that as you enjoy one of the award-winning Devonshire teas.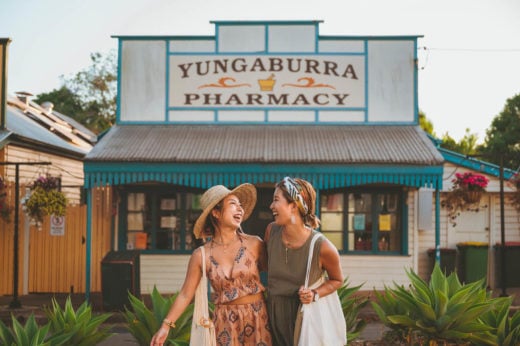 Ten minutes down the highway is the village of Yungaburra. Take the Peterson Creek Wildlife & Botanical Walking Track, where you might spot a platypus or rare Lumholtz tree kangaroo. Or discover Yungaburra's many heritage buildings on the Old Town Loop walk. If platypuses are a priority, make sure to stop at the viewing area just before you hit town.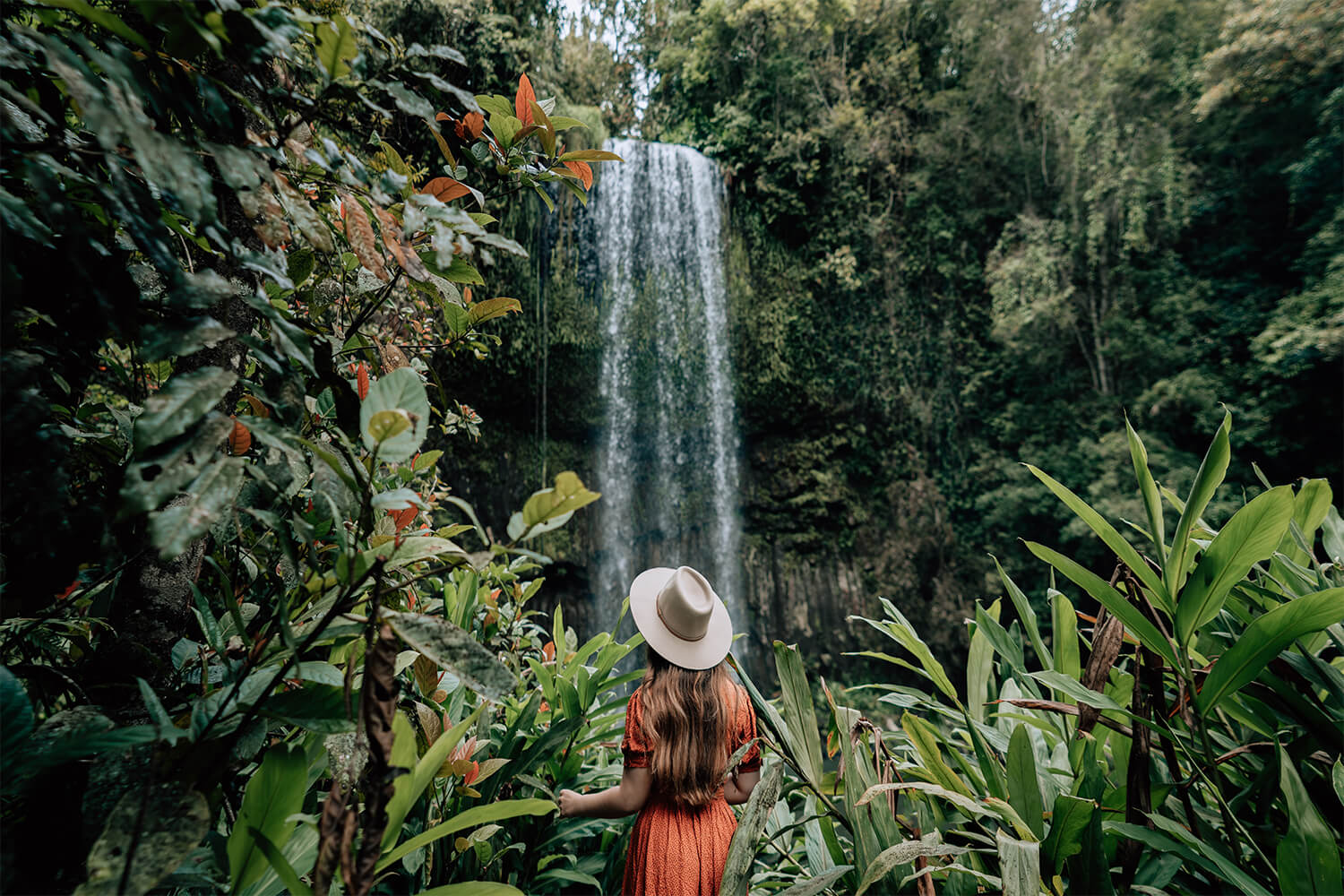 Head back east on the highway then take the Lake Barrine Road and onto the tiny outpost of Millaa Millaa. Be charmed by the historic building, perhaps stopping by the museum if it's open, take a wander to find the statues of early explorer Christie Palmerston and his local Aboriginal guide, Pompo, and if you're feeling peckish, visit one of the cafes for a coffee or bite to eat.
To get to the falls, head back past town, turn left on Theresa Creek Road and follow the signs to Millaa Millaa Falls. It's easy to see why they're Australia's most photographed cascades. The heritage-listed 18m plunge waterfall, which tumbles into an inviting waterhole fringed by tall gums and tree ferns, is the centrepiece of what's known as the Waterfall Circuit. Keep your eyes peeled as you slip into the refreshing waters – you might spot an electric-blue Ulysses butterfly fluttering about. And if you love Instagram, this is the spot to dip your hair into the water and whip it out to produce an aquatic arc that competes with the waterfall for attention.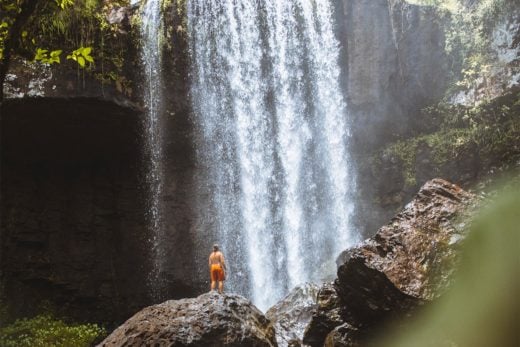 Now it's time to drive over to Zillie Falls to take in the tumbling waters from a viewing platform that's a short stroll from the car park. Those with a sense of adventure might also be able to track down an outdoor rock pool in an elevated spot that provides another unusual angle on these falls. This is also a great place to unpack your picnic lunch. There's a shelter and barbecue in the car park, also home to a colony of flying foxes.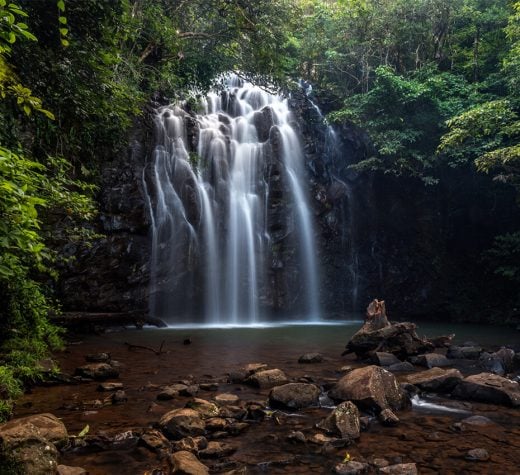 To complete your trio of waterfalls, it's a short hop from Zillie Falls to Ellinjaa Falls. These waters tumble over a series of lava columns – a relic from the region's volcanic history. A 200m-long walkway leads to the base of the falls, where freshwater turtles and platypuses can sometimes be spotted. This place is also an Instagram favourite: you might see visitors striking a pose in their swimmers. Venture into the water and you might find a ledge hidden behind the falls where you can sit and enjoy nature in all its glory.
Your Waterfall Circuit drive is now complete … now, you've got two options. Turn the car around and head back to Cairns, or spend the night in the cool of the Tablelands. A good option in Yungaburra is Eden House Retreat, or if you're looking for something cosy, Birds n Bloom Cottages offer a spa bath and a wood fireplace.
Optional Detour – Mungalli Creek Dairy Farmhouse Cafe
The biodynamic Mungalli Creek Dairy is just a short drive from Ellinjaa Falls, off the Palmerston Highway. Run by the same family for four decades, the dairy produces milk, yoghurt, cheese and eggs, and is home to a lovely cafe, situated in the property's original farm house. Cheese features heavily on the menu – there's a hearty ploughman's lunch – and the cheesecakes shouldn't be missed.
Eat. Swim. Repeat.
The adventure doesn't stop here. Discover other waterfalls in Tropical north Queensland or more Atherton Tablelands Highlights