Not all heroes wear capes, some wear fins! Oceans 2 Earth volunteer Haylee Boyes shares how she left the iconic Great Barrier Reef even better than how she found it.
As children some of us dream of being astronauts or rock stars, but Haylee Boyes dreamed of becoming a marine biologist. Fast forward a few years and Haylee is snorkelling over the largest living ecosystem on the entire planet; the Great Barrier Reef, identifying giant marine turtles as they glide over the coral.
Haylee recently completed a two week "Island Reef Research and Conservation" volunteering program with Oceans 2 Earth. The marine biology student from Melbourne headed north on her first ever solo trip and spent her time as a volunteer surveying and monitoring coral health, studying reef biodiversity, studying turtle populations and collecting marine debris.
The program left her a fiery passion to protect and conserve the ocean.
Learning about the aquatic ecosystem in a classroom is one thing; being able to see it firsthand is a whole different level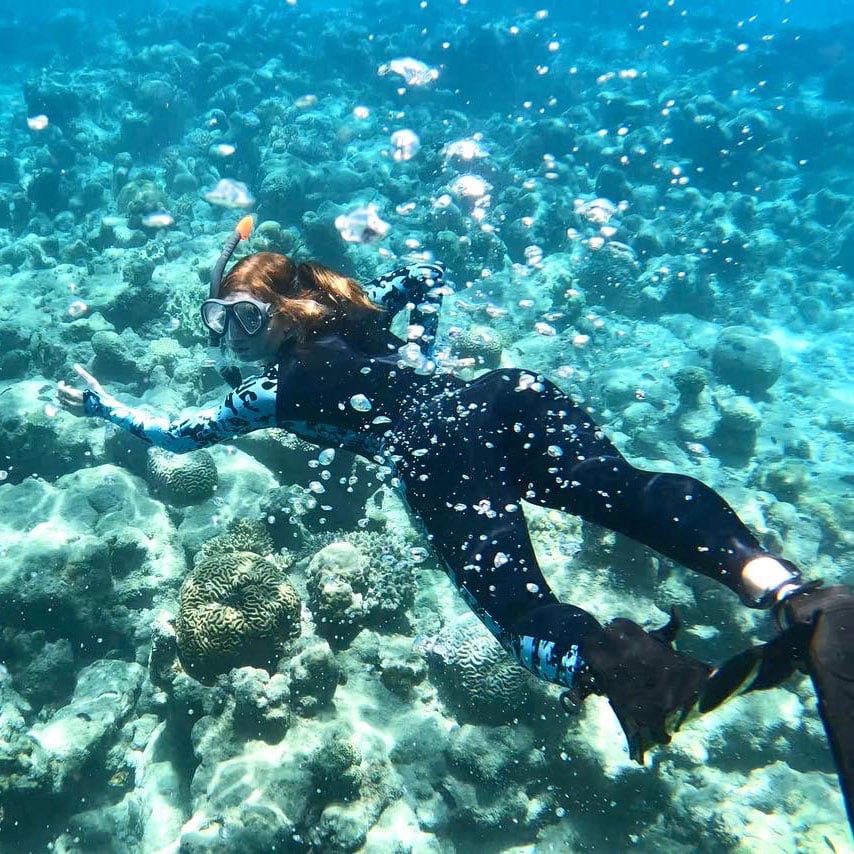 Haylee was drawn to the program after volunteering locally with Parks Victoria. After searching online for the perfect marine conservation program, she found Oceans 2 Earth and was impressed by their ethical standards and their jam-packed program itinerary.
Day to day, Haylee contributed to the health of the Great Barrier Reef through surveys that monitored both the corals health and the biodiversity of reefs as well as collecting marine debris that washed up on the beach. One of her underwater highlights was identifying and studying turtle populations.
The excitement I got each time I spotted a different turtle was unmatched. I never wanted to leave the water, I wanted to observe them for hours.
This program didn't just leave the reef greater, it left Haylee feeling inspired. Being around the Oceans 2 Earth team and gaining insight into their experiences and reef knowledge left Haylee empowered to learn more, see more and do more to help the reef.
So here's a big shout out to volunteers, they are integral to conserving the Great Barrier Reef, the wonder of the world that is in our very backyard.
As Haylee says:
"It not only brings a sense of fulfilment to our wellbeing, but allows us to physically connect to the world we live in, while doing our part to protect it. Volunteering is so valuable, you get to meet like-minded people all wanting to participate in conservation efforts. All research done by volunteers contributes to the bigger picture, giving valuable data and knowledge to help scientists and conservationists preserve the environment."