Where
Mareeba to Chillagoe
Named after the miners of the late 1800s who used to pile all their belongings into a wheelbarrow and travel the region looking for work, The Wheelbarrow Way travels through verdant crop-producing farmlands, cattle country, wooded savannah and friendly little towns with impressive histories. It's a relaxing and rewarding outback drive packed with rich culture, glorious landscapes and unexpected wildlife encounters
Get Directions
Meaning "meeting of the waters" in the language of the traditional owners, the Muluridji people, Mareeba sits at the confluence of two waterways, Granite Creek and the Barron River.
There's a wonderful pictorial of the town's rich history at the Cultural Centre in a huge mural by local artist Tom Cosic. The Heritage Museum behind the Information Centre is also well worth a visit for its collection of replica shops, train carriages, tobacco barns and historical memorabilia. Make sure you leave plenty of time for a pot of tea and one of chef Sareeta's delicious homemade sweet treats at the museum's Heritage Coffee House, too.
If you're in Mareeba on a Friday or Saturday, drive five minutes out of town for an outdoor movie at one of only a dozen remaining drive-in theatres in the country.
Stay
Birds on Barron, a 45ha cattle farm on a tranquil section of the Barron River, has boutique accommodation in a characterful converted tobacco barn.
Optional Detour – Davies Creek or Emerald Creek National Park
Just 10 minutes drive east, Davies Creek National Park  is a great place for a swim, picnic or bushwalk. Experienced walkers might want to tackle the 10.8km Kahlpahlim Rock circuit (it takes about six hours); less seasoned trampers might prefer the 1.1km Davies Creek Falls circuit track, which has a swimming area at its finish. You might even spot an elusive platypus.
Alternatively, head to the nearby Emerald Creek National Park and take a refreshing dip in Emerald Creek Falls.
DAY TWO
Mareeba to Dimbulah
Today's drive is an easy 51km past fields of sugar cane, banana plantations and mango orchards. Keep an eye out for the old tobacco drying sheds, with their unique H-shaped chimneys.
The climate and soil in these parts are also ideal for coffee growing. Stop at Skybury Coffee Plantation just outside Mareeba for an expertly made brew and to drink in the impressive panorama from the deck. You should also visit Mt Uncle Distillery, where there's an award-winning rum made from the local sugarcane, a single-malt barrel whisky and the unique "bushfire" smoked gin. Just make sure to designate a driver first. You'll need to deviate off the main road to get there.
Once you arrive in Dimbulah, call into the restored Dimbulah Railway Station museum. The town was developed as a stop for trains servicing the mines at Wolfram Camp and Mount Mulligan, and the railway museum's interpretive panels give a fascinating insight into Dimbulah's history.
You'll probably be wanting lunch about now, so pick up a famously flaky beef pie or spinach and feta triangle from Dimbulah Bakehouse. Later in the afternoon, join locals and international backpackers for a sundowner at the historic Junction Hotel.
Stay
An ex-lychee farm beside the Bruce Weir, Black Swan Farm's boutique style accommodation is in the former pickers' quarters. There's swimming or fishing in the river and traditional pizza oven for a DIY dinner.
DAY THREE
Dimbulah to Chillagoe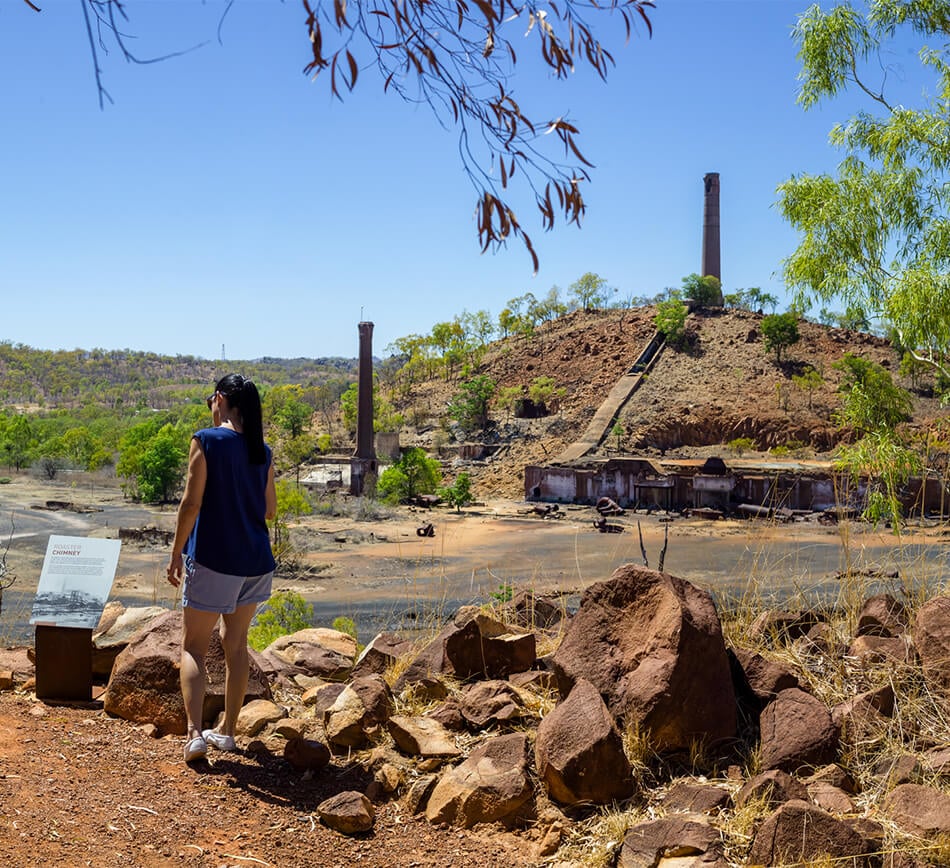 It's just over an hour's drive from Dimbulah to Chillagoe, with the landscape changing to the wooded savannah of cattle country and rising gradually before dropping into Emu Creek valley. Stop at Almaden for a traditional pub lunch in the leafy courtyard of the historic Railway Hotel, dating from 1906. From here the road is largely gravel, with only odd sealed patches, so take it easy.
Chillagoe is a fascinating showcase of a turn-of-the-century mining town surrounded by a typical outback landscape. This afternoon, grab your camera and visit the ruins of the eerily picturesque Chillagoe Smelters where copper, lead, silver and gold would be brought to process. From the elevated viewing area, you can see the brick flues, chimneys and the remnants of the old blast furnaces.
On non-full-moon nights between April and September, you can join other stargazers looking at planets, nebula and star clusters from two telescopes in the dome at the Chillagoe Observatory.
Stay
Chillagoe Cabins, set in leafy tropical gardens with a swimming pool and guest BBQ area, pay homage to the 19th- century miners' hut, albeit with mod cons, including air-conditioning and an ensuite bathroom.
Chillagoe's biggest attraction is natural rather than man-made – its comprehensive system of caves. It's believed that 400 million years ago there was a shallow sea here that deposited limestone and coral reef beds, then seeping groundwater dissolved the limestone over time, carving out caves and passages in which stalagmites and stalactites formed.
This morning, you should visit The Hub where you'll find an explanation of the geography of the region and information about the Chillagoe-Mungana Caves National Park cave system. It's also the office for ranger-led cave tour bookings. You can do a self-led tour (remember to bring a torch) but you'll get a better insight taking a tour with a knowledgeable ranger.
After a cave tour, call into the Post Office Hotel to fuel up with a beer and a burger. The pub's claims to fame are its long bar made from local marble and a wall covered in signatures and messages from travellers from all over the world. Be sure to add your stamp before you leave.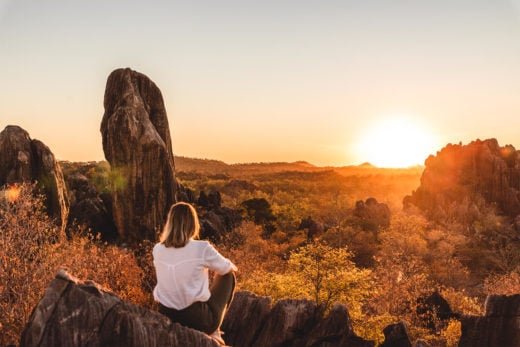 Finish your day with a visit to Balancing Rock and watch the sun set the sky alight in a stunning outback sunset.
Along the way...
Don't stop with just this list – there's plenty to discover