Where
Cairns to Cape Tribulation
Explore Palm Cove, Cape Tribulation and EV-erywhere in between with this electric vehicle itinerary.
Get Directions
Day 1
Cairns to Palm Cove
From Cairns, hit the Captain Cook Highway and head north to the beach village of Palm Cove, which is pretty much the dictionary definition of paradise. Satisfy your appetite at Chill at Portofino and tuck into a tasty brekkie or brunch with a side of sparkling ocean views.
If your vehicle needs charging, there's no need to step away from the shore. There is one wall plug located next to a BBQ opposite Vivo Palm Cove, so you can plug in and continue with your relaxing beach day. Whilst your car recharges, why not treat yourself to a little recharge and pamper too? Palm Cove has a number of day spas and with treatments such as body wraps and holistic flow sessions available, it would be rude not to.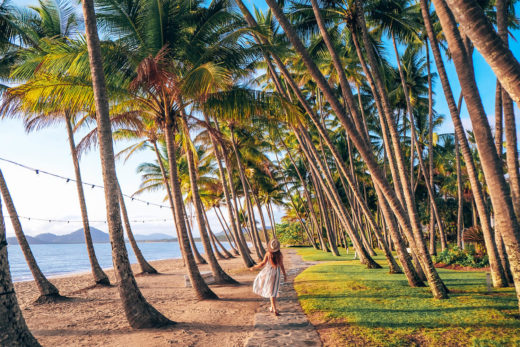 If you haven't been tempted by Palm Cove's golden sands yet, it's time for a bit of beach relaxing. Take a dip in the patrolled swimming area, relax with a book until the shade of a palm, or sink your sand into the toes and walk southwards towards Clifton Beach.
Day 2
Palm Cove to Port Douglas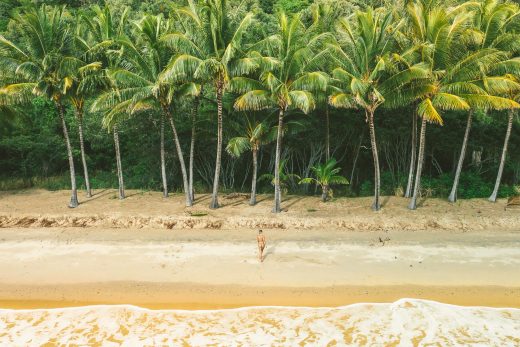 The road from Palm Cove to Port Douglas winds scenically along the coast and is dotted with a myriad of beaches, some of which are so secluded that they don't even have a name. A morning of beach-hopping is on the cards, starting with a hearty breakfast at Ellis Beach Bar and Grill.
If you use Instagram or Pinterest to plan your travels, you have undoubtedly seen (or pinned) Thala Beach Nature Reserve's iconic palm tree plantation. Pull over to explore and head to Osprey's Restaurant for a spot of lunch amongst the tree tops and gaze across the rainforest canopy towards the sparkling Coral Sea.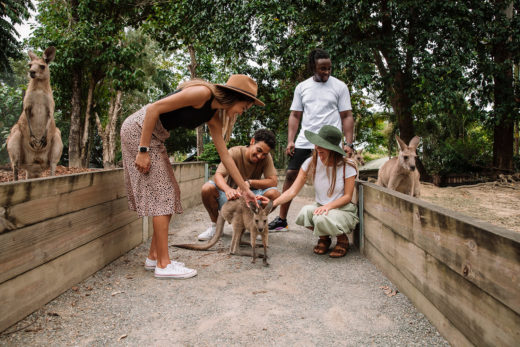 Spend the afternoon getting wild at Wildlife Habitat – hand feed wallabies, see the endemic Southern Cassowary and Lumholtz's Tree Kangaroo or even Swim With The Salties! Whilst you go and meet iconic Aussie animals, pop your car on charge at one of three Chargefox charging stations. The charging stations are part of the Queensland Electric Super Highway.
STAY
Now you've gone where the wild ones are, it's time to relax. Port Douglas is a barefoot resort mecca and there's plenty of accommodation options to suit everyone. If you need to charge your vehicle, both Oaks Resort and Mantra Heritage have charging points onsite.
Start your day with a breakfast with a view at Choo Choos at the Marina at the Crystalbrook Superyacht Marina. Once you're fuelled up, head to the main hub of Macrossan Street for a spot of boutique shopping.
Pack your swimmers, reef-friendly sunscreen and sense of adventure – it's time for an afternoon on the Great Barrier Reef! Cruise to the Low Isles with Sailaway Port Douglas and meet all the colourful characters of the reef on a guided snorkel tour with a marine biologist. Explore this island on a heritage walk and tuck into lunch and afternoon tea. Cruise on the luxury catamaran as the sun sets over Port Douglas and the rolling mountains of the Daintree Rainforest.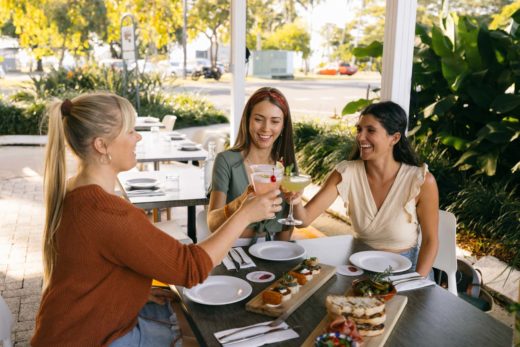 Day 4
Port Douglas to Mossman Gorge
Don't skip on breakfast – start your day with breakfast at one of Port Douglas' cafes. Next, veer 20 minutes north west to the Mossman Gorge Cultural Centre and park your car at one of the two on-site electric vehicle chargers. Hop onto the shuttle bus and wander through the lush Daintree Rainforest to Mossman Gorge. Join a local Indigenous guide for a Ngadiku Dreamtime Walk to learn about the timeless connection that Traditional Owners share with the rainforest.
STAY
Silky Oaks Lodge is the ultimate slice of luxury nestled in the Daintree Rainforest on it's own crystal-clear section of the Mossman River. With a private spa bath, a contemporary onsite restaurant and activities such as yoga and kayaking, you'll want to put aside the afternoon and the whole next day here. Please note: minimum 2 night stay applies.
If you're looking for a more budget option, head towards the Daintree Village and park up at the Daintree Riverview Lodge & Van Park. As well as offering lodges and camp sites, this spot also has a caravan mains socket on site.
Day 5
Mossman Gorge to Cape Tribulation
Hope you're fully charged, as there are no EV chargers on the return 136km (3hr) return trip from Mossman Gorge to Cape Tribulation. Before you cross the Daintree River, test your croc-o-dial on a river cruise and search for these apex predators in the wild.  Hop on a zero emission boat with Solar Whisper to keep your trip sustainable.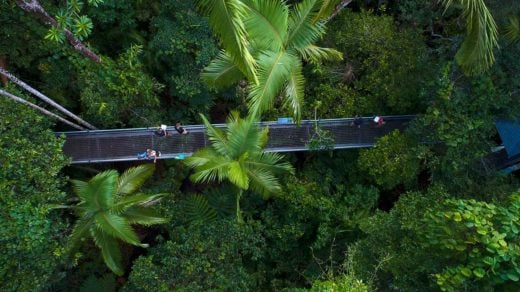 Stop at Alexandra Lookout for sweeping views of the Daintree Rainforest and Coral Sea. Explore the rainforest from the ground level to the top of the canopy at Daintree Discovery Centre and wander along walkways up to 11m high.
Exploring the Daintree takes energy, so top up yours with a visit to Daintree Ice Cream Company. Tuck into tasty flavours made with seasonal fruits from the on-site orchard.
Built up an appetite? Head north to Mason's Cafe for some lunch. Go all out-Aussie and try a spot of kangaroo or crocodile or go plant-based with a jakfruit burger. After lunch, wander down to Mason's Swimming hole and enjoy a spot of swimming for a $1 gold coin fee.
Make like a Flintstone and live out your prehistoric dreams with a walk along the Dubuji Boardwalk near Cape Tribulation Village. This boardwalk meanders through licuala forests and mangrove swamps before finishing at Myall Beach, the place where the Great Barrier Reef and the Wet Tropics Rainforest meet.
STAY
Sleep in rainforest seclusion at Mist at Cape Tribulation, a luxury, off-grid property located on a sustainable 8-acre property. Fancy falling asleep to the sound of the ocean? Cape Trib Beach House has beach-front accommodation ranging from private cabins to family rooms. Alternatively, make your way back south and stay sustainably in style in a rainforest cabin at Daintree Wilderness Lodge.
Optional Detour – Cape Tribulation
With so much to do in Cape Tribulation, why not stay another day? Fly over the rainforest canopy on Treetops Adventure, a zipline adventure soaring up to 15 metres above ground. Or head out with Ocean Safari to explore the Great Barrier Reef from the stunning Mackay Cay.