Craving fresh air away from city life? Savour a weekend escape and taste the flavours of the tropics on this three day Cairns food trail.
Get Directions
DAY 1
Arrival into Cairns
Cairns may be famous for the Great Barrier Reef and the Wet Tropics World Heritage Rainforest, but its unique local produce, stylish bar scene and al fresco restaurant culture is putting it on the map for foodies. Knock off early from work on Friday or visit mid-week to eat your way through Tropical North Queensland on this Cairns food trail.
DAY 2
Atherton Tablelands food bowl
Pick up a hire car and head up the Palmerston Highway, a gentle road winding through the rainforest and farmlands to the Atherton Tablelands. Make a pitstop at Nucifora Tea picking up a bag of tea from their honesty box and snapping a few photos of the perfectly groomed tea fields.
Mungalli Creek Dairy
Situated in the heart of Mungalli Creek Dairy sits the original farmhouse, restored into a must-visit cafe for many travelling along the Tablelands foodie trail. The Farmhouse offers expansive views over the rainforest, Johnston River Gorge and Queensland's highest peak, Mount Bartle Frere.
Sample a range of Mungalli's biodynamic, gourmet cheeses or sweet treats while peeking through the windows of the production line – the food doesn't have to travel far to get from paddock to plate here. Stock up on local jams, chutneys and chocolate before hitting the road again.
Millaa Millaa Lookout
Rain, hail or sunshine, one of the most superb vistas in the Atherton Tablelands unfolds from Millaa Millaa Lookout. To find this vantage point, continue up the Palmerston Highway before turning onto East Evelyn Road.
A picture perfect place to enjoy a picnic, take some happy snaps and soak in the 180-degree views over the region's undulating hills and paddocks.
Indulge in local produce
If your morning tea at Mungalli Creek Dairy is starting to wear off, pop Yungaburra into your Google Maps and enjoy a scenic detour. Rich in wartime and pioneering history, Yungaburra is also home to arguably the most famous monthly market on the local circuit. Grab a table at the popular Whistlestop Cafe and enjoy their relaxed menu or wander to the heritage-listed Yungaburra Pub for something more casual.
This foodie reconnaissance of the Atherton Tablelands isn't complete without a quick stop at The Humpy. Stock up and sample fresh local goods including native produce, exotic fruits and hot roasted nuts. Sauces, jams and marinades from across the region line the walls, enticing you to purchase extra luggage allowance on the way home.
Mt Uncle Distillery
The Atherton Tablelands is unique with its foodie offerings. Meet quirky Mt. Uncle Distillery, an award-winning boutique distillery set on a banana plantation with resident alpacas, donkeys, goats and free-roaming peacocks.
Quench your thirst with a tasting paddle of handcrafted liqueurs and spirits at their Cellardoor before playing meet and greet with the farm animals.
Dinner at Ochre
Head back "down the hill" to the city and finish your day with dinner a few footsteps from your hotel and enjoy modern Australian cuisine at Ochre. The highly awarded restaurant offers culinary delights for every tastebud, including tempura gulf bugs and char grilled kangaroo sirloin.
Optional Detour – Davies Creek Falls
Before departing the Tablelands take a short detour off the beaten track to the impressive Davies Creek Falls cascading over giant granite boulders. Atop of this natural masterpiece is a calm pool where the waters tumble over an infinity edge overlooking the forest and creek below.
The cool water against your skin on a warm tropical afternoon is a truly grounding experience. Listen to the trickle of the water, the sounds of the birds and on a rainy afternoon breath in deeply for the scent of eucalyptus infusing the air.
Eat the rainbow at Rusty's Markets
Start the day in the most colourful way and head to the iconic Rusty's Markets. Get your caffeine fix at Annee's Caphe Sua Da, which serves up traditional Vietnamese iced coffee and is a hit with a locals – one look at the queue makes that obvious! Choose from an array of locally made treats for brekkie, including pastries from the French Patisserie or a fresh fruit bowl served in a coconut from the Grateful Coconut.
Browse a myriad of local stalls and pick up exotic fruits you may never have even heard of! Or if you prefer to taste something typically tropical, locally grown mangoes, lychees or dragonfruit are sure to impress.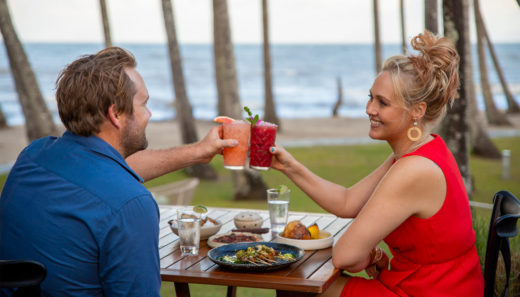 Live the beach life
Head north to the stunning seaside village of Palm Cove for some vitamin sea and even more tasty treats. After an ample amount of time has been spent sinking your toes into the sand (let's be real, no amount of time is enough), wander along William's Esplanade and see which of the many cafes or restaurants tickles your fancy.
For a laid back lunch with dreamy sea views, head to Chill Cafe and munch on classic brunch goodies. Or if you're feeling boujee, dine under the palms at the iconic NuNu and treat yourself to culinary delights such as wok fried North Queensland mudcrab or chilli salt pork ribs.
Leave Tropical North Queensland feeling full and content, knowing you'll be back again in the near future to treat your tastebuds to round two.
Sweet escape
Sink your teeth into dining the tropical way, from seafood, local produce and great coffee.