Tropical North Queensland isn't just known for its breathtaking locations, it is a fishing mecca with a fishing culture ingrained deep into its DNA. First class fisherman Dyllon Schulz of Reel Destinations drops us a line on all things sustainable fishing and shares his top tips for low impact fishing in the tropics.
As an avid fisherman, sustainable fishing is always on my mind. I want my kids and my kids' kids to be able to enjoy the reef and tropical waterways in the same way that we do today.
What is sustainable fishing you my ask yourself? Basically, it's ensuring that fish populations continue to thrive in marine and freshwater habitats, from the big fish we all want to catch, to the microscopic organisms that keep all things balanced in these complex ecosystems.
What to expect when fishing in Tropical North Queensland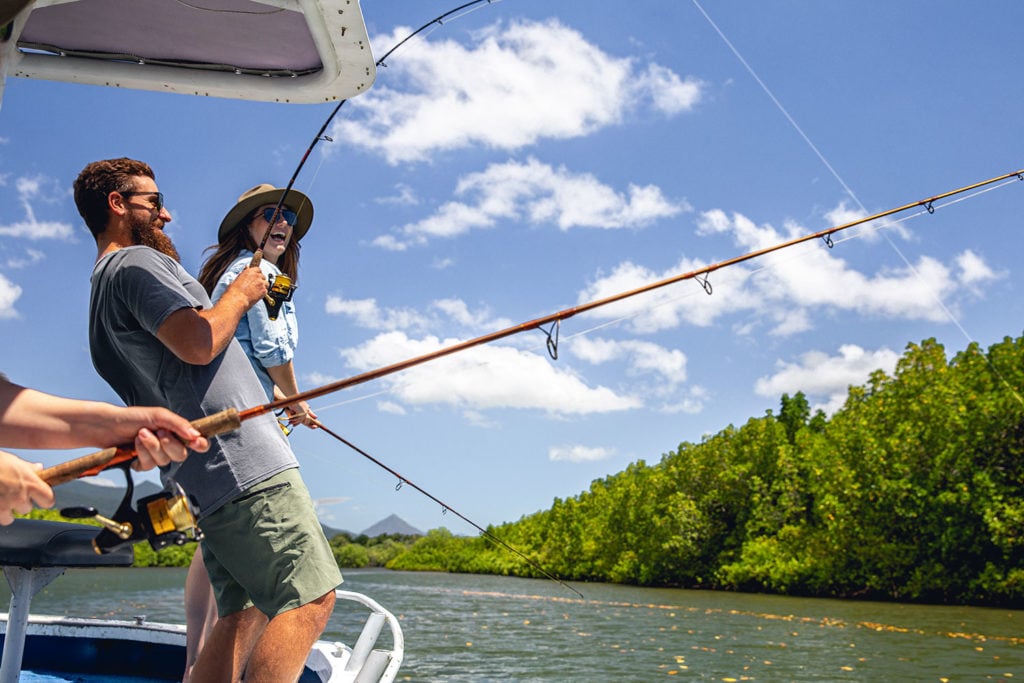 The range of fishing up here is so diverse, from chasing Jungle Perch in the gin-clear streams flanked with dense rainforest, to the Barramundi and Mangrove Jack-filled estuaries. Offshore, you can find the the rocky headlands and wonky holes that are home to some of the tastiest fish around – Fingermark and Nannygai – and as we push further out towards the reef, we get to see what Tropical North Queensland is most iconically known for.
Here we have reef edges loaded with life and patrolled by many predators including Coral Trout, Red Emperor and Giant Trevally – many fishermen or fisher gals' target species. As you meet the deep blue water of the outer reef edge, you will find some of the biggest Marlin on the planet.
Tropical North Queensland is a destination that every fisher has on their must-visit list and is home to a myriad of bucket list locations, including the reefs off Cairns and Port Douglas, Lizard Island, Cape York and the endless fishing grounds off the Gulf of Carpentaria.
Marlin and Barramundi have to be the most recognisable fish species to chase in this region, but these two species are only scratching the surface of a fishery that would take a lifetime to tick-off all the species and techniques.
Keeping the waterways of the tropics pristine, or even improving them for future generations, is a duty of care for all fishers. These are five simple sustainable fishing steps to mould your trip around.
Fishing seasonality & target species
Photo by Reel Destinations
Prepare yourself and become educated on the species you want to catch by doing your research. Knowledge of your target species will increase your chances of catching that fish of a lifetime and reduce unwanted bycatch. There are many ways to research on targeting a specific species, from your local tackle store to online articles and, of course, YouTube.
When preparing, it's important to consider that there are different species present for the warmer months and cooler months. Introduce this sustainable way of thinking into your preparation year-round.
A big factor that you need to keep in mind when targeting a specific species are 'closed seasons.' In Tropical North Queensland, there are many over different months of the year – this is generally to take pressure off these species during peak breeding seasons.
Catch & release
Photo by Reel Destinations
Catch and release is a huge part of sustainability. The days of taking as much as we can on every fishing trip is becoming a thing of the past and catching and releasing is integral to sustaining fish populations. We're not saying don't take fish home to eat, that is one of the biggest rewards of fishing. What it means is only taking what you need – don't fill the freezer.
There are size and take limits in place, but this doesn't necessarily mean that we need to reach this limit, take what you need for you and your family and release the rest of the fish for next time- it's that simple!
Correct fish handling
Photo by Reel Destinations
Correct fish handling is directly related to catch and release and when it comes to this, common sense is key. When we catch a fish, or any wildlife we encounter on or in the water for that matter, we don't want to hurt it in any way.
Ways to prevent fish damage include using an eco landing net to reduce the fish from entangling in a net and harming fins and protective layers of skin, not placing a fish on a hot deck of a boat, using a rag to handle the fish while de-hooking and ensuring that the fish is out of water for the least time possible. Always remember that all marine life big and small play a vital role for the future of our fisheries.
Book with an eco-certified operator
Tropical North Queensland is one of Australia's most recognised regions when it comes to eco-certified destinations, and that includes sustainable fishing on land and at sea. The best way to ensure your fishing experience is having a positive impact on the environment is to book a tour or charter with an eco-certified operator like East Coast Angling or Hook A Barra.
From minimising your eco-footprint to education, these operators will make sure your experience contributes to the ongoing health and reproduction of the local fish populations.
Cultural Heritage & significance of location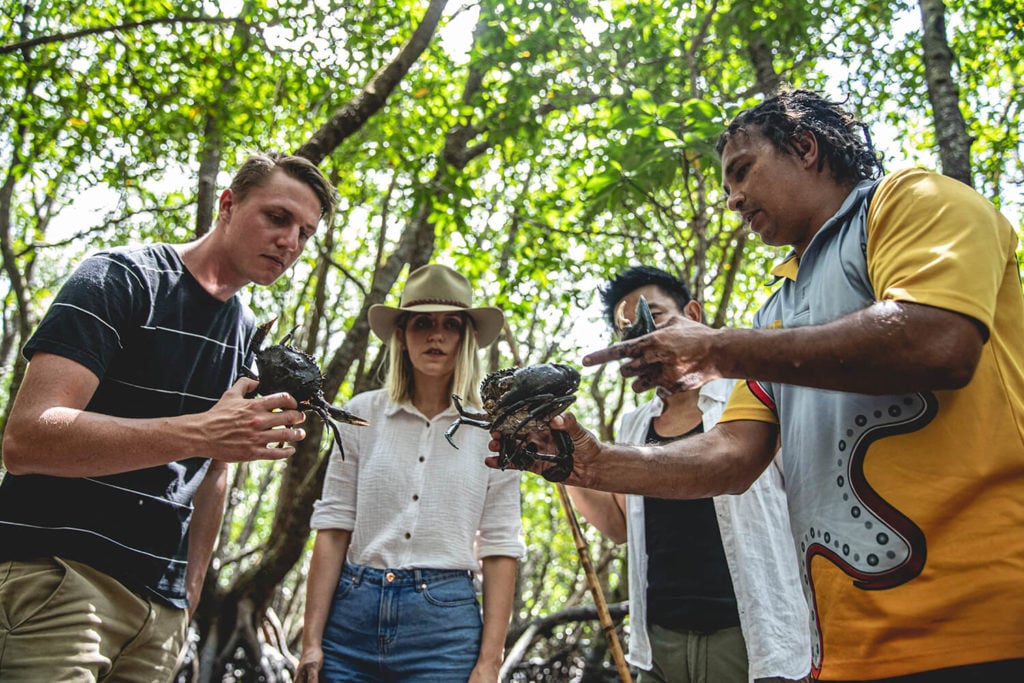 We always need to respect where we are fishing and where our adventures take place. This includes the Cultural Heritage of the location you are fishing in – the Sea Country in Tropical North Queensland holds deep cultural meanings to Traditional Owners. You can join Traditional Owners to discover more about these areas and their significance on Dreamtime Dive & Snorkel and Mandingalbay Ancient Indigenous Tours. Or you can learn traditional hunting practices with guides On Country with Walkabout Cultural Adventures, Kuku Yalanji Cultural Habitat Tours, or Torres Strait Eco Adventures.
It's also important to respect the zonings of the waterways and reefs we visit. There are pink, green and yellow zones. Knowing the roles and regulations of each zone ensures that all fishing is legal. These zones play a huge role in the future of our fishery. If you are unsure on any zoning, there are some great apps like Eye on The Reef to keep you up to speed.
Leave it greater
Photo by Reel Destinations
There's nothing quite as satisfying as leaving a natural environment more pristine than you found it and there are some simple tips you can incorporate into your life to do this each and every day.
If you see rubbish, pick it up. When on a trip, spend 20 mins cleaning a location before you leave it. Make the switch to reef safe sunscreen, which has ingredients that are not as harmful for the environment. Or wear protective, sun safe clothing to reduce the amount of sunscreen you need.
When visiting the Great Barrier Reef Marine Park, keep an eye out for any notable marine life and incidents and report to Eye on the Reef to assist in the monitoring of the reef. Pests such as Crown-of-thorns Starfish, marine pollution and coral bleaching are very important to report.
Plan the products you will be bringing into each location prior to your trip and minimise plastics and other materials that can be a threat to turtles and other marine animals.
We also need to think about ourselves when on location. Remember that you are sharing these tropical waters with other critters, such as crocodiles and jellyfish. Wear jellyfish protective clothing between November and May, this also acts as a double up for sun protection.
When fishing or exploring these waterways remember your safety, keep away from water edges and don't handle dangerous marine life.
If we all try to stick to these easy tips, we will keep Tropical North Queensland and its waterways pristine for generations to come.