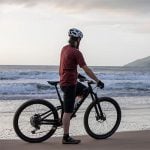 You live for adventure on two wheels in exotic landscapes. And the most exotic landscape of all, the awe-inspiring World Heritage rainforest of Tropical North Queensland, is calling out to you.
It's time to stop dreaming and start planning – this serene but breathtaking exploration of the rainforest, rivers and waterfalls of the Wooroonooran National Park can easily be knocked off in half a day.
8am – To the valley!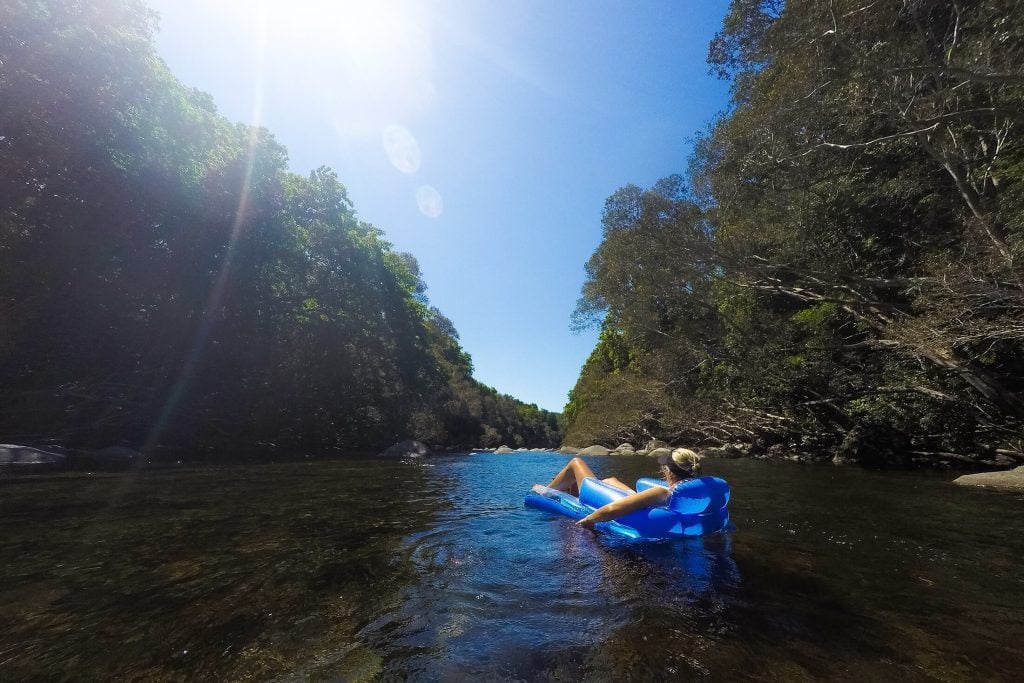 You've shredded Tropical North Queensland's mountain-bike parks, tested your skills and now crave a more easygoing ride. Or maybe you just want an easy day on the bike that allows you to stop, smell the roses and really drink in the delights of the stunning rainforest scenery in this part of the world. Well, grab your steed, stash your swimming gear and some snacks into your backpack, and set your compass (or sat nav) for the Goldsborough Valley Camping Ground, an easy hour's drive south of Cairns.
9am – Spectacular send-off
The sheer beauty of the Goldsborough Valley and the Goldsborough Valley Camping Ground – pretty as a picture in its location by the Mulgrave River and complete with picnic, BBQ and toilet facilities – will make you wish you'd brought a tent but there's no time for regrets now. It's time to jump in the saddle. First opened up by gold prospectors, the full Goldfield Trail stretches 19km from the campground to The Boulders Scenic Reserve near Babinda via a low saddle between Queensland's two highest peaks, Bartle Frere and Bellenden Ker. You won't be going that far today – mountain bikes are allowed only on the first 8km section.
9.30am – Water, water everywhere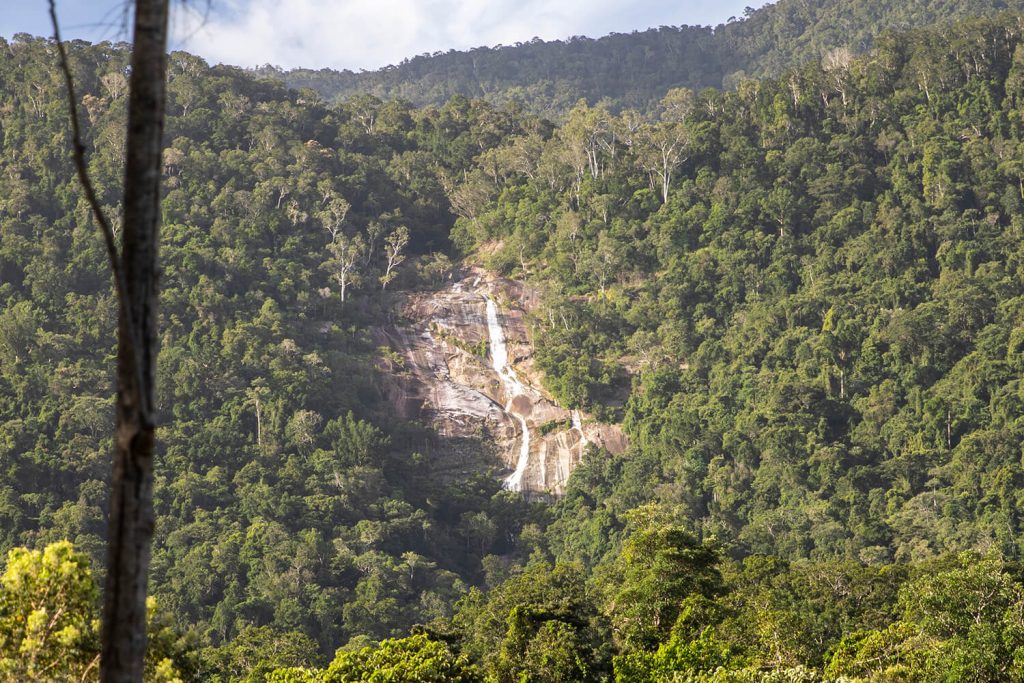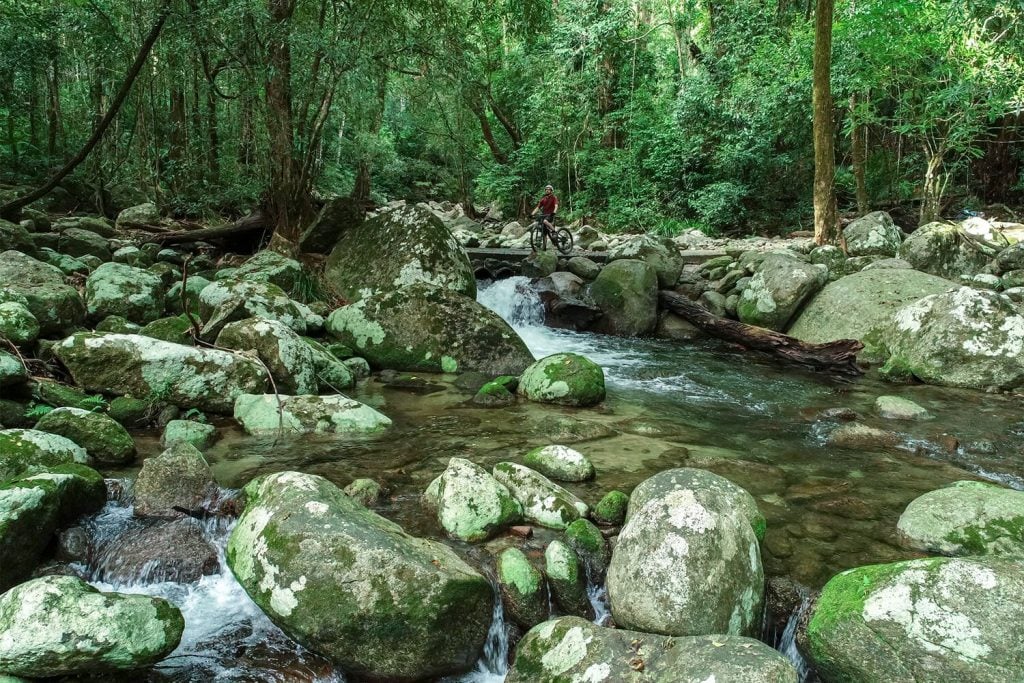 On the gentle roll out of the campground area Kearneys Falls glimmers tantalisingly on a hillside over your left shoulder. To your right, the waters of the Mulgrave River alternately bubble or quietly roar. Soon the trail delves into the rainforest canopy, crossing a small creek that tumbles down the hillside to meet the mightier Mulgrave. Then another and another. Then, down the hill and around the corner, another, bigger one. All are reasons to stop, splash your face and appreciate your surrounds, or take that breathtaking shot.
10.00am – Cool down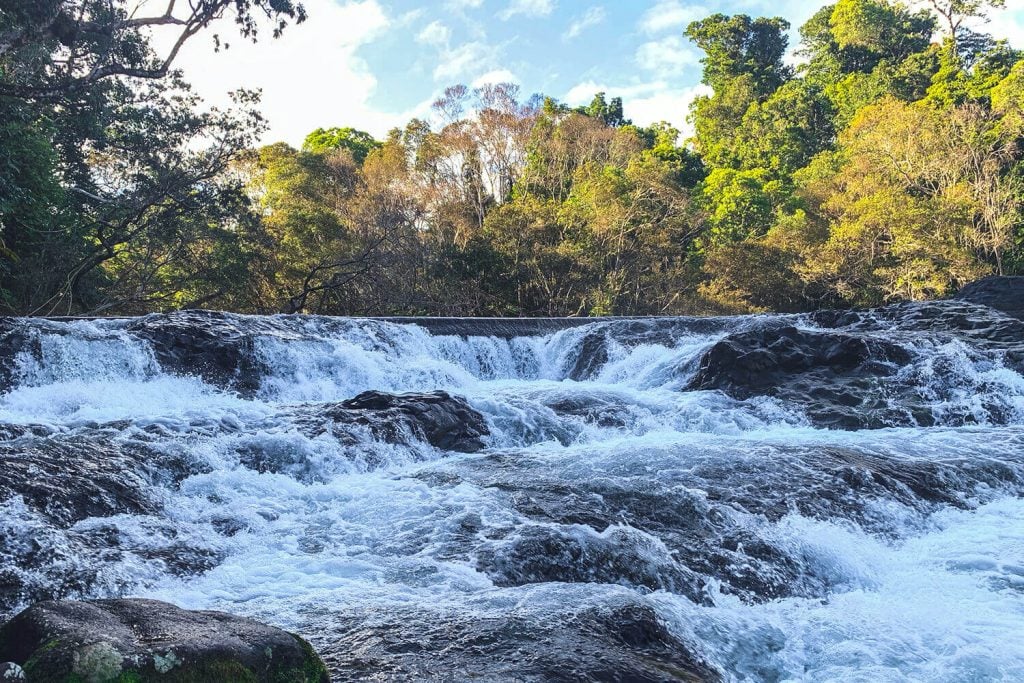 You've gazed in wonder at the Mulgrave's many tributaries, marvelled at giant strangler fig trees and maybe even caught sight of a cassowary or other native fauna over the trail's gentle undulations. Now you've arrived at your turnaround point, the Top Causeway of the Mulgrave River. Enjoy a relaxing swim in the crystalline waters and explore your beautiful surroundings before fuelling up for the return ride.
11.30am – Final flourish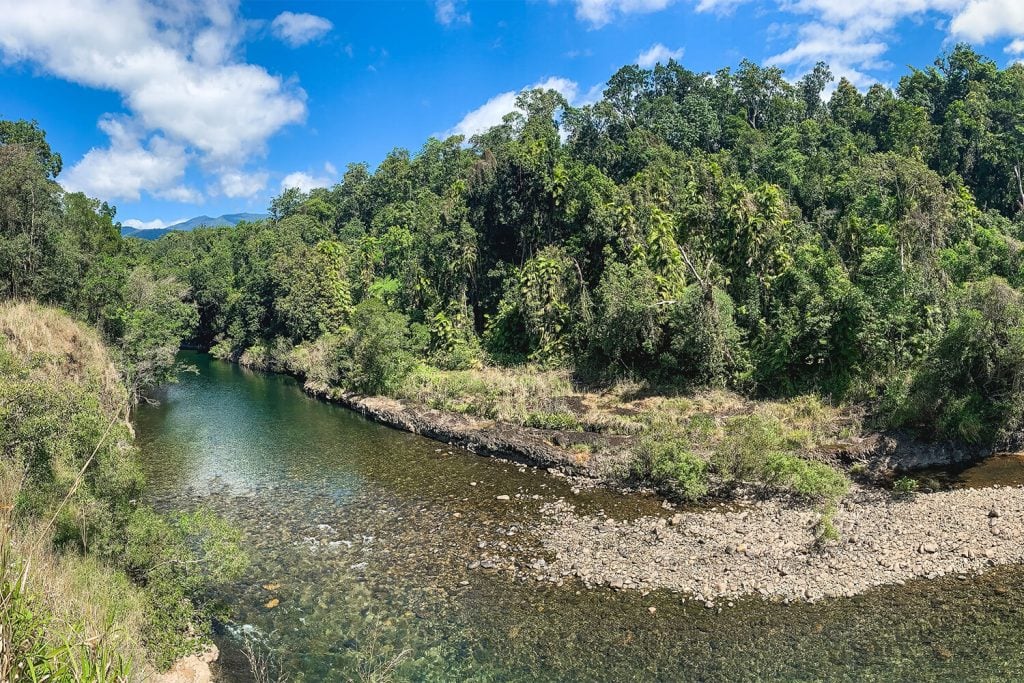 You've finished the return leg of the Goldfield Trail and are back in beautiful Goldsborough Valley Camping Ground, but don't pack up the car and head to your next destination just yet. Take the easy 1.6km return walk through towering rainforest to see the glorious cascades and granite cliffs of Kearneys Falls up close.
12.30pm – Go explore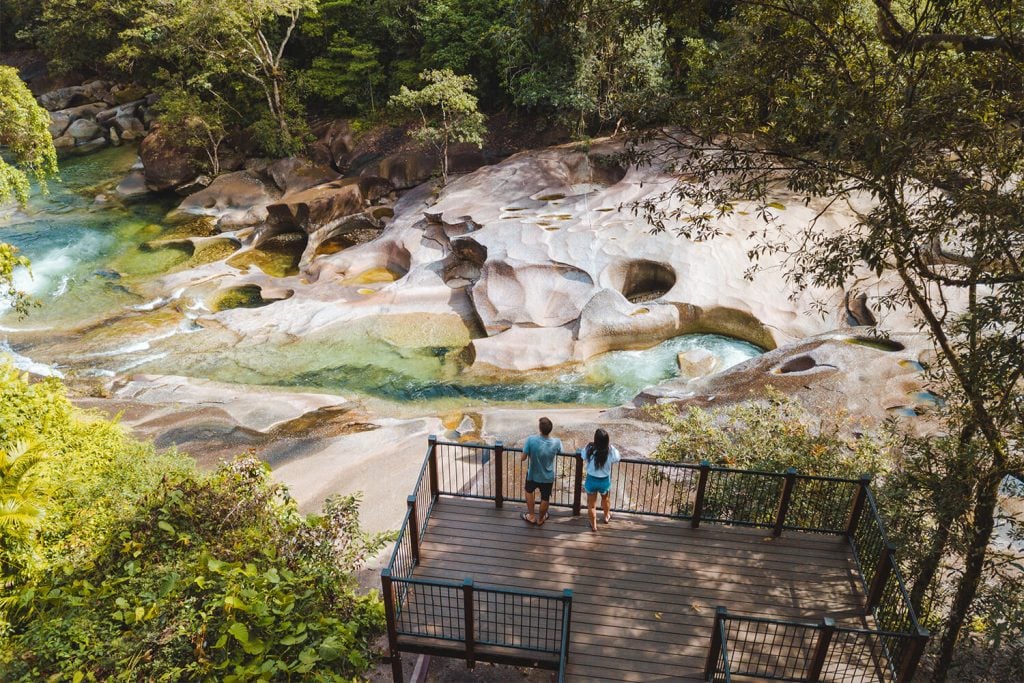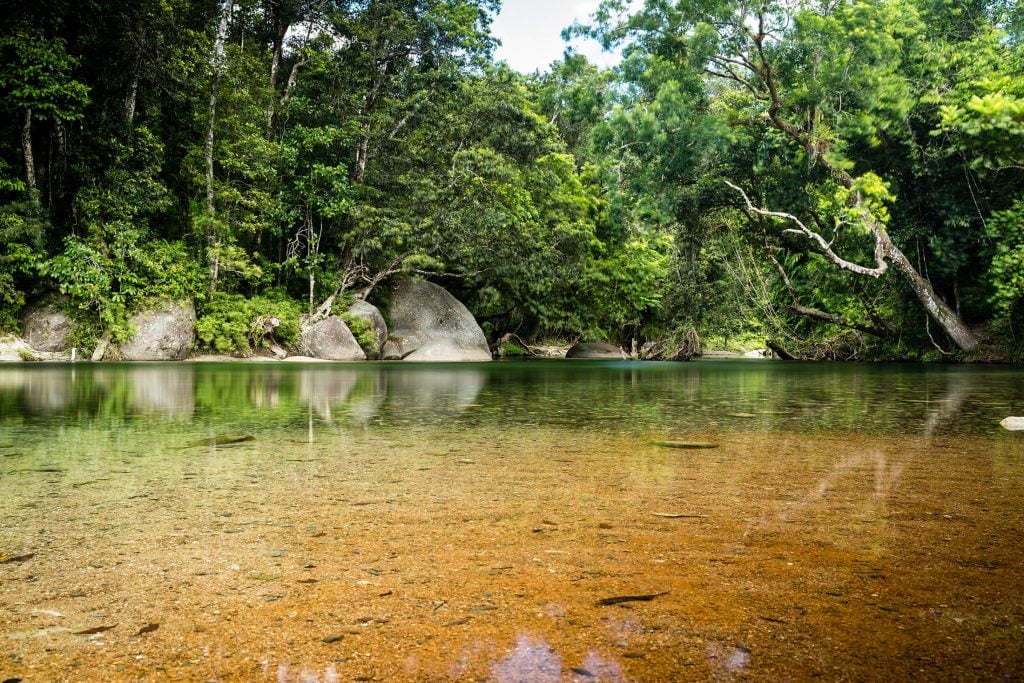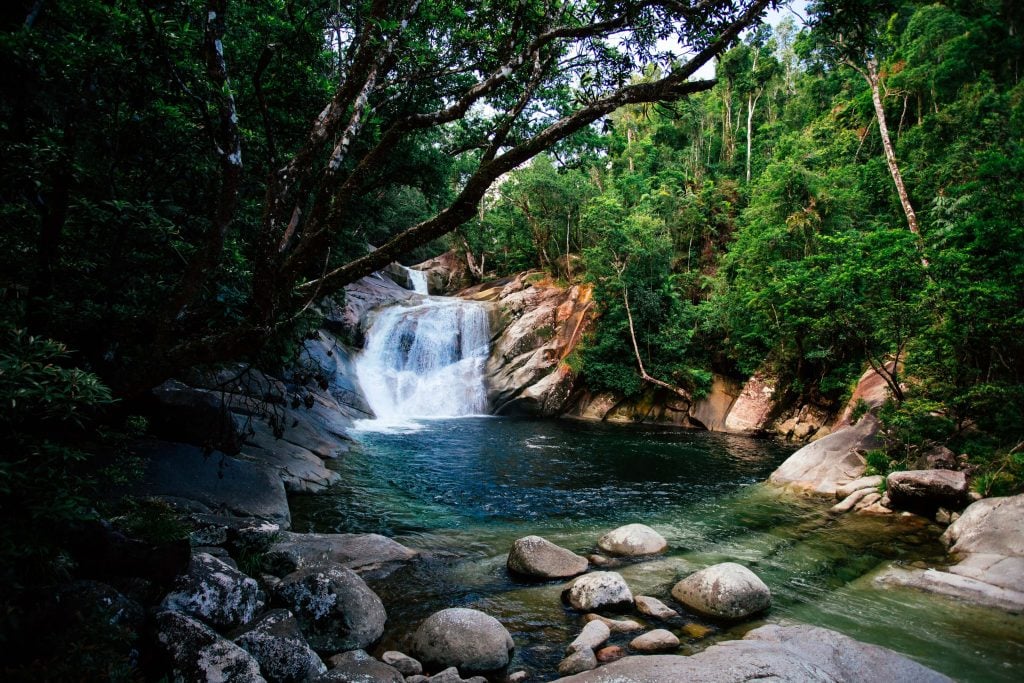 The day is still young, so what next? In Tropical North Queensland you're never short of options. Fill your belly with good old-fashioned pub grub while taking in lovely views of the country you've just explored at Goldsborough's Mountain View Hotel or keep chasing waterfalls with a trip to Babinda Boulders or Josephine Falls, punctuated by a lunch stop at the legendary Babinda Bakery. Or just make your way back to Cairns to dive into one of this lively tropical city's many possibilities.