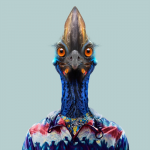 The Wet Tropics is a living museum, home to a myriad of animals; furry, feathery and scaly, some of which can be found no where else on the planet. Here's the endemic species that you can only see in the Wet Tropics World Heritage Rainforest.
Mahogany Glider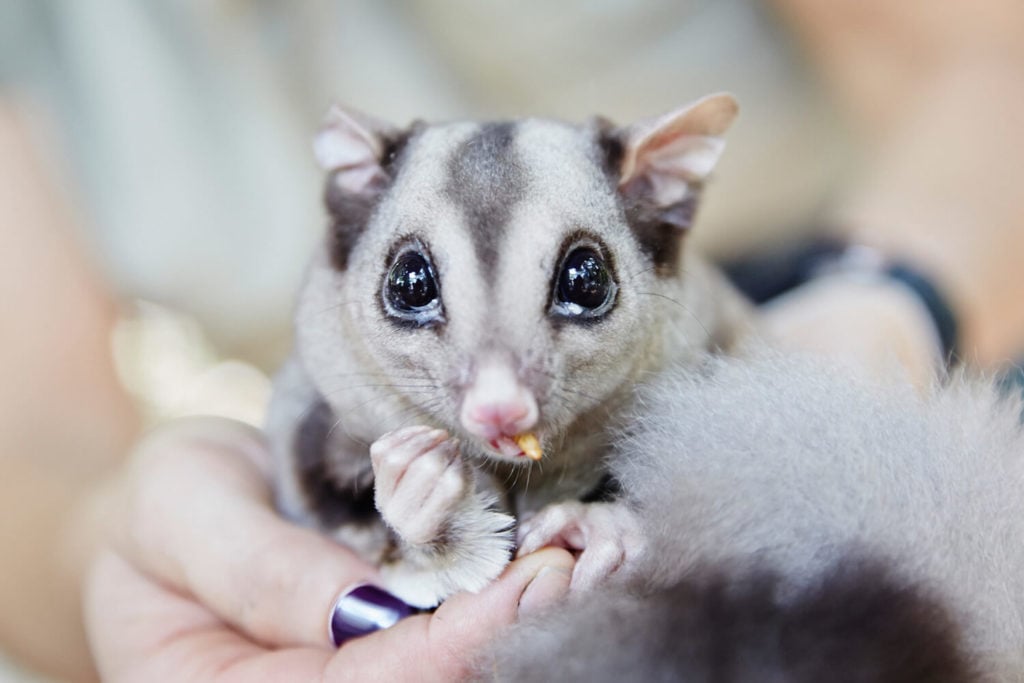 Scientific name: Petaurus gracilis
Endemic to: A small coastal 122km strip between the Hull River (near Tully) and Ollera Creek (south of Ingham)

These marsupials are found in the southern coastal Wet Tropics area, in a narrow 122km long strip in the Tully, Cardwell and Ingham regions. They live in tropical lowland open eucalypt and melaleuca woodland that is mostly below 100m elevation. Mahogany Gliders are nocturnal and live in 'dens' which are hollows found in the trunks and branches of trees. These cute little critters glide from tree to tree using a parachute-like flap of skin that stretches from their front to back legs.
Although it is very unlikely that you will spot a Mahogany Glider in the wild, you can see them at Wildlife Habitat Port Douglas.
Southern Cassowary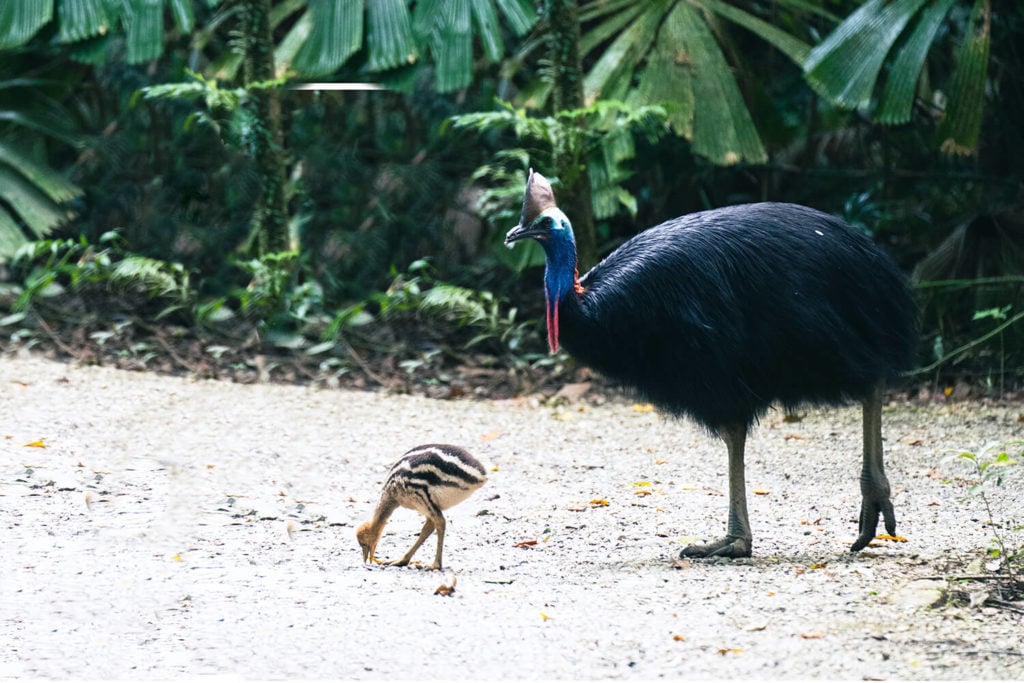 Scientific name: Casuarius casuarius
Endemic to: The Wet Tropics Rainforest
The Southern Cassowary is Australia's heaviest flightless bird and can grow to an incredible height of two metres. These magnificent prehistoric looking birds are incredibly important to the ecosystem as they play a vital part in seed dispersion and rainforest regeneration. There are estimated to be around 4200 cassowaries in the wild, with a large concentration dwelling on the aptly named Cassowary Coast.
If you'd like to see one in the wild, head to Etty Bay, where these giant ratites are often spotted wandering along the beach. They are also regularly sighted in the Daintree and Cape Tribulation, Mission Beach and sometimes in Kuranda and on the Atherton Tablelands. However, if you'd prefer not to leave your sighting to chance, make way to Rainforestation Nature Park, Bird World or Hartley's Crocodile Adventures to meet one.
Lumholtz's Tree Kangaroo
Scientific name: Dendrolagus lumholtzi
Endemic to: The Wet Tropics Rainforest from the Daintree River and Mt Carbine Tablelands through the Atherton Tablelands to the Herbert River
Not to be confused with the mythical Aussie "drop bear", the Lumholtz's Tree Kangaroo does actually exist. This tree-dwelling marsupial is an important animal to the local Djirrbal and Ngadjon-jii people, who call it mupee. It is the smaller of two endemic tree kangaroos, weighing around 7kg. Its tail is significantly longer than its body and helps it balance in amongst the trees, whilst its long and heavy muscled forearms and short hindfeet help it climb.
For a good chance of spotting a Lumholtz's Tree Kangaroo in the wild, head to the Nerada Tea plantation on the Atherton Tablelands where they often hang out adjacent to their tearooms. Other regular sightings are at Mount Hypipamee National Park, Malanda Falls, or in the forested areas close to Yungaburra including the Curtain Fig Tree and Peterson Creek. Rainforestation Nature Park and Wildlife Habitat Port Douglas also have resident tree kangaroos that you can visit.
Bennett's Tree Kangaroo
Scientific name: Dendrolagus bennettianus
Endemic to: The Wet Tropics Rainforest between the Daintree River, Mt Amos and Mt Windsor
The Bennett's Tree Kangaroo is pretty much the long jumper of the Wet Tropics and can leap up to 9m between branches. It can also drop to the rainforest floor from a height of 18m and live to tell the tale. The agile marsupial is a master tree climber thanks to the rubbery soles of its feet and its ability to move each limb independently.
The species are known for roosting in large trees, camouflaging themselves with vines making them very hard to spot from the rainforest floor below. They are also big fans of vitamin D and often sunbathe on the top of the rainforest canopy. Where the Lumholtz's Tree Kangaroo is found at high elevations, the Bennett's Tree Kangaroo may reside at both low and high altitudes, but only in a small region north of the Daintree River approximately 70 x 50km in size.
Northern Bettong
Scientific name: Bettongia tropica
Endemic to: A small area between Mt Windsor Tableland and Paluma
These charming little critters can only be described as adorable and if you are lucky enough to spot one in the wild, they somewhat resemble giant rat-looking kangaroos. This nocturnal marsupial has a special talent, the ability to use its tail to carry grasses and nesting materials. They hop around on their lengthy hind legs and use their front legs to scratch around in soils for truffle fungi, which is their primary source of food.
Kuranda Tree Frog
Scientific name: Litoria myola
Endemic to: Rainforests around Kuranda
These forest-dwelling amphibians are only found in the rainforests surrounding Kuranda – hence their name – and have a population of less than 700. You'll hear this frog before you spot it with their playful tapping calls. Make sure to look closely at every leaf and tree as their mottled brown skin camouflages well in the forest. The community of Kuranda is taking action to increase the population of these little hoppers and encouraging locals to reforest properties near streams and creeks, which is where the Kuranda Tree Frog calls home.
Victoria's Riflebird
Scientific name: Ptiloris victoriae
Endemic to: The Wet Tropics Rainforest between Big Tableland to Mount Elliot
The Victoria's Riflebird is the attention seeker of the Wet Tropics. During mating season (July to September) the rainforest hosts the ultimate dance off, as males dramatically hold their wings above their head and sway to try and win over the ladies.
The species are sexually dimorphic with greyish-brown females looking dull in comparison to their jet black male counterparts, who also don an iridescent green-blue crown and breast shield. They dwell in lowland to hill rainforests, eucalypt, melaleuca wet sclerophyll and swamp woodlands.
Keep an eye out for them while you are exploring the Atherton Tablelands – they're commonly spotted around Lake Barrine and Lake Eacham, but are seen throughout much of the rainforested areas of the region.
Boyd's Forest Dragon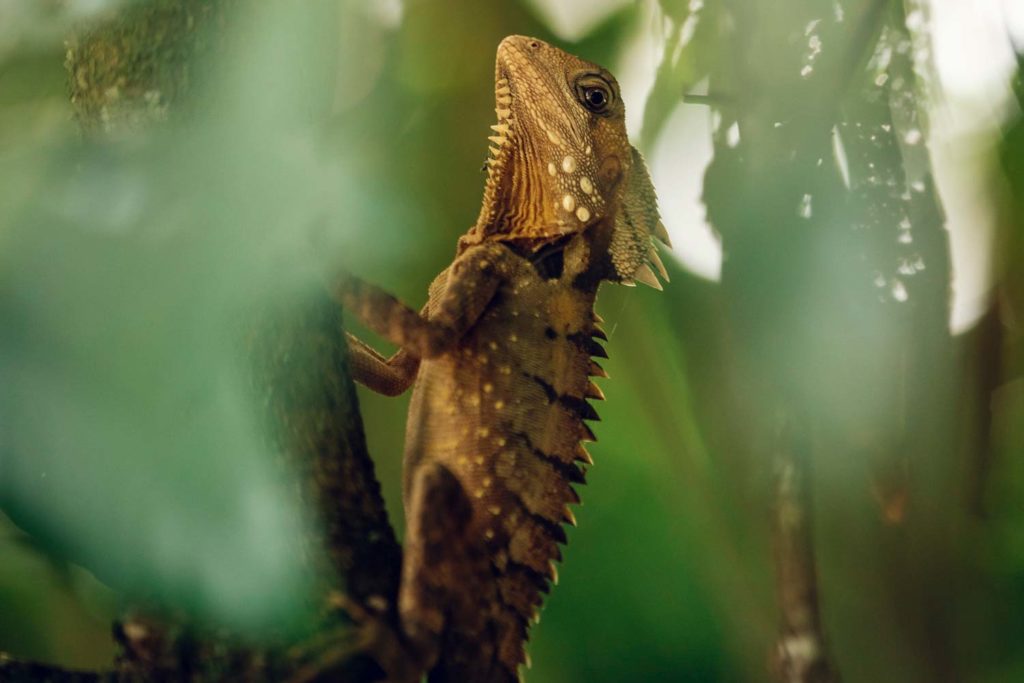 Scientific name: Hypsilurus boydii
Endemic to: Wet Tropics Rainforest
The Wet Tropics Rainforest is home to its very own species of dragon, although you are far more likely to spot the Boyd's Forest Dragon hugging trees than breathing fire. This little reptile is one you could literally walk straight past and not notice. Its grey, green and brown mottled scales blend seamlessly with tree bark and is known to stay very still, so be sure to look very carefully as you wander through the rainforest.
Because they are so good at camouflaging, your best chance to see one is on a guided tour such as FNQ Nature Tours, whose guides are well-attuned to spotting hiding wildlife. If you don't spot them while out and about in the rainforest, you can also see them at Wildlife Habitat Port Douglas.