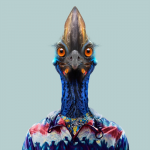 They say to never smile at a crocodile, but there's plenty more to know about this ancient reptile species before you set foot in Tropical North Queensland.
Put simply, Tropical North Queensland is crocodile country, so it's important to be croc-wise, regardless of where you are travelling in the region.
Be alert but not alarmed, because these evaders of evolution are as fascinating as they are ferocious, and well worth safely observing on your next holiday. After all, crocodilians are one of only a few animals left on earth who've lived to tell the dinosaur-extinction tale.
So, if you want to be more croc-wise than an Irwin before your trip to Tropical North Queensland, here's everything you need to know.
Should you be scared of crocodiles?
Cautious, yes. Scared, no. These aggressive reptiles are one of Australia's most awe-inspiring (see why) and play an important role in the ecosystem of Tropical North Queensland.
Where better than Tropical North Queensland to see an apex predator that can grow longer than a ute and weigh up to 1000kg, wrapped neatly in leather armour?
The saltwater crocodile may be the largest terrestrial predator on earth but don't be scared to safely spot these giants because there is real beauty in their biology.
Can you swim in Tropical North Queensland?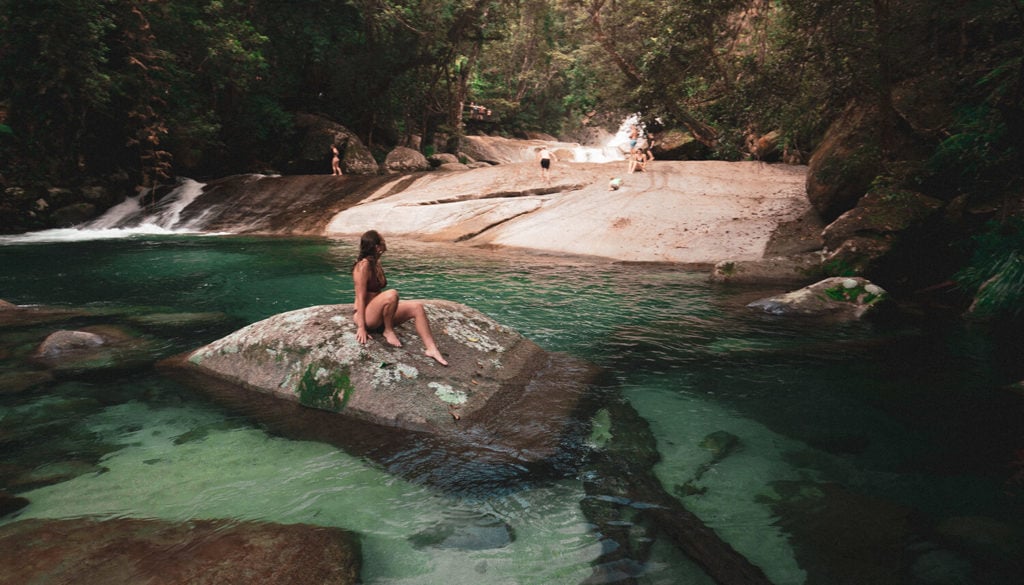 With a climate that seldom dips to single digits, it's always swimming weather in Tropical North Queensland.
Provided you follow the signs, exercise caution and are croc-wise, you can safely swim in many (NOT all) spots across the region.
For crocodile-free swimming conditions, you're best to head inland to one of these freshwater swimming spots or waterfalls, or venture out to the reef to cool off. There's always, of course, your hotel pool or the 4,800m² sparkling lagoon on the Cairns Esplanade.
How come saltwater crocodiles don't inhabit the salty reef, you ask? It's a good question – but the Great Barrier Reef's clear water, lack of crocodile-friendly food sources and large swimming distances from the mainland make seeing a crocodile on the outer reef (aka where the reef tours go) extremely unlikely.
Of course, there are still safe places to swim in natural waterholes where freshwater crocodiles (ONLY!) reside such as Lawn Hill (Boodjamulla) National Park, but these will be signed.
What is the habitat of saltwater crocodiles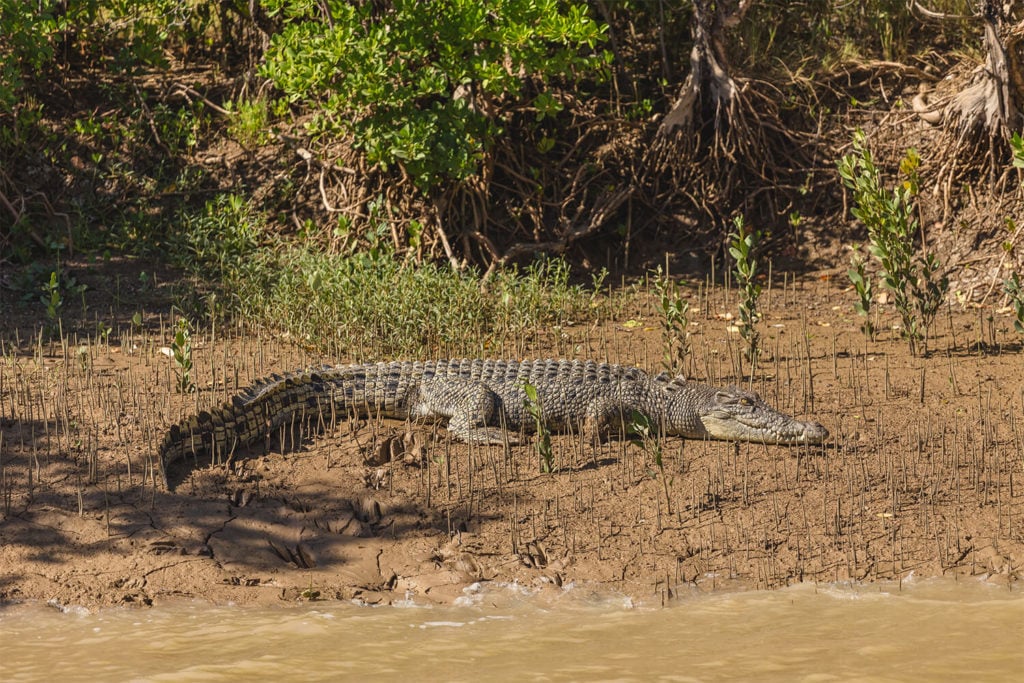 Crocs are more at home in the water than on dry land and are found throughout Tropical North Queensland.
They can live in just about any water environment from rivers and wetlands, the open sea to billabongs and freshwater swamps, which is why it's important to remember the absence of a yellow warning sign doesn't equal an absence of crocodiles. Typically though, saltwater crocodiles are found in brackish (low salinity) water including river mouths near the coast.
Crocodiles are fiercely territorial, with large males fighting it out for the best river systems, some inhabiting their territory for decades until de-throned by a bigger bloke.
With a diet of fish, crustaceans, birds, livestock and mammals, the healthy river systems of Tropical North Queensland are a crocodile's dream buffet.
What's the difference between saltwater and freshwater crocodiles?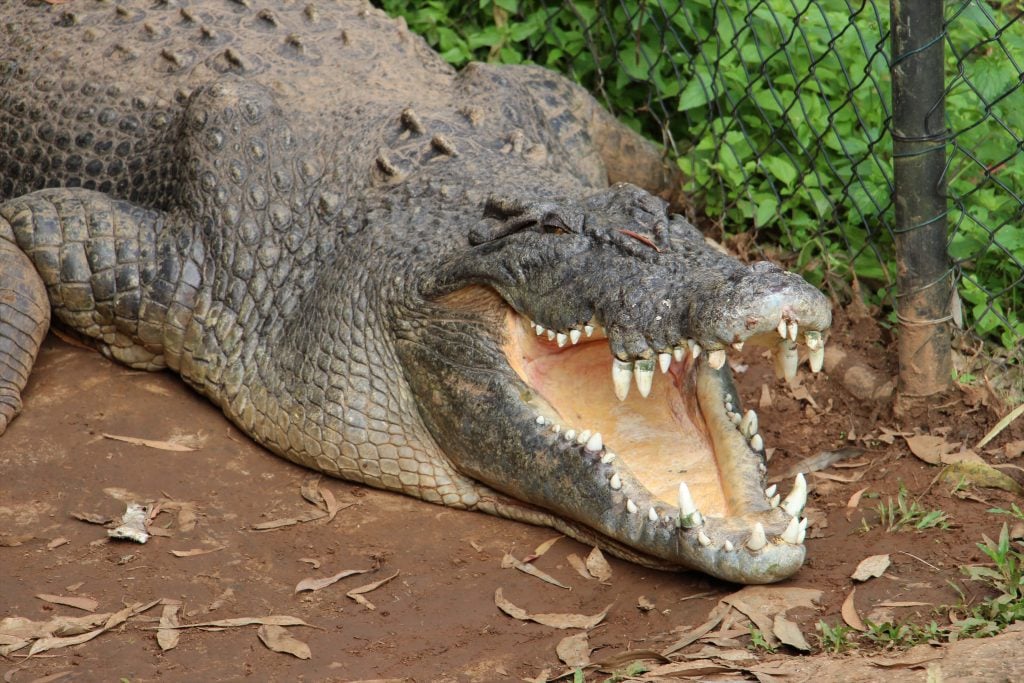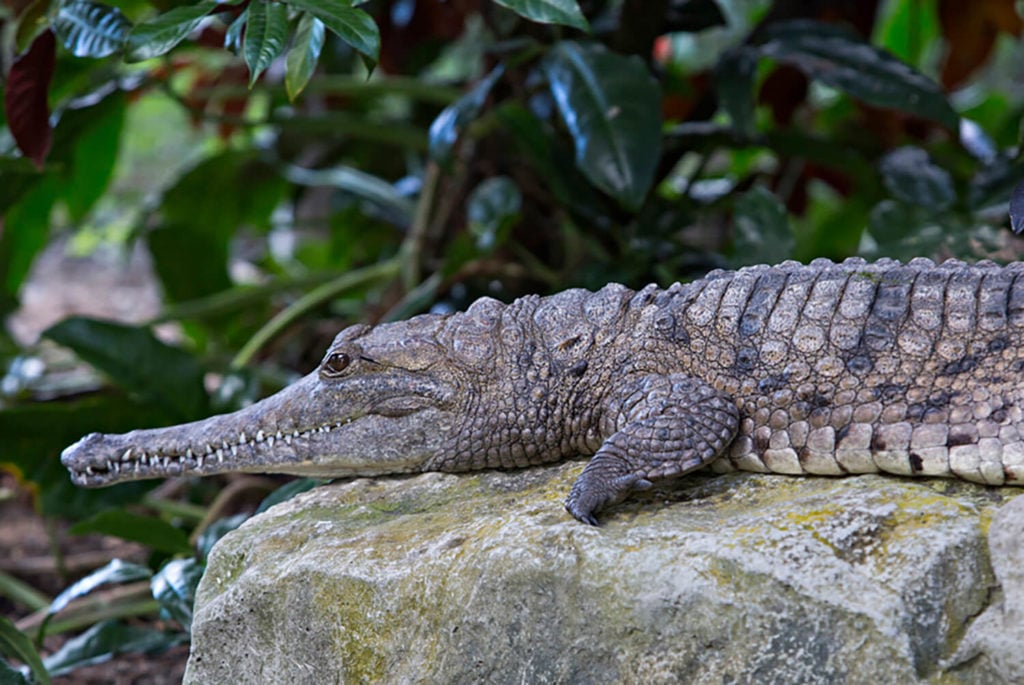 There are two species of crocodiles in Tropical North Queensland, but aside from their name and appearance at first glance, the saltwater (or estuarine) crocodile and freshwater crocodile are quite dissimilar.
The biggest difference you'll see is their size. Freshwater crocodiles are decidedly smaller and they also have a longer, narrower snout with equal sized teeth – not that we recommend getting close enough for a dental inspection.
Freshwater crocodiles are deemed a visitor-friendly reptile and outside of breeding season, relatively harmless, and will only bite if provoked. As with any wild animal though, it's important you follow advice from Queensland Parks & Wildlife or locals in-the-know.
However, we don't recommend resting on your laurels in freshwater environments thinking you might only meet a 'freshie'.
Just because it's a freshwater creek doesn't mean there's an absence of saltwater crocodiles. It's well established that 'salties' can live in fresh water – they just prefer a saltwater environment where there's more feed to be found.
In contrast to their freshwater cousins, saltwater crocodiles are aggressors of the land and sea in every sense of the word – larger in size with jagged, uneven teeth, and built for speed to ambush unsuspecting prey.
Where can you see crocodiles?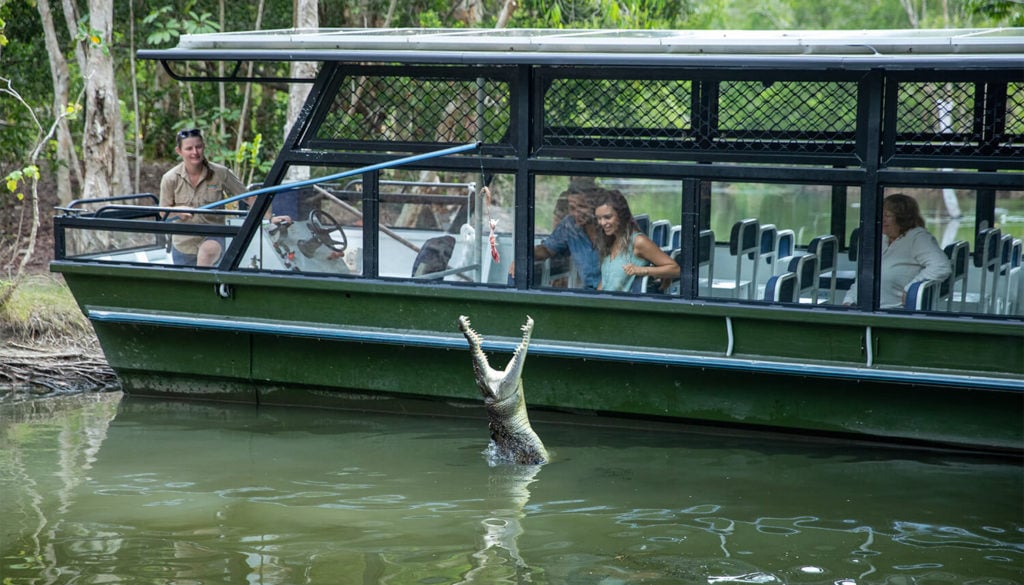 While you'll technically find crocodiles all over Tropical North Queensland – even as far west as Lawn Hill (Boodjamulla) National Park (albeit freshies) one of the biggest surprises about them is, despite their size, they're incredibly good at hiding.
Crocodiles are camouflaged by design – not just physically with khaki skin that blends effortlessly into murky river systems, but biologically, with a small hole near their heart, which allows them to hold their breath underwater for more than an hour.
So despite the abundance of signs and warnings about crocodiles, a bit like the elusive cassowary, you may never actually physically see one in the wild.
However, this is no reason to be complacent. Crocodiles are more likely to see you than you are to see them, so it's best to always be on the lookout.
If you really want to see one during your time in the tropics, turn the odds in your favour by joining a croc-spotting tour or visit one of the wildlife parks in Tropical North Queensland.
To catch these cold-blooded locals in action, add one of these stops to your itinerary:
Or, join one of these croc-spotting tours in the wild:
When is the best time to spot crocs?
You can see crocodiles all year round but you're more likely to see them active during the warmer months.
One thing to remember is the warmer weather between September and April is breeding season for crocodiles and females guarding their nests will become aggressive.
Fun fact: crocodiles build nests on the ground to lay their eggs – around 50 eggs per nest. A bit like turtles, the heat of the nest determines the sex of all the hatchlings – with temperatures below 30 degrees resulting in females and above 32 degrees, all males.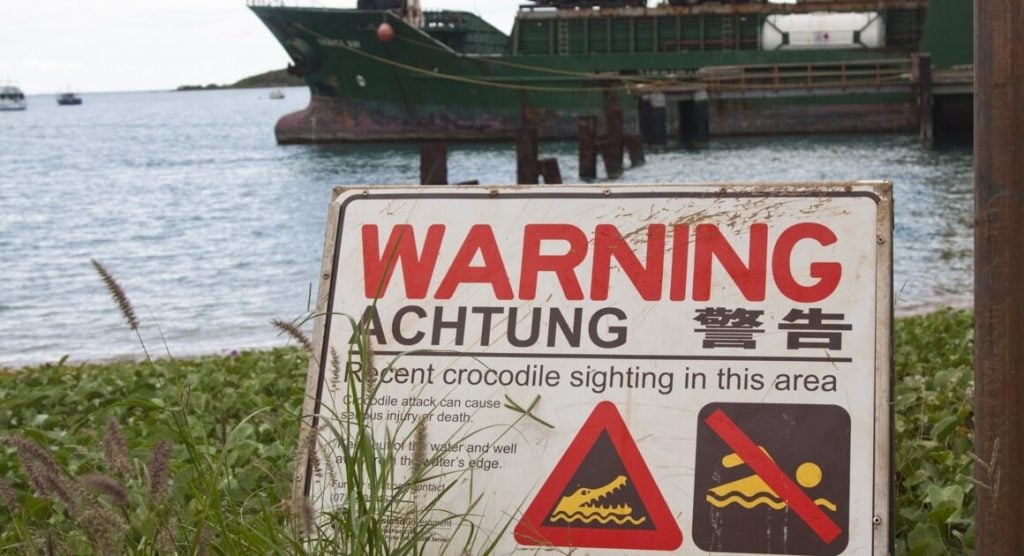 There's no two ways about it – crocodiles are dangerous, but provided you're sensible and stay croc-wise, you can still see them safely.
Remember these handy tips:
Avoid the water's edge – crocodiles are excellent hunters and frequently ambush and grab their prey from the water's edge. Aim to stand at least 5m back.
Don't leave food scraps lying around – since fish are a staple diet for these reptiles they can be attracted to fishing scraps and bait lying around as an easy meal.
Never feed a crocodile – it goes without saying, what you see in a wildlife park should never be tried in the wild. Feeding crocodiles is SO dangerous it's actually illegal.
Be vigilant in crocodile hunting hours – like most Australian natives, crocodiles are crepuscular (aka more active at dawn and dusk).
Don't make yourself crocodile bait by using small craft like kayaks and paddleboards in crocodile habitats.
Keep your dog out of the water – dogs are the perfect meal size for crocodiles and are known to attract them, so keep them on a lead and away from the water.
How important are crocodiles to the eco system?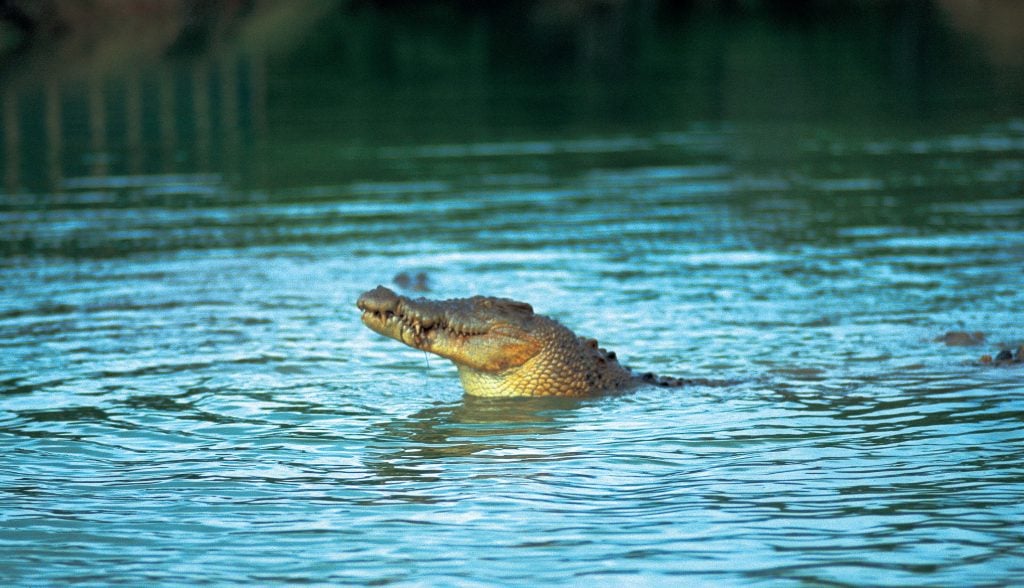 Like most animals, crocodiles play an important function in the eco-system and are currently under protection after being destined for extinction due to serial poaching practices in the 1970s.
They're designed to be predatory to help manage the wetland environment they inhabit, something they've successfully done for the past 200 million years.
Both freshwater and saltwater crocs play an important role in managing marine overpopulation, while equally protecting their estuaries from other predators who may otherwise move in.
While crocodiles are ferocious, apex predators, it's important to remember humans remain one of their biggest threats, and these ancient inhabitants of Tropical North Queensland need protecting too.
What should you do if you see a crocodile?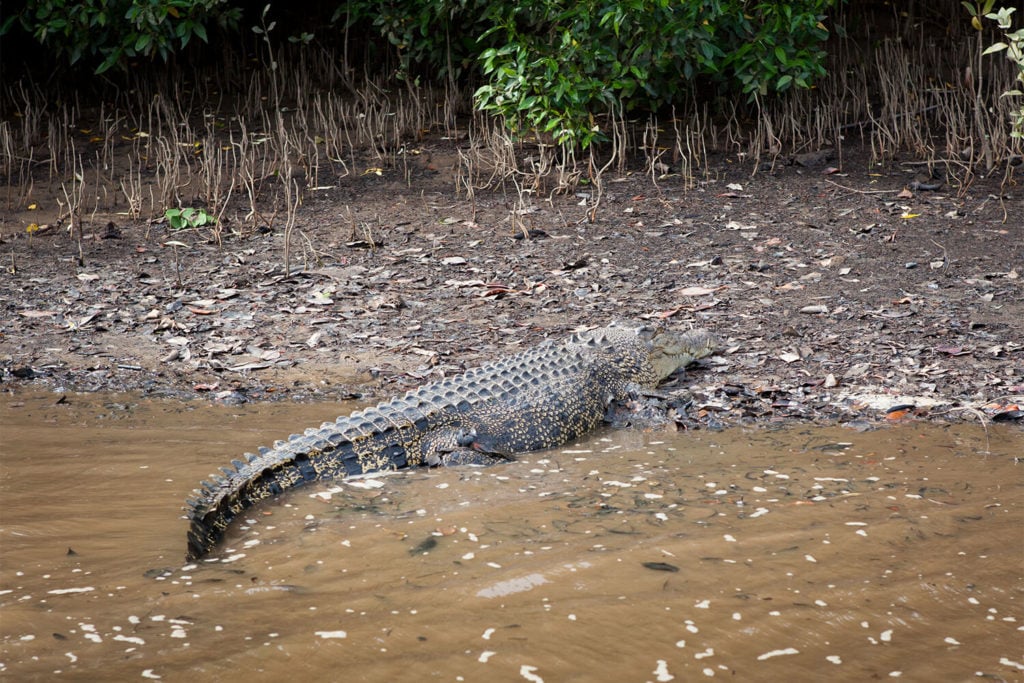 If you see a crocodile in the wild, it's important you report your sighting as soon as possible to Queensland Parks & Wildlife, particularly if they are in an unexpected area.
You can do this in a few ways: by downloading the QWildlife app, accessing the sighting report online, or calling 1300 130 372.
These notifications help rangers track their movements and mitigate any potential risk to humans.