Australia's last frontier, Cape York, boasts incredible landscapes, endemic wildlife, rich culture and wild history. In this region are some breathtaking walks that must not be missed on your Cape York trip!
Cape York  was the last region explored by European settlers, and up until the 1940s there were very few vehicles. Mail was delivered via tracks between settlements on foot or horseback. The Old Telegraph Track was maintained on foot. Even further back, Aboriginal people had tracks throughout the landscape for millennia. You may not realise it, but some of the roads through the Bloomfield region may once have been old Aboriginal walking tracks.
Whilst it lacks the extensive hiking trails you get in better developed regions, Cape York has its share of awe-inspiring tracks for your foot-falcons. Below, we outline 5 Cape York walks you absolutely must not miss, even if you only have 10 days in the Cape! Some of these may be obvious, and some are hidden nuggets of dirty goodness. So, let's begin with the most obvious.
1. Pajinka: The Tip of Australia
Pajinka is the Gudang Yadhaykenu name given to the area at the tip of Australia. It is the walk that 99% of people doing a 'Cape Trip' will do. It is spectacular and everything you hope it to be, yet somehow doesn't look like you expected! The parking lot is located about an hour drive from Bamaga itself and there is a 700m walk from the park to the tip sign.
From the parking area, there are a couple of routes to get to the sign. As a guide and local, I have a favourite way of course. Personally, there is nothing like walking over the top of the rocky hill, taking in the views of Frangipani Bay and then descending down to the tip sign. From here I generally walk back along the beach if the tide is out, or towards the beach and behind the mangroves if the tide is up. The views are really the highlight of this walk with exceptional views of the bay on either side. Keep an eye out for the very picturesque termite mounds, the mounted compass and of course, that special tip sign! As a bonus you can often spot turtles here, and occasionally a croc…not the place for a dip!
Distance: 700m each way
Time: 15-30 minutes each way depending on pace and your walk to photo ratio.
2. Split Rock, Laura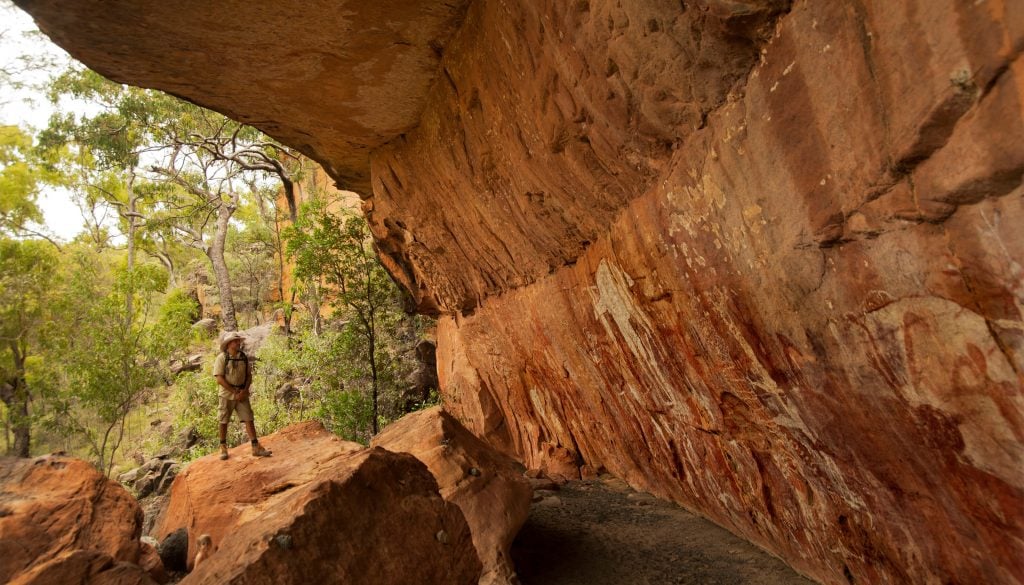 This is one of the most famous rock art galleries in Australia and is recognised globally. The Rock art here dates back as far as 15,000 years ago and Aboriginal people lived in the area for the past 34,000 years. Needless to say, the Split Rock art site is spectacular, and you could just picture an 'ol' man' telling a story to people while painting on the sandstone.
This walk begins at a shelter. Within a minute you will start a moderately steep, rocky climb with a handrail. After a couple 'piccy breaks' you'll find yourself at the top of the plateau with an incredible view. There is a mild incline before it becomes relatively flat and you arrive at the megalith that is Split Rock. There is a nice cool viewing platform with seats here. The Ang-Gnarra Traditional Owners allow people to take pictures here, however it is a big no-no to touch the rock art.
Another 100m past Split Rock you will find the Flying Fox and Tall Spirit galleries.
On your walk, keep an eye out for Ctenotus skins, lined rainbow skinks and nobbi dragons. You'll also pass some Cooktown Ironwood, a tree commonly used in welcome/smoking ceremonies. Other plants include the Quinine bush and scarlet flowered bloodroot. Take note of the conglomerate formation in the rocks too!
Note: there is a $30/pp entrance fee.
Distance: 430m from the shed to Split Rock, an extra 110m to the Flying Fox and Tall Spirit Gallery
Time: 10-20 minutes to Split Rock. 5 minutes to the Tall Spirit Gallery. With viewing time, this is usually a 1-hour round trip.
3. Wujal Wujal Falls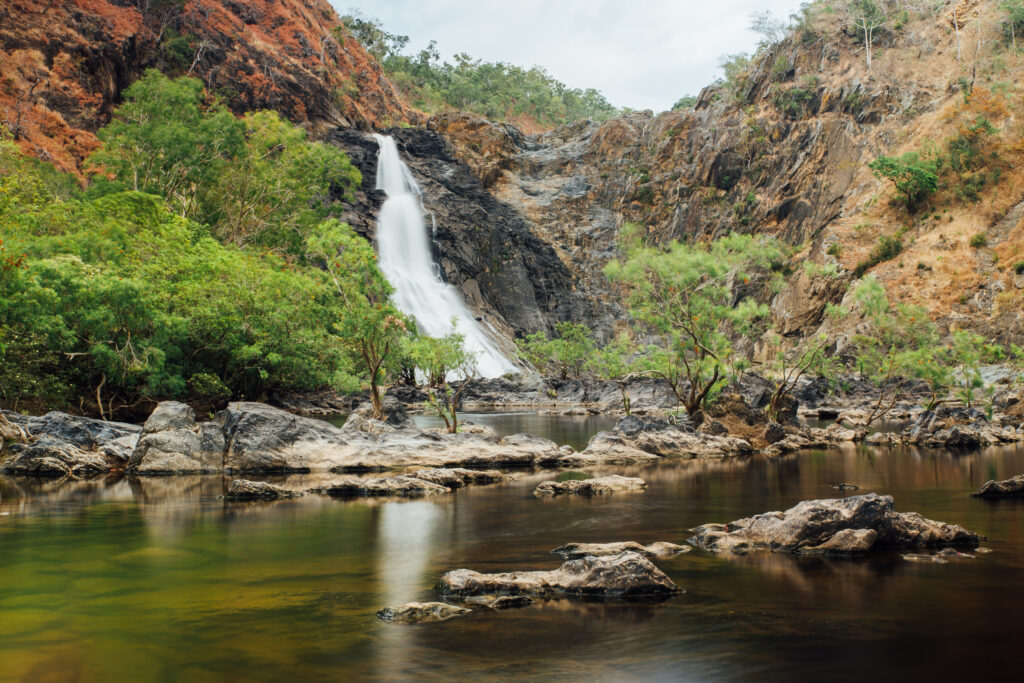 This is an easy walk with a high reward! Wujal Falls, also known as Bloomfield Falls, is a massive waterfall that is fed by streams from the mountains above the Daintree. Wujal Wujal in the local language means 'many falls'. The parking area is just south of Wujal Wujal, past the Art & Cultural Centre.
From the parking area, take the path to the right that is cemented, as the lower path is often blocked by flood debris. A short, flat walk with some uneven, rocky surfaces will take you to a stunning viewing area. A few years ago, a saltwater crocodile was commonly seen here basking on a rock in the middle of the river, but has likely moved downstream now. It can be a nice area to spot birds. There is a large Kurrajong tree near the end of the path and you will find Xanthostemon verticillata out on the rocks in front of you.
Distance: 200m from the park to the viewpoint (one way)
Time: 5 minutes (one way)
4. Moreton Telegraph Station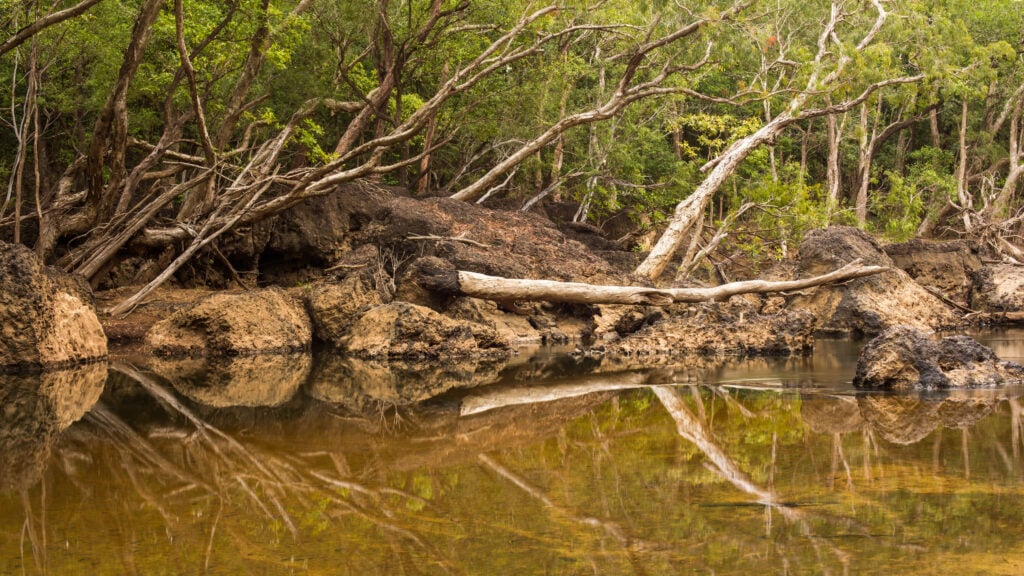 Moreton Telegraph Station was established in 1887 as one of six telegraph stations along the Telegraph Line from Laura to the top of Australia. Moreton, sitting above the Wenlock River, is now a wonderful campground and an ideal place to stay for people wanting to spot wildlife. The Wenlock River boasts the highest diversity of freshwater fish species. In the area you might be able to find the elusive Common Spotted Cuscus. There are also up to 121 bird species here, including the Palm Cockatoo and Magnificent Riflebird.
There is a short, flat, 800m track (one way) that follows the river down to the 'Barra Hole' or a longer, 3km (total) loop track that continues on from here towards cave creek and back via a swamp. The walking is easy and pleasant and is a brilliant place to go birding!
Distance: 800m (one way) to the Barra Hole OR 3km loop track to Barra Hole and Cave Creek
Time: 20 minutes (one way) or 1-1.5 hours (loop track)
5. Old Coen Track, Kutini-Payamu NP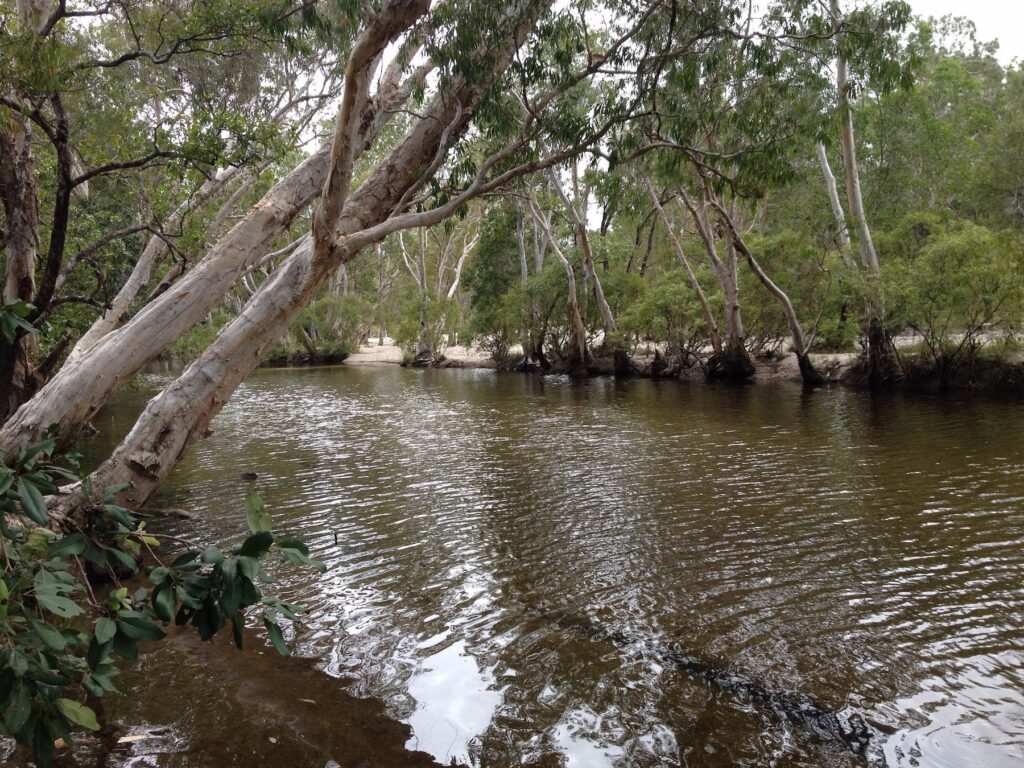 Our final recommendation is a stunning walking track in the wildlife mecca of Cape York, Kutini-Payamu National Park, otherwise known as 'Iron Range'. This is a 5km walk in one direction along an old access track between Portland Roads and Coen. You can either do it one way if you can arrange a pickup or drop off, or do it return. The track meanders through stunning rainforest, creeks and woodlands. The best time to do this walk would be early morning or late afternoon, to catch birds and other wildlife at their most active. The track is located near the three-ways junction between Portland Roads and Lockhart River.
Distance: 5km (one way)
Time: 2-3 hours (one way)