Let's embark on a journey that not only fills our souls with awe-inspiring nature, but also leaves a positive mark on the environment. Get ready to explore Cairns and its surrounding areas with these exciting recommendations for sustainable travel.
Get Directions
7AM- Breakfast at Paper Crane, Riley. 
Before you set sail for the day, head to Paper Crane where you can enjoy a full buffet breakfast. Bask in the morning sun on the deck whilst indulging in a variety of locally sourced appetising treats, including pastries, cereals, bacon and eggs, tropical fruits, and more.
Paper Crane (& other Crystalbrook restaurants) have introduced Climate Calories to their menu. This means you can quickly see which ingredients in your dish are locally sourced, are sustainably grown or caught, are made with native ingredients and which were delivered to the restaurant using eco friendly packaging.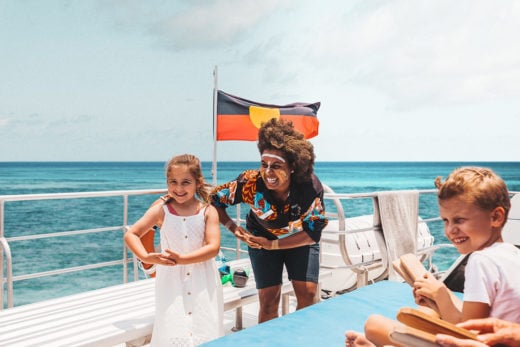 8.15AM- Great Barrier Reef
You've come to Cairns, we're going to go ahead and assume the Great Barrier Reef is on your list. If that's the case, Dreamtime's got you covered! Join Indigenous Cultural Guides on a day tour to two stunning outer Reef sites. The Dive & Snorkel tours hold the highest level of Advanced Eco Accreditation and Climate Action Business Certification, making them one of Australia's leading and most innovative ecotourism products. Remember to be a responsible diver and pack a reef-friendly and natural sunscreen. Tours depart from Reef Fleet terminal- a 15 minute walk from Crystalbrook Riley.
OR
Join Tusa Reef Tours for an informative and fun trip. They are dedicated to reducing its marine impact through low-impact diving practices, such as abstaining from reef anchoring, recycling waste materials, participating in the Containers for Change initiative, using plant-based wetsuits, and educating guests on responsible diving and long-term environmental preservation.
7PM- Ochre
A day in the water will surely w(h)et your appetite for dinner. Ochre is a Modern Australian restaurant that offers innovative menus showcasing local game, herbs, and seafood, and a sense of adventure. They lower their carbon footprint and support the community through various initiatives, including sourcing wild-harvested meat and native bush foods from local suppliers.
Only a mere 15 minute saunter away from your hotel, an ideal opportunity to stroll back at a leisurely pace with a satisfied tummy.
Optional Detour – Lets Go Buggin' Photography and Nature Tour
Rather keep your feet on land? Join Bridgette from Aussie Macro Photos on a un-bee-lievable adventure through Cairns Botanic Gardens! With her camera expertise and insider tips, you'll be snapping up mesmerising insect shots like a pro. Rather experience nocturnal critters?  Join the Lets Go Buggin' night tour that runs 7pm- 9pm. Each nightly stroll is unique, as nature provides a thrilling and unforeseeable adventure brimming with unexpected surprises.
The Cairns Botanic Gardens are just a 15 minute scooter/ bike ride away from the city. Or, grab a coffee and take a leisurely 45 minute stroll along the beautiful esplanade.
Learn More
Day 3
Experience a rainforest village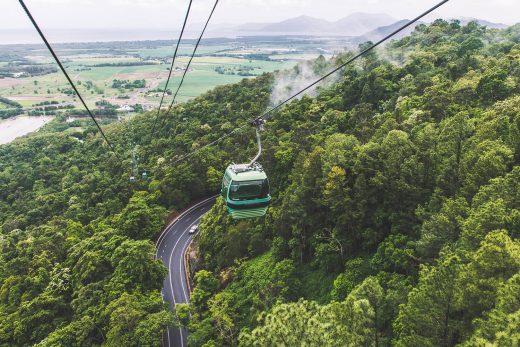 8AM- Tropic Wings Kuranda Tour.
Get your adventurer hat on and join Tropic Wings for a Kuranda adventure that won't leave a big carbon footprint behind.
Your guided tour includes a ride on their zero-emission electric bus, the Kuranda Scenic Railway and the Skyrail Rainforest Cableway, a sustainable tourism leader that holds EarthCheck's Master Certification. With elevated boardwalks and a low-impact design, everything has been thoughtfully crafted to minimise its impact on the rainforest and its inhabitants. Who says you can't have your adventure and save the planet too?
As you leave Cairns, take pride in the environmentally conscious choices you've made and for helping us deliver on our promise of greater good.
Our promise is to ourselves, to each other, to country, to protect one of the most important and biodiverse natural regions in the world for current and future generations.
Optional Detour – Cairns Canyoning- Crystal Cascades
Jumping into the refreshing waters of Crystal Cascades is like hitting the reset button on your body, mind, and soul – it's a natural, sparkling cleanse that beats any fancy spa treatment!
Want an adrenaline hit? Join Cairns Canyoning and conquer the cascades just like a true adventurer! You'll navigate through beautiful waterfalls and pools, using rappelling, abseiling, traversing, exploring, sliding, and swimming techniques.
The shuttle bus leaves from the Allbout Cairns shop, which is conveniently located just a 15-minute walk away from Crystalbrook Riley.
Learn More
More ways to be eco-conscious