Book in a mini-break and bask in the sunshine in Tropical North Queensland with 5 days in Cairns.
This adventure through Cairns, Port Douglas and the Atherton Tablelands will give you a holiday glow and leave you feeling grounded and recharged.
Get Directions
ARRIVAL
Arrival into Cairns
Cairns is labelled the gateway to the tropics for a reason; from the breathtaking Great Barrier Reef to the ancient Wet Tropics rainforest, this regional city is literally sandwiched between two World Heritage listed sites. Explore the best of Cairns, the Atherton Tablelands and Port Douglas with this 5 days in Cairns itinerary.
Responsible luxury at Crystalbrook Flynn
Pull your suitcase a few steps away from the Esplanade Boardwalk and into Crystalbrook Flynn and stay in luxury with a lighter footprint. After checking into your room – and checking out your room view – splash into the glass bottom pool and gaze out onto palm-flanked views of the Cairns Esplanade.
Afternoon Drinks at Oak & Vine
If you're still craving more views, head down the Esplanade to Oak & Vine, a chilled rooftop bar offering incredible views. Pull up a pew and order yourself a cocktail. Stay for sunset and watch the sun set the sky alight over the Cairns Esplanade and lagoon.
Dinner at the Raw Prawn
Keep your evening on the Esplanade and dine at the Raw Prawn and choose from a range of sumptuous seafood, steak and pasta dishes.
Dreamtime Dive & Snorkel
A trip to the Great Barrier Reef evokes a feeling of remarkableness as you discover the myriad of colours and marine life amongst the coral gardens that lay below. Add another level of wonder on Reef Magic's Dreamtime Dive & Snorkel, an incredible reef tour from Cairns weaving Indigenous story-telling into your experience.

Be welcomed by Indigenous rangers, traditional custodians of the Great barrier Reef, who'll share the Dreamtime creation story of the reef alongside marine biologists, on hand to help you understand the detail of the world's most biodiverse ecosystem.
Pre-dinner drinks
It's been a big day, but don't stress, your walk to pre-dinner drinks is about as short as it gets. Freshen up in your room and catch the last sunrays of the day at Boardwalk Social with a cocktail in hand.
Dinner at Ochre
When your stomach begins to rumble, head south along the Marina towards the large catamarans, letting your nose guide you to Ochre Restaurant.
Prepare for a serious unique pop of flavour as you taste real Australian native foods.
Salivate over carefully crafted native foraged ingredients turned into modern exquisite cuisine for a dining experience to remember.
Day 3
Atherton Tablelands
Lake Barrine and Lake Eacham
Head up the Gillies Highway and wind your way around 263 corners to arrive "up the hill" in the Atherton Tablelands. Your first stop is the beautiful Lake Barrine in the Crater Lakes National Park. Fuel up with a Devonshire Tea in the cafe with sweeping views of the lake and keep your eyes peeled for any local wildlife. Stretch your legs after the drive and take a short stroll through the rainforest to the twin bull kauri pines.
It doesn't get much more unique than swimming in a volcanic crater, so take a short drive to Lake Eacham and jump into the cool blue water. This fellow crater lake is 65m deep and is home to over 180 bird species.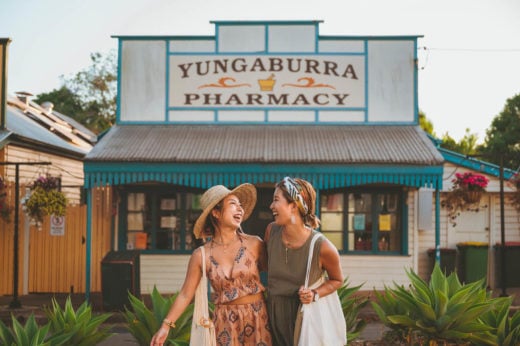 Yungaburra
Take a trip back in time with a visit to Yungaburra, a charming village that has barely changed since 1910. An array of quirky cafes make it a great place to pick up lunch. Take a trip into a whimsical fairytale at Mad Hatterz, an Alice in Wonderland-themed cafe with hats for everyone so that you can live out your Disney dreams.
Search for the elusive platypus at Peterson Creek and venture to the nearby Curtain Fig Tree, a ginormous stranger fig tree that's estimated to be over 500 years old.
The Waterfall Circuit
Dream of chasing waterfalls? Welcome to the waterfall circuit, a 15km scenic stretch packing in three stunning waterfalls. Millaa Millaa Falls is a scenic drop that is so stunning, it would be rude not to jump in for a swim. Marvel at views of Zillie Falls from the top, then walk through the rainforest to Ellinjaa Falls and cool off under the flow from lava columns.
Millaa Millaa Lookout
Drive through the township of Millaa Millaa and along East Evelyn Rd to Millaa Millaa Lookout and gaze at a vista of rolling hills.
 Stay at The Canopy Treehouses
Escape to the heart of the rainforest at The Canopy Treehouses, an eco-resort offering an authentic wildlife experience like no other.
Doubling as a wildlife sanctuary, stay in one of six private treehouses and enjoy the company of resident Cassowaries, rare Lumholtz Tree Kangaroos and endangered Green Possums.
Take a short venture to spot the shy and intriguing platypus which thrive in the river on site and relax in your treehouse as possums and pademelon wallabies visit your balcony each night.
Day 4
Palmerston to Port Douglas
Optional Detour – Jimmy Rum's Mixing Lounge
Not yet ready to retire? In the heart of Port Douglas yet somehow a world away, you'll find Jimmy Rum's. It's the kind of establishment you'd expect to find down a funky laneway in the middle of an urban centre – a dark and mysterious prohibition style bar with an impressive selection of speciality drinks.
Minimising wastage is a huge part of the lounge's philosophy, with bartenders encouraged to be creative with ingredients that would otherwise be thrown away.
Day 5
Indigenous connection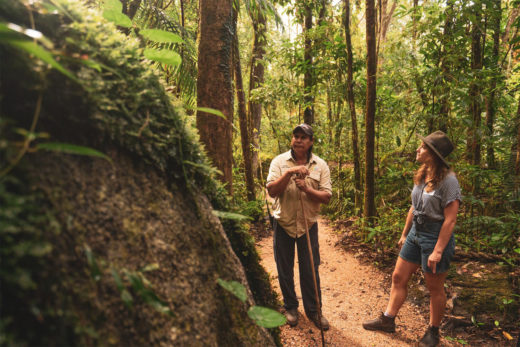 Mossman Gorge Ngadiku Dreamtime Walk
Let the knowledge of the local Kuku Yalanji Aboriginal people astound you on a guided walk through the ancient rainforest their people have called home for tens of thousands of years at Mossman Gorge.
This spine-tingling experience begins with a smoking ceremony that cleanses and wards off bad spirits as you are welcomed to their country. Sample bush tucker, discover the uses of bush medicines and learn how to make soap and ochre paint.
Continue learning about indigenous culture with Down Under Tours. Experience an Aboriginal Art Class with resident artist Binna at Janbal Art Gallery, delving into KuKu Yalanji culture through painting and storytelling. Follow this with a guided walk through the ancient rainforests of Mossman Gorge.
Lunch at Thala Beach Nature Reserve
Dine in the canopy at Osprey's Restaurant after a revigorating spa treatment, embracing the lush surrounds and breathtaking views over the Coral Sea.
Expect to hear the beautiful songbirds before you see them, a nest perched in a close by treetop invites many to share their musical sounds.
Optional Detour – Beachfront degustation at Palm Cove
Swap the treetop dining of Thala Beach Nature Reserve for a short trip to iconic Palm Cove. Considered the ultimate beachfront restaurant in Tropical North Queensland, Nu Nu is a favourite, and a top culinary experience in Australia.
Let the ocean breeze, tropical vibes and mouthwatering flavours take over for your final hours in paradise before heading home. If you have time release any final tension with a signature massage at Alamanda Day Spa before lounging by the infinity pool overlooking the ocean through the swaying palm trees.
Explore more
A diverse and naturally beautiful landscape, Tropical North Queensland is a destination to return to.