Some may scoff if you say you're going to spend three days in Cape York and the Torres Strait Islands, but if that's all the time you have, seize the opportunity – it's much better to see it on a whirlwind trip than not at all!
For the sake of this itinerary, we'll bypass Cooktown – not because it's not worth the visit, but because you can easily tack on a few days here at the start or end of your trip as you please. To discover more about Cooktown and Cape York, check out our regional hub here.
If you're even more limited on time, consider Air Tour Australia's Cape York Day Tour, AKA the world's longest scenic flight (said with an air of endearment, this is no 14hr cattle class drudgery).
Get Directions
Day 1
Day 1 - Bamaga to Panjinka (The Tip)
Day 2
Cape York Waterfall Day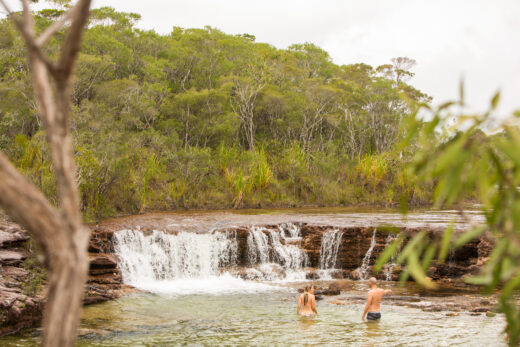 Adventure time – round two
Picture this: it's the middle of winter, you're basking in the sun, crystal-clear water lapping your sides, the temperature hovers around 28-30ºC, and a waterfall provides a steady rhythm in the background. Sounds made up, right? In this part of the world, that's just a typical winter day.
Fruit Bat Falls is located around 1.5hrs south of Bamaga and is another day-tour offered by Cape York Peninsula Lodge. On this tour, stop at Umagico and Injinoo townships, and hear stories of the Saibai migration at Mutee Head, before crossing the iconic Jardine River Ferry.
Your 4WD adventure includes another of Cape York's most-famed sections, the Old Telegraph Track, before popping out to wash off the dust and enjoy a picnic lunch at the mind-blowingly beautiful Fruit Bat Falls.
On the journey back, learn more about the plants and herbs commonly used in traditional medicine, food, shelter and customs from an Indigenous guide.
Dinner
At a latitude of -10º, an ice-cold drink is a must no matter the season, so tonight you'll be hitting up Bamaga Tavern for a good old-fashioned pub feed. You have to tick Australia's most northerly mainland pub off the list, after all! Are you keeping track of how many "Australia's most northern" places you've visited yet?
While you're here, be sure to check out the colourful mural painted by the local secondary school students depicting the Bamaga family canoes used historically by Saibai Islanders.
Torres Strait Islands
Day 3 - Torres Strait Islands
It's an early start, your Peddell's ferry for Thursday Island (Waibene) leaves from Seisia at 8am.
While Thursday Island is the Torres Strait's largest population centre with just shy of 3,000 people, a little bit of forward planning does help out as you can't just book an Uber at a whim. However, you will find local taxi services as well as a range of day tours – find a list of them all on Torres Shire Council's website.
You can spend your entire day on Thursday Island taking in the sights – Green Hill Fort, Gab Titui Cultural Centre, Australia's actual top pub and more – or island hop to Horn Island (Ngarupai) to visit the Torres Strait Heritage museum and undertake a guided WWII history tour, which was a critical army base in the war.
The Torres Strait boasts over 200 islands so a scenic helicopter flight affords you the luxury to see a little more of them from the air. These depart from either Thursday or Horn Islands.
For more inspiration on how to spend your day, jump across to our Torres Strait in a Day blog.
If you're in a rush to get home, QantasLink has a 5:20pm flight from Horn Island to Cairns several days a week. Otherwise, you can check QantasLink and Skytrans' schedules from Horn Island, or Skytrans and Rex Airline's from Bamaga. A regular water taxi service runs between Horn Island and Thursday Island with McDonald Charter Boats or Rebel Tours, and Peddell's have afternoon services back to Seisia.
Optional Detour – Glamping experience at Roko Island
The pearling industry makes up an important part of the Torres Strait Island's histories – pearl shell was found here in the 1860s and the area was soon supplying pearls all over the world. Eventually luggers gave way to cultivated pearls, of which Roko Island housed one of the Strait's pearl farms.
Now, the floating log and barrel jetty acts as your pathway to heaven with private glamping tents offered in this secluded paradise. You can organise private tours and fishing charters from here, so you can opt to head straight here from Seisia (only 20mins by boat) and undertake your Torres Strait sightseeing directly from Roko.
Note: Due to the seasonal nature and remoteness of this region, it's best to check all flights, tours and transport ahead of time. These are subject to change or can fill up quickly ahead of time.
Find more in Cape York & Torres Strait