From speciality cheeses to coffee liqueur, Tim Richards enjoys a day of chasing culinary delights on the Atherton Tablelands.
This article was produced in partnership with News Corp Australia.
Standing high on a slope in the Atherton Tablelands, I'm captivated by the view. From a neatly tended garden at a local farm, I'm gazing down upon a series of ridges. Softened by greenery and the misty early morning air, they resemble a green tablecloth flung over the landscape, with curves and folds fading into the distance.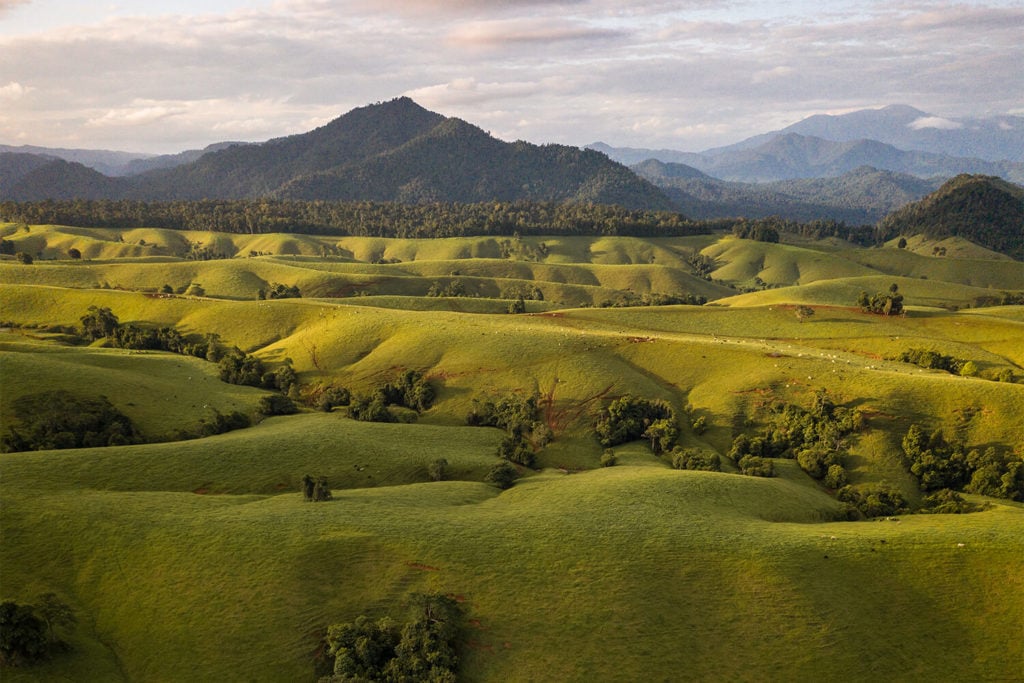 I wish – as I often do on my travels – that my wife Narrelle could be there to share the moment. I see a lot of wonderful things as a freelance travel writer, travelling from place to place on assignment, but I don't often get to do so in the company of those I love.
And this is a part of the world worth sharing. To the west of Cairns rise mountain ranges, and atop these lies the Atherton Tablelands – a spread of agricultural land dotted with attractive towns. With cooler temperatures than on the Pacific coast, the region's farms yield a variety of produce. Once tobacco was king, but in its place now are fields of bananas, avocados, strawberries, mangoes, citrus fruits and nuts, along with other specialist crops such as coffee.
It's a magical place, green and pleasant and a seeming cornucopia of good food; and I don't even have to drive to enjoy it. I'm exploring the region via Brett's Outback Tasting Adventures, a food tour which runs regularly from Cairns or Port Douglas into the Tablelands. Over the course of a day, our guide and driver Brett is piloting us to a series of food stops at great local producers.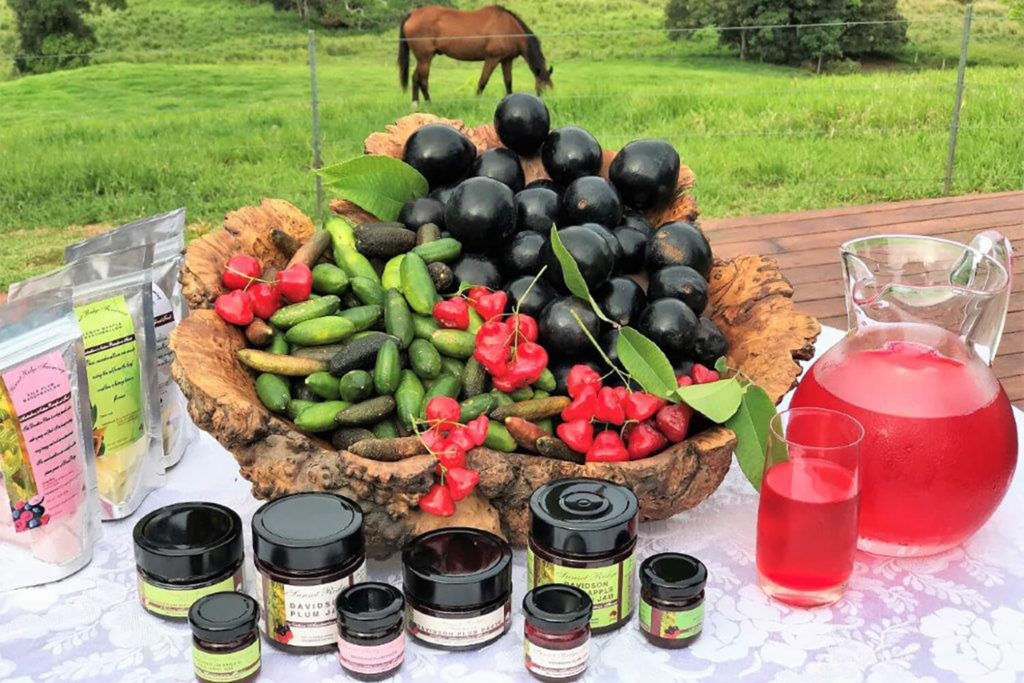 Just getting here was a highlight in itself. As we travelled from Cairns up the twisting Gillies Highway through rainforest, Brett delivered a running commentary about sugar cane, floods, crocodiles, and other elements that distinguish this part of Queensland.
The first stop of the tour – where I'm admiring the wonderful view – is the perfect starter for a day of foodie pleasure. We're at Sunset Ridge Farm, an idyllic property set on sloping land outside the tiny town of Yungaburra.
Here, our group sits within a gazebo for a breakfast of local pork chipolata sausages and corn fritters with Davidson plum relish, and a cup of yoghurt served with Davidson plum pulp, chia seed and finger limes. The Davidson plum – also known by local traditional owners as the ooray plum – is a native fruit with a deep purple flesh which is visually entrancing. It's the first hint that this tour will involve Australian native ingredients as well as more familiar produce, adding a note of discovery.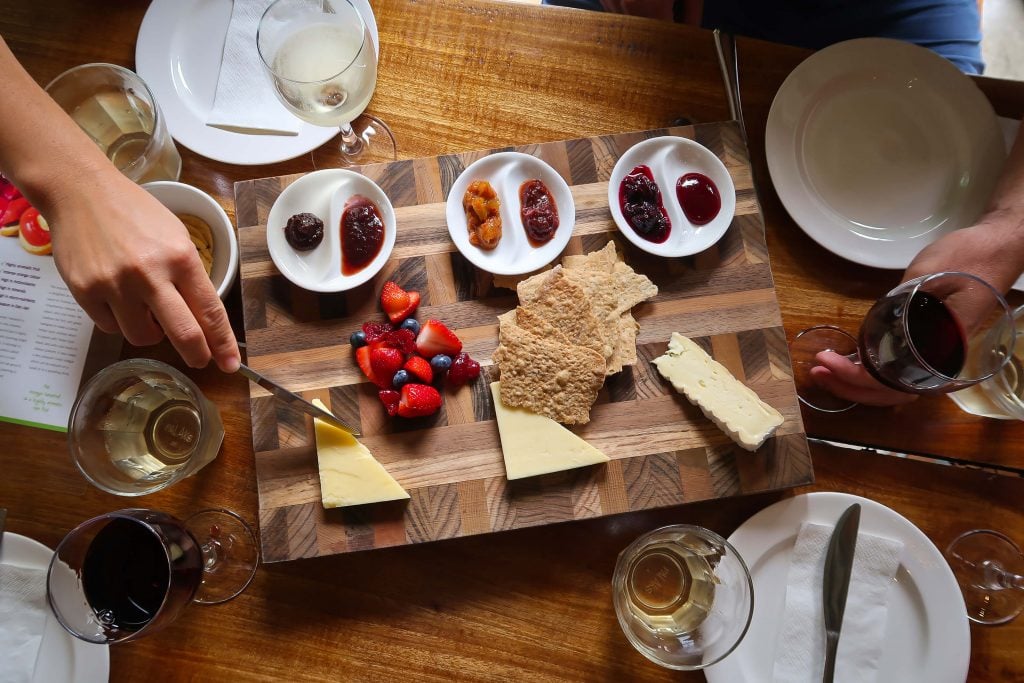 That note is heightened at our second stop, Rainforest Bounty, outside nearby Malanda. Co-owner Geraldine McGuire, a descendant of the John Atherton for whom the region is named, has applied her expertise as an environmental scientist to the production of native fruits. Starting with the corner of an established property, she planted a range of native trees bearing delights such as lemon aspen, Cape York lilly pillies and Boonjie tamarind.
We can see the results in front of us, as we sit at a long timber table on an open-sided porch with a leafy view. A spread of cheeses is matched with lilly pilly chutney, Davidson plum sauce, and green mango and tamarind chutney. I'm particularly impressed with the Jeowbong, a Laotian-style chilli paste which is blended with Davidson plum and lilly pilly berries. It's an eye-opener to taste so many local fruits I know little about, when Australia's Indigenous people have eaten them for millennia
Diversity in food and drink is the hallmark of the day. There's even native fauna on display at the Australian Platypus Park at Tarzali Lakes, via a walking track which takes us to a waterway where the distinctive creature can be sighted. That's one of the things I like most about the Tablelands – the way it blends the beauty of nature with quality local produce, creating a mesmerising mix of pleasures.
Our platypus-spotting is followed by a visit to Gallo Dairyland, a working dairy farm which produces high-quality cheeses and chocolates. We sample several types of each here, and I decide I'm most partial to the Rainforest cheese, a variety blended with chives and onion.
Next stop is The Humpy at Tolga, to the north.. Once a small roadside stall, it's grown over the decades into a substantial shop selling an array of local produce, specialising in nuts. I love the visual appeal of this place, with an explosion of colour from the mangoes, limes, oranges and other fruit arranged along its shelves. A highlight in our tastings here is the sweet chilli and lime peanuts, which I could happily snack on all day.
By now it's late enough for an alcoholic beverage at Mt Uncle Distillery at Walkamin, beneath the mountain of that name. I'm starting to see that there's more to the Tablelands than fruit, though the distillery's products do use local ingredients in their making. At a long timber bar, we're taken through a tasting of its vodka, gin, whisky and rum.
They're all interesting: the vodka filtered through volcanic rock, the gins blended with Australian native botanicals, and the rum sharp and sweet. But the drink I love is a Bloody Mary laced with the Bushfire Smoked Gin.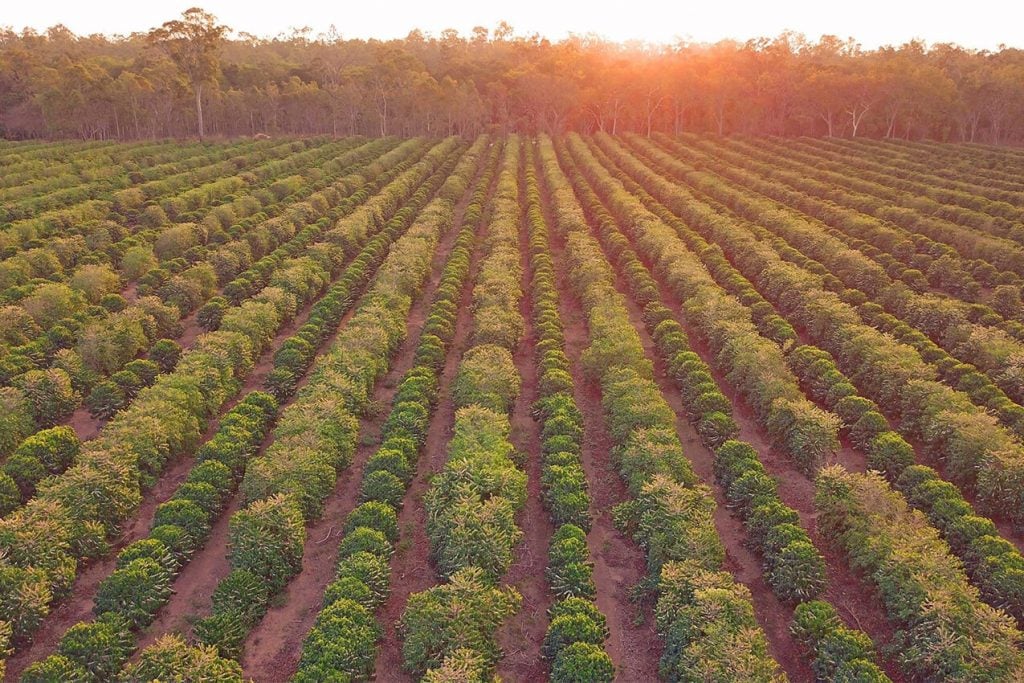 The final course? Coffee, something I'm surprised to learn is produced in the area. But the family which owns Jaques Coffee Plantation in Mareeba brought their coffee expertise as migrants from East Africa, and found the Tablelands climate suited the bean.
As our group sits within the plantation's cafe to sample coffee and coffee-based liqueurs, we reflect on all the excellent food and drink we've enjoyed today.
I still wish that Narrelle could be with me with me to share the moment. But that's what travel writing is like – researching great experiences, usually by oneself, then moving on.
However, I'll leave with a new knowledge and appreciation of native ingredients – and a sense that Australia is finally waking up to, and appreciating, its own unique elements. With the COVID-19 pandemic having temporarily closed off the wider world to travel, that seems the perfect lesson to learn right now.