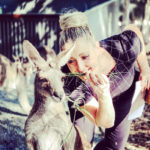 Get ready to immerse yourself in a world of fashion, food, music, and dance in the paradise of Tropical North Queensland? From electrifying dance championships to vibrant cultural festivals, our region offers a feast for the senses.
Put on your dancing shoes
Dance through a warm, tropical winter and experience the glitz and glamour of the North Queensland Dancesport Championships from 7 – 8 July. Delivering an evening of prestige, spectacular costumes and music to move to – there's even an amateur category for those wanting to take to the floor themselves!
Those who prefer to combine camping, culture and dance can drive north toward Cape York for the Laura Quinkin Dance Festival from 7 – 9 July. Not to be missed, the festival features three days of music, dance, singing and cultural performances by local Aboriginal and Torres Strait Islanders.
Take a seat at the Cairns Performing Arts Centre for some international dance. First to Ukraine, to be transported into another world by the Grand Kyiv Ballet of Ukraine to enjoy a double bill featuring Forest Song and Don Quixote 8 – 9 June. Stay another few weeks in the tropics before experiencing Ireland, marvelling at the incredible technique of Irish dance direct from Dublin, where the Rhythms of Ireland performance on 27 July will indeed have your toes tapping.
CALLING ALL FASHIONISTAS
Fashionistas can head to The Tanks Art Centre from 20 – 25 June and indulge in their passion for fashion over five days of dedicated catwalk. The range of runway includes a Neo Designer Showcase of up-and-coming designers, the best of emerging labels, and a premium podium showcase featuring your favourite established designers. Mixing it up, the week will also have you dancing to the launch of a new album by Aussie punk rockers Frenzal Rhomb.
The Cairns Indigenous Art Fair (CIAF) 13 – 16 July will again have fashionistas flocking to two innovative catwalk shows for the fashion performance "Woven", curated by fashion and textile designer Lynelle Flinders. Across the two shows, Indigenous designers from around Australia will showcase their creativity through indigenous narratives expressed in their design collections, materials and applied techniques.
Also mixing fashion and music, CIAF will complete a week of Indigenous Art Exhibitions, an art fair and fashion with a music festival in Munro Martin Park on 15 July, celebrating culture in the tropics under the stars.
From fun festivals to fantastic food
Fans of underground arts, music and culture will not want to miss the 3rd annual NYX Festival from 15 – 19 June, held on a remote, 30,000-acre property in Ravenshoe on the Tablelands. Imagine picturesque rivers, paperbarks and eucalyptus forests to soothe the soul, backed up by non-stop visual art installations by iconic international festival performers REM Visuals and Australian talent Artscape. NYX is the place to be for the winter solstice, featuring a staggering 70-plus lineup of Australian acts and headlined by internationals Ritmo and Tom Cosm.
Those seeking something a little more mainstream can rock out at the Tanks Art Centre to Australian legends Regurgitator and Custard on 3 June and go for the hat-trick on 15, 16 & 17 June with Thelma Plum, Dan Sultan and Katie Noonan, respectively, before popping back to the tropics for The Waifs 8 – 9 July or a dose of the endless summer soundtrack of James Reyne on 12 August.
And if all this fashion, dance, art, music and culture has worked up your appetite, fear not. Foodies will rejoice in the annual Taste Port Douglas Food & Drink Festival from 10 – 13 August, presented by the Sheraton Grand Mirage Resort. One of Australia's premier food events, Taste Port Douglas, celebrates the absolute best of Tropical North Queensland's produce and beverage and the culinary genius of world-renowned, local and Australian Chefs through cooking demonstrations, beverage tastings and unforgettable dining experiences.