Explore Tropical North Queensland's ancient natural and cultural landscapes immersing in land and sea country on the ultimate Indigenous trail. Weaving your way from Cairns, Cooktown and beyond, discover the deep cultural connection to country Aboriginal and Torres Strait Islander Traditional Custodians share.
Get Directions
DAY ONE
Cairns & Great Barrier Reef
Immerse in sea country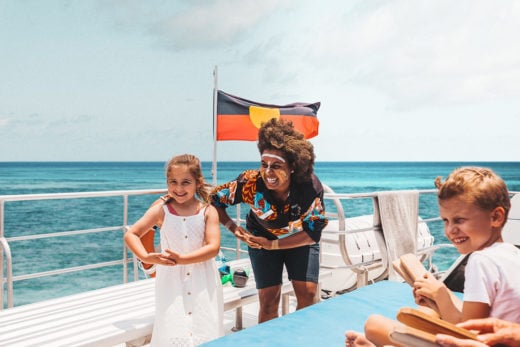 Start your holiday by visiting one of our most famous local icons – Uirie (The Great Barrier Reef) where alongside the crew onboard Dreamtime Dive and Snorkel, you'll hear creation and dreaming stories of land and sea country as told by Indigenous Sea Rangers.
Learn about lore, dance and song, and when it's time to dive in, explore two different snorkelling and dive sites with flourishing coral gardens buzzing with abundant marine life. All gear is provided along with morning and afternoon tea plus a succulent seafood, cold meats and salad lunch.
EAT
You'll have worked up an appetite snorkelling, so give your taste buds a treat at Ochre Restaurant, one of Tropical North Queensland's premier dining experiences. Native ingredients are the hero of a seasonally foraged menu peppered with exquisite local and Asian fusion flavours designed to surprise and delight.
STAY
Just a short stroll from Oche Restaurant and located on the Cairns Marlin Marina where Dreamtime Dive and Snorkel departs, Shangri-La The Marina, Cairns offers friendly Tropical North Queensland hospitality, luxurious accommodation and amenities with stunning marina and waterfront views.
Leaving the cane fields and coconut groves of Cairns behind, take the fully sealed road en route to Laura. After climbing the scenic rainforest-cloaked rise to Kuranda, country of the Djabugay people, stop at Rainforestation Nature Park for the Pamagirri Aboriginal Experience. Continue to Kuranda Village and pick up juice or smoothie before checking out the work of Indigenous artists at the Kuranda Tourist Information Centre.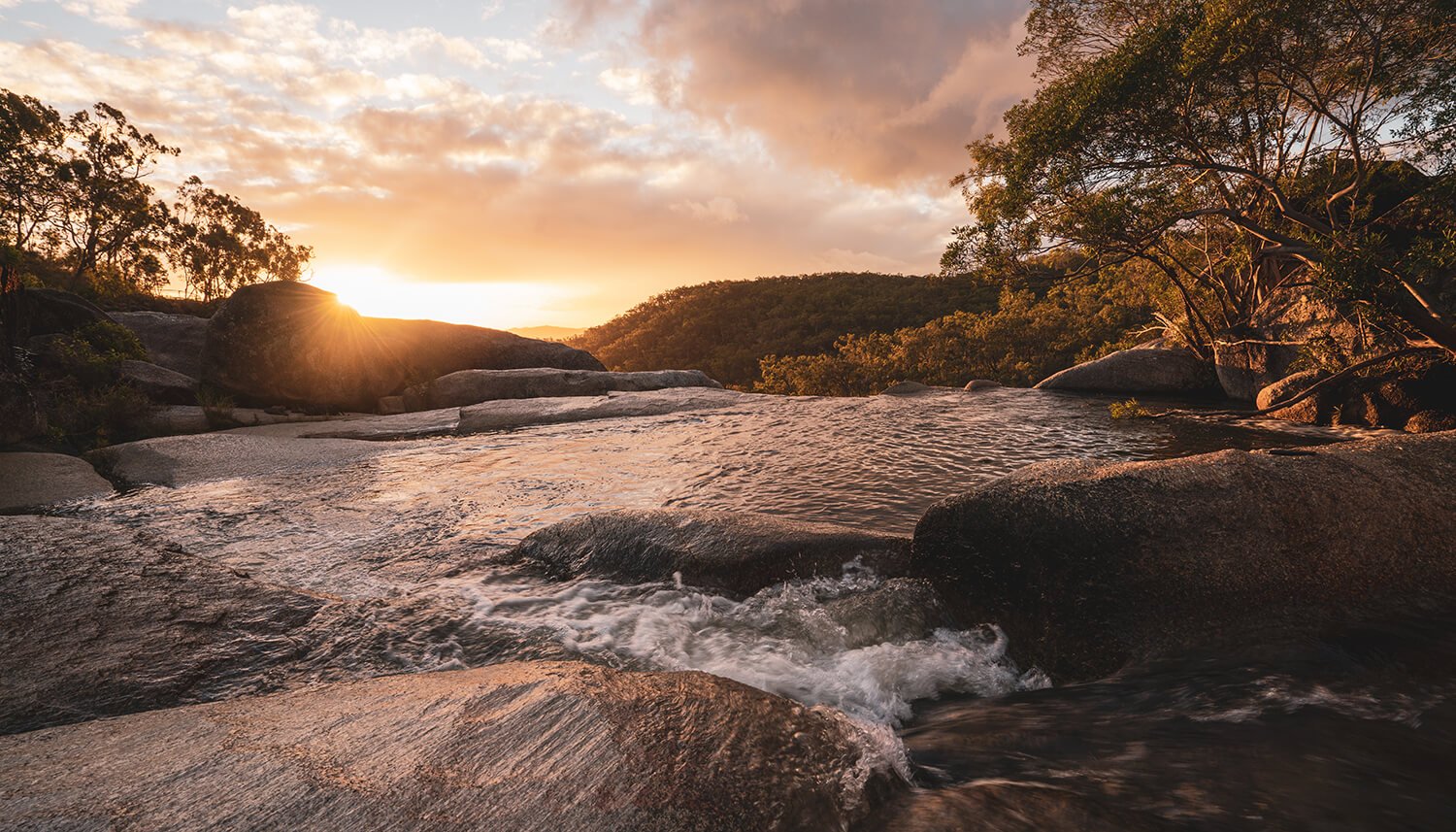 Continuing towards Mareeba, take Davies Creek Road and follow the signs to Bunda Bibandji Rock Art walking track, where an easy 1.9km return hike leads to the largest rock art gallery in the Cairns Hinterland, with over 3500 years of artworks created by the Buluwandji people.
Take a dip in the crystal clear waters of Davies Creek Falls before joining the Mulligan Highway to wind through the tropical savannah lands of lower Cape York. Stop at Bob's Lookout to marvel at stunning vistas before continuing to the Lakeland Roadhouse for a bite to eat. From here continue to Laura to stay overnight.
STAY
Ang-Gnarra Aboriginal Corporation Caravan Park, or stay and explore Lakeland with a choice of a caravan park and hotel accommodation available.
Day 3
Laura
Indigenous Rock Art
Quinkan Country is regarded by UNESCO as one of the world's most significant collections of Indigenous rock art in the world. From Laura, visit the Quinkan Cultural Centre & Tours to browse local Indigenous art and artefacts and to book a rock art gallery tour. For a small fee, take a self-guided walk to Split Rock Galleries, Flying Fox and Tall Spirits Art Sites, but to hear of their deep cultural significance to the Ang-Gnarra people, book a guided tour with a Traditional Custodian.
Jarramali Rock Art Tours
For the ultimate on country experience, join Kuku Yalanji Traditional Custodian Johnny Murison and travel deep into the spectacular sandstone country of the Laura Basin, where Camp Jarramali sits atop a dramatic escarpment overlooking the Quinkan Reserve.
Embark on a guided tour of Magnificent Gallery where over 450 stunning artworks layered over 20,000 years document life, socio-cultural hierarchy, spiritual totems, lore and food sources. Learn about traditional bush tucker and medicine, swim in crystal clear forest pools and share meals around the campfire where insightful stories of heritage, hardship and healing are shared.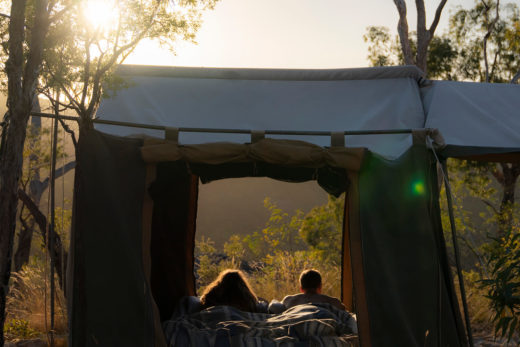 STAY
Jarramali Rock Art Tours. Private tents are shrouded in bushland surrounding a central shelter, campfire and shared toilet and bathroom. Tag along in your own 4WD or join the transfer from Lakeland or Laura to Jarramali, which sits approximately 1.5 hours west of Laura.
Gangaarr (Cooktown), country of the Guugu Yimithirr people, is a charming and culturally vibrant town overlooking the Waalumbaal Birri (Endeavour) River. Start with a visit to Kuku Bulkaway Indigenous Art Gallery then make your way to the foreshore to peruse The Milbi Wall – a representation of reconciliation between the Guugu Yimithirr people and early non-Indigenous settlers.
After lunch, walk up to Grassy Hill Lookout on a steep, but rewarding walk with awe-inspiring views. A visit to the Bush Tucker Gardens at Cooktown Botanic Gardens details the traditional use of plants, while the James Cook Museum shares Cooktown's rich history through an Indigenous narrative.
CULTURE CONNECT
As a guest of the Balnggarrawarra people on a Culture Connect Tour, join Indigenous rangers to visit Normanby Station and learn the importance of caring for country and traditional conservation practices in place today. Guided interpretive walks offer insight into cultural heritage and history, while rock art shares the deep synergy and connection Balnggarrawarra people have with their homelands spanning thousands of years. A full-day tour departing from Cooktown with other tours available also.
STAY
A range of motel, hotel and caravan park accommodation are available in Cooktown. If you're looking for a budget, family friendly option, head to Cooktown Caravan Park or Cooktown Holiday Park, which both offer campsites, powered and unpowered sites and cabins, alongside a pool and kitchen facilities. For something more luxurious, the Sovereign Resort offers resort rooms dotted around a large lagoon pool.
Optional Detour – Cape York & Torres Strait Islands
If you have time, head north from Cooktown to discover the untamed beauty of the Cape York Peninsula and the Torres Strait Islands where Aboriginal and Torres Strait Island cultures merge.
Day 5
Cooktown to Daintree & Cape Tribulation
An hour south of Cooktown, Wujal Wujal is located amidst the rainforest-clad groves and whispering waterfalls in the Wet Tropics World Heritage Area. It is the traditional country of the Kuku Yalanji, Kuku Nyungul and Jalunji 'rainforest people'. A visit to Wujal Wujal (Bloomfield Falls) is best when guided by Traditional Custodians, so join the Walker Family Tour to learn why some waterfalls are reserved for women, uses of plants for food and medicine and stir the spirit with storytelling that delves deep into the cultural significance of this special place.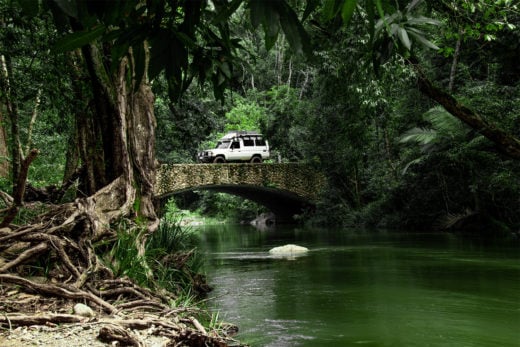 TIP
Allow plenty of time to stop and breathe in the magic where two UNESCO World Heritage Sites meet – the Wet Tropics Rainforest and the Great Barrier Reef before reaching Cape Tribulation and the Daintree.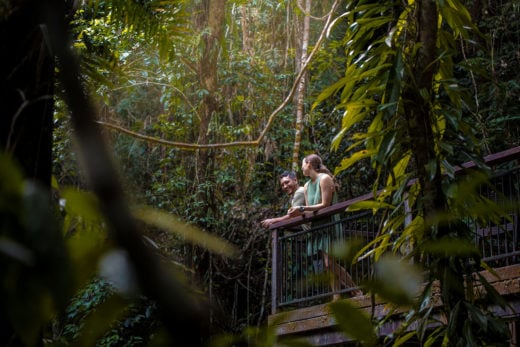 STAY
Daintree Ecolodge is immersed in the ancient Daintree Rainforest offering luxurious accommodation and a seasonal menu that features native ingredients in both cuisine and indulgent treatments at the Daintree Wellness Spa. If you'd prefer to stay in Cape Tribulation, a selection of campground accommodations, cabins and boutique accommodation is available.
Day 6
Daintree to Port Douglas
Make your way south to Mossman to join Walkabout Cultural Adventures where Kuku Yalanji guides will welcome you to share their country spanning the Daintree River, Mossman and Cooya Beach. Learn how to throw a spear before hunting for mud crabs and shellfish along the mudflats and mangroves on low tide with the end goal of foraging a shared seafood lunch.
Take an immersive walk into the world's oldest tropical rainforest at the Mossman River beside guides sharing some of its secrets while pointing out wildlife, bush tucker and the medicinal plants that have been used traditionally by Kuku Yalanji people for thousands of years. Full-day and half-day tours are available with pick-ups from Port Douglas, Mossman and Daintree Village. An optional tour of Cape Tribulation is also on offer.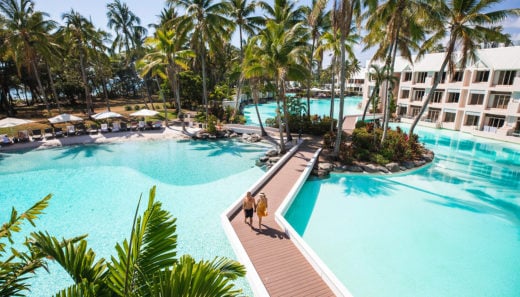 STAY
Head south to the balmy resort town of Port Douglas for a night in paradise. Make like a celebrity and head to the Sheraton Grand Mirage, a five star resort flanked with tropical gardens and lagoon pools just a stone's throw away from Four Mile Beach. Or for a relaxing stay on a budget, opt for Oaks Port Douglas, and relax with poolside cocktails at sunset.
Day 7
Mossman Gorge to Cairns
Return to Mossman Gorge to be guided deep into a sacred part of the Daintree Rainforest on the Ngadiku Dreamtime Walk. After a cultural smoking ceremony to welcome you to country, male or female guides will share both men and women's business respectively as you weave your way through towering ancient trees. Learn about the plants, wildlife and wonders of this incredible natural amphitheatre. Share bush damper tea while listening to the sounds of the rainforest, home to over 3000 plants, 12,000 insects and as many as 30% of Australia's birds and mammals.
Before leaving Mossman, en route to Cairns, visit Janbal Gallery where "Binna" (Brian Swindley), a renowned local artist shares his Kuku Yalanji culture through his inspirational artworks. You can join a class to paint your own canvas or boomerang on weekdays.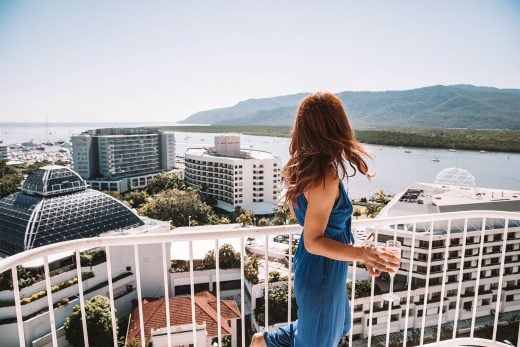 STAY
Choose from a range of accommodation options in Cairns spanning from budget to luxury. For a city centre location with an eco edge, sleep on the Esplanade at Crystalbrook Flynn and finish off your trip with an opulent massage at Eleme Spa. Or extend your trip with a few days of family fun at Ingenia Cairns Coconut, a kids paradise with a waterpark, mini golf and even a milk bar!
Optional Detour – Savannah Way
With still so much of Tropical North Queensland's Indigenous culture to explore, extend your trip and head west from Cairns on The Savannah Way
Visit Talaroo Hot Springs, a place of cultural, ecological and geological significance to the Ewamian people. Take a tour of the hot springs with traditional custodians to learn about their fascinating thermal, healing and spiritual powers and afterwards, try them for yourself with a dip in the shared or private pools. A caravan park, cafe and yarning circle welcomes visitors to stay awhile to share stories and learn about Ewamian heritage and culture. Talaroo Hot Springs
Continue on the Savannah Way to Moungibi (Burketown) in the Gulf of Carpentaria, country of the Gangalidda and Garawa people. This remote settlement is often cut off in the wet season by the ebb and flow of the tidal wetlands that surround it, leading its namesake, which translates to "island". Australia's largest salt pans are a spectacle to be seen. Join Yagurli Tours from the ground, air or water to discover the significance of this place. Yagurli Tours
More Indigenous Experiences
Immerse yourself in the world's oldest surviving culture with Indigenous experiences.