Where
Cairns to Millaa Millaa
Take those electric feels all the way from Cairns to Millaa Millaa on this electric vehicle road trip through the Atherton Tablelands.
Get Directions
From Cairns city, veer north towards your first destination – Skyrail Rainforest Cableway. Plug in your EV to charge at one of the two type two socket chargers then head into the terminal to grab your ticket for one the region's most iconic attractions. Soar over the lush green rainforest canopy in a Skyrail gondola and marvel at beautiful views of Barron Gorge, Barron Falls and Cairns city. Hop off to explore the rainforest at Red Peak and Barron Falls stations.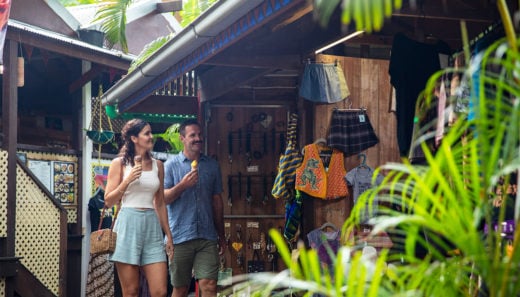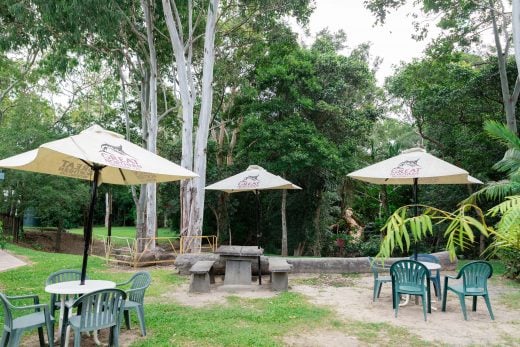 Hop in your car and head "up the hill" to the Atherton Tablelands. Turn off the main highway to Speewah, a small village flanked on the western border of Barron Gorge National Park.
STAY 
Check into the Speewah Country Tavern and look for native wildlife surrounding your cabin. Relax with dinner in the on-site bar and restaurant.
CHARGE
Speewah Country Tavern has one wall plug to charge your car.
Skip the morning shower and head straight to Emerald Creek Falls for Mother Nature's invigorating bath. If your waterfall dip hasn't cooled you down enough, the nearby Emerald Creek Ice-Creamery serves up a range of flavours. After all, it's never too early for ice cream right?
CHARGE
Head into Mareeba and pop into Coffee Works, which has two type two chargers. Sip on some locally made coffee, browse handmade chocolate or treat yourself to something tasty from the cafe menu while your car charges.
Continue heading inland for 15 minutes until you arrive at Granite Gorge Nature Park – a must visit for wildlife lovers. Grab some wallaby food from reception and go and say g'day to the colony of rock wallabies.
STAY
Spend the night at Granite Gorge Nature Park and choose from cabins, safari tents or bush camping.
Day 3
Mareeba to Yungaburra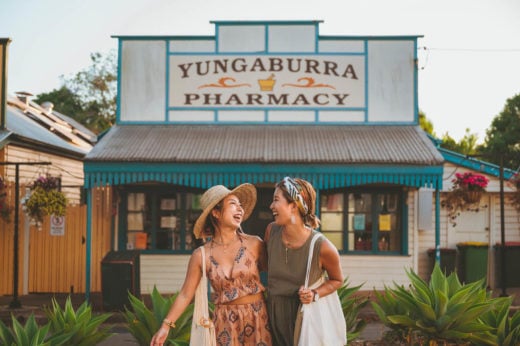 Set your sat-nav south for the quaint country town of Yungaburra and head to one of the quirky cafes for brekkie. There's an Exploren Charging Station next to the Yungaburra Chapel. If you need longer to charge, browse some of the local boutiques or head to Peterson Creek so search for the elusive platypus.
Marvel at the majestic Curtain Fig Tree, located just 5 minutes from Yungaburra, which is estimated to be around 500 years old. Wander along the rainforest boardwalk to see this tree from all angles and keep your eyes peeled for native wildlife.
Ever fancied swimming in a volcanic lake? You're in luck – Lake Eacham is just a ten minute drive away. Plunge into this cool blue volcanic crater lake or walk the 3km circuit around the lake to spot local wildlife.
Once you've worked up an appetite make way to Lake Barrine and tuck into their legendary Devonshire Tea on their verandah overlooking the lake.
STAY & CHARGE
Recharge both yourself and your vehicle at Yungaburra Park Motel, which has one Type 2 plug onsite.
Alternatively, the Curtain Fig Motel has queen and family rooms and is just across the road from the Exploren Charging Station.
Day 4
Yungaburra to Atherton
Start your day by heading back towards Atherton, making a pit stop at Shaylee Strawberries for a spot of brekky. If you like ice cream in the am, their strawberry gelato is a must. Pick your own punnet to enjoy on the rest of your road trip if the strawberries are in season.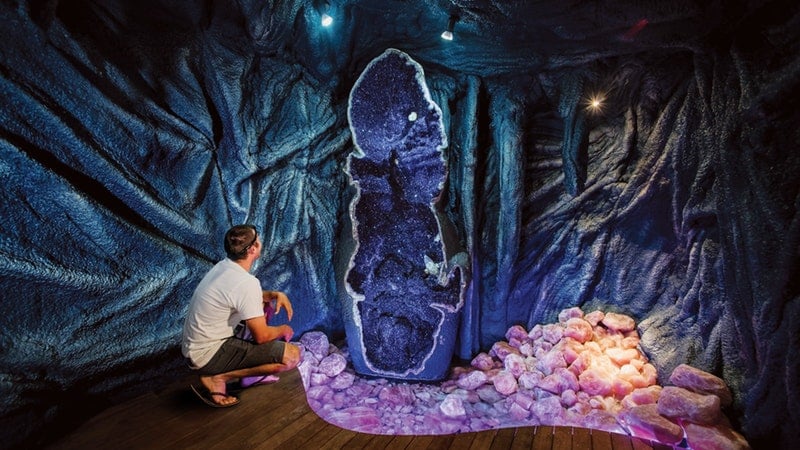 Rock on to Atherton for the town's most sparkly attraction – The Crystal Caves. Don a head torch and explore 300m2 of manmade tunnels & grottos featuring over 600 crystals.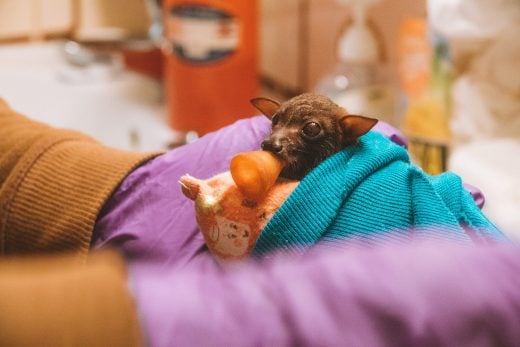 Get your heart eyes at the ready and head to the Tolga Bat Hospital, just 10 mins out of Atherton. Pre-book a guided tour and learn about the rescued bats and how they are cared for.
STAY & CHARGE
Charge while you sleep at NRMA Atherton Tablelands Holiday Park, which has one type two plug. This holiday park has cabins, villas, camp sites and caravan sites, as well as a swimming pool, playground, BBQ and camp kitchen.
Atherton Hinterland Motel also has one three phase plug and is just 400m away from the town centre.
Day 5
Atherton to Millaa Millaa
Head south west to Herberton for a spot of time travelling. Juxtapose the old with the new and charge your car at the Historic Village Herberton and explore what life was like in the pioneer era. Wander through more than 60 original buildings, watch old vehicles come to life and check out the village blacksmith in action.
If you fancy a bit more history, head to the nearby Spy and Camera Museum. 
Continue south to Millaa Millaa, home to the iconic Waterfall Circuit. If you're hungry, grab some lunch at the Falls Teahouse. Continue on to Millaa Millaa Falls, a dreamy drop straight out of a fairytale. See views from the top of Zillie Falls and wander to the bottom for a view of the cascading waters and rapids. Cool off at nearby Ellinjaa Falls are a fantastic spot for a cooling swim and keep a look out for resident turtles and platypus.
Optional Detour – Mt Garnet
Continue west to Mt Garnet, where you can charge up at one of the powered sites at Mount Garnet Travellers Park. En route, you will pass through Ravenshoe, Queensland's highest village. Pull up a pew at Queensland's Highest Pub and see Australia's widest single drop waterfall, Millstream Falls.
Next, stop at Innot Hot Springs, naturally heated mineral geothermic pools. If the water in the creek is too hot for your liking, head next door to the Innot Hot Springs Health and Leisure Park to soak in the man made pools, which contain the same geothermic waters from the creek.
Please note: Herberton Historic Village is the last place to charge. The return trip from Herberton to Mount Garnet via Millaa Millaa is 224km.