The knee has been dropped, or the questions been popped – now you've got a wedding to plan. Not to fret, your wedding fairy godmother is here, armed with the ultimate ceremony and reception combos in Port Douglas.
St Mary's by the sea & Sugar Wharf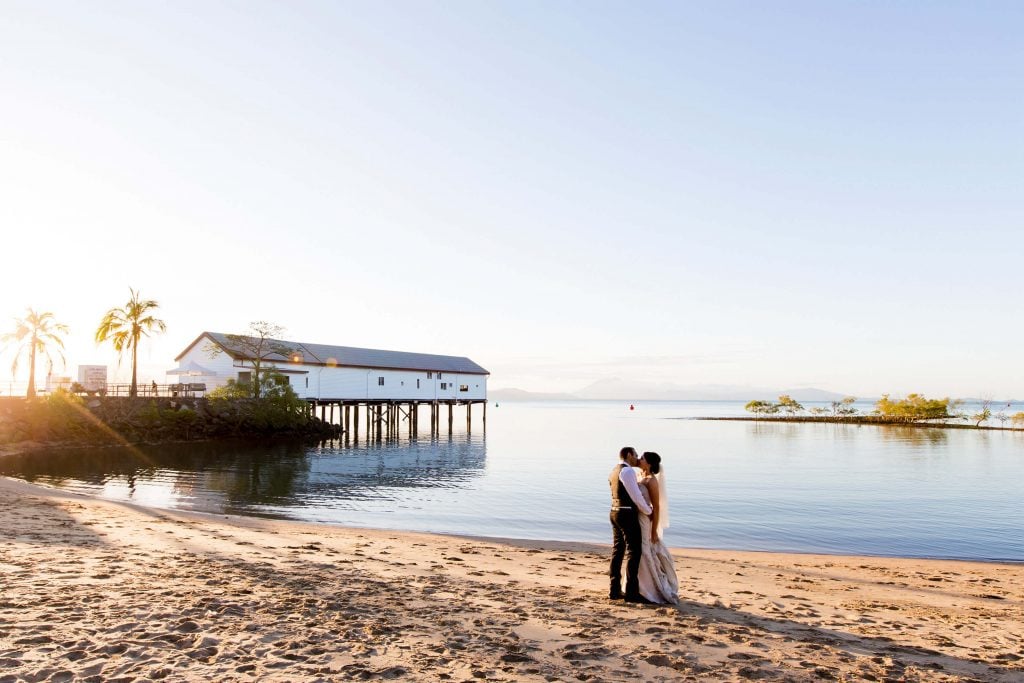 This historic duo is arguably the most iconic way to tie the knot in the tropical oasis of Port Douglas. Located in the heart of town on the foreshore of Dickson Inlet, these much-loved local landmarks are a stone's throw away from each other, sharing equally impressive views of the Coral Sea to melt any lovers' hearts.
The beautifully restored chapel offers breathtaking views through a ceiling-to-floor glass altar, along with traditional wooden pews and a ringing church bell – because the whole town needs to know it's your special day, right? Continue the celebrations into the evening at the heritage listed Sugar Wharf on the waterfront, watching the sunset between the mountains, creating a gorgeous pastel backdrop for your first magical night as newlyweds.
Four Mile Beach & 2 Fish Restaurant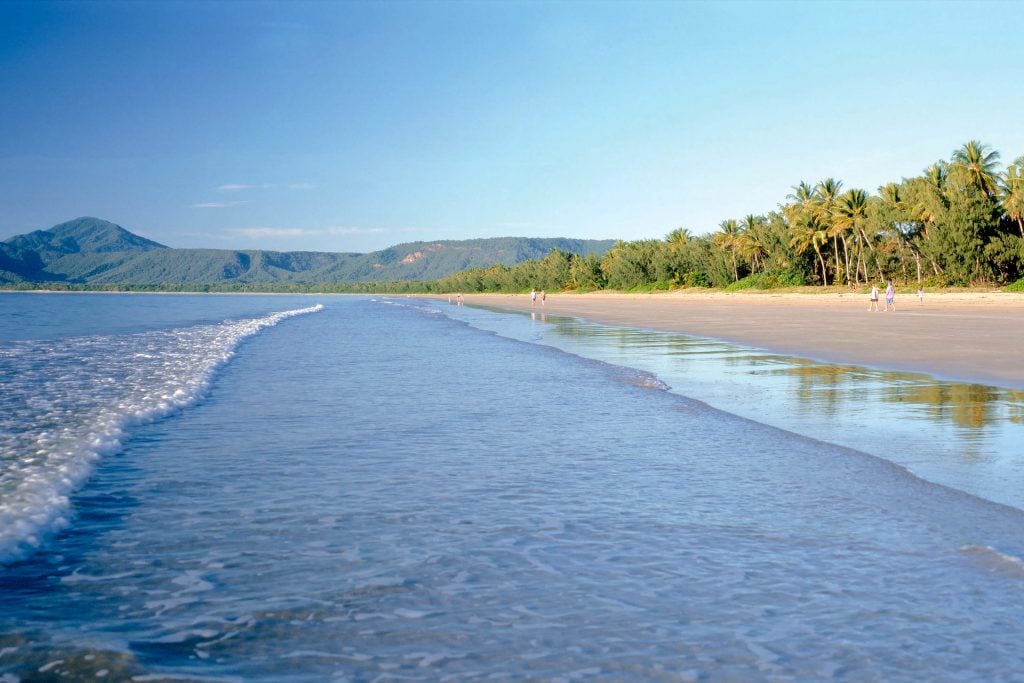 When you think of tropical weddings, you imagine sinking your bare feet into the soft white sand, the fresh sea breeze in your hair – you think, beautiful Four Mile Beach. The perfect location for a beach wedding, seek out a secluded spot along the stretch of sand for an intimate and relaxed service. Dust off the sand and slide into your strappy sandals or stylish boat shoes before stepping foot into 2 Fish Restaurant.
Wine and dine in style with an award-winning seasonal menu to tantalise the taste buds, such as scrumptious bug tails in coconut laksa washed down with a light refreshing pinot grigio – double yes please.
Crystal Chapel & Harrisons by Spencer Patrick
You've decided you want a beach wedding, but does the possibility of unexpected wild weather rolling in freak you the fudge out? Take a deep breath, the Crystal Chapel at the Sheraton Grand Mirage Resort is your saviour. If the sun gods are kind, which they usually are with plenty of glorious sunshine in Tropical North Queensland, you will enjoy stunning 360-degree views of the ocean from this romantic chapel on the beach – rain, hail or shine.
Protected from the tropical elements, whilst immersed in nature, this venue is perfectly poised on the beach and bathed in natural light due to its high ceilings and glass walls. To make things super easy, stay onsite and let the world-renowned culinary and cocktail masters at Harrisons by Spencer Patrick look after you at Port Douglas' only hatted restaurant.
Little Cove & Rex Smeal Park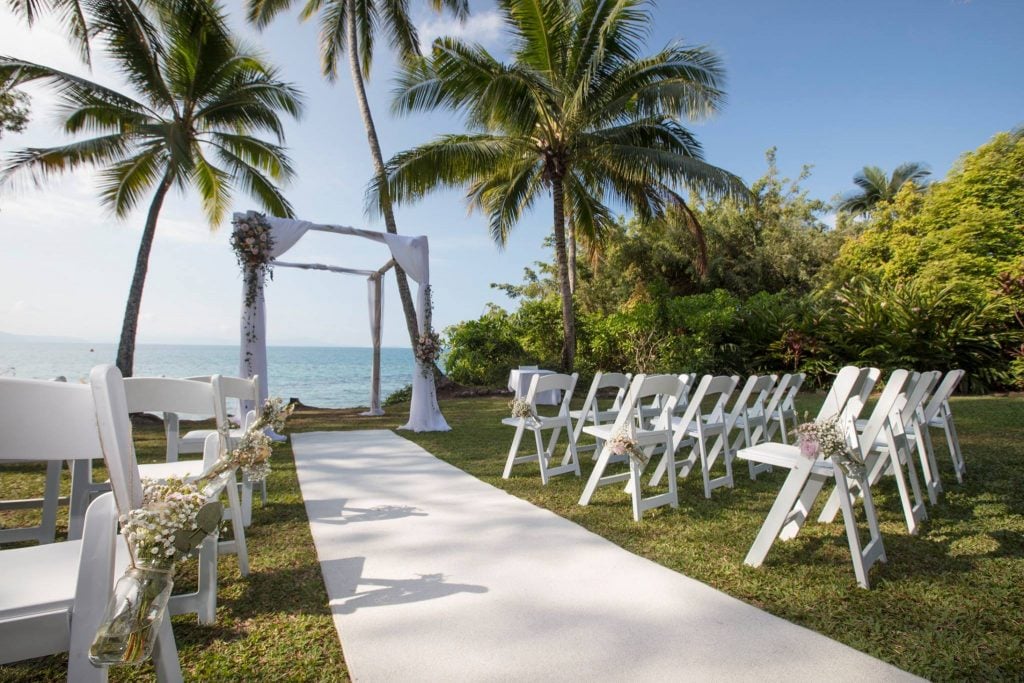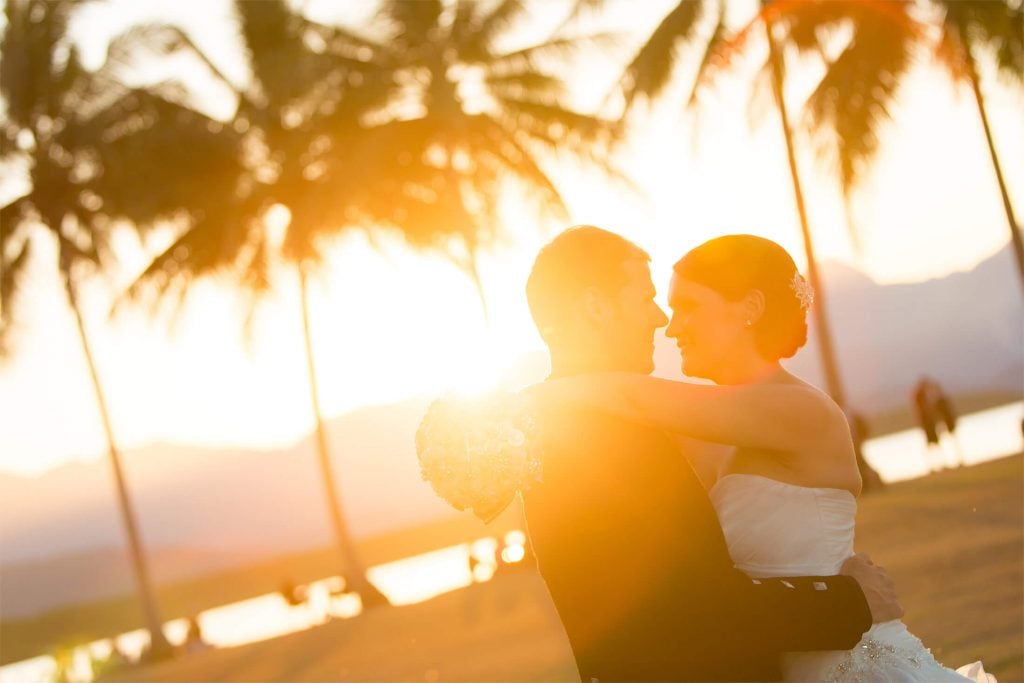 Looking for something a little more intimate? As the name suggests, Little Cove is a small beach on the peninsula with a stunning northerly outlook, tucked away for ultimate privacy with close family and friends. Wed under the shade of a coconut tree and create an unforgettable tropical wedding to seal your everlasting love.
If you've been to Port Douglas before, you may remember Rex Smeal Park, an insta-favourite sunset location with an outlook over the Coral Sea through silhouetted coconut trees. Transform this space into a magical oasis, from soft fairy lights draped around the large fig tree to carnival-inspired games to bring out your guest's competitive spirit, all while getting those to-die-for pictures.
Sandy Cay & Nautilus Restaurant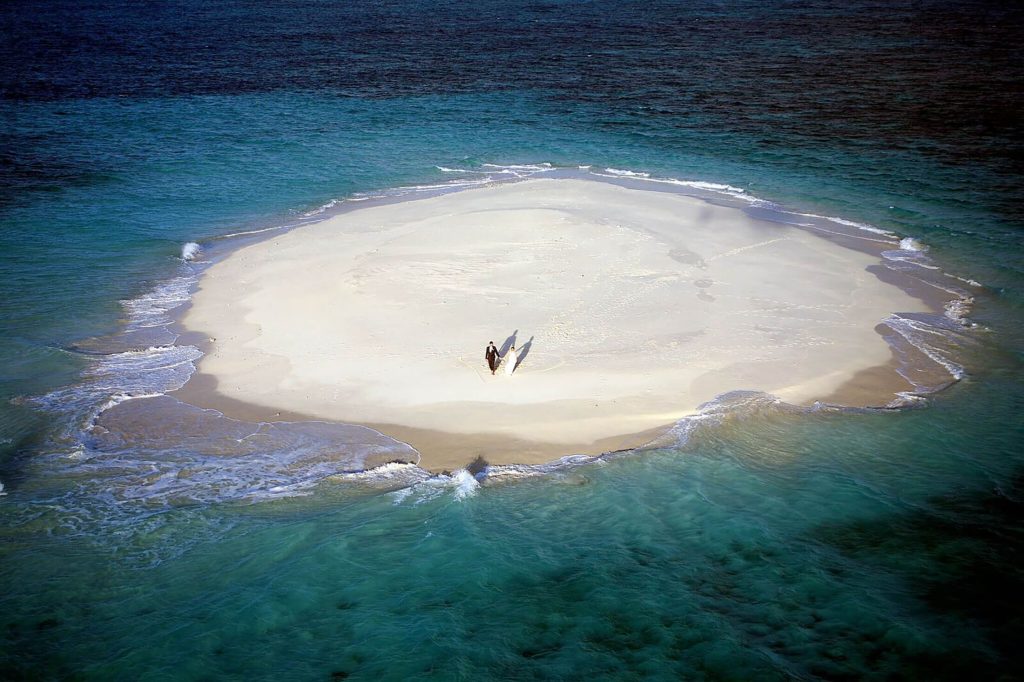 Only visible at low tide and only accessible by heli, an exclusive wedding on the pristine white sands of a sandy cay screams luxury. Seal your love in the middle of the spectacular Great Barrier Reef, the ultimate dreamy location for a couple wishing to elope in style. Wedding checklist? Just bring your celebrant, a photographer that doubles as a videographer (because beautifully crafted stories are 'so in') and voilà – you're as good as gold.
Settle into an elegant and intimate evening at Nautilus Restaurant amid a lush tropical garden setting for a degustation menu paired with matching wines. This is the perfect place to not take your eyes off each other.
Thala Beach Nature Reserve
Who doesn't love an all-in-one? Marry the love of your life, graze on a lavish banquet, dance the night away and then rest your tired head at the deluxe eco retreat, Thala Beach Nature Reserve. Just 15 minutes south of Port Douglas, this well-known establishment is not only famous for its 700+ coconut palms but also its incredible weddings.
Decisions, decisions – between the private beach, romantic rainforest, gorgeous garden and cool Herbie's Shack, you're spoilt for choice for ceremony options. As your perfect day turns to night, take to the poolside or beach setups for a first dance you'll always remember.
Flames of the Forest
Magical. Romantic. Spectacular. Welcome to the rainforest ballroom of Queensland – Flames of the Forest. This wedding site is an enchanted space with a black silk lined marquee and stunning handmade crystal chandeliers. An extra bonus? No noise restrictions. Dance the night away to a DJ or rocking band and get everyone off their feet to bust a move on the dance floor, including the groovy grannys.
For those who seek to create an explosive memory, Flames of the Forest can also arrange special effects such as blazing trails of fire and magnificent fireworks displays to really let the sparks fly.
Low Isles & the Port Douglas Yacht Club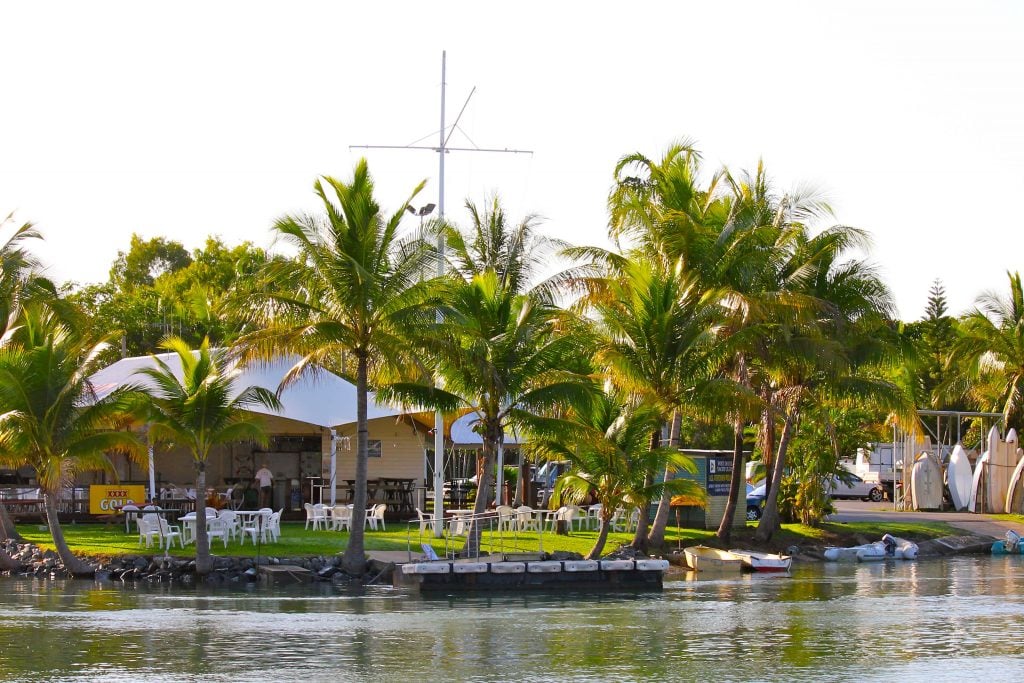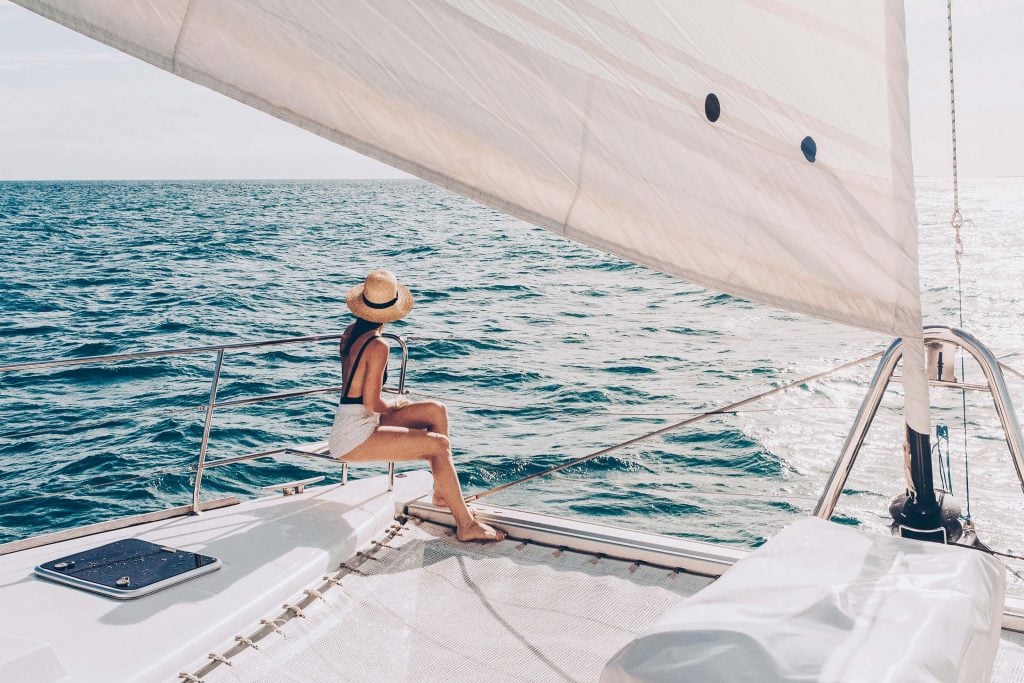 Sail away into the horizon with your lover… quite literally, on a luxury yacht or catamaran to the world's largest coral reef. For something unique, take to the water and pull up to the romantic Low Isles to announce your vows, followed by a slow sunset sail back to shore – cue champagne pop!
Shake off any sea legs back on land at the Port Douglas Yacht Club, tucked away on Dickson Inlet. From an intimate table on the lawn to comfortable seating capacity for hundreds of guests, enjoy a casual or lively atmosphere against a tropical backdrop, with yachts bobbing in the calm waters and not a care in the world on your wedding day.