Cape Tribulation is renowned as the place where the rainforest meets the reef. It is 2.5 hours north of Cairns. Within the rainforest, there are several accessible boardwalks and beach access points. There are picnic facilities and a variety of small cafes along the route. Discover the best of the Daintree and Cape Tribulation with this two day accessible itinerary.
This article was produced in partnership with Spinal Life Australia's Accessible Australia
Get Directions
Day 1
Cairns – Cape Tribulation
Day 2
Cape Tribulation – Cairns
Myall Beach
See the place where two World Heritage Sites meet – the Great Barrier Reef and the Wet Tropics Rainforest – at Myall Beach. It can be accessed via Avalon Close (behind the Pharmacy) and has a wheelchair friendly path and boardwalk to the beach.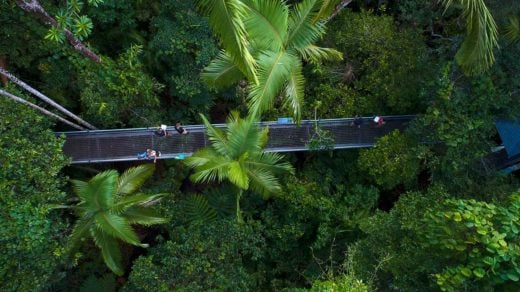 Daintree Discovery Centre
The Daintree Discovery Centre is an award-winning world class interpretive facility that allows visitors easy access to every level of the Daintree Rainforest; from the forest floor to the upper most reaches of the canopy. Established in 1989, the centre is widely recognised as a leader in the field of ecotourism, and in particular, environmental conservation.  View the centre's interactive map for a closer look at the attractions available. They also provide an audio Daintree Rainforest tour included as part of the entry fee for you to enjoy.
While the aerial walkway was designed to accommodate most wheelchairs and prams, some sections do have slight gradients. Visitors using a mobility device may need assistance. Due to natural variations in the terrain, the lower-level boardwalks and walkways may not be accessible to all visitors using mobility devices. An accessible car park is located close to the main public entry ramp. There is a graded ramp that leads visitors from the car park to the entrance / cafe / souvenir shop. The accessible toilet is located adjacent to the reception area. Note there is no accessible toilet located at the interpretive centre.
Solar Whisper Wildlife Cruises
Search for crocodiles, birds and wildlife on the Daintree River with Solar Whisper Wildlife Cruises on a zero emission boat. There is a ramp to boat and one step to negotiate (crew assistance to lift chair).
More Accessible Activities