At the top of Tropical North Queensland's 'must-see' natural attractions are undoubtedly it's tropical waterfalls. You know the ones with the oh-so-silky water and the brilliant greens. Here are four tips from professional photographer, Andrew Watson, to help you capture your own slice of natural beauty.
Many of these waterfalls sit in the heart of World Heritage tropical rainforest, meaning they can be enjoyed all year around. Indeed, nothing says 'nature' more than an image of a sparkling waterfall. But how do you get those pics just like the glossy postcards? Here are Andrew Watson's hot tips.
Have the right gear
At it's most basic, you'll need a camera that allows you to manually adjust exposure, as well as a good, sturdy tripod. A wide-angle lens on your camera is also ideal for capturing more of the scene. A circular polarizing filter is another handy addition – helping you to reduce the glare from the water and foliage, whilst saturating colours, and also allowing for longer exposures. Other useful items include a lens cloth to wipe off the spray from the waterfall, and aqua shoes for negotiating wet, slippery rocks.
Time your visit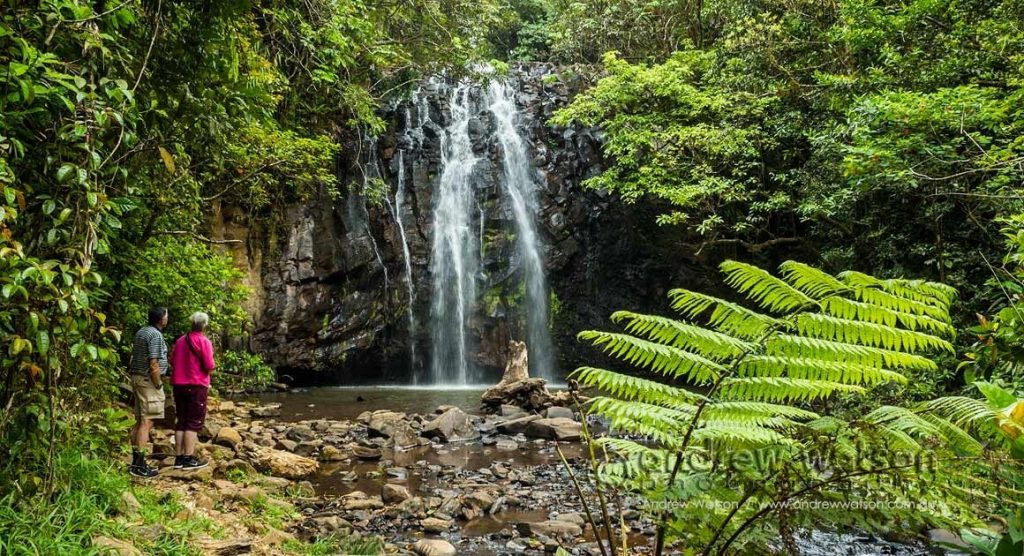 Picking the right time of day to visit is essential for getting the best shots. You really want to have the waterfall in full shade, rather then in sunny conditions (when there is generally too much contrast between the bright and dark areas). Visiting just after sunrise and just before sunset are therefore preferred, as are overcast days when the lighting is more consistent.
It's all about shutter speed
Giving the waterfall the 'look' you want is all about controlling the camera's shutter speed. For that silky water, choose a shutter speed slower than 1/30 sec. Something around ¼ to 1 second is perfect. Often, to achieve this slow shutter speed will mean having to reduce the camera's ISO value to it's lowest (ie. ISO 100) and the aperture (to say f11 or f16).
If you're after the look of water droplets suspended mid-fall, use a fast shutter speed (anything over 1/125 sec will work well). Big, powerful waterfalls, such as Barron Falls in full flood, generally look better with a faster shutter speed. Whereas, more serene cascades, like Millaa Millaa Falls, are often better suited to the soft-look, using slow-shutter speeds.
Composing your shot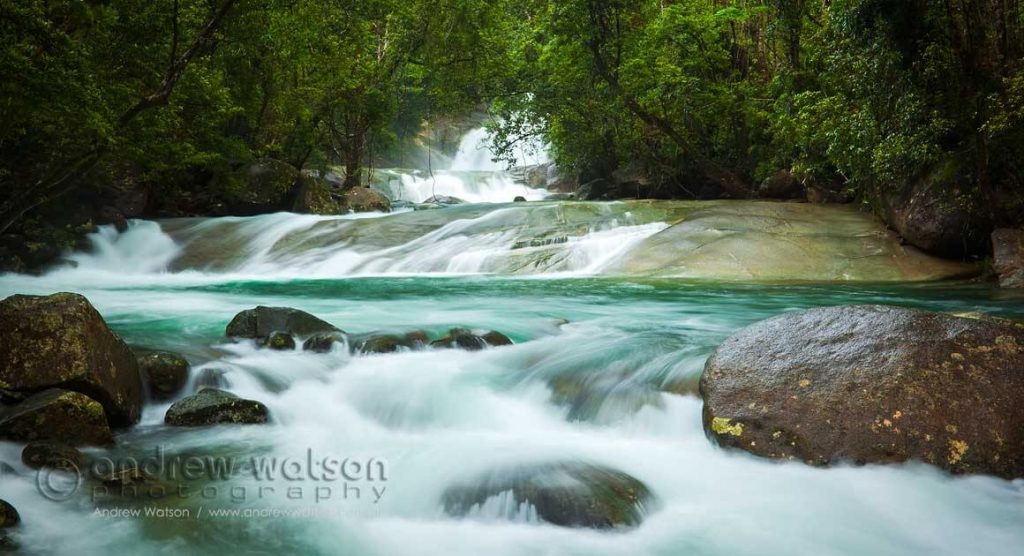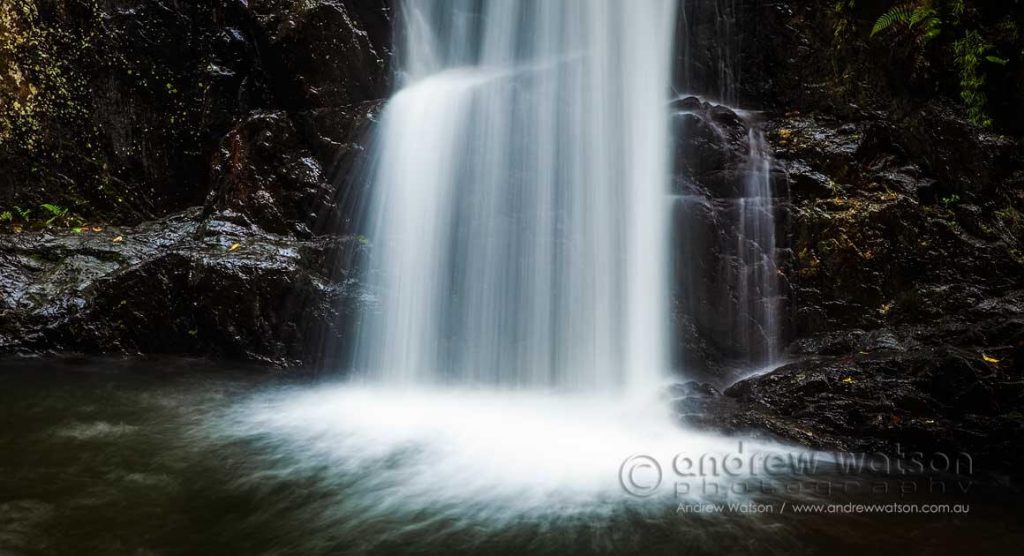 While composition is very much a personal thing, most waterfall scenes can benefit from good compositional techniques such as:
including some foreground interest, such as rocks or foliage
getting down close to the water to give you a low perspective
including a person in the shot to give a sense of size and scale
Also, don't be afraid to experiment with different lenses or focal length: use a wide angle to show the entire scene but then also zoom in to capture a smaller section of the waterfall.
Capturing waterfalls are one of the great joys of outdoor photography in Tropical North Queensland. With these tips in mind, now just go out and do it. No doubt you'll enjoy it and learn with every shoot.