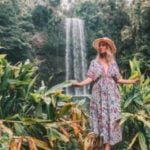 These boujee bathtubs with incredible views are all wham, bam, put it on the 'gram! From rustic tubs in the outback, to the actual epitome of forest bathing, here's the bathtubs with a view you need to add to your bucket list.
With emerald rainforest and glistening seaside vistas, Tropical North Queensland gives the dictionary definition of "views" a run for its money. Although a hotel balcony can combine these dreamy views with home-away-from-home vibes, why not take it to the next level in literally soak in these views a fancy bathtub? So grab your bath bubbles and your favourite book and make way to one of these boujee tubs.
Canopy Treehouses
If living out your childhood dream of sleeping in a giant treehouse wasn't already iconic enough, the Canopy Treehouses takes it to a new level with their stunning spa baths. Enveloped by views of rainforest greenery, these ultra posh tubs have large clear windows so you can keep an eye out for birds and wildlife whilst you bathe.
Mt Mulligan Lodge
Mt Mulligan Lodge is the epitome of outback luxury and it has tub that is worthy of more than just washing off the outback dust. Relax after a day of exploring in this re-purposed corrugated iron water tank and gaze onto uninterrupted outback views.
Silky Oaks Lodge
Take the forest bathing trend to a whole new level at Silky Oaks Lodge and soak away the day in a bathtub in the iconic Daintree Rainforest. Take in the serene Mossman river from the comfort of your bathtub in a Riverhouse Room, or bathe in amongst the rainforest greenery in a Treehouse Retreat or Billabong Suite. Rub a dub dub… that's a boujee tub!
Crystalbrook Riley
If your idea of the perfect bathtub includes a sunset over the sea, check yourself one of Crystalbrook Riley's Panoramic Sea Rooms. In select rooms, the large, free-standing tubs are set against floor to ceiling panoramic windows delivering uninterrupted sea views, meaning that sunset and sunrise baths are most certainly on the cards.
Rocky Top Retreat
Embrace the snug side of the tropics and make way "up the hill" to the Atherton Tablelands for a bit of rural bathing. Rocky Top retreat in Peeramon is a rustic cabin that is all about those warm, fuzzy feelings. The highlight? The stunning outdoor claw bathtub in the cabins pretty gardens. Team with a snuggle next to the indoor fire for the ultimate comfy combo.
Pullman Reef Hotel Casino
You don't have to travel far from the city to soak away the evening in a boujee bathtub! The Pullman Reef Hotel Casino is located right on the Cairns Marina and offers sweeping views of the water to prove it. Book into a Junior King Suite, turn on the spa bubbles and pour yourself a glass of bubbly- go on, you deserve it.
Gilberton Outback Retreat
Indulge in the ultimate Australian outback luxury at Gilberton Outback Retreat, which has an outdoor tub that ­is perched high on a bluff above the Gilbert River. Best of all, you will have this whole cattle station retreat to yourself.
Bedarra Island Resort
Indulgent island escapes don't get much more luxurious than Bedarra Island Resort, an all-inclusive, private slice of island paradise. The ocean and resort pools are just a barefoot wander away, but if you are staying in the Nautilus Villa you can also water hop into your own lush outdoor bath surrounded by rainforest greenery.
Daintree Eco Lodge
Surrender to the soothing sounds of the rainforest whilst you bathe at Daintree Eco Lodge. The Rainforest Banyans feature luxurious black freestanding bathtubs overlooking the leafy rainforest. Permission to delete the rainforest sounds app on your phone granted.
Reef House Palm Cove
If you thought hotel bath tubs were overrated, feast your eyes on the stunning spa tubs at Reef House Palm Cove. The verandah king spa suite and reef suite ocean view spa apartments feature balcony baths so that you can relax to the sound of ocean waves.
Hemingways on the Hill
Hemingway's on the Hill has a rustic, regal essence that you wouldn't expect to find in the tropics. Nestled on top of a hill overlooking farmland in Peeramon, this Airbnb has a suitably rustic outdoor tub for you to live out your inner Queen Lizzie.
Mt Quincan Crater Retreat
Bathing on the banks of a volcanic crater may sound like something that could get your adrenaline pumping, but the bath tubs in the pole treehouses on this dormant volcano are the epitome of relaxing. Gaze to beautiful views over the crater and keep your eyes peeled for a Lumholtz's Tree Kangaroo.
Thaika Creek Farm Retreat
Escape to the country to Thiaki Creek Rainforest Retreat and relax and unwind on a working cattle farm. The claw-footed freestanding bath takes pride place on the wooden verandah and is so close to the creek that it comes with its own natural relaxing water sounds.
Jarramali Daintree Rainforest Retreat
Fancy bathing in the rainforest canopy? Although that's technically impossible, this verandah bath at Jarramali Daintree Rainforest Retreat comes pretty close. The freestanding bath tub looks out into the canopy of the ancient Daintree Rainforest with uninterrupted rainforest views stretching to the coral sea.